Not many houses can be described as an extraordinary design experience, but that's exactly what this carefully curated Venice, California, masterpiece is. At first glance, one might not even realize there's a residence behind the dramatic floral facade. In fact, the two-story modern marvel could easily be mistaken for a storefront or studio. But, then again, this isn't a house built simply to hang one's hat.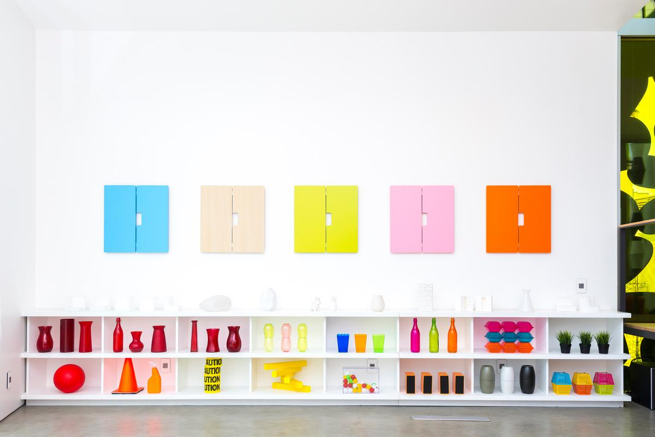 "I designed [it] for my family as a total design living experience that represents my relationship to art, architecture, and design. You see it, live it, and feel it," says owner and architect Cameron McNall. It's a creation meant to inspire the surrounding bustling artist community.
How did Venice, California, become synonymous with art and culture? It wasn't always a mecca for the creative. Originally dubbed "Coney Island of the Pacific," Venice was founded in 1905 as an amusement scene. The resort town was an instant success, but after a series of devastating fires, Venice was annexed to the city of Los Angeles, and the attractions that defined the area were dismantled. A brief stint as an oil field followed, as did an era of post-recession, post-War debauchery. But when the eccentric beatniks moved in during the 1960s, they brought a Bohemian lifestyle with them, driven by poetry, art, and music, that still exists today.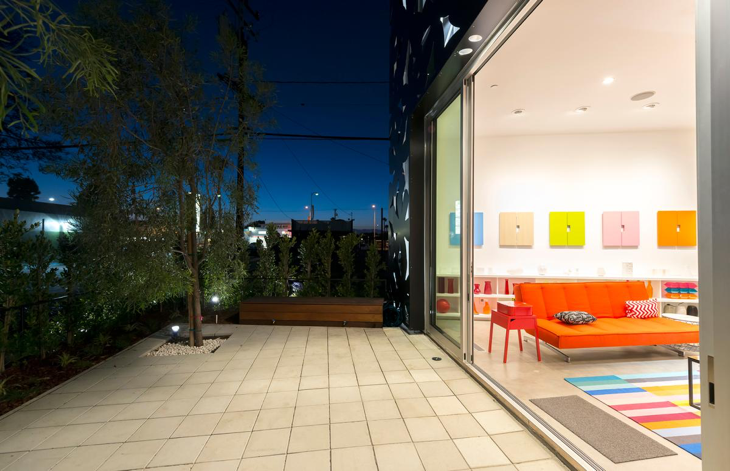 Now divided into smaller neighborhoods, each with their own unique look and feel, Venice attracts free spirits and entrepreneurs alike. And while the beach boardwalk is bustling, residential streets are decidedly more serene. This property, on the market for a cool $3.2 million, is one of the many modern homes that define the area's architectural style. Influenced by the energy and graphics of the sixties—Andy Warhol's art in particular—the home's creator meticulously customized every inch of the property (and built it to Calgreen standards).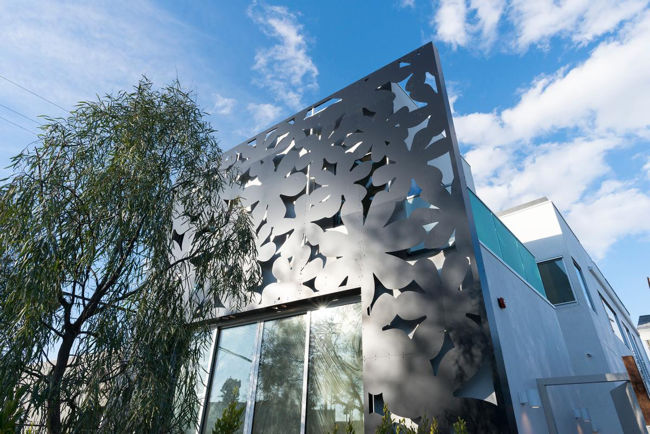 The traffic-stopping exterior is wrapped in an innovative, computer-cut metallic floral motif—but it's not just for the benefit of passersby. Inside, the facade lends privacy to the property, frames views, and generates provocative light effects.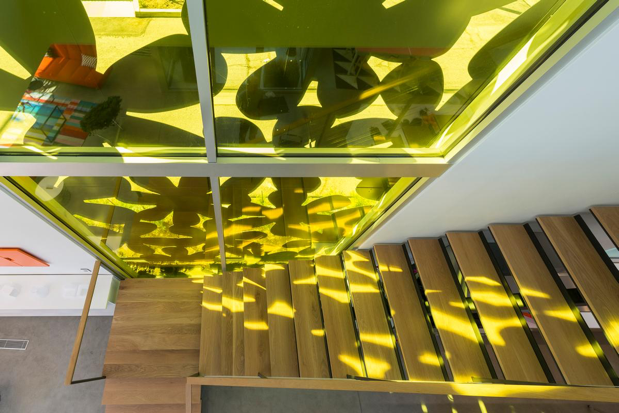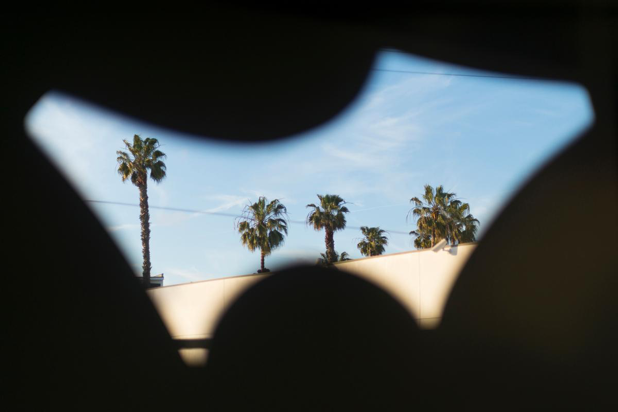 Each of the twelve rooms features towering ceilings, a unique shape, and a distinct personality. The living room is grounded by a vibrant multicolored rug and two electric red sofas.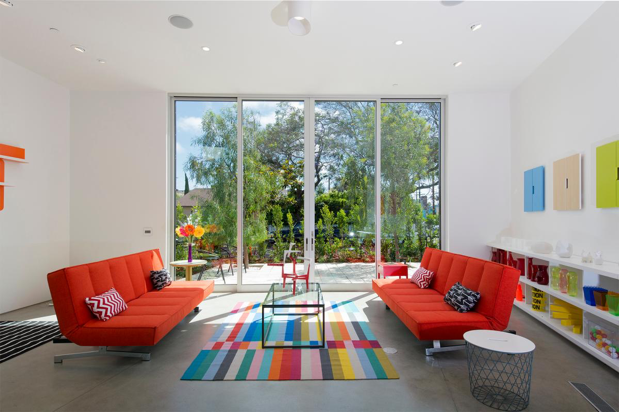 Bathrooms also get a shot of color, thanks to walls of glistening tile in vivid hues.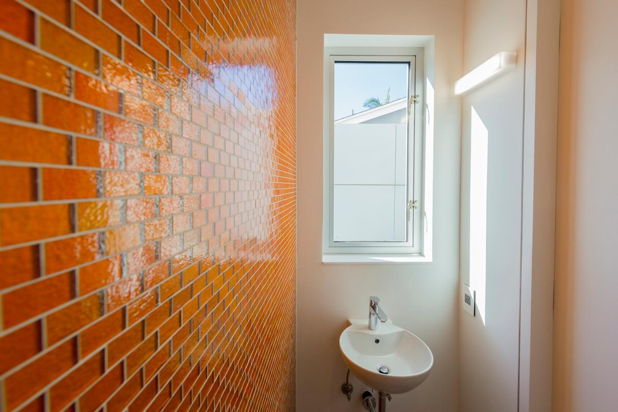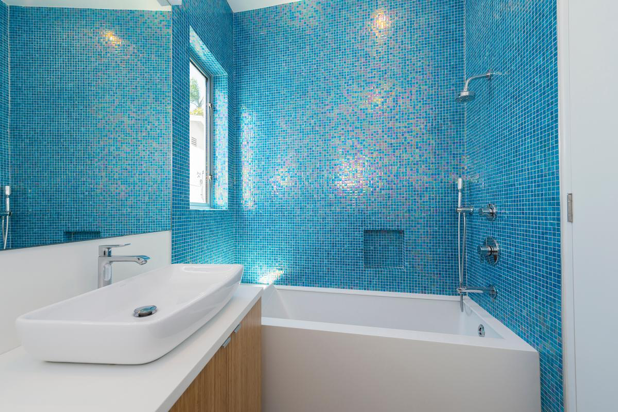 Though the bulk of the house is awash in brights, the kitchen is a palate cleanser with clean white walls and natural wood cabinets that allow the signature florals to take center stage.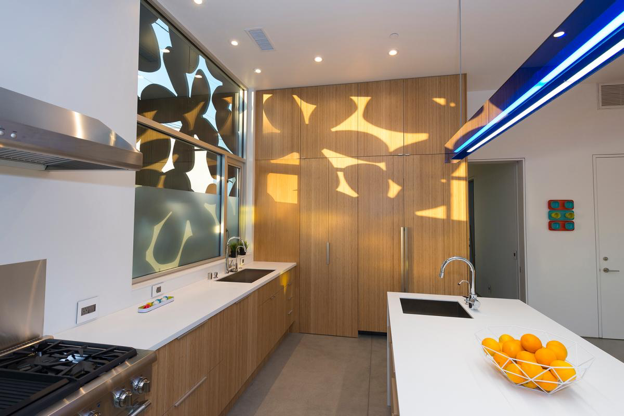 The 800-square-foot rooftop deck capitalizes on the nearly perfect SoCal weather, with a fire pit, custom seating, hot tub, pergola, and table for a dozen guests.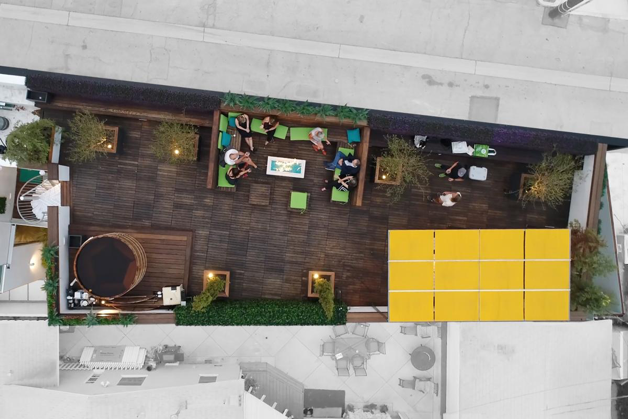 And, because the creator holds fast to his "total design" concept, all of the home's custom furniture, artwork, and decorative objects—which create a complete work of art—are included.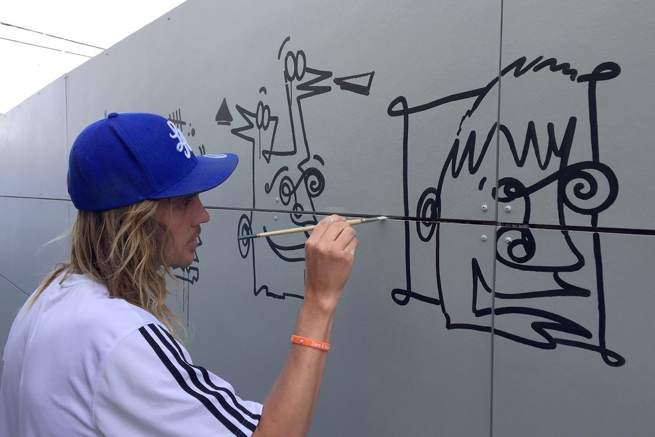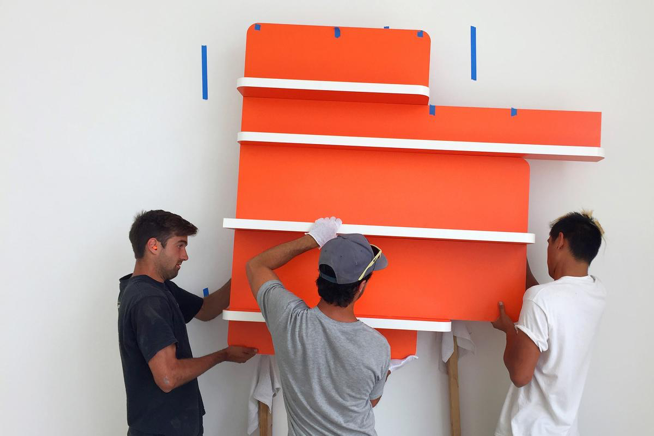 "When people walk by the house or visit inside, I'm pleased that it elicits a smile and a contagious happiness," says owner McNall. Perhaps that's why he's selling—to pay it forward, spread a little love, and pass on a few more smiles.