Books present such a conundrum in my house. We love to buy them, receive them, pick them up from the street. We try to read most of them. We save the ones we love with thoughts of one day rereading them or lending them to others. We like to display our favorites, thinking their very presence tells a story about our taste and intellect.
The reality? They are also one of the greatest sources of clutter in every room, as stacks tower above the overflowing bookcase, and even when organized by some principle inside my head, I'm sure they are a mismatched eyesore to everyone else.
Fortunately, there's no shortage of solutions, which range from investment buys to easy DIY projects, depending on what your wallet and time allow.
Books as Art
Bookcases might be getting in the way of wall space where you'd otherwise hang works of art, so these gorgeous options, all available on Etsy.com, can do double-duty.
Books as Furniture
You might already have stacks blocking your tables, chairs and beds. These multipurpose furniture items get at least some of those stacks out of the way.
Hack an Old Bookcase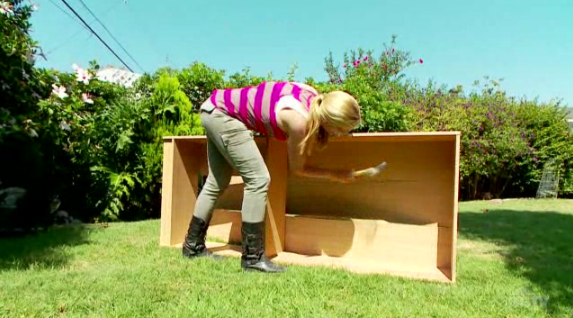 Maybe your problem is that your bookcases look straight out of your college dorm. You can upgrade what you have. The HGTV expert above replaced cheap backing on a regular bookcase with a textured wood painted in a contrasting color and added molding.
Build your Own
Even the timid DIY-er can repurpose wooden drawers, wine crates or fruit crates into a bookcase with little more than a drill and a paintbrush. It's mostly about joining together already-made shapes. Follow these instructions to hang shelves from the ceiling using industrial rope. Or you can head to the plumbing aisle and build an industrial-looking shelf right into your wall.
Style Yourshelf
Never mind organizing by subject or alphabetizing by author. If you want aesthetically pleasing shelves, arrange them according to color and/or size.
And for those really willing to sacrifice for the sake of beauty, devote more of your shelf space to decorative items. Here are some tips from HGTV on how to group and layer those pieces around your books.
Store them out of Sight
If you can't bring yourself to donate all your shelf rejects to the local library or charity book sale, be smart about how you store them. The Library of Congress offers guidelines on ideal storage: Keep books in a cool room (at room temp or below) with low humidity, minimal exposure to light, and away from radiators and vents. They should be stored upright or lie flat (not slanted). Basements and attics should be avoided, and cardboard boxes are much better than plastic because they won't trap moisture.
How do you style your book collection at home —stacked up the wall or arranged by color? Share in the comments!