It's football season in America, folks, which means legions of die-hard fans swarm their hometown stadiums to cheer on their teams. And while only the Carolina Panthers and the Denver Broncos are headed to Super Bowl 50, when it comes to NFL fandom, people go to extreme lengths to show their pride: attempting to eat, sleep, and body-paint their way to their team's success. But the ultimate display of team dedication can start at home — and we're not talking about buying a killer HDTV. Behold, six dream apartments for rent in Charlotte, NC, Denver, CO, and other NFL cities, with prime views of local stadiums — victory fireworks and all — that give new meaning to the term "superfan."
Swim up to the Saints: $2,275 to $2,580, The Strand
The sexy rooftop pool above these high-rise, city view apartments in New Orleans, LA's Central Business District keeps a watchful eye over the Superdome just a stone's throw away. When the Saints get started next season, NOLA will still be at the peak of those sweltering summer temperatures, and the Strand's rooftop — complete with grills, loungers, and plenty of shade — offers the perfect posh game day spot.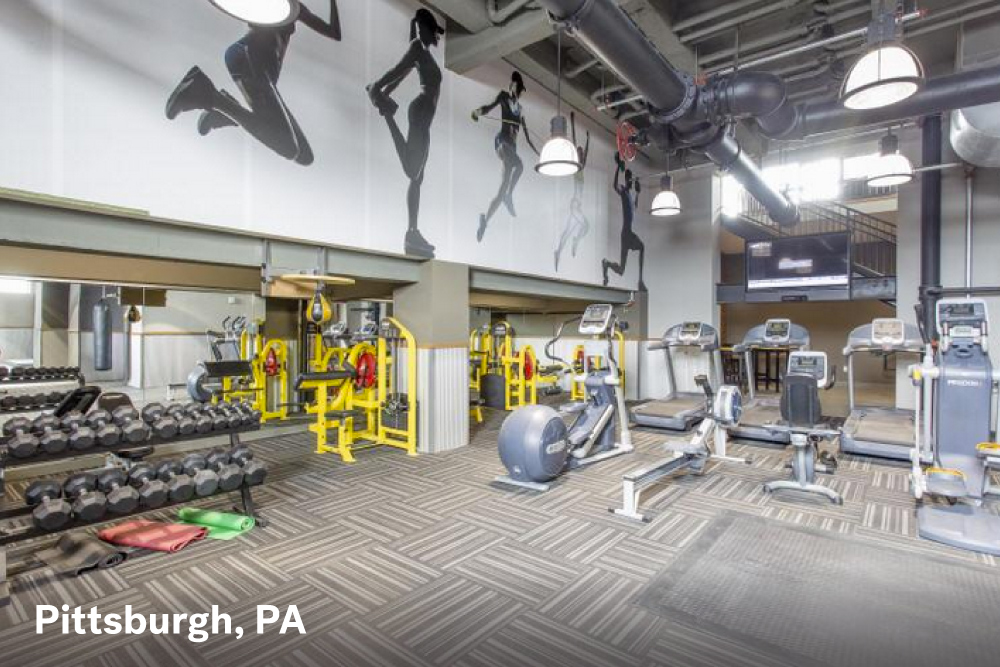 Go home to black and gold: $1,300 to $1,795, The Clark Building
Built in the 1920s, the Clark Building on Liberty Avenue takes great pride in its Pittsburgh, PA, heritage. From the historic hallways to the state-of-the-art gym outfitted in (you guessed it) Steelers' black and gold, this is the dream home of any good fan. For the best amenity, you've got to take it to the rooftop, which overlooks Heinz Field (and PNC Park, where residents get bird's-eye views of baseball games).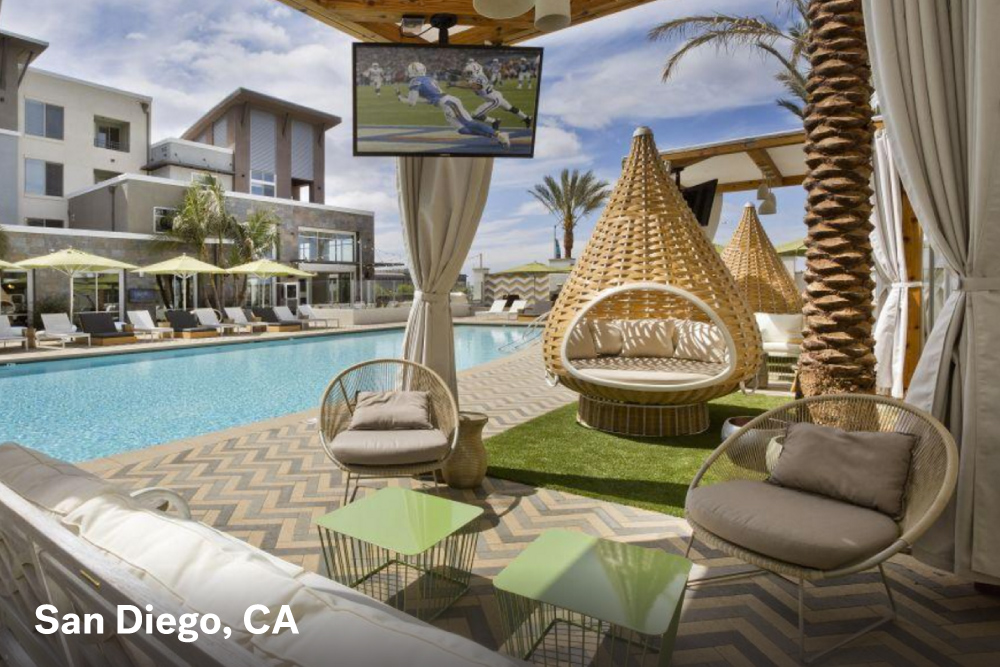 Chill out for the Chargers: $1,995 to $3,417, Broadstone Corsair
In San Diego, CA, you never have to venture far from the water to take in all the city has to offer. Case in point, the magnificent setup atop the Broadstone Corsair, whose hotel-worthy private pool cabanas each feature flat screens for open-air game watching. Super Bowl party by the pool? Yes, please.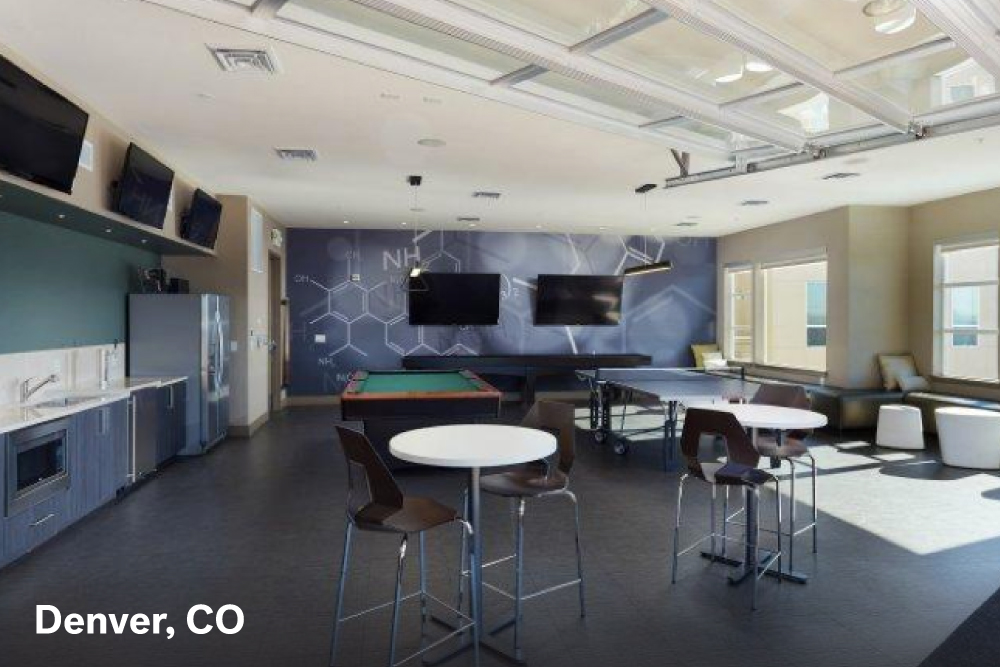 Mile-high hideaway: $1,390 to $2,765, Element 47
Step out onto the rooftop patio at this Jefferson Park complex in Denver, CO, and you'll get a sweeping view of the Rocky Mountains — and the majestic home of the Broncos. Element 47's lucky residents have the stadium in their sights while they play pingpong, grill burgers, and watch the game from the clubhouse flat screen.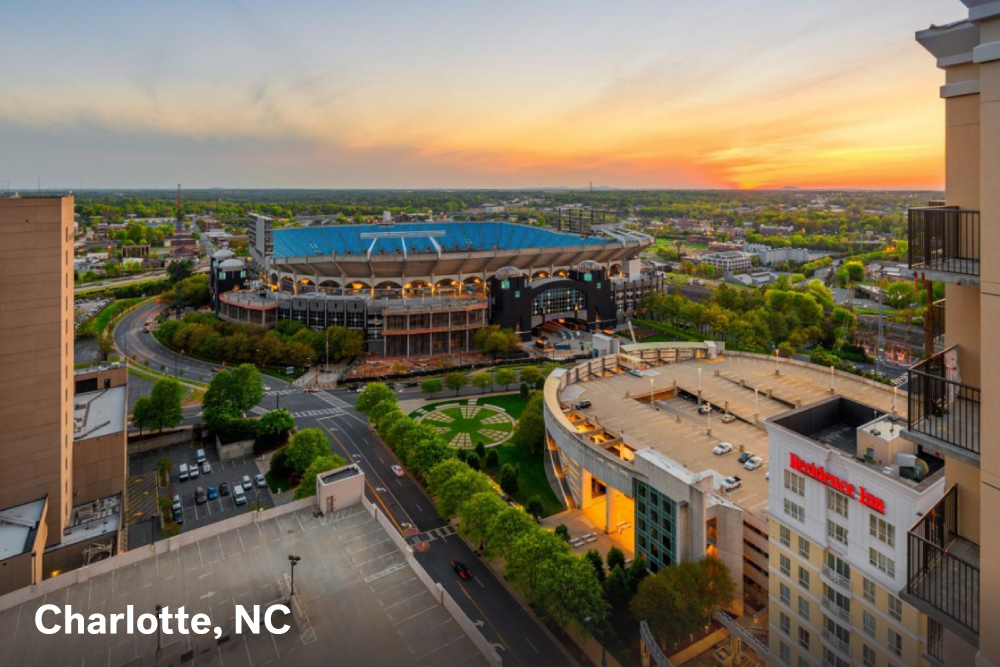 Panthers pad: $1,470 to $2,945, Element Uptown
Keep pounding at this new high-rise in uptown Charlotte, NC, which forgoes a front yard for an incredible view of the Panthers' Bank of America Stadium. That means that when the cats are playing, the party's at Element Uptown's saltwater pool, flanked by private cabanas, bar, outdoor fireplace, and plenty of grills. Bonus: All season long, you can hear the stadium's booming catcall, alerting you that it's an hour to game time.
From sea to shining Seahawks' stadium: $1,712 to $4,153, The Nolo
It's not just a ruse to lure in passionate fans: You can literally see Century Link Field from your kitchen window at The Nolo in Pioneer Square (other units face the ocean or downtown). Absorb the energy from right across the street whether you're watching from home or chillin' on the rooftop patio. Even the dog can get in on the game-day action, since Nolo is pet-friendly.