Home renovation projects can completely change your home and increase its value. In fact, the resale value of the most popular remodeling projects has risen dramatically since 2012, according to Remodeling Magazine. This upward trend shows that, for many projects, homeowners are seeing a greater return on their investment when it's time to sell their house.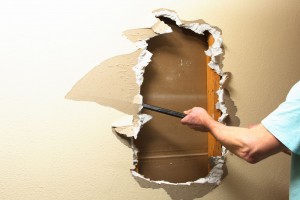 However, as home values continue to rise from the ashes of the housing market crisis, and more homeowners are investing in renovations, another problem is surfacing: many are failing to update their homeowners insurance after remodeling to reflect changing home values, leaving them at serious risk of being underinsured for emergencies.
The true cost of reconstruction
Homeowners insurance covers your property and can help meet the costs to rebuild after a partial or total loss (as from a hailstorm or fire). To get the most out of your insurance policy, though, it's important to choose coverage limits that accurately reflect the current characteristics of your home and the true cost to reconstruct it.
Insurance agents do this by running a "home replacement cost estimator." They ask you a series of questions and use industry information to provide an estimated cost to rebuild your house. This can give you a better idea of how much coverage you may want.
Renovations alter your home's value
Renovations have been consistently shown to change the value of a home, usually giving you a return on investment when it's time to sell. Currently, the most popular remodeling projects with the highest return on investment* are:
1. Replacing the front door with a new steel door: 96.9 percent
2. Adding a wood deck: 87.4 percent
3. Replacing older siding with fiber-cement siding: 87 percent
4. Building an attic bedroom: 84.3 percent
5. Replacing old garage door: 83.7 percent
*Resale value as a percentage of construction cost.
Upgrades can mean a change in market value (giving you that return on investment). However, renovations also affect a home's reconstruction costs. This is why the last step in any renovation is to cover your new investment.
Talk to your insurance agent, or inform your provider before the renovation begins. This will help in filling any gaps in your coverage that a renovation creates and may even protect materials and workers in your home. Plus, it can help with determining your eligibility for homeowners insurance discounts associated with renovations such as new electrical systems, plumbing, roofing, and the addition of security features.
It's important to make sure your homeowners insurance continues to provide the home replacement coverage you want. Otherwise, that pricey renovation might not be such a wise investment.
This post is sponsored by Farmers Insurance.