Picture it: two big city apartments, both comparable in terms of monthly rent. One offers a spacious floor plan with more than enough room for your three-piece sectional, while the second is so cozy, you can reach over from bed to adjust the temperature on your oven (an unlikely event, since you're using it to store your shoes).
The difference between sprawled and squeezed? In this scenario, it all boils down to those three little words real estate agents seem to love so much: location, location, location. Take, for instance, the rental listings below. These apartments for rent in Denver, CO and other cities across the country are each priced at about $1,000 per month and deliver the perks of urban living (walkability, convenience, vibrancy), but the square footage (and amenities!) varies widely from one city to the next.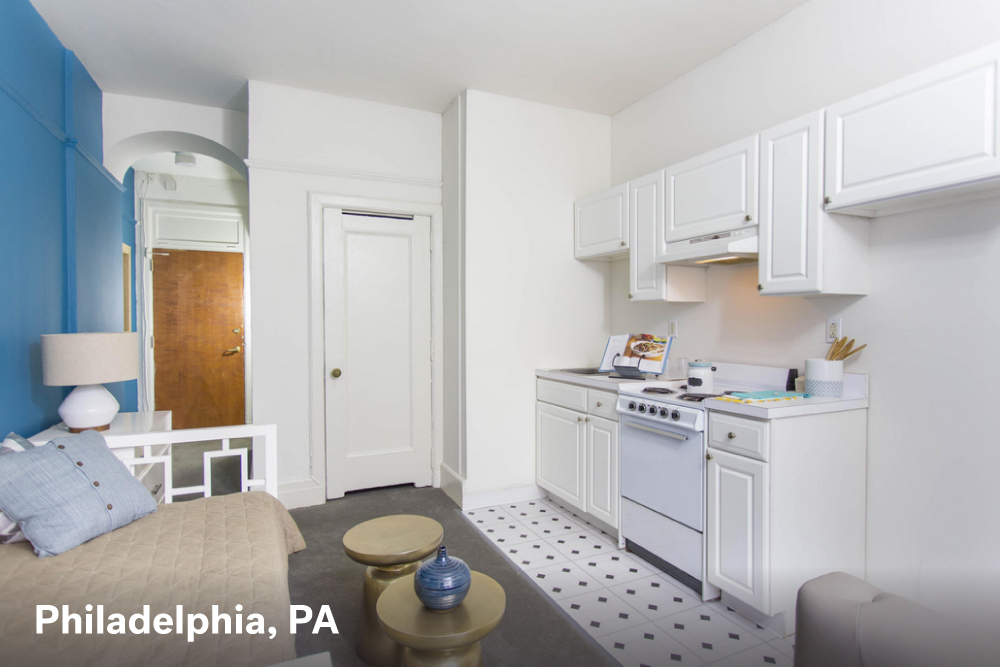 Corner of Center City: Studio apartment in Philadelphia, PA
$980/month, 246 sq. ft., Adelphia House: There's just no getting around it: Elbow room is limited within this 246-square-foot studio in Philadelphia. And while you and Frisky will have to get used to the close quarters (yep, cats are allowed here), it's what's outside the grand apartment building that really counts. That is, a prime location in Philadelphia's dynamic Midtown Village neighborhood, plus convenient access to public transportation. A quick westward skip across Broad Street will eventually lead you to Philly's historic Rittenhouse Square, arguably the city's most famous green space. It shares its tony neighborhood with a diversified lineup of locally owned shops, national retailers, buzzworthy restaurants, and everything in between.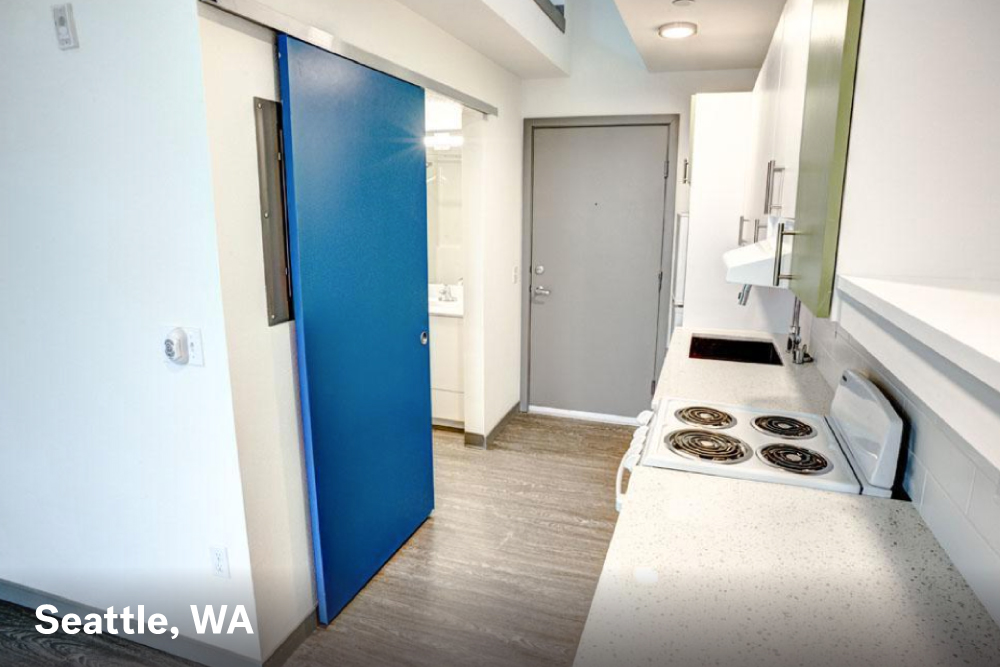 Just for foodies: Studio apartment in Seattle, WA
$1,005/month, 302 sq. ft., Lofts at the Junction: What's a more foodie-friendly amenity than close proximity to the local farmers market? Access to a private rooftop herb garden. This 302-square-foot studio in West Seattle promises both, making it even easier to whip up a seasonal salad or smoothie within the unit's all-white kitchen (it's decked out in trendy white quartz with a subway tile backsplash). Sliding barn doors and floor-to-ceiling windows complete the apartment's eco-organic aesthetic, while amenities like energy-efficient appliances, resident bicycle storage, and an on-site "compost concierge" reflect the community's commitment to sustainability. Circling back to that rooftop herb garden: It's where residents can drink in a spectacular view of Washington's Puget Sound.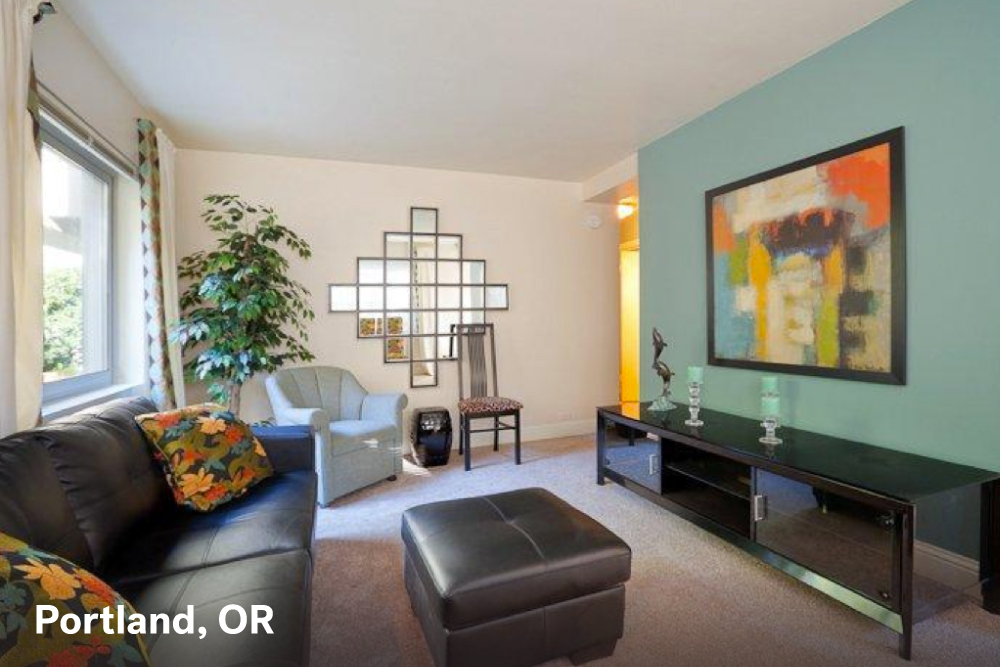 All about the amenities: Studio apartment in Portland, OR
$900/month, 407 sq. ft., Celio Apartments: At just 407 square feet, this Portland studio doesn't offer much by way of space, so what is it, exactly, that your rental dollars are paying for? For starters, a sought-after location in Portland's Northwest district, which is home to an eclectic roster of upscale boutiques, indie coffeehouses, trendy eateries (the famous Blue Star Donuts is less than a mile away), and vibrant nightspots. Even closer to home, the apartment community offers a 24-hour gym, laundry facilities, and free coffee (which is always brewing in the building's fireplace lounge). Still, the most notable feature is the view from the 12-story building's rooftop deck, where you can drink in the sight of snowcapped Mount Hood, Oregon's highest peak, as it interrupts the horizon about 50 miles to the east.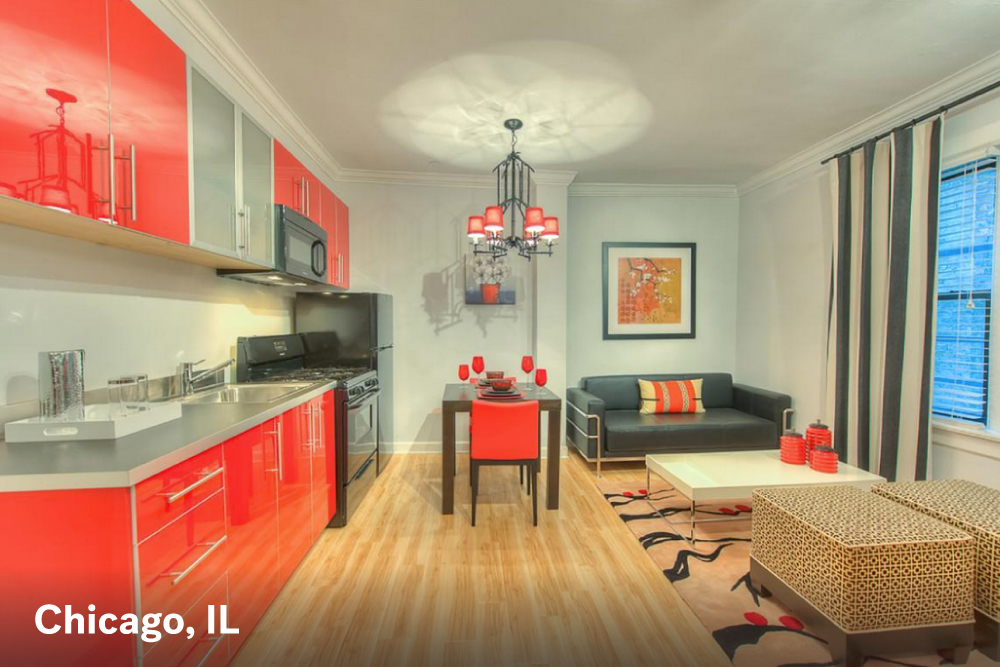 Ultramodern luxury: Studio apartment in Chicago, IL
$1,050/month, 450 sq. ft., Lincoln Park Chicago Apartments: This 450-square-foot studio in the Windy City has us seeing red — in a good way! It's impossible to ignore those crimson lacquered cabinets, but why would you want to? They bring a dose of ultramodern gloss and sheen to this otherwise vintage apartment building, which is situated just a stone's throw from the year-round action of the 1,208-acre Lincoln Park and, just beyond the park, the beaches and waterside trails of Lake Michigan. Take the elevator to the seven-story building's rooftop deck for a bird's-eye view of downtown Chicago.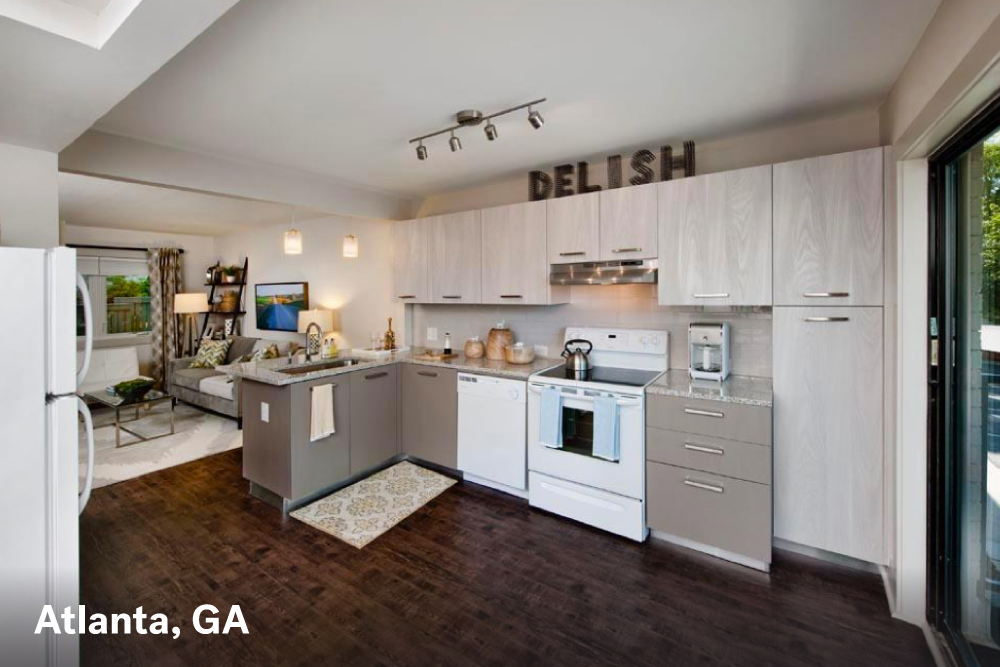 Natural and energy-efficient: Studio apartment in Atlanta, GA
$1,045/month, 468 sq. ft., Ansley Forest: Recent renovations have brought this 50-some-year-old apartment community into the 21st century. That means that prospective tenants of the Midtown Atlanta complex's 468-square-foot studios can expect brand-new everything, from the granite countertops and handcrafted Italian cabinetry to the energy-efficient windows and wood-tone flooring. Meanwhile, a tree-filled setting provides a breather from the fast pace of downtown ATL, but if the parklike setting isn't enough to quiet your nerves, perhaps a dip in the outdoor pool will do the trick.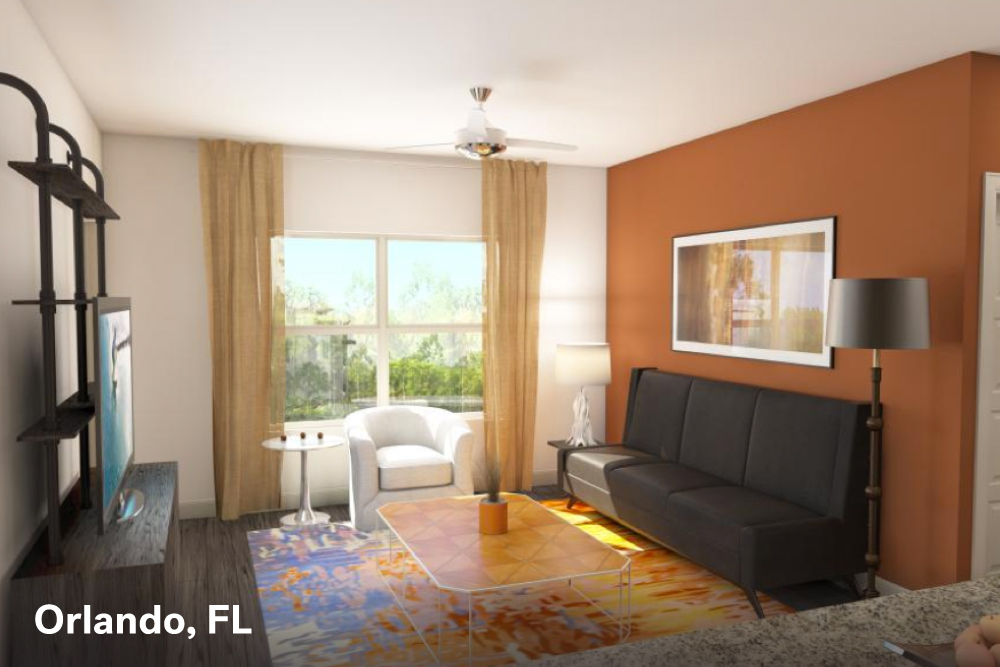 Zen zone: One-bedroom apartment in Orlando, FL
$914/month, 488 sq. ft., Eos: At this contempo-Zen apartment community in Orlando, four outdoor courtyards (ahem, "elemental Zen zones") center on air, earth, wind, and fire. The intention is to encourage a sense of serenity and inner peace. But really, who's going to waste time balancing their chakras when they could be enjoying the zones' fireplace, hammocks, and resort-style pool? Back inside, the community features a billiards room, tanning bed, and pet boutique, while apartments — including this 488-square-foot model — come equipped with chef-inspired kitchens, modern lighting, and designer finishes. Whatever. Which way to the clubhouse?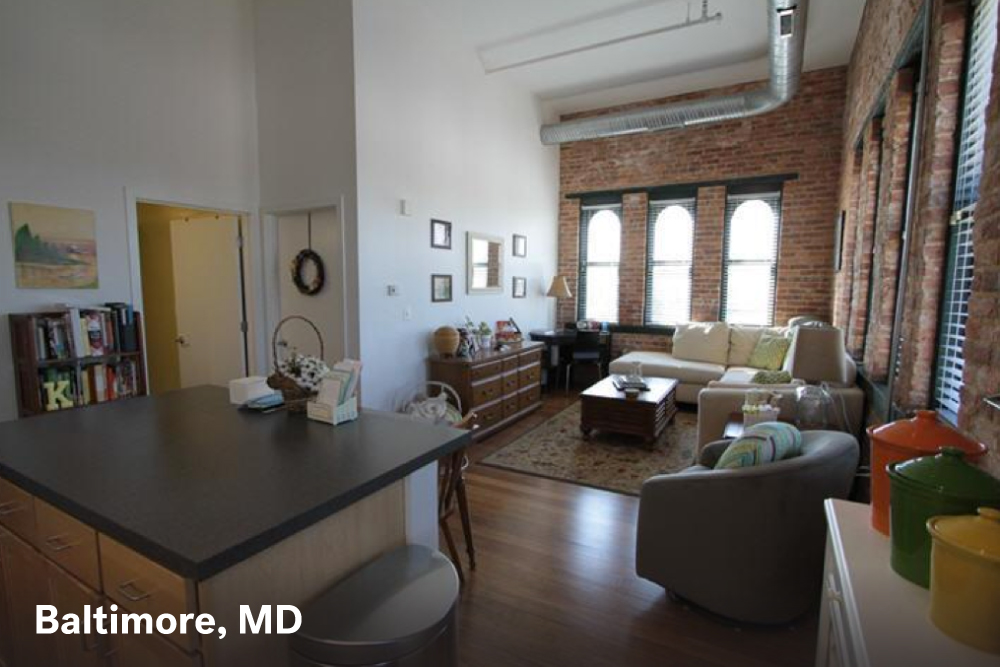 Renovated rental: One-bedroom apartment in Baltimore, MD
$1,050/month, 646 sq. ft., Miller's Court: Fun fact: This 646-square-foot rental in Baltimore's Charles Village neighborhood occupies a small corner of the former H.F. Miller and Son Tin Box and Can manufacturing plant — once the fourth-largest tin can maker in the country! Nowadays, the industrial building is better known for its stylish loft apartments, which sport 10- to 20-foot ceilings, exposed brick walls, and timber beams that are original to the plant. Gated parking and access to a 24-hour gym are both included in the monthly rent, leaving you with extra cash to spend at the community's on-site coffeehouse-meets-hip-hangout, Charmington's Cafe.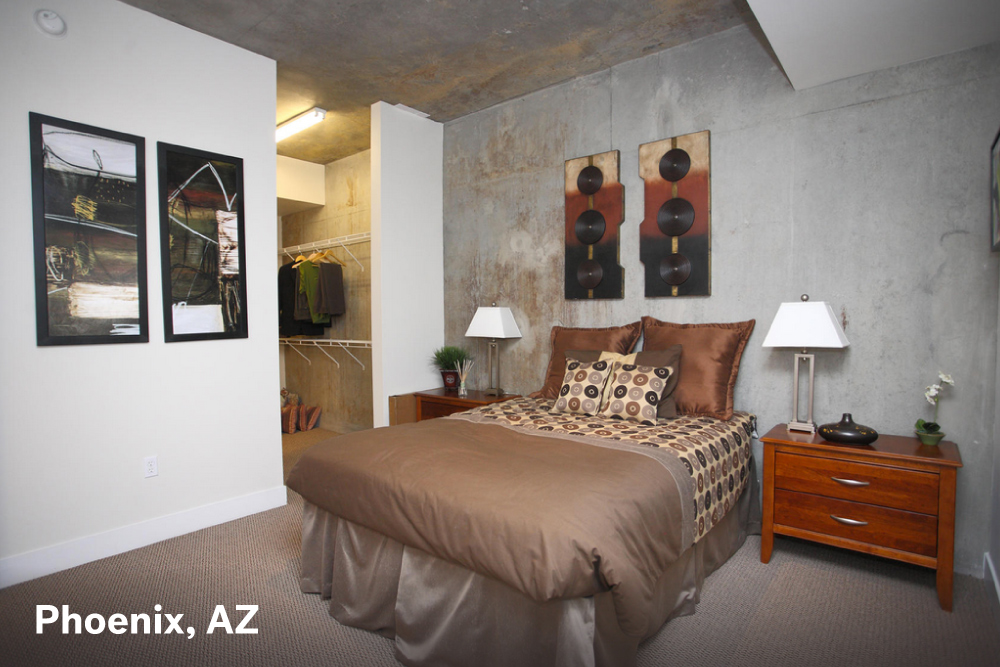 Vertical feet: Studio apartment in Phoenix, AZ
$1,075/month, 672 sq. ft., Skyline Lofts Apartment Homes: What this studio loft lacks in square footage, it makes up for with height. At just 672 square feet, the studio unit has 10-foot ceilings to help the space feel larger. Exposed pipes and concrete walls add to the loft's industrial vibe, which is counterbalanced by contemporary maple cabinetry in the kitchen and bath. A private balcony off every unit returns a view of the building's downtown Phoenix surround, but if you're feeling social, you can meet up with your fellow residents at the building's yoga studio, billiards room, or palm-flanked outdoor pool.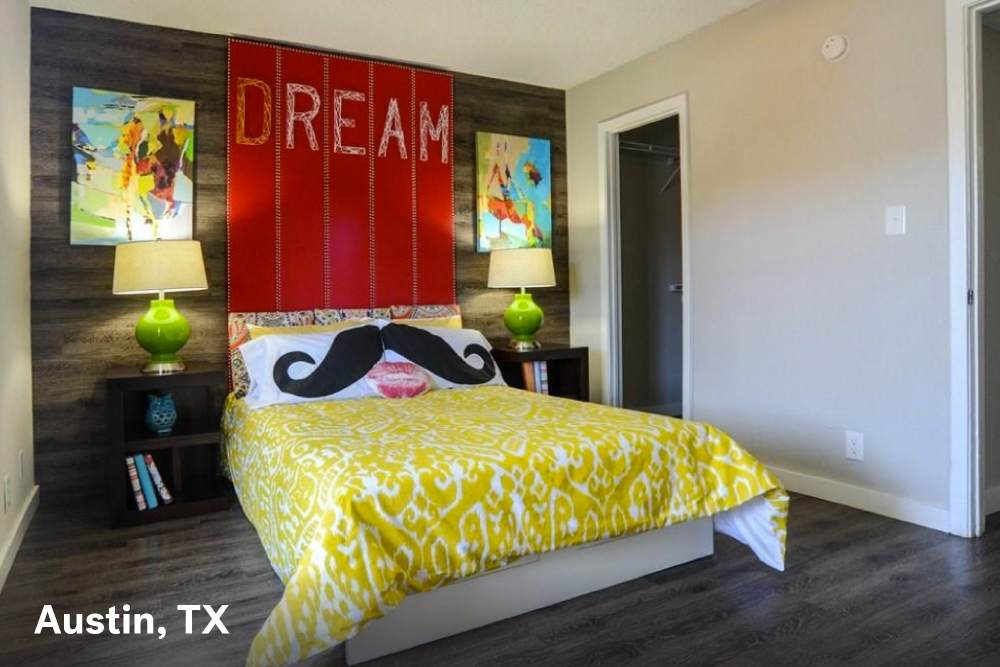 Graduate hill: One-bedroom apartment in Austin, TX
$1,050/month, 747 sq. ft., Arrangement: Hot plates, shower sandals, and roommates need not apply (unless the latter is of the four-legged variety). Centrally located near a handful of Austin universities and colleges, this 747-square-foot, pet-friendly studio supersedes dorm living with its en-suite kitchen and bathroom, plus community amenities that include a communal barbecue area, Olympic-sized pool, and a dog park. True, downtown Austin is about a 15-minute drive away, but skyline views are made possible by the community's hilltop locale.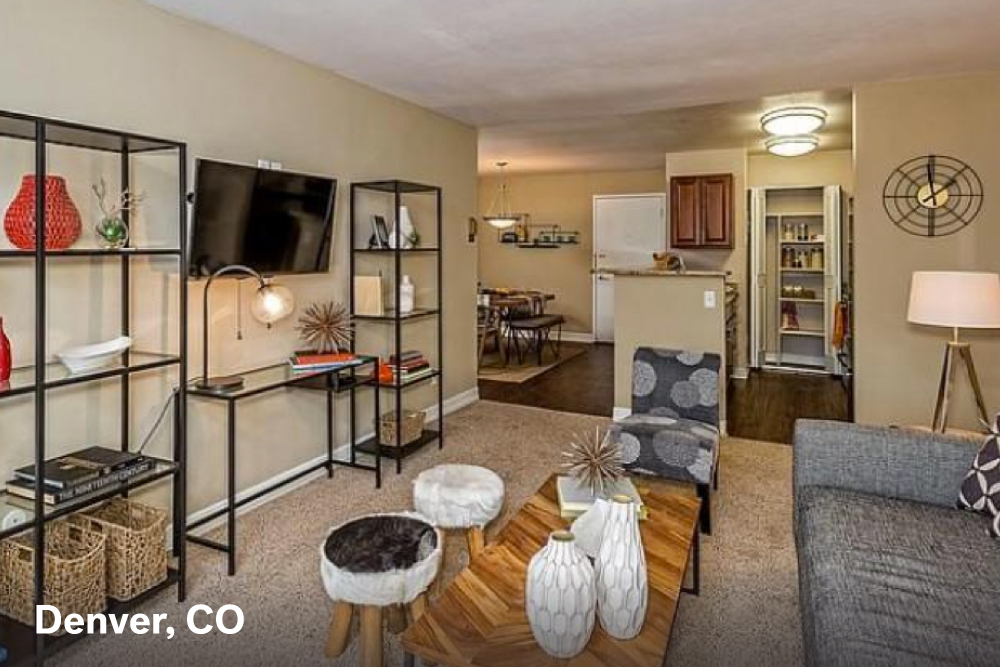 A renter's playground: One-bedroom apartment in Denver, CO
$982/month, 740 sq. ft., The Lex at Lowry: Located in southeast Denver, this newly updated one-bedroom rental measures in at a roomy 742 square feet and features energy-efficient appliances and quartz countertops. It's the community's five-star amenities that are the real draw here, however. You name it, this sprawling, pet-friendly complex most likely has it: a dog park, playground, indoor and outdoor pools, tennis courts, a library, meticulously maintained grounds complete with water features — the list goes on. Further sweetening the deal, a theater room, yoga studio, business center, Wi-Fi–equipped sky deck, and electric car charging stations are all currently in the works.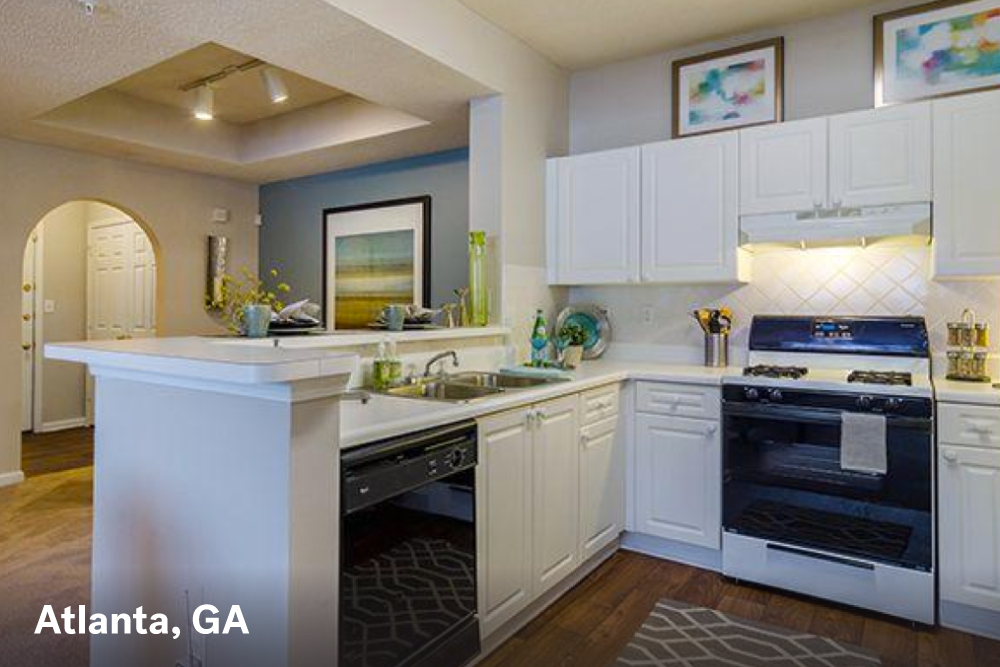 Trendy, but not too trendy: One-bedroom apartment in Atlanta, GA
$1,009/month, 830 sq. ft., Bell Windy Ridge: Located in the Cumberland neighborhood (where companies like Travelport, The Home Depot, Genuine Parts Company, and The Weather Channel are headquartered), this apartment offers 830 square feet and a designated bedroom for your money. Plus, apartment amenities include detached garages, a computer lounge with Wi-Fi, tennis courts, an impressive swimming pool with a bridge, an urban vegetable garden, and a body-sculpting center. Sure, it may not be downtown or midtown, but you'll certainly be able to host a party with lots of other young professionals at your roomy digs (and each unit has surround sound!).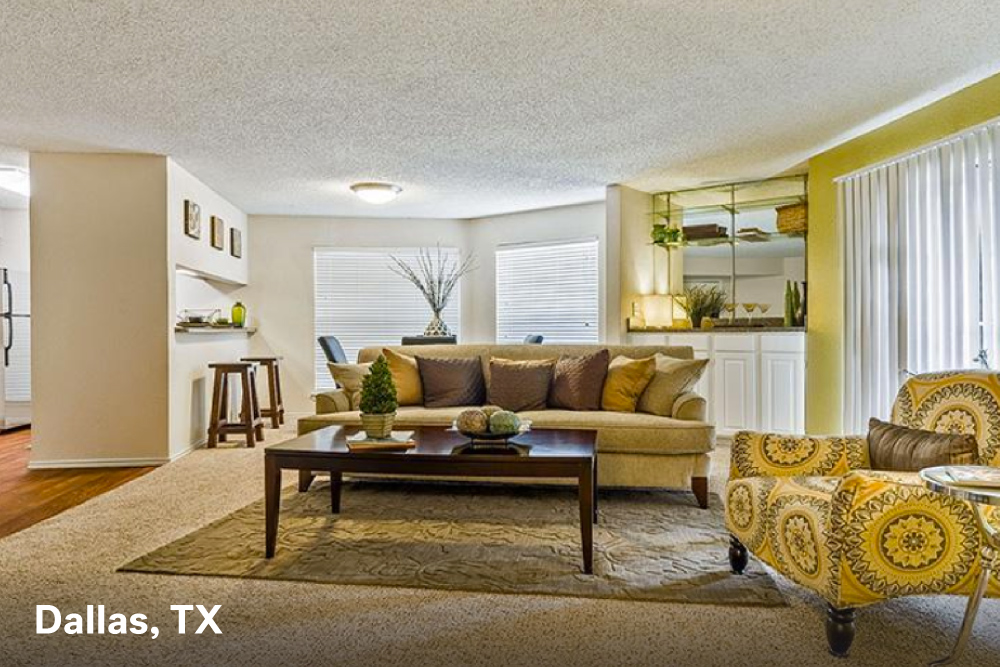 Spacious settlement: Two-bedroom apartment in Dallas, TX
$990/month, 1,042 sq. ft., The Georgian: What will $1,000 in monthly rent get you in North Dallas? Oh, just 1,042 square feet of living space, spread out between two bedrooms, two bathrooms, a fully equipped kitchen, separate living and dining areas, and dedicated storage. As the largest apartment in our list, this pet-friendly rental has more than enough room to go around — but amenities are somewhat limited: A pool, clubhouse, dog park, and on-site laundry are your only extras. We'd argue that the walk-in closets (yes, plural!) are well worth the sacrifice.
Would you take space over location, or prefer a teeny tiny downtown apartment in a big city? Let us know which types of big city apartments you like in the comments below!