New year, new you … new city? Whether your New Year's resolution is to save money, get fit, or finally land a hot date with your crush, Trulia decided to dig into the data to find out which metros are the best (and yes, the worst) for making those resolutions a reality.
Using neighborhood amenity data from Yelp, statistics from the U.S. Census Bureau, and real estate trends from Trulia, we created three indexes that map to some of the most common New Year's resolutions: Budget, Love, and Health. Here are the places to consider (and some to avoid!) in 2016.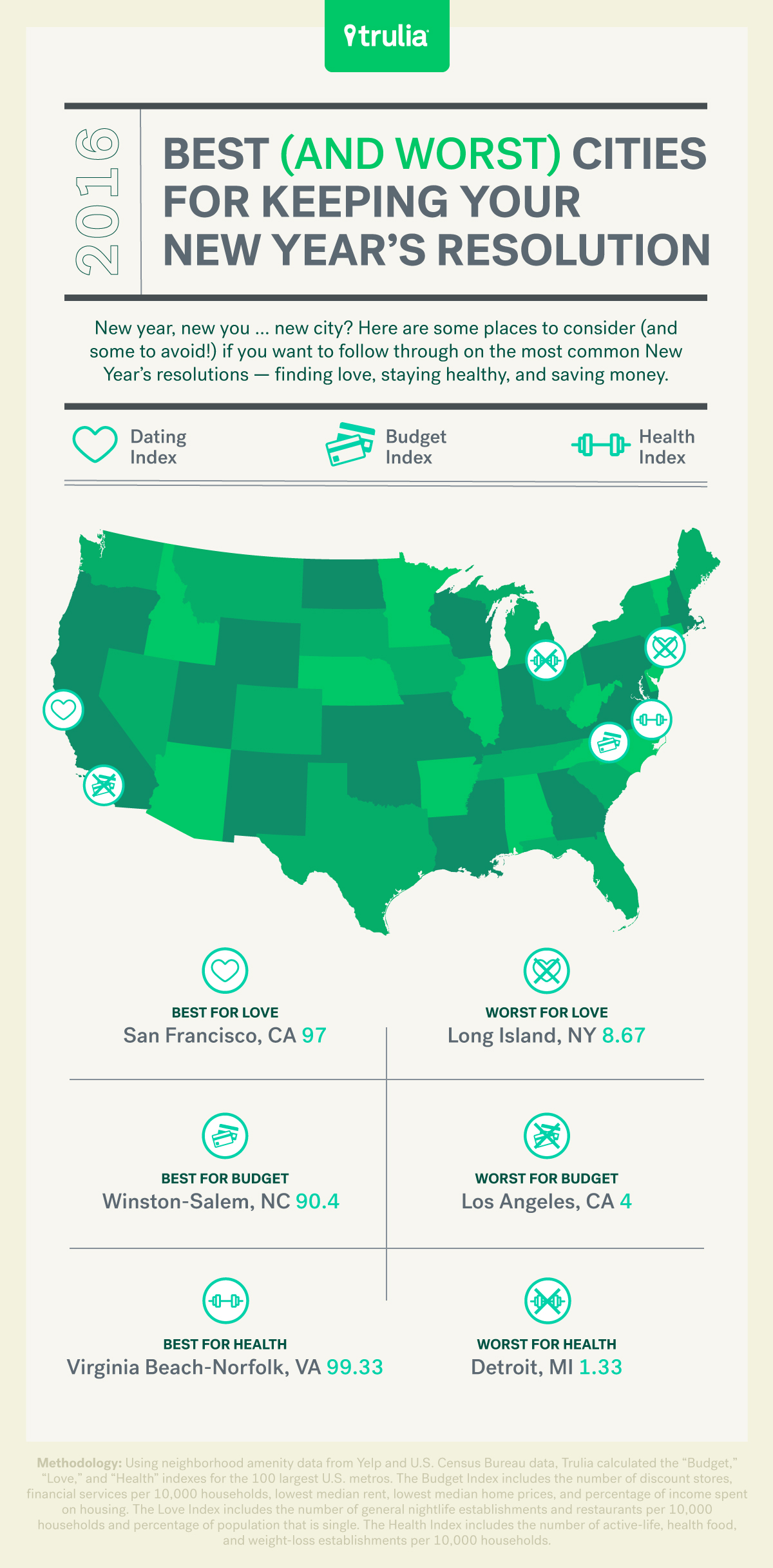 You can't always get what you want.…
Health, wealth, and love — the trifecta of New Year's resolutions! Unfortunately, the data show that it's unlikely to achieve (or fail at) all three resolutions in the same city. Singletons looking to meet someone special should consider San Francisco, CA — the city scored highest on our Love Index. The bad news? San Francisco apartments for rent are some of the priciest in the country. If saving money and looking good are top on your resolutions, head east to Winston-Salem, NC. It makes sense: The median home price for Winston-Salem real estate is a wallet-friendly $124,262.
Some of the worst places for keeping a New Year's resolution? Lovers should avoid looking for homes for sale in Long Island, NY — the area scored a low, low 8.67 on the Love Index. And renters should avoid the Los Angeles, CA, real estate market (unless they're prepared to blow their budget).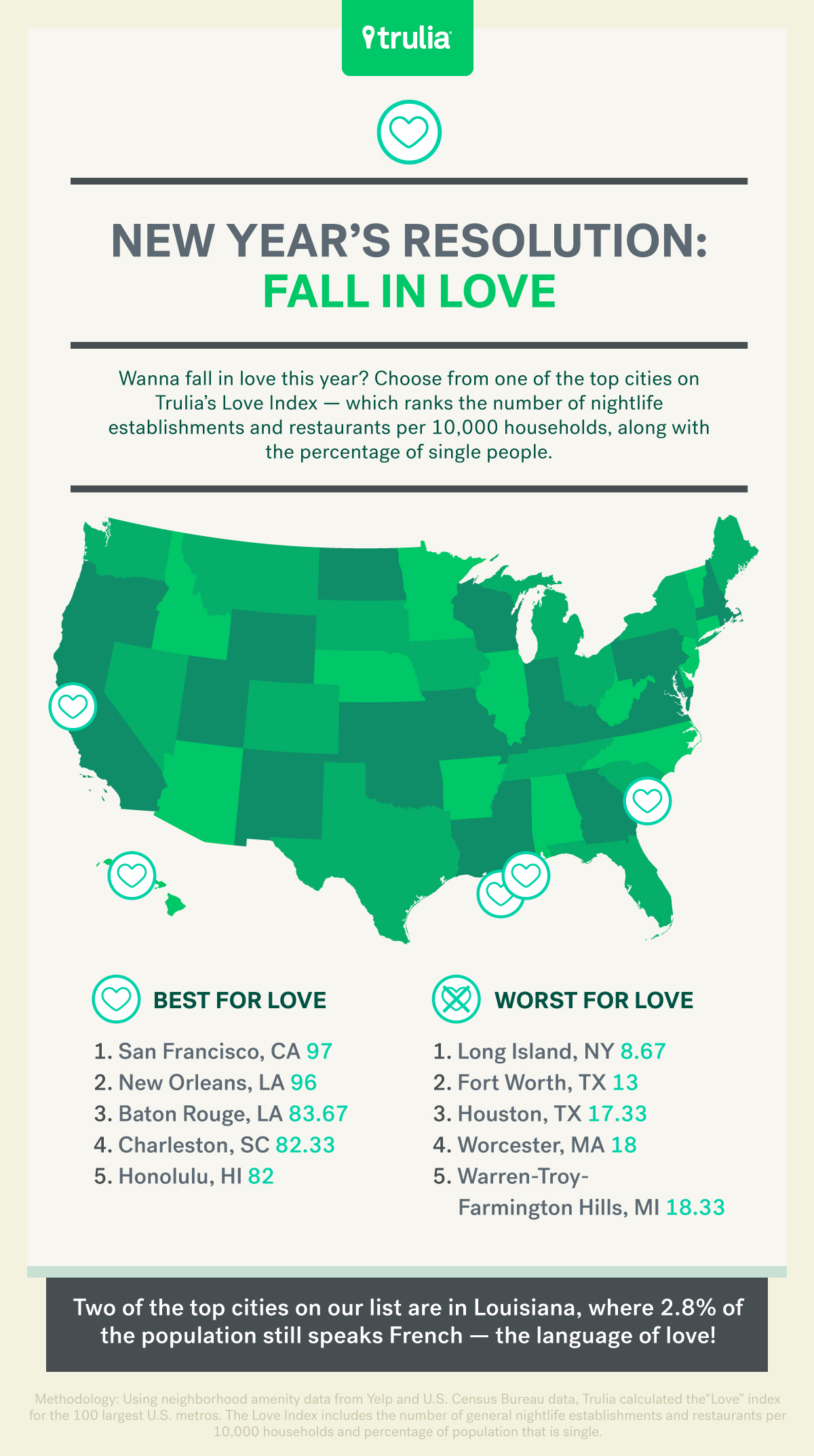 First comes a resolution, then comes love
Forget auditioning for The Bachelor. If you want to get a rose this year, try your luck in one of the top cities on Trulia's Love Index. Ranked by the number of nightlife establishments and restaurants per 10,000 households, along with the percentage of single people, these are the best cities for singles. (Raise your hand if moving to Honolulu, HI, sounds like paradise!)
But would-be Romeos and Juliets might want to steer clear of Texas. Both Forth Worth and Houston are ranked among the worst places for those resolved to find love in 2016.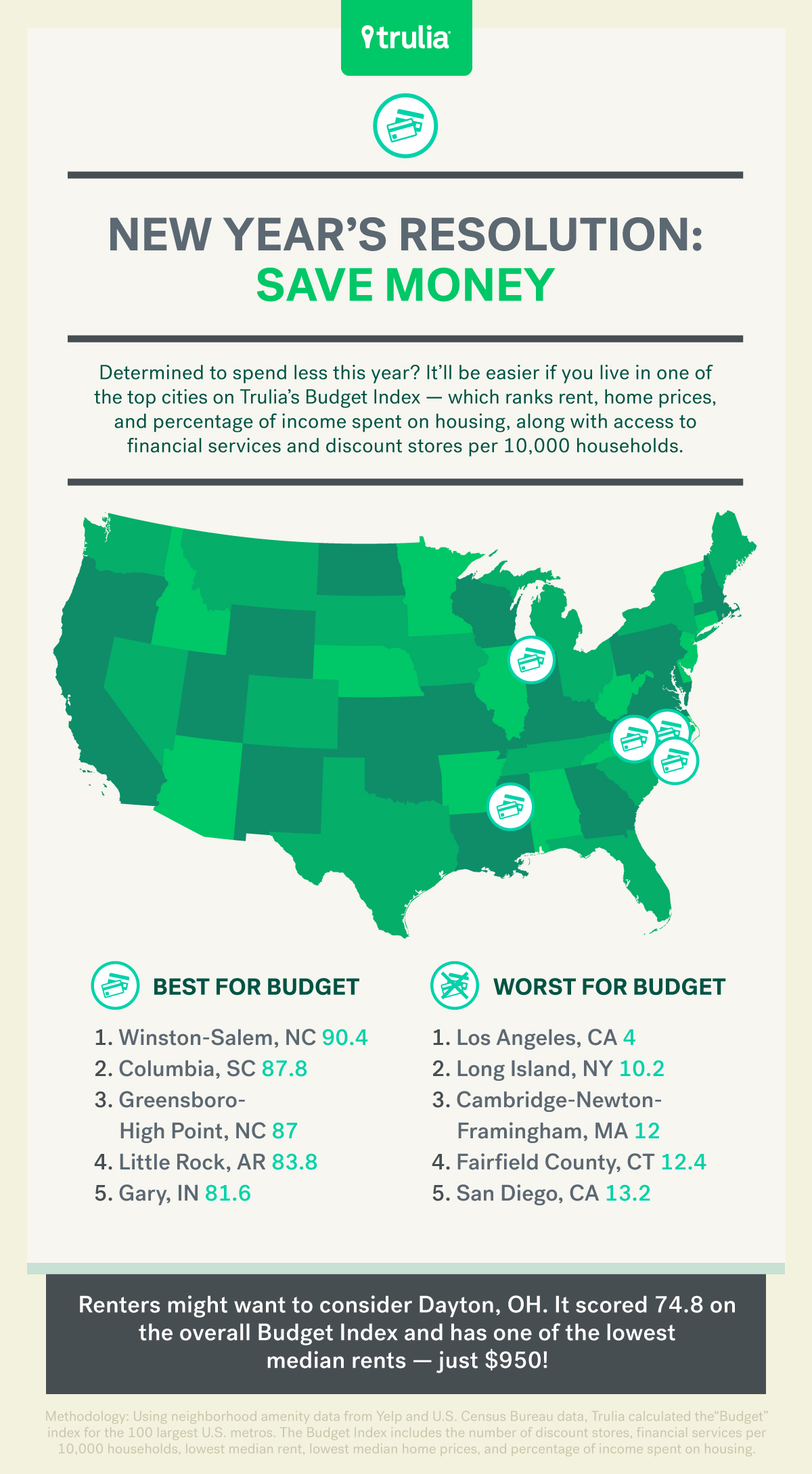 Mo' money, less problems in 2016
There's nothing like a new year to put things into perspective — especially when it impacts your wallet. Saving money is one of the most common New Year's resolutions. (It's also one of the most commonly broken New Year's resolutions.) So where should penny pinchers move to save money?
Ranked by rent, home prices, and percentage of income spent on housing, along with access to financial services and discount stores per 10,000 households, These five cities for savers (and five cities for spenders) stood out in our research. If saving money is your resolution, best to head to The Carolinas — North and South, that is — and avoid California.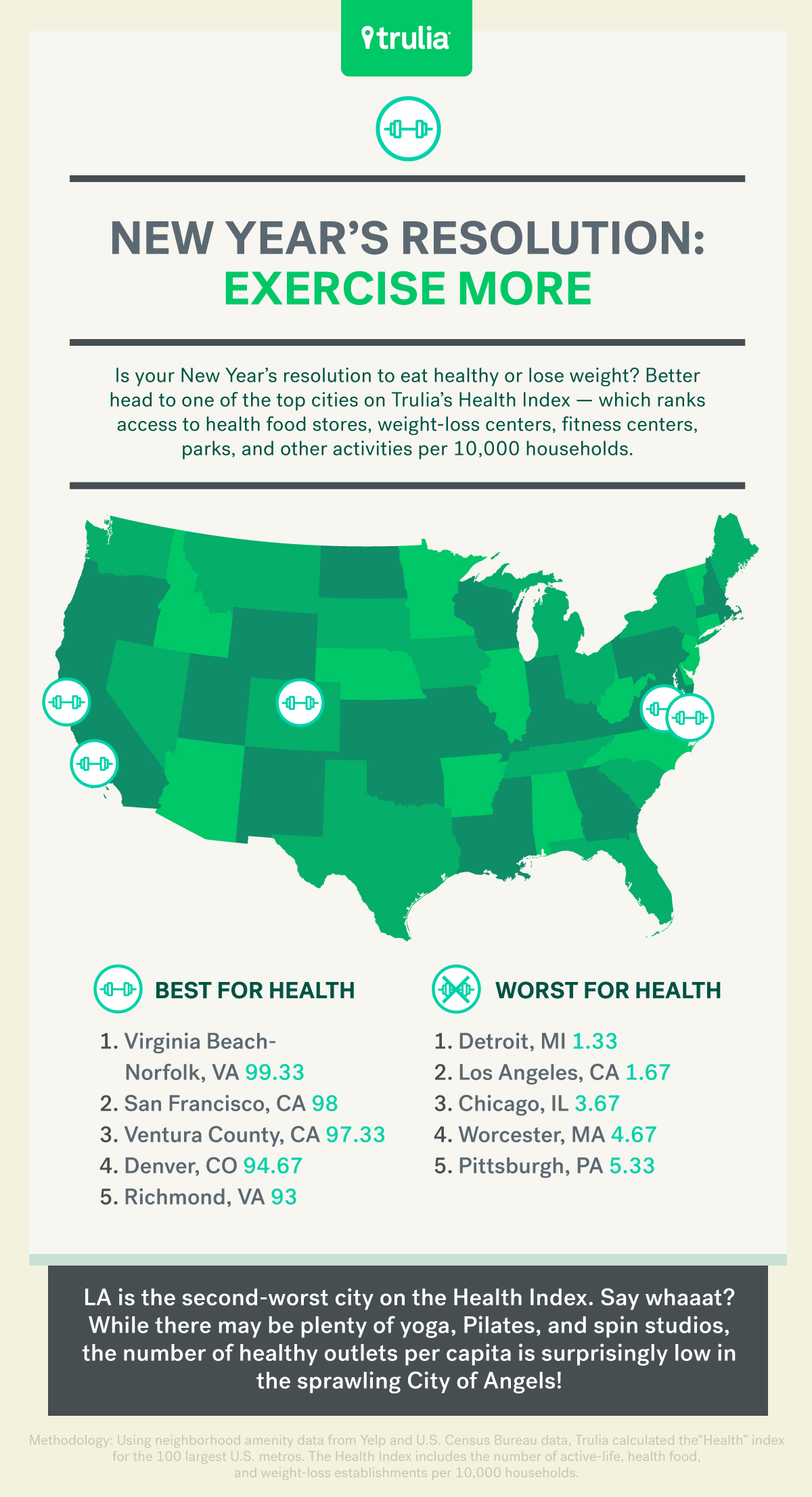 Resolved to lose weight? Move here!
How many people make New Year's resolutions to lose weight? Oh, millions. How many keep them? Hard to say — but the people living in Virginia Beach-Norfolk, VA, and Richmond, VA, may have some tips. (They're number one and five on the Health Index, which ranks access to health food stores, weight-loss centers, fitness centers, parks, and other activities per 10,000 households.)
Surprisingly, image-conscious, green-smoothie-loving Los Angeles, CA, is the number two worst city on our Health Index. While there may be plenty of yoga, Pilates, and spin studios, it turns out that the number of healthy outlets per capita is surprisingly low in the sprawling City of Angels.