Die hard Bachelor fans, rejoice! Now that it's officially 2017, we can celebrate because The Bachelor is back! Nick Viall will, once again, try to find love on reality TV. Hopefully, the fourth time is the charm.
On Monday, January 2, Nick began his journey with 30 single ladies arriving at Villa De La Vina, the show's famous mansion in Los Angeles. From shark costumes and fan dances to strange hot-dog books, these ladies arrived at the mansion in-style and ready to charm! There are already so many front runners to chose from.
Now that the first impression roses are out, the rest of the season is sure to be as unpredictable as ever! While the dates, fights and rose ceremonies are always a rollercoaster, Trulia decided to take a look at one of the only constants in the show, The Bachelor Mansion.
Since 2006, 11 Bachelors and Bachelorettes have waited in front of the mansion as limousines arrive with romantic interests hoping to be selected as a future wife or husband. Once inside, the show quickly heats up! From drinking in the kitchen to gossiping in the hot tub, emotions run high behind these walls. But what do we actually know about the famous house? Trulia decided to take a closer look!
<!–[if IE 9]>
<!–[if IE 9]><![endif]–>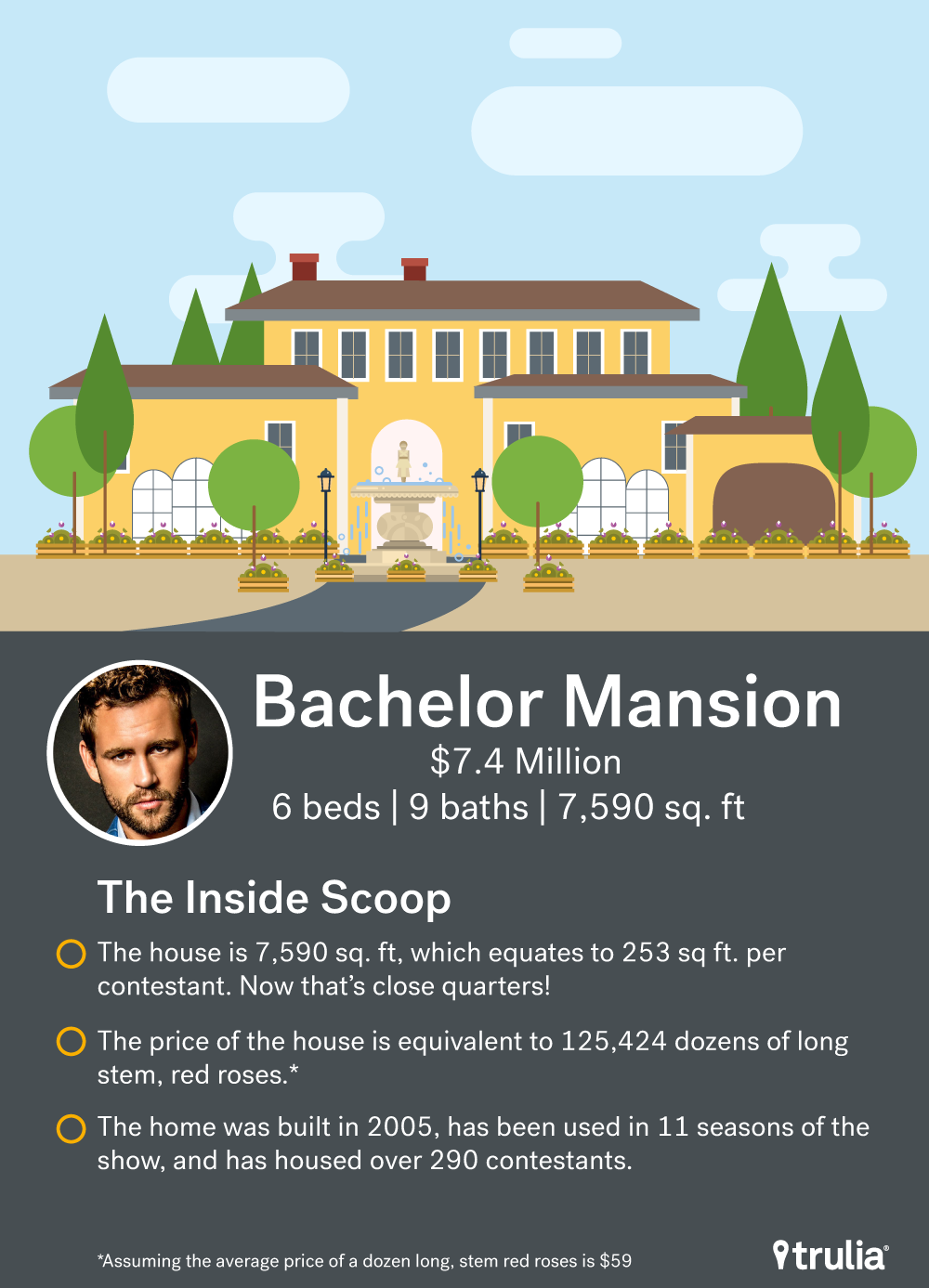 The Bachelor Mansion, located in Agoura Hills, CA, sits on 9.3 acres of land and is a whopping 7,590 square feet. Although massive, the 6-bedroom, 9-bathroom home is presumably a bit crammed for all the contestants and their bachelor, Nick. The pad also comes with a pretty big price tag. The Mansion is currently off the market, but Trulia estimates it would cost some serious dough—$7.4 Million to be exact!
While we're sure this infamous pad holds many secrets we may never know, you can take a peek at what it looks like on the inside. Just picture the mansion as it will be on Monday night, filled with roses, champagne flutes and tears…
We hope this look at the Bachelor Mansion has you geared up and ready for another hot season!