For most of us, apartment living comes with certain space constraints. If you're renting, you're likely to keep your plans for the ultimate pleasure palace in check until you've got a larger space on permanent lockdown — and a mortgage payment to prove it.
But these apartments for rent in Boston, MA, Williamsburg, VA, and more transcend such conundrums by offering communal spaces as gorgeous as you'd want in your own home. Tricked out with amenities from games to full business capabilities, these stunning backdrops sweeten the deal of renting there.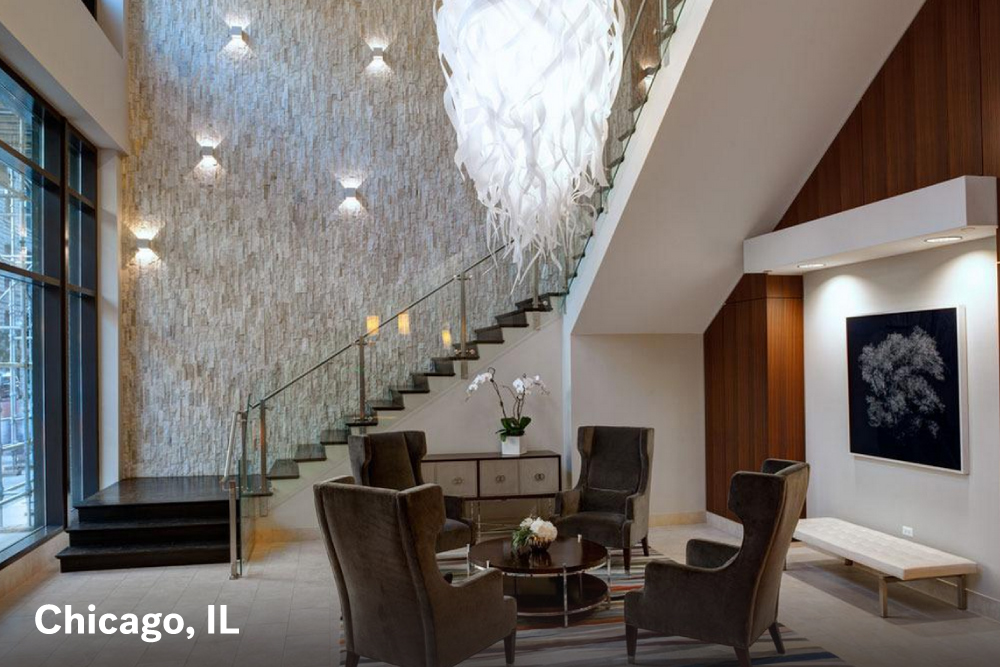 Dramatic entrance: $1,900 to $6,574/month, AMLI River North Apartments
Massive floor-to-ceiling windows separate the bustle outside from the serene, luxe retreat inside the AMLI River North Apartments in Chicago. The ground-floor gathering space is furnished with handsome, clean-lined oversized armchairs and sleek accent pieces under the pièce-de-résistance chandelier that sets the ambiance ablaze. The architecture of the LEED Gold–certified building also speaks for itself, with expansive ceiling heights sweeping up and away to accommodate those windows.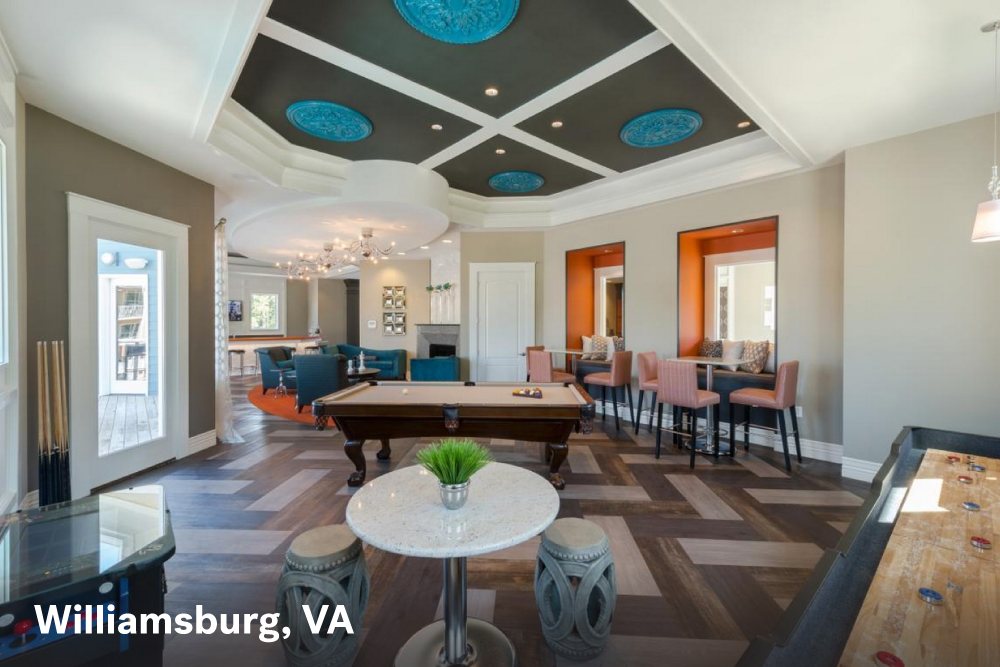 Life of the party: $1,080 to $2,035/month, The Aura at Quarterpath
This building in Williamsburg, VA, may be just five minutes from the serene greenery of Quarterpath Park and have its own outdoor pool, but with all the amenities packed inside, you'll never want to leave. In addition to a clubhouse with fitness room and an on-site media room, the property has a bright and cheery billiards room furnished with a pool table, shuffleboard, and old-school Pac-Man arcade console.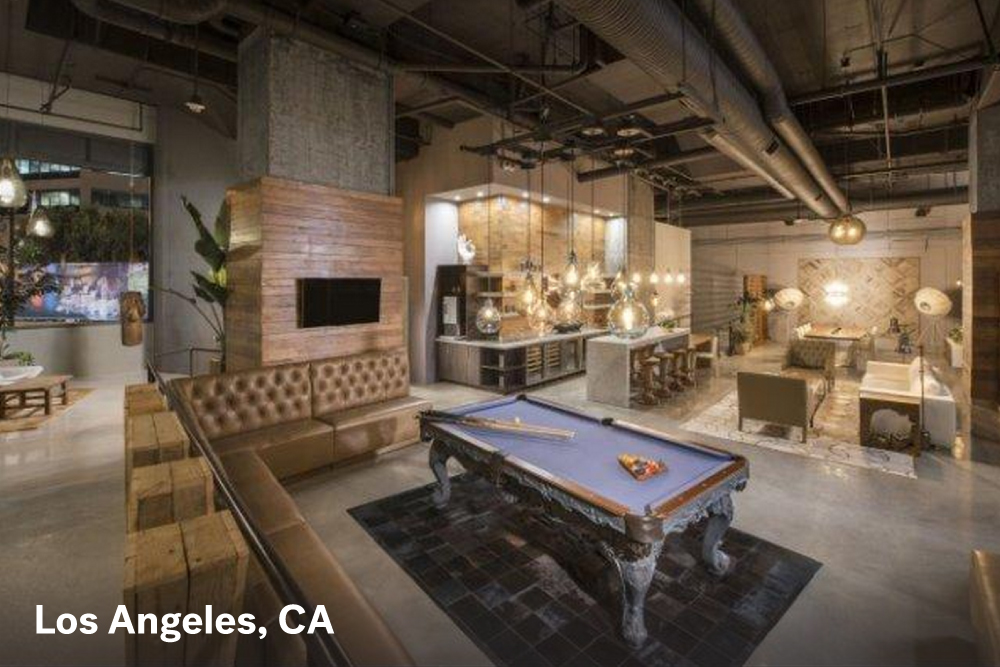 Cozy industrial: $2,430 to $8,995/month, Apex. The One
With a canopy of industrial-chic pipes and a smooth concrete floor, the communal spaces at Apex. The One in Los Angeles are an inviting mix of modern and traditional. Hints of rococo on the pool table and Chesterfield in the leather bench couches and settee give the room a quirky vibe, while slick marble and raw-wood minimalism define the bar area.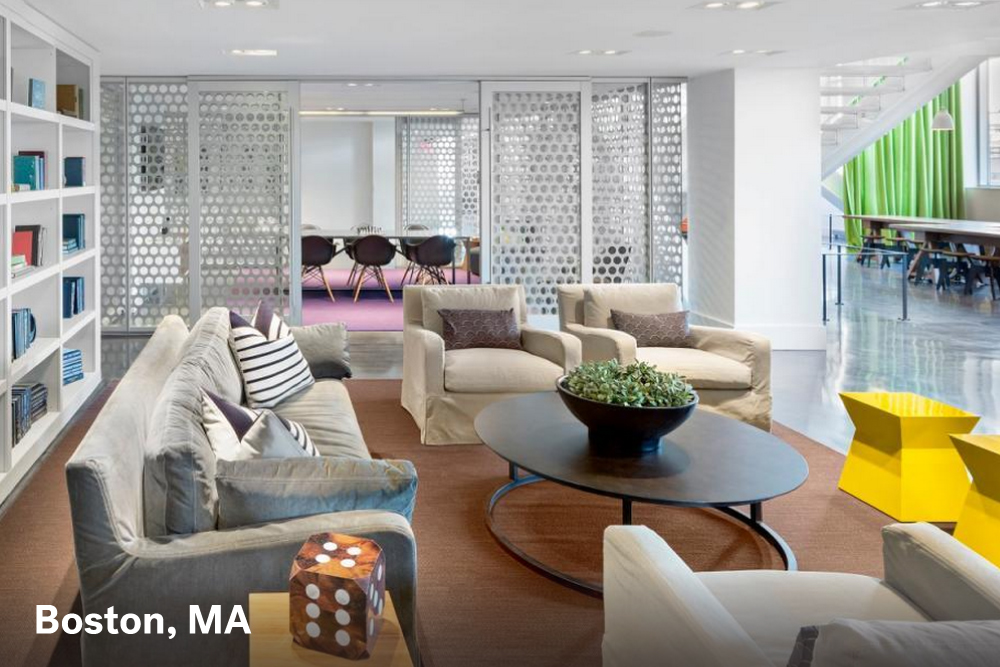 Wi-Fi wonderland: $2,629 to $3,504/month, Ink Block Apartments
Built with modern, versatile design at the forefront, the Ink Block Apartments in the heart of the Boston's sleek South End welcome a modern, versatile tenant. With that in mind, the common areas throughout are not only gorgeous, but they're also equipped with Wi-Fi access, with a range of spaces to gather, lounge, and work. A reading room downstairs feels homey with impeccably styled bookshelves and comfortable couches, while an adjacent meeting area (it's too cool to be called a conference room) allows you to belly up to a long plank table with a semiprivate partition for a little bit of separation. Around the corner are more airy spaces to sit and get stuff done.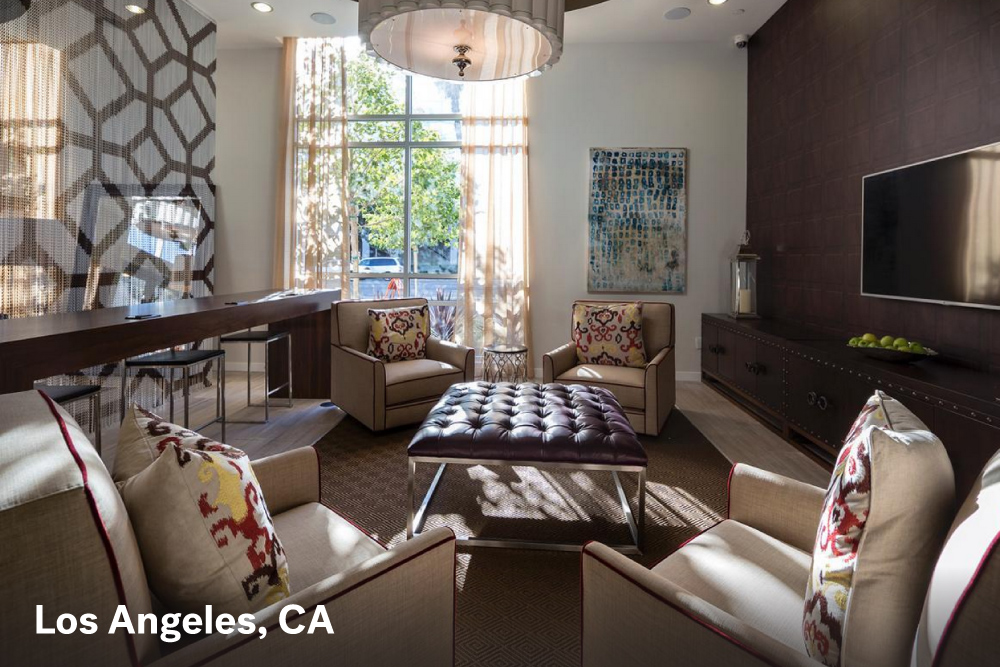 Haute hangout: $1,810 to $22,638/month, Avant Apartments
So many common areas can look like showpiece spaces, put there to look nice but without any appeal to actually draw people in. Not so at the Avant in Los Angeles, where the eclectic decor inspires a convivial vibe with its warm leather and wood finishes, pops of color, and influx of light. Chill enough to bring your laptop down and get some emails out of the way, the lounge space will encourage you to stay and kick back with neighbors once you're done.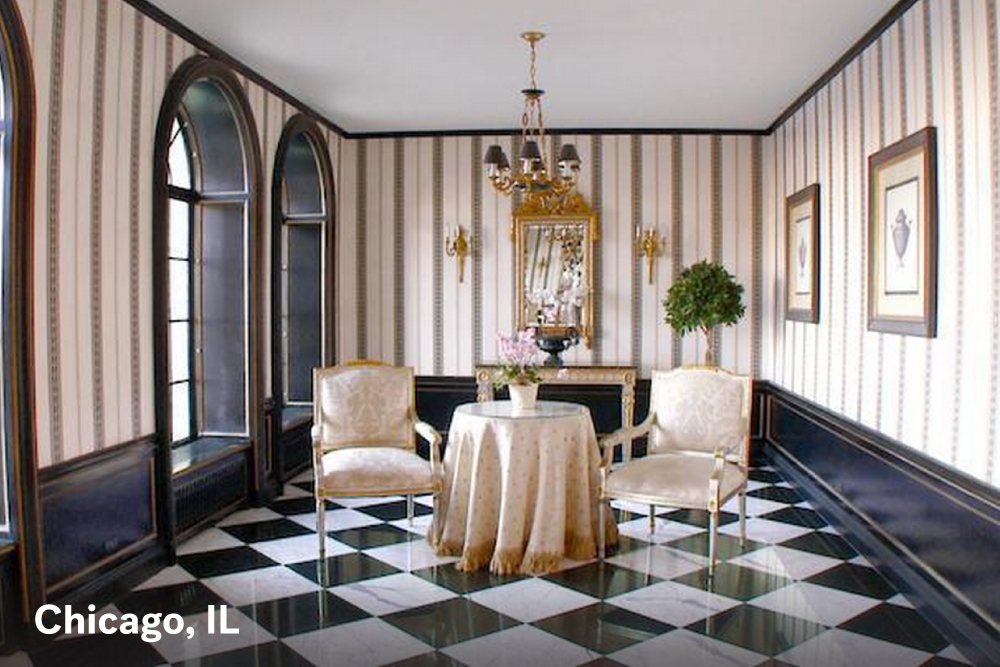 Vintage find: $5,600 to $7,550/month, 3240 N. Lake Shore Drive Apartments
The trend in luxury rentals tends to skew toward ultramodern finishes and sharp edges at every turn, but this Chicago high-rise on the east side of Lake Michigan offers a vintage feel, complete with crown moldings, traditional styling, and built-ins. Those prime lake views are front and center in the apartment complex common spaces, thanks to gigantic arched windows and elegant sitting areas.