Set, hike! The pigskin flies, cleats dig into fresh-cut grass, and muscles tense across all lines of the field. You're breathing hard, mud stains on your knees.
No, you're not reliving high-school glory days. You're in your backyard, playing on your private regulation-sized football field. See, the thing about glory days is they're only in the past if you let them fade away. And with your very own 13,450-square-foot sports mansion, you're practically guaranteed to reign top of your class — or fantasy football league.
We explained how house hunting as though you were drafting your fantasy football team can help you score a winning home. (And we've found one.) From the full-sized football field, basketball court, and tennis court to the vast gourmet kitchen and home theater, this Harvest, AL home epitomizes a major-league baller's pad from MTV Cribs: designed to help you live, breathe, and eat like a pro athlete.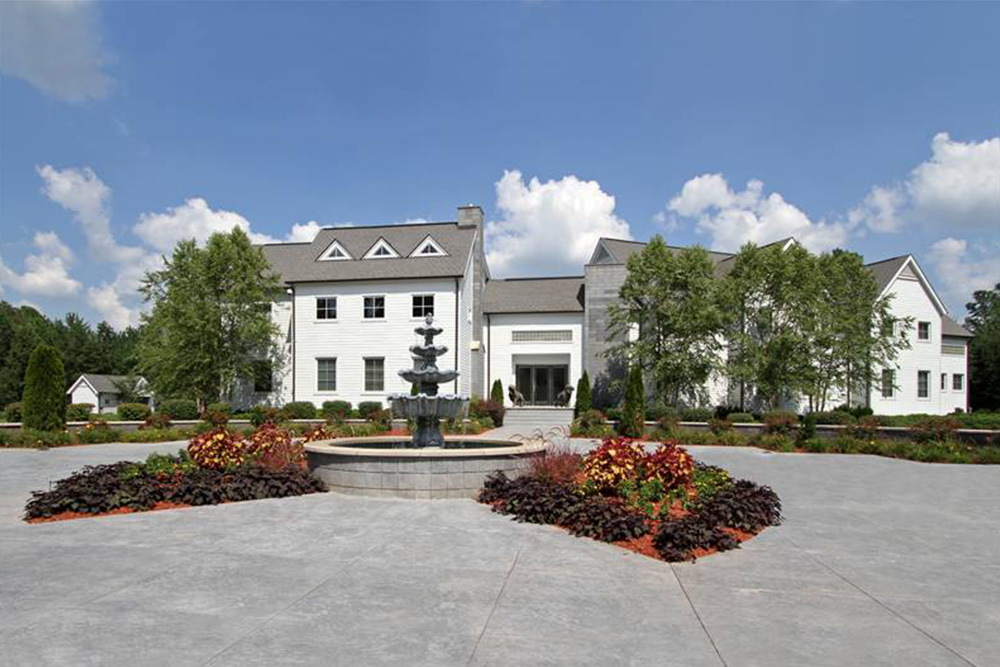 With a four-tier fountain and white plank siding, the front of the home boasts curb appeal in a grand way, while hiding a sports complex within. The oversized stone driveway hints at the home's secret life … because when it's football season, a private training arena is accessible to teammates, with ample room to park their Escalades out front.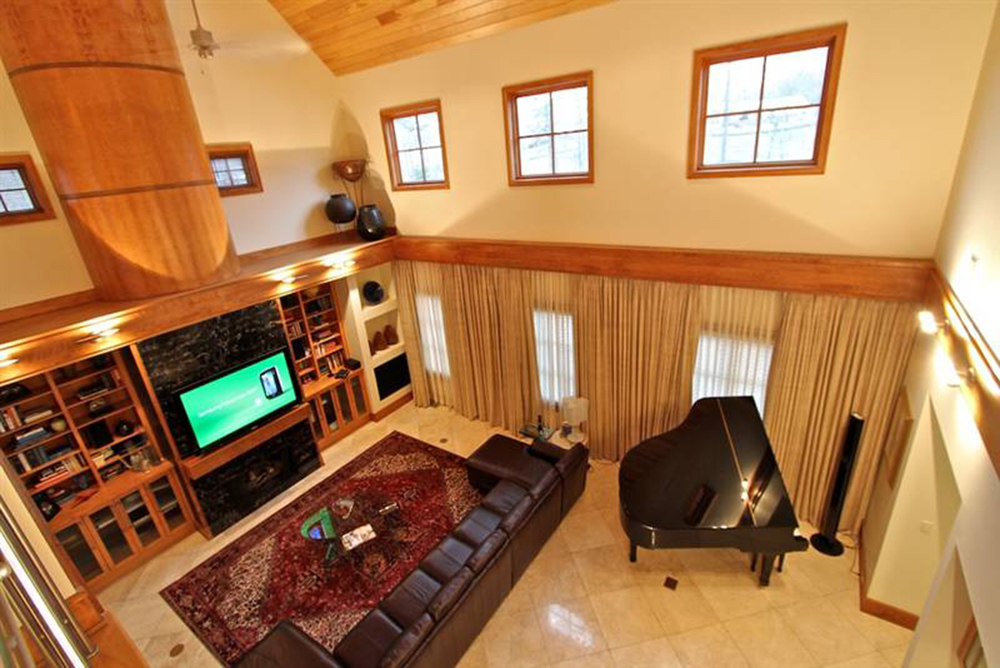 Walk through the two-story foyer and you've entered the living room. Of course, a flat-screen TV is central to the space — perfect for having teammates over to watch game film. Surrounding the TV are large built-in shelves, ideal for displaying your Heisman, Stanley Cup, or high school MVP trophy.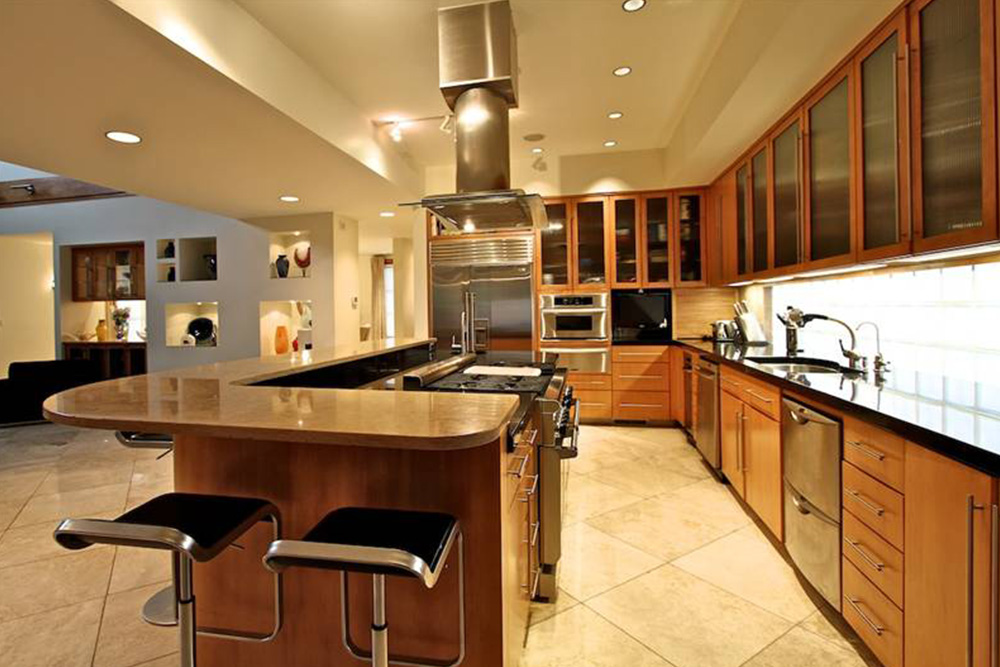 Adjacent to the living room is the kitchen, necessity number 2 of any sports crib. The state-of-the-art appliances are big enough for any team's personal chef to whip up a protein-packed meal after training sessions, and there will be no tackling or cutting in line when dinner is served. The breakfast room that leads to the dining room features a buffet for organized service.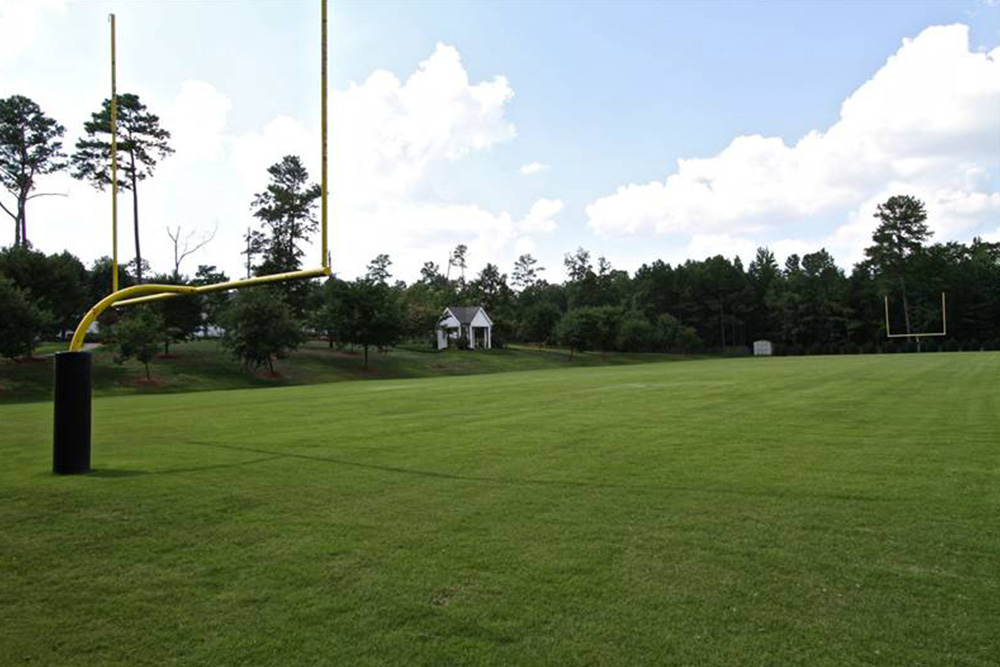 Whether you're training for a family Thanksgiving Day football game or prepping for the Super Bowl, the regulation field has everything the team needs to gain an edge over the competition.
Kickers can practice field goals while running backs train on the trails surrounding the fields and linebackers lift in the weight room. Summer heat can linger until mid-October in this part of the country, but with a field house on the 50-yard-line, your team won't be able to use dehydration as an excuse.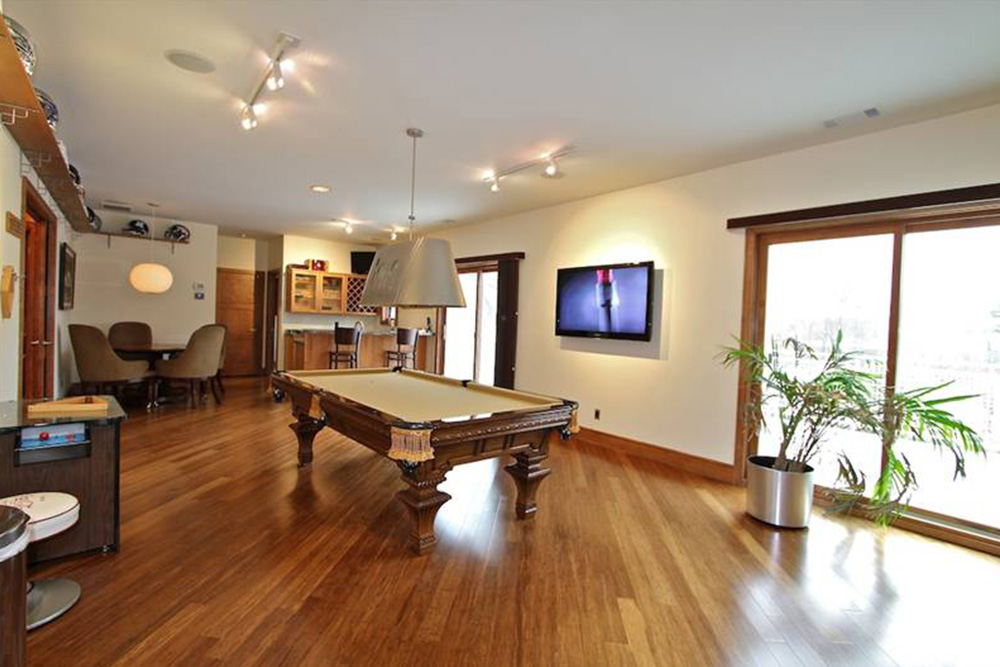 Whether you Roll Alabama Tide, hail to the Tennessee Volunteers, or fight like a Georgia Bulldog, the game room is the place to tout team pride. Line the top shelves with memorabilia and then invite your teammates over to play a little pool and arcade games during halftime.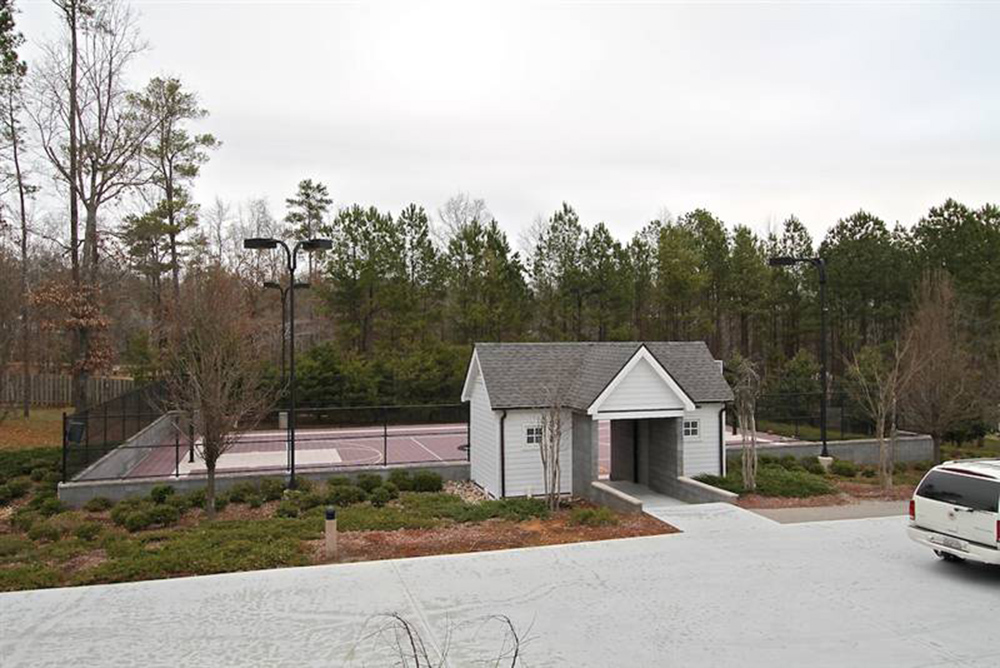 Football may reign, but true athletes never let their competitive side rest. Cross-train at the convertible basketball, volleyball, and tennis court located on the 14-acre property, or just use the space when you invite LeBron, Kerri, Serena, and all of your other famous athlete friends over for a quick game.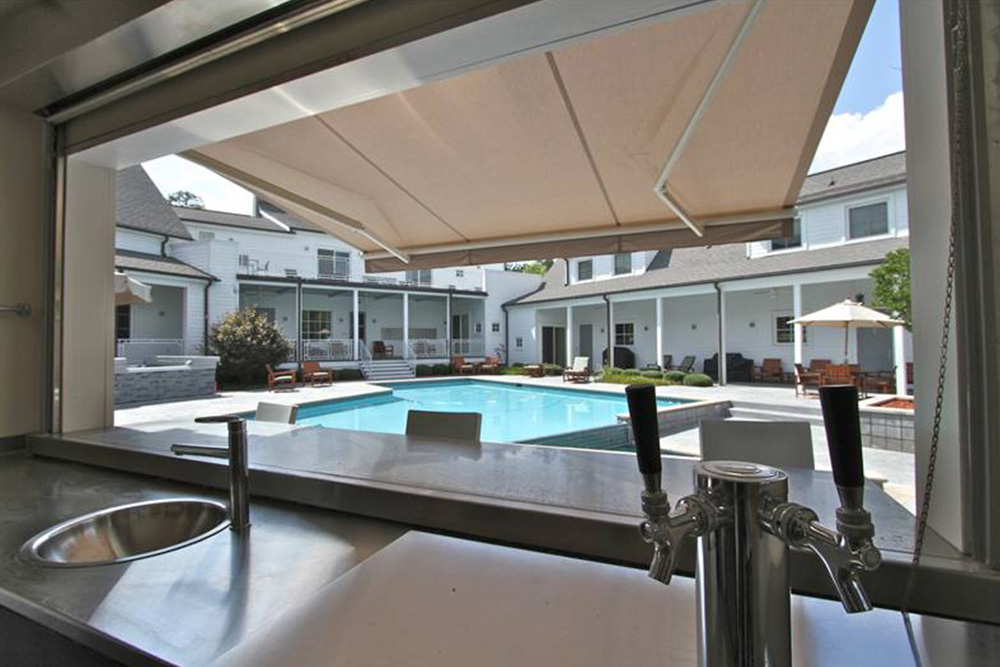 The only thing to do after any major win or tough practice is to keep the beer flowing at your poolside bar. And Coach will approve of any shenanigans on the deck once he gets an invite to soak in the infinity edge pool.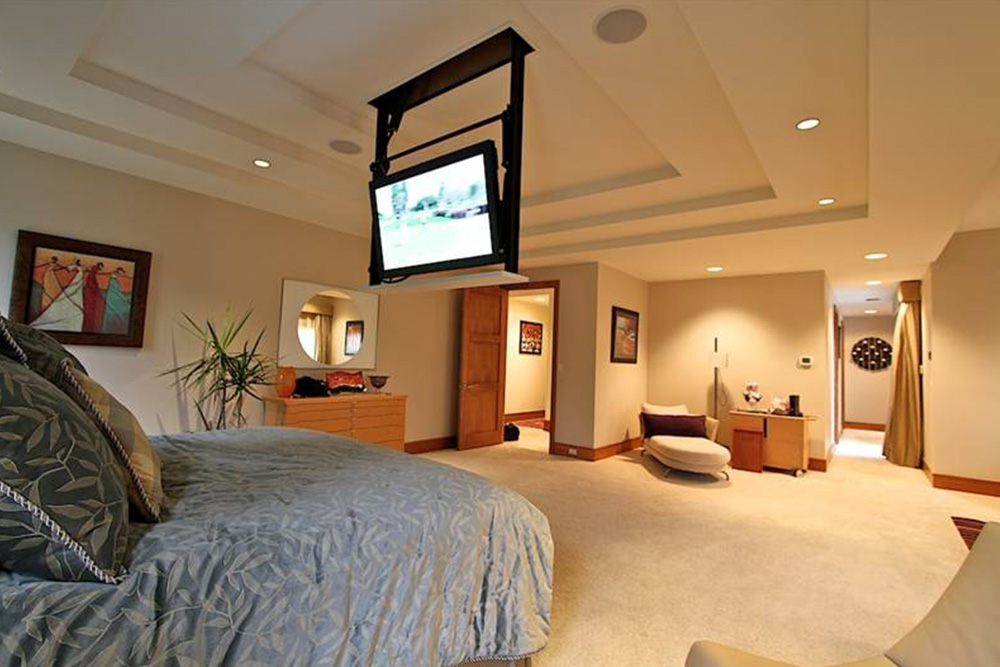 The triple tray ceiling, fireplace, and large designer closets are the least exciting luxuries for a sports fan in this master bedroom. The remote-controlled television that drops down from the ceiling claims victory over other lavish amenities.
This is the part of the MTV Cribs walk-through where you may ask yourself, "Why?" The answer's simple: eat, sleep, sports.
As soon as your partner falls asleep, it's time to roll down that secret TV and catch a little SportsCenter before drifting off.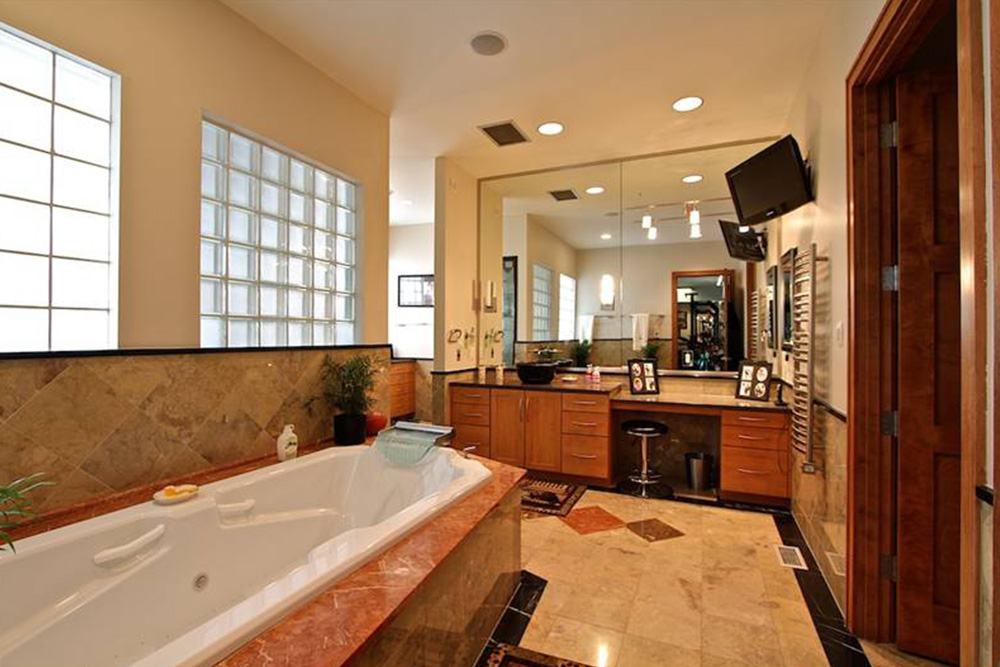 The final reminder that you've left the life of locker rooms, athlete's foot, and group showers behind? The master bathroom. Walk straight from the exercise room and sauna into the luxe space, which features radiant flooring, cozy towel warmers, a large bathtub with waterfall feature, and an even larger oversized rain shower.