Anyone who has looked for a new home knows that "affordable" is a relative term. While there are places where the dollar has a little more stretch, not everyone can pick up and move to those low-cost-of-living wonderlands. Work and family usually dictate where people live, and they often take us to some of the most expensive cities in the US In cities where even the price of a cup of coffee is exorbitant, we've rounded up a list of rentals that will make your wallet happy.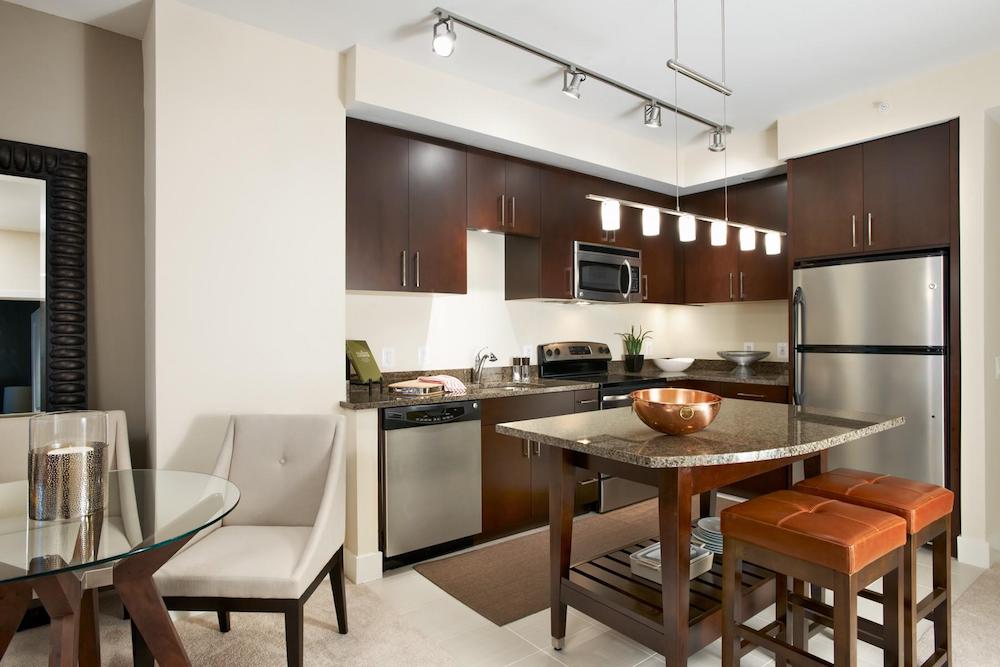 Washington, D.C.

Posh living in a up-and-coming D.C. neighborhood for $1,991/month 

Space, style, and amenities can seem unreachable in competitive markets, but the Flats 130 apartments meet every mark. With close proximity to Capitol Hill and Union Station, this modern community is perfect for young professionals who want to live in a fun, vibrant neighborhood. Currently, you can get a one-bedroom, one-bathroom unit for $1,991/month—well below D.C.'s median rent of $3,250. This 640-square-foot apartment has all of the necessities: a spacious bedroom, an in-unit washer and dryer, a walk-in closet, and a pristine kitchen complete with stainless steel appliances and granite countertops. To top it all off, Trader Joe's is right around the corner.

Miami, Florida

Pristine living near the beach for $1,557/month

Looking for a little extra space in North Miami? Aliro apartment homes may be just the place. Currently, a two-bedroom, one-bathroom unit will only set you back $1,557, which is well under Miami's average rent of $2,200. The 900-square-foot apartment offers spacious bedrooms, three large closets, and separate living and dining areas. Best of all, the surrounding area is ready to accommodate your every recreational need—whether that's a day at the beach or some serious retail therapy.

New York, New York

Spacious Upper West Side studio near Central Park for $2,095/month 

The phrases "studio apartment" and "extra storage" are usually oxymorons, but they come together beautifully in this Upper West Side rental. With charming wood floors, high ceilings, and bright white walls, this living space is easy to customize. Upstairs lies a huge storage mezzanine that friends and neighbors will covet, and the dishwasher in the newly-renovated kitchen is another studio rarity. This is a space you'll actually enjoy living in, but when you do venture out, Central Park is only a quick stroll or bike ride away. And it's a steal compared to New York's median rent of $3,900.

San Francisco, California

Endless amenities in sought-after neighborhood for $2,736/month

San Francisco has the highest median rent on our list ($4,400), but it's still possible to score a tricked-out apartment at a relatively reasonable rate. This 475-square-foot studio has plenty of room for designated sleeping, living, and dining areas, and its walk-in closet is cause for celebration. A long, granite countertop creates some separation from the kitchen, which also includes updated appliances and cabinetry. The community, 2000 Post, provides residents with a 24-hour fitness center, a gorgeous pool, and a sauna. In this central location, you'll have a short commute to many San Francisco neighborhoods. Japantown is just a five-minute walk away, and nearby Fillmore Street offers plenty of retail and dining options.

San Jose, California

Spacious apartment near work and play for $2,676/month

Residents can enjoy swanky communal spaces and pristine apartments at Waterford Place, which lies just 15 minutes outside of downtown San Jose. Here you can find a two-bedroom, two-bathroom apartment for $2,679/month, which is a bargain price considering San Jose's $3,495 median rate. Whether you're hosting a dinner party, a movie night, or an impromptu dance class, this 1,095-square-foot unit has the space and style you need to ensure a good time. The clubhouse is so well-styled that you'll actually want to hang out there, perhaps after a dip in the resort-style pool. When you're ready to step out, the shops and restaurants on nearby Santana Row make for a charming outdoor retail experience.

Oakland, California

Newly remodeled apartment near all the entertainment for $2,644/month

The Landings at Jack London Square pair city living with idyllic views of the San Francisco Bay. Inside, this one-bedroom, one-bathroom apartment has a huge living and dining area that's perfect for entertaining. The 771-square-foot space packs in plenty of perks, including an upscale kitchen, a patio, and a bonus storage area. Outside, you'll find plenty of shops, restaurants, and entertainment in Jack London Square. Perfectly suited for commuters, these apartments have quick access to the BART and the 580 and 880 freeways. Considering Oakland's median rent is now $3,250, it's a great deal.

Los Angeles, California

Modern style in Chinatown for $2,036/month

Put simply, the Blossom Plaza apartments are fun. The modern style and prime Chinatown location make this one-bedroom, one-bathroom apartment an ideal spot in downtown L.A. The dark floors that cover the 585-square-foot space contrast perfectly with the crisp white walls and quartz countertops, and the modern farmhouse door gives the bedroom entry an unique twist. The pool, outdoor lounge, and fire pit all add to Blossom Plaza's appeal, and the place is pet friendly to boot. It beats the median rent of $4,150.

Honolulu, Hawaii

Furnished Waikiki haven by the bay for $1,800/month

Pretty much everything costs more in Hawaii than on the mainland, so an affordable rental will do wonders for your budget. But living in this one-bedroom, one-bathroom apartment will never feel like a compromise. Honolulu's median rent is $2,500, making this a bargain. The 600-square-foot space comes fully furnished and has two large closets, while fresh laminate floors and crown molding add charm and character. There's plenty of cooking and storage space in the kitchen, and both the kitchen and bathroom have black granite counters. You'll love living near Whole Foods and Honolulu International airport, but the crowning jewel of this rental is that it's a stone's throw away from Waikiki Bay.

San Diego, California

Remodeled apartment in Normal Heights for $1,895/month

We suggest grabbing a roommate and jumping on this spacious, 697-square-foot find, because this pet-friendly apartment is almost $1,000 under San Diego's median rent per month of $2,775. The two-bedroom, one-bathroom unit in Normal Heights is the perfect spot for renters who want a safe, walkable neighborhood close to downtown. The open floor plan is perfect for entertaining, and the teal, tiled backsplash adds the perfect pop of color to the beautifully renovated kitchen. Best of all, you'll live within walking distance of some of San Diego's best bars and restaurants—like Blind Lady Ale House.

Boston, Massachusetts

Cheerful studio in a walkable neighborhood for $1,900/month

This cozy, 290-square-foot studio comes with scenic views and a prime location, and natural light lovers will appreciate its three large windows. Whereas some apartments only offer views of an alley (or worse, a brick wall), this eleventh-floor penthouse overlooks the city skyline. You'll also enjoy a large closet and a renovated bathroom with granite countertops. This rental is ideal for someone working in the Financial District, which is only ten minutes down the road. In a city where the median rent hits $2,900, this is a great option.
Which of these affordable apartments is right for you? Let us know in the comments.