Hard truth: Short of enlisting the help of a fairy godmother to bibbidi-bobbidi-boo your possessions into boxes (wouldn't that be nice?), a certain amount of schlepping will inevitably be involved in your move from Apartment A in Philadelphia, PA, to Apartment B in New York, NY.
That is, unless you're willing to shell out a little extra rent money for an apartment that's already outfitted with all the essentials: a couch, table, desk, bed — and, in some cases, interior designer–supplied accents that take the legwork out of decorating. Is the added price worth it? That's up to you. But ask anyone who's ever reloaded a tape dispenser to close up moving boxes at 3 a.m. and they'll tell you: "Pack" might as well be a four-letter word.
Comfort and convenience for the commuter: From $890/month, The District in St. Louis, MO
A mini city of two-story red brick buildings, this St. Louis, MO, apartment community pairs a convenient, just-off-the-Inner-Belt-Expressway address with the appeal of modern amenities — think plank flooring, full-sized washers and dryers, granite countertops, and stainless steel or black appliances. A two-bedroom apartment measures in at a generous 800 square feet, but you can always hit the pool or clubhouse if you need a change of scenery.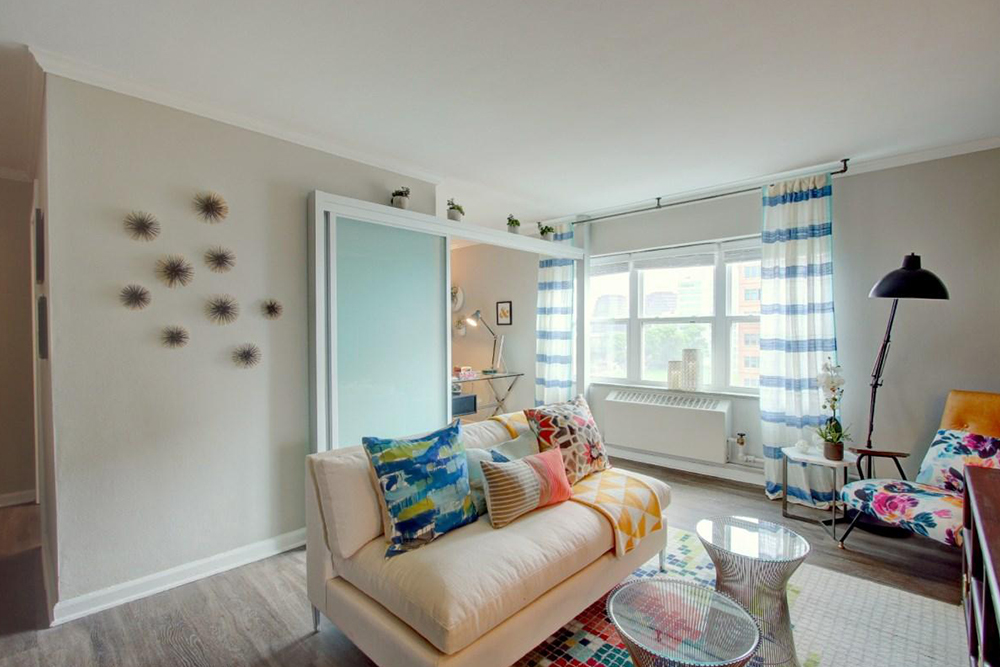 Starting at $885 per month, you can snag a studio unit in the Plaza Club Apartments of Kansas City, MO. Situated at the outer edge of Country Club Plaza, a premier shopping and dining development encompassing 15 city blocks, the 11-story apartment complex lures young professionals with resort-style amenities (check out the swanky digs of the indoor-outdoor "sky club" on the 10th floor!). The design aesthetic of the units is similarly luxe — whimsical with a touch of Mid-Century glam, perhaps?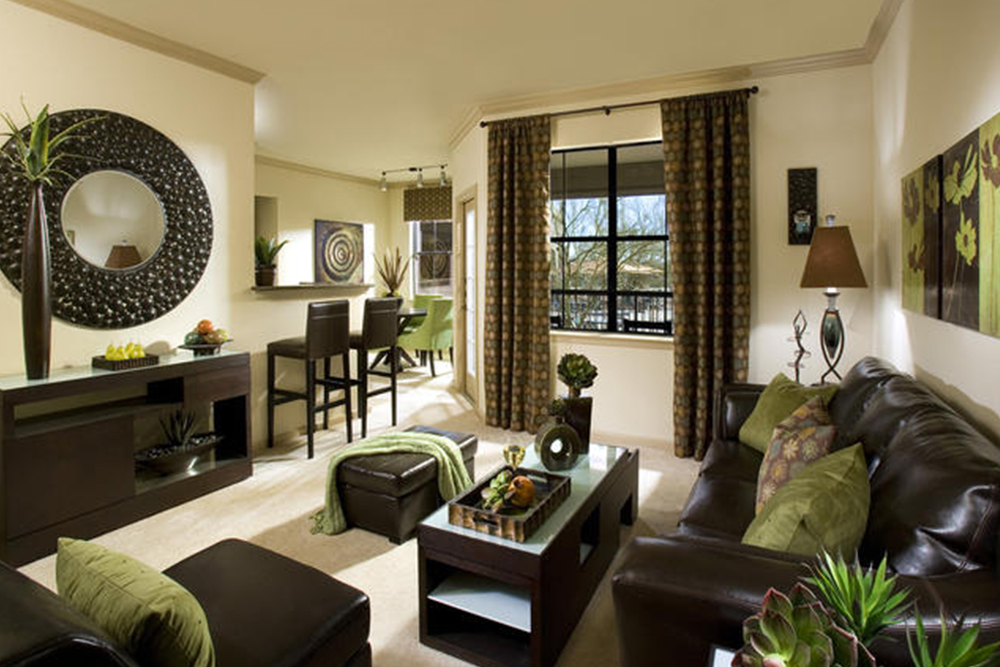 Part rental community, part desert retreat, the sprawling Las Colinas At Black Canyon in Phoenix, AZ, is equipped with a sand volleyball court, a playground, and a dog park. Fountains trickle into the outdoor pool, while inside, renters will find a stylish common area with free Wi-Fi. And while the community could be described as "21st-century adobe," the apartments skew a little more masculine-meets-traditional. (Did we mention the mountain/city views and the flexible lease terms for furnished units?) Last one to the hot tub has to buy lunch!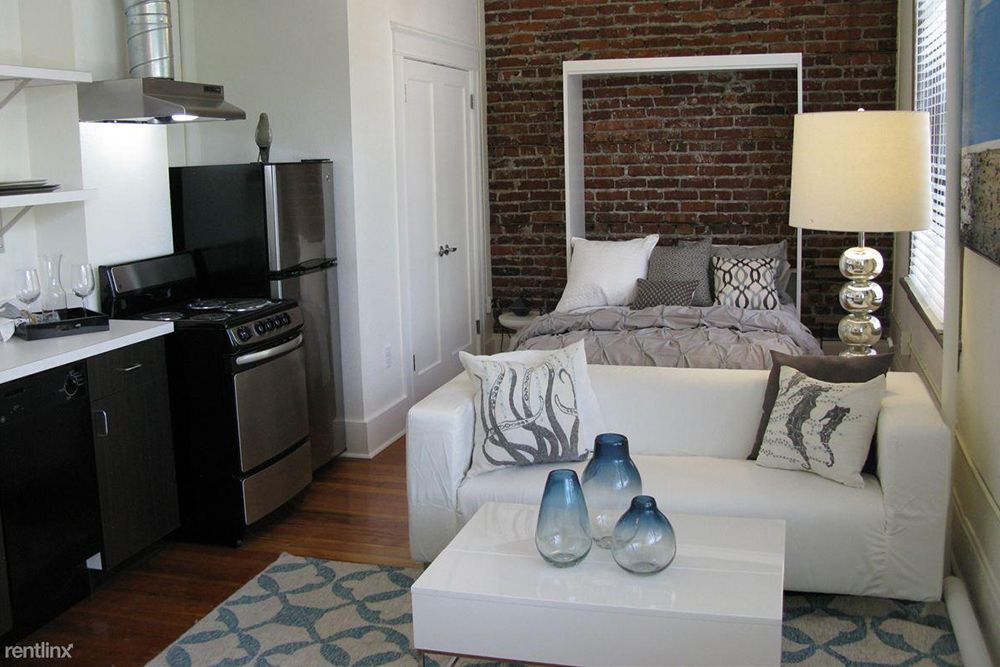 A walk score of 100 proves The Arthur in Portland, OR's West End to be a commuter-friendly home base. What's more, public transportation is just outside the building's front door. Perhaps more interesting, though, is the building's history: It originally served as a hotel. Nowadays, the building, which celebrated its 100th birthday in 2012, plays host to 50 "micro studios," each equipped with European-style Murphy beds that have attached folding tables. The building's original features (exposed brick and beams, wood floors) can be found in select units. Nota bene: Ultrahigh-speed wired internet is offered throughout.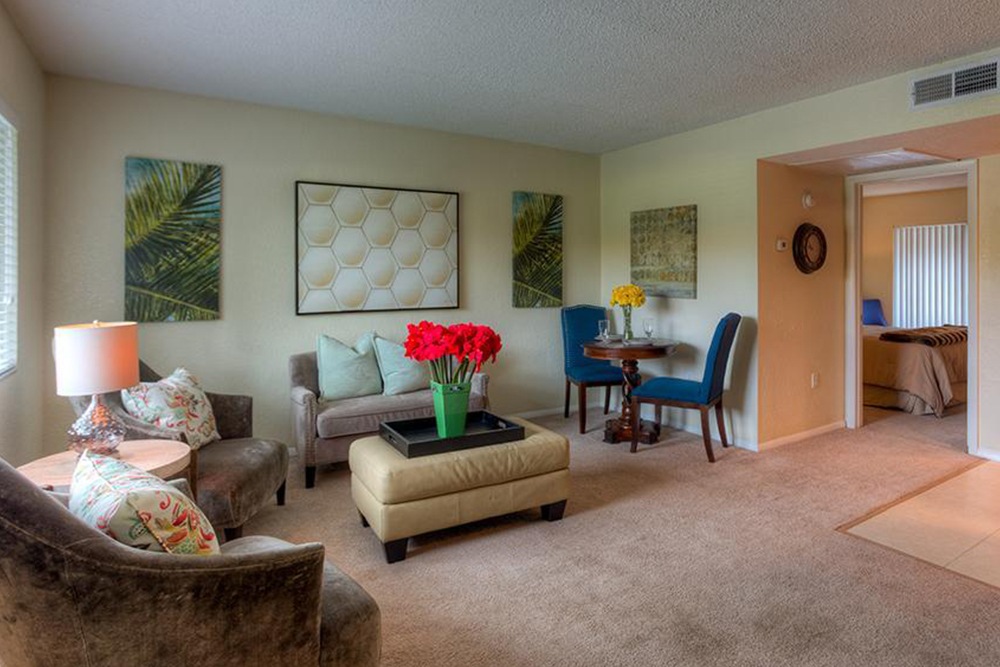 Pinterest-worthy touches take these one-bedroom apartments to the next level (hello, vessel bowls in the bathroom!). The lush landscaped grounds aren't too hard on the eyes either, while stackable washer-dryers, spacious walk-in closets, extra storage in the bathroom, and a central Orlando, FL, location add some practicality to all that pretty. Now if you'll excuse us, we're overdue for a siesta in a poolside cabana.
Because life in the Sunshine State is all about enjoying, well, the sunshine, these apartments in Winter Park, FL, each sport oversized windows and a private screened-in porch. That's in addition to the two outdoor pools, the tennis and basketball courts, and the multiple grilling stations. Traditional furnishings and a neutral color palette set the scene inside the furnished units, with multitonal wood-plank flooring adding a pop of personality to the muted decor.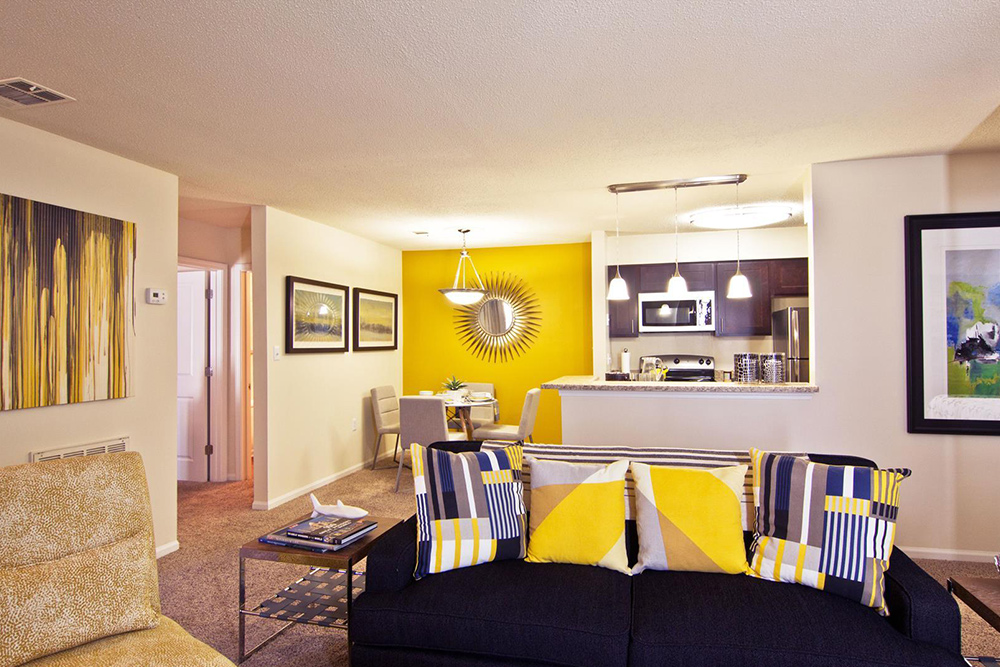 Get your cozy on beside the wood-burning fireplace found in select units of Palmetto Place Apartments in Taylors, SC, just moments from downtown Greenville. It's a feature that appeals to a renter's sentimental, nostalgic side, but don't be misled: This gated rental community is decidedly contemporary. The proof is in the chic lighting, bold wall color, and trendy fixtures (peep that sunburst mirror!) that characterize the apartments. Stainless steel appliances, updated bathrooms, and views of the outdoor pool sweeten the deal.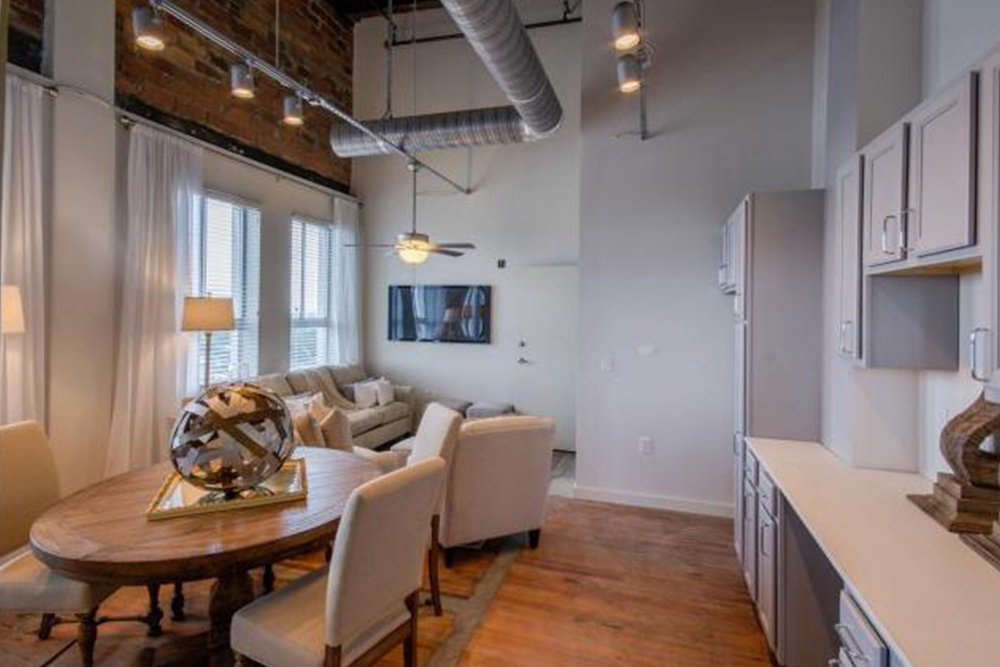 Constructed in 1924 as the Federal Land Bank Building, The Land Bank Lofts are a rental community with the gravitas of historical significance — that is, in addition to modern conveniences such as access-card entry and an outdoor pool with a sun deck. Within the lofts themselves, gauzy white curtains, tufted furnishings, and quartz countertops combine forces to soften the industrial vibe (exposed brick walls and concrete floors are standard issue here, and some units retain the bank's original vaults). And let's not overlook the Beaux Arts–inspired structure's in-demand location in the heart of Columbia, SC.
Would you live in a furnished apartment? Which of these is your favorite? Share in the comments!