The 1990s gave us so much: Koosh balls, slap bands, dial-up Internet, and the Taco Bell Chihuahua. (Ranked in no particular order.) And while these all evoke warm feelings of nostalgia — or maybe that's just a taco craving — some '90s trends should be left in the past, especially when it comes to home decor. Sponge-painting, poufy curtain valances, ivy and cabbage-rose everything, and silk flowers all had their moment and have mercifully faded from fashion.
But if the bell curve of bell-bottom fashion taught us anything, it was only a matter of time before some '90s trends resurfaced in our homes. As the old adage goes, What's old is new again — this time with a 21st-century spin.
So sit back, settle into your inflatable chair, and behold the below '90s home design trends that are coming back.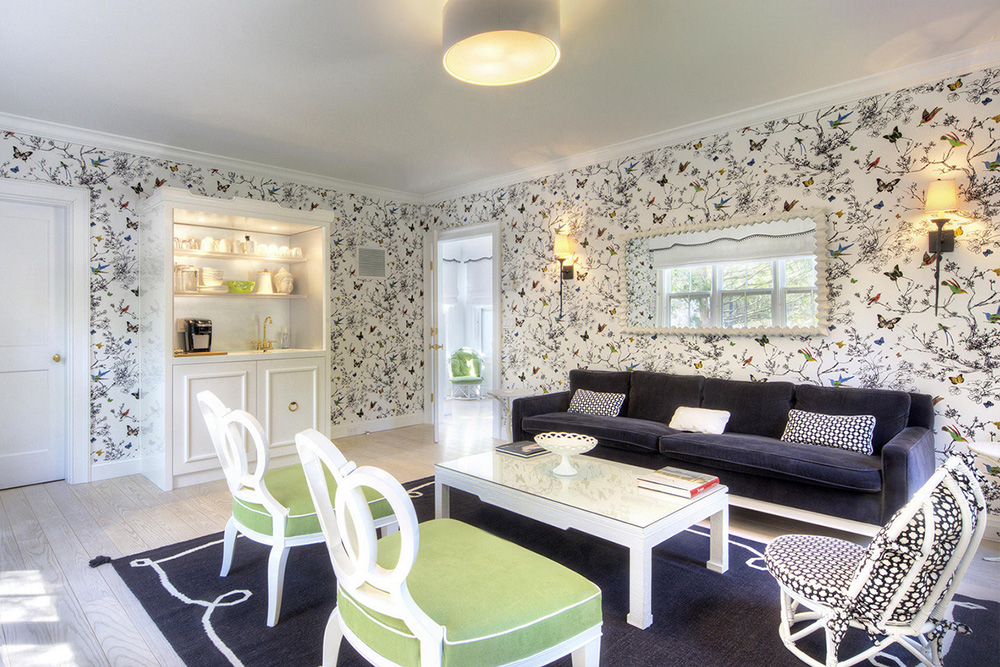 1. Floral wallpaper
Wallpaper gets such a bad rap. Most '90s decorators wouldn't dream of finishing a room without wallpaper … while 2000s homeowners that followed cursed under their breath removing it. But wallpaper is making a comeback. The key is to use an updated pattern in a small dose — like in a powder room or on a bedroom accent wall. Floral wallpaper is proving particularly popular with designers: Cynthia Rowley featured this bold blue peony pattern by Candice Kaye Design at the launch of her new furniture line this winter.
Take the plunge with a vibrant two-tone pattern like the one used in this home for sale at 447 Bellevue Ave., Newport, RI. Wallpaper borders, however? Just say no.
2. Blond wood floors
It's OK — and even on-trend — to move away from dark wood floors and opt for light pine instead. "The 2000s were dominated by that really dark Tuscan-brown trend, with dark, ebony floors," says Jennifer Grey, interior designer and color specialist in Thousand Oaks, CA. "Then all my clients had the realization you could see every speck of dust on it. It's so unlivable." Grey says fresh, bright hues are gaining momentum in 2016 interior design, and light floors are part of this movement. Just note there is a fine line between the orange-hued oak of the '90s and the blond-wood look that's popular today. Decorate accordingly.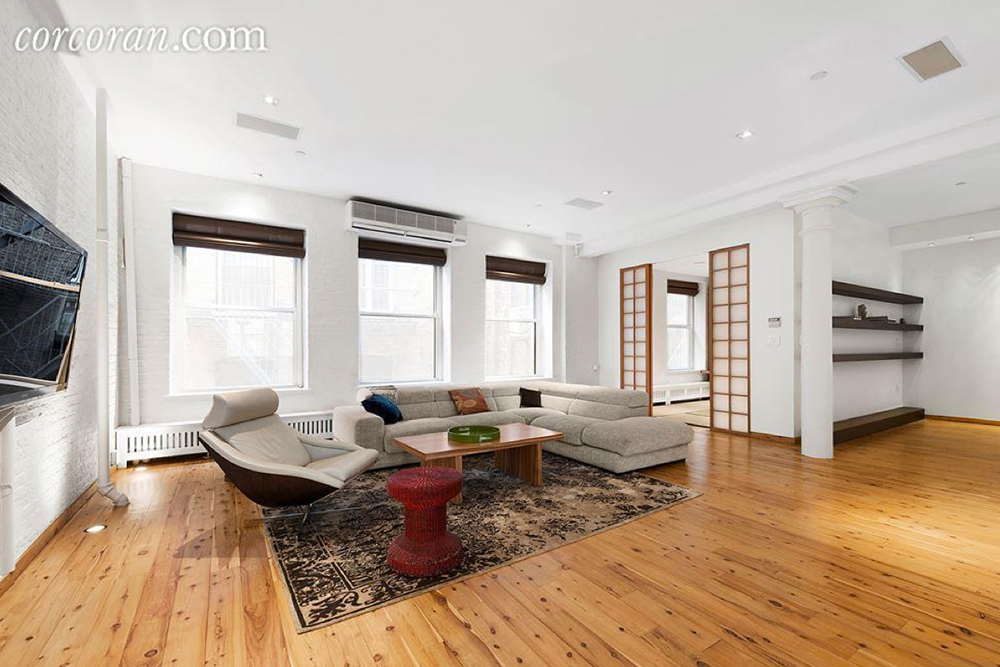 3. Japanese influence
Japanese accents were popular with decorators who subscribed to '90s minimalism: Think shoji screens, bonsai, cherry blossom art, and red everything. The Japanese style of decorating is clean, uncluttered, and shows a love of nature. While you don't have to go full-on Zen with your decorating, 2016 decor trends give a nod to the Far East via Japan-inspired screen doors, clean-lined furniture, and natural wood. This co-op for sale at 27 Bleeker St., New York, NY, shows how shoji-style sliding doors balance nicely with natural wood floors.
4. Beige and white
Speaking of '90s minimalism, we'd be remiss not to mention the re-emergence of beige-and-white design. Remember those Calvin Klein ads featuring fresh-faced models in simple white tees and faded denim? The same simple style translates to interiors in the form of layered beige-and-white tones.
In fact, beige may be the new (old) neutral, knocking gray from its throne. "There's always going to be a popular neutral, and people are getting back into the beige spectrum," says Phoebe Schuh, head interior designer at PS & Daughters in Philadelphia, PA. "I'm happy to see beige back again. Reworked in 2016 designs, it looks elegant and pretty."
5. Wall-to-wall carpet
Although hardwoods and wood plank–inspired ceramic tile have unequivocally gained momentum as the flooring of choice in the past decade, hold off on ripping out that wall-to-wall carpet. If it's high quality and in a neutral color, like white, beige, or gray, wall-to-wall carpeting can be chic (and who doesn't like the feel of plush carpet beneath their feet?). Try redecorating your room with the carpet in mind: A monochromatic look with pops of color can be a modern way to elevate a wall-to-wall carpet.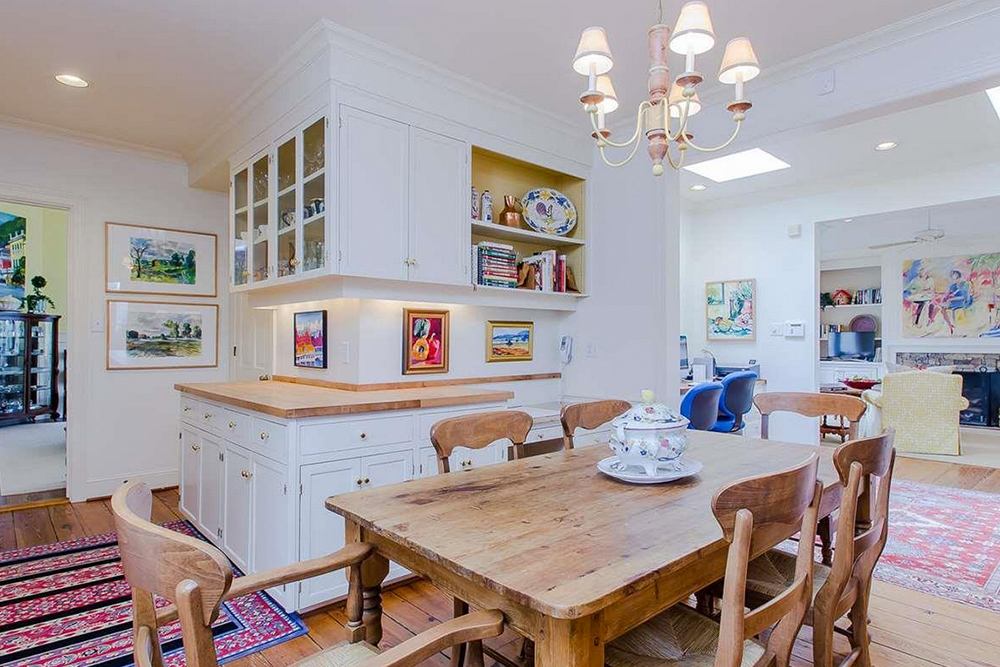 6. White kitchens
Probably the biggest comeback kid of the '90s is the white kitchen: Starting with bright white cabinets (Grey notes the "pickled white" of '90s cabinetry is still out) and continuing with white appliances, the all-white-kitchen look like the one in this home for sale at 2315 Beechridge Road, Raleigh, NC, seems to be holding firm in 2016 and beyond. While stainless steel is still a top choice for appliances, it makes us wonder: will stainless be "so 2010s" in 2025?

7. Hunter green
Although the dark-green carpets that covered many a '90s living-room floor are long gone, saturated green hues are back in — Emily Henderson blogged about their return from the '90s style vault, and Cameron Diaz recently sold her NYC apartment (decorated by none other than Kelly Wearstler!) with emerald-green cabinets. Use hunter green on kitchen cabinets, pillows, a painted buffet, or even your exterior siding for a regal look, like the bar in this home for sale at 360 E. Desert Inn Road, Las Vegas, NV.
8. Pastels
This one we can thank Pantone for — the color authority named two pastel hues, rose quartz and serenity, as colors of the year. When used as an accent color, pastels are a nice change of pace from more normal, expected colors.
"In the '90s, pastels took over large surface areas — like painting a whole room mint green," says Lynne Clark, owner at Clark & Clark Interiors in Charlotte, NC. "The level of pastel use we're seeing now is just dipping a toe in the water — it hasn't taken over entire rooms." This means a soft-colored throw pillow or lamp is enough: Don't paint your whole bedroom periwinkle with a matching bed-in-a-bag. Too much.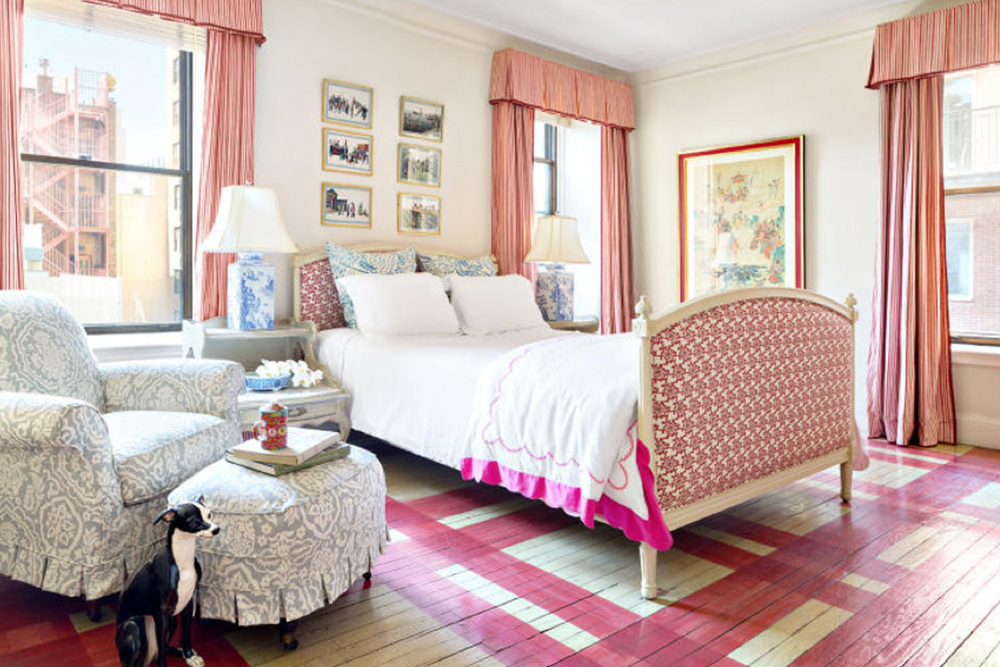 9. Blue-and-white accessories
Blue and white was a popular palette in the '90s. (Remember the Tanners' couch on Full House? Blue and white and gingham.) But navy-blue-and-white pieces can be beautiful and classic. The color combo is appearing more and more in accessories, fun chevron Riviera chairs, and even Zooey Deschanel's kitchen floor tiles.
Clark says blue-and-white ginger jars can be an easy (and cost-efficient) way to make a big design impact, like the lamps on the bedside tables of this condo for sale at 740 Park Ave., New York, NY. "I'm seeing more American-made, oversized, blue-and-white accent pieces," she says. "They can really pop in the center of a table, for instance."
10. Skirted tables
Chances are, you had a friend whose bedroom included one of those round, skirted tables, probably with a glass top. (If they were really cool, the table was reserved for their very own private phone line.) Full table skirts and perfectly puddled fabric are resurfacing as a posh design choice. But unlike in the '90s, today you can ditch the cabbage-rose motif and opt for a solid color or a bold modern print. "In order to do this trend right, you need to have a good seamstress," says Jennifer Grey. "DIY puddled curtains can easily look sloppy."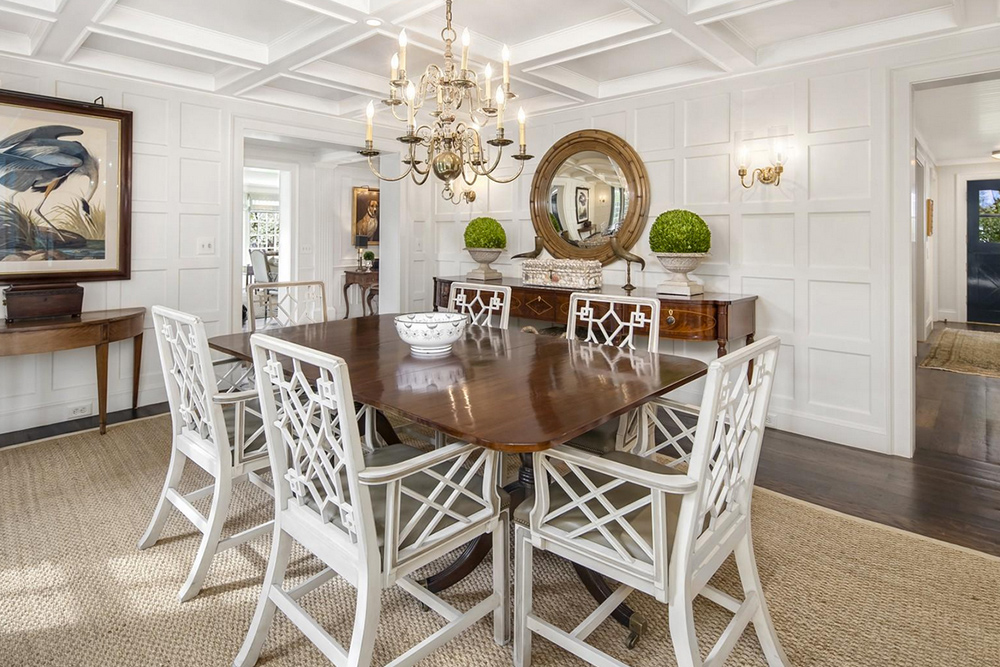 11. Brass hardware and fixtures
Modern brass is nothing like the '90s chandeliers copied from a Colonial Williamsburg, VA, home. Today, the finish is less shiny, and the shape is more modern. The best thing about incorporating brass into your home is that it's relatively easy to do in small doses: Swap in brass drawer pulls, faucets, light pendants, end tables with gold legs, picture frames, mirrors, and more. Get inspired by the dining room of this home for sale at 1644 Windermere Drive East, Seattle, WA, where a traditional brass chandelier becomes a quirky accent when paired with a casual sisal rug.
12. Country accents
Grab your gingham, country is back! While toiles, plaids, ruffles, and decorative roosters are not making a return, farmhouse style is (you can thank Fixer Upper's Joanna Gaines). The contemporary country palette is clean and simple and paired with modern design elements like high ceilings, metal accents, and large glass windows. Phoebe Schuh notes the "new farmhouse" is a pared-down version of the '90s country kitsch, often set against a minimalist backdrop. So unearth that whitewashed farm table from the basement and consider it a cock-a-doodle-do.
Which '90s home design trends do you think stand the test of time? Share in the comments!