Who said growing up and buying a house has to be serious business? Whether or not you hang on to your old snap bracelets and jelly sandals, some kid-approved thrills should never be left behind.
With epic water slides, trampolines, rope swings, and more, these nine homes currently for sale on Trulia prove that — if you buy the right home — you never really have to grow up. (We won't tell if you still wear your jellies to the pool.)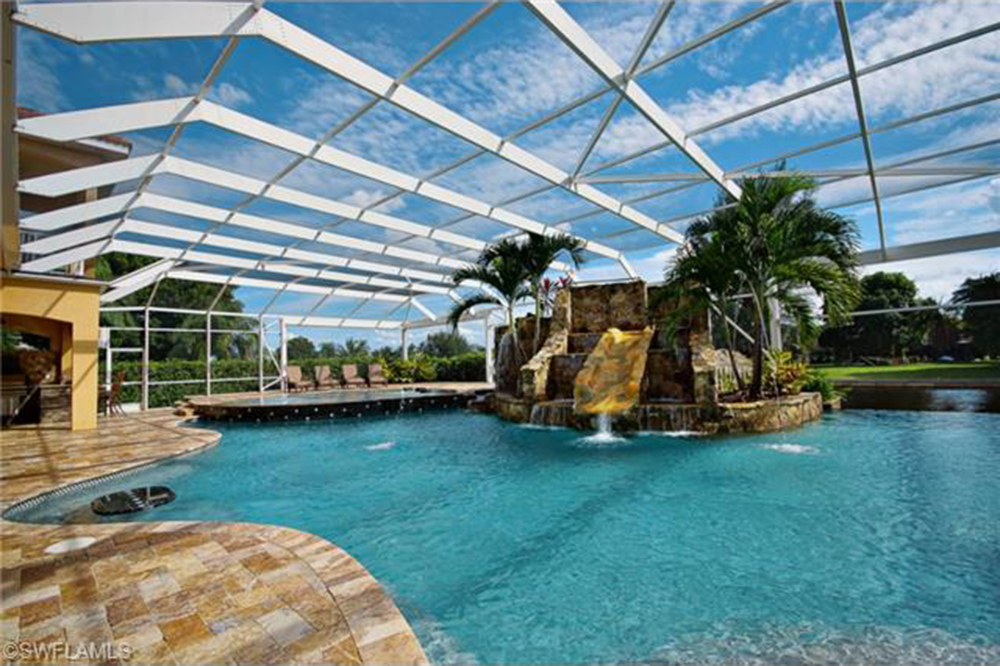 1. $1.9 million in Cape Coral, FL (click here for more photos)
This estate has almost as much square footage invested in the pool and patio as it does in its 4,000-square-foot house. While you certainly won't tire of the stunning views inside — marble floors fill the great room, lit by an enormous crystal chandelier imported from Spain — you'll want to spend most of your days by the pool. Built by Cool Water Pools, it features an infinity edge, water slide, sun shelf, deck jets, a waterfall, and a fire feature.
When the sun hangs low, enjoy a margarita at the property's tiki bar, located on the canal dock, and experience a perfect Gulf sunset from your yacht, berthed out back.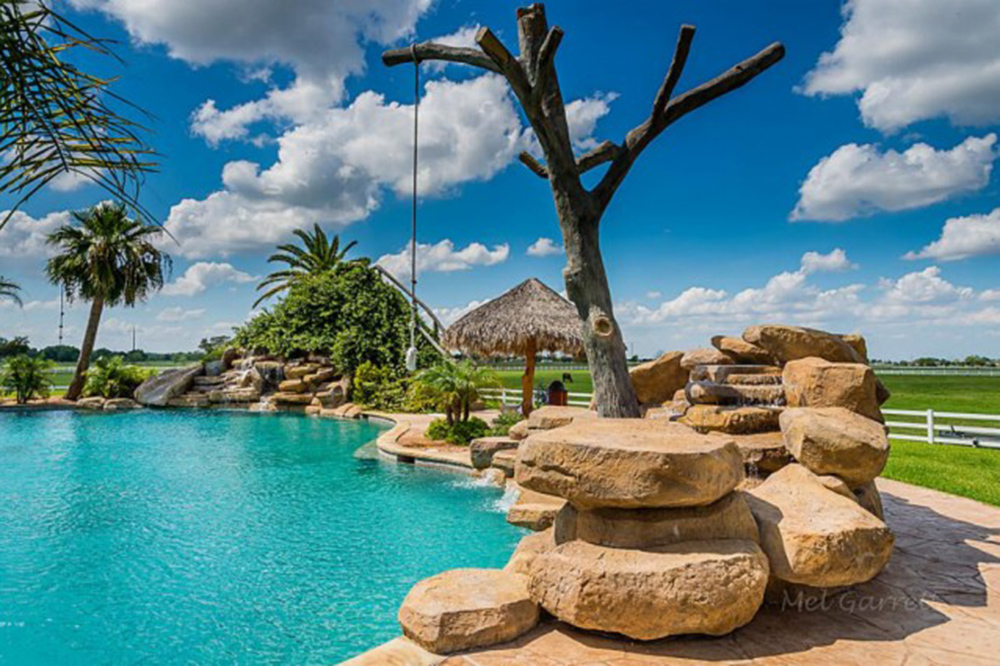 2. $5 million in El Campo, TX (click here for more photos)
With six waterfalls, a 21-foot water slide, a rope swing, and a 500-foot adjustable-speed lazy river, there is no excuse for kids (and adults, naturally) to cry boredom on any given summer day at this five-bedroom, 39-acre estate.
When you decide to host a party at your new El Campo digs, be sure to invite everyone you know. There's ample room for family and friends to enjoy the four-hammock tiki hut, 28-person hot tub, and tiki bar!
Even on the occasional rainy day in El Campo, you won't feel far from the water — the home hosts a gigantic fish tank in the living room.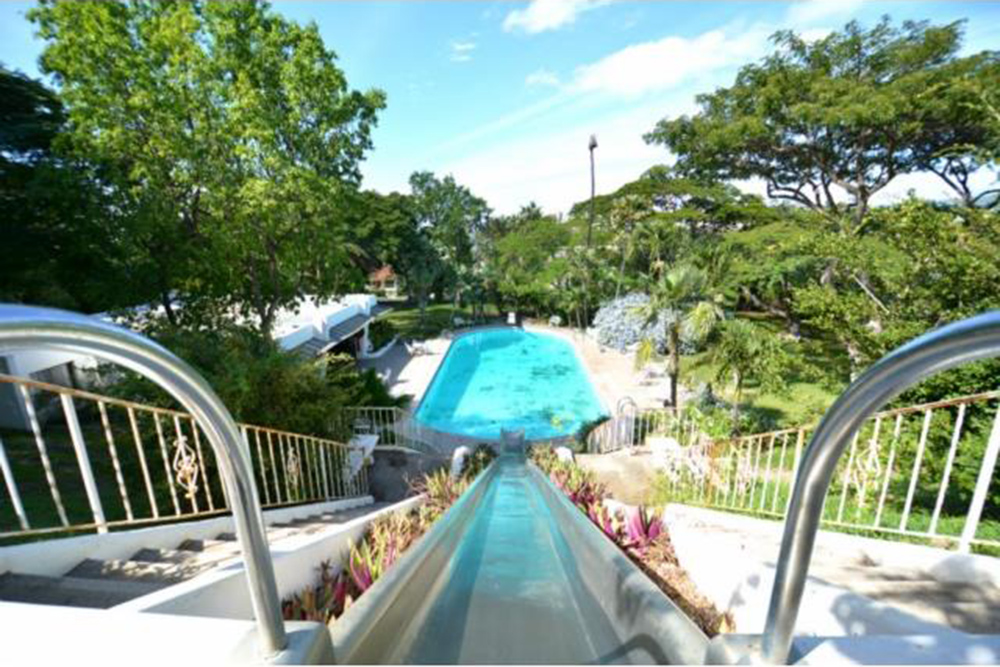 3. $13.5 million in Honolulu, HI (click here for more photos)
From its location next to the famous Diamond Head Crater to its association with early Hollywood stars including actress Lana Turner, this property screams vintage Hawaii glamour.
After climbing the two flights of stairs to reach the top of the impressive water slide, be sure to pause for a minute and enjoy the views of the Waikiki skyline and Diamond Head Crater. Then speed into the pool that was designed by Olympic record holder and Tarzan actor Johnny Weissmuller.
When your mainland friends come visit, invite them to stay for a while — with 13 bedrooms and more than 7,000 square feet, you might not even notice if your guests decide to move in.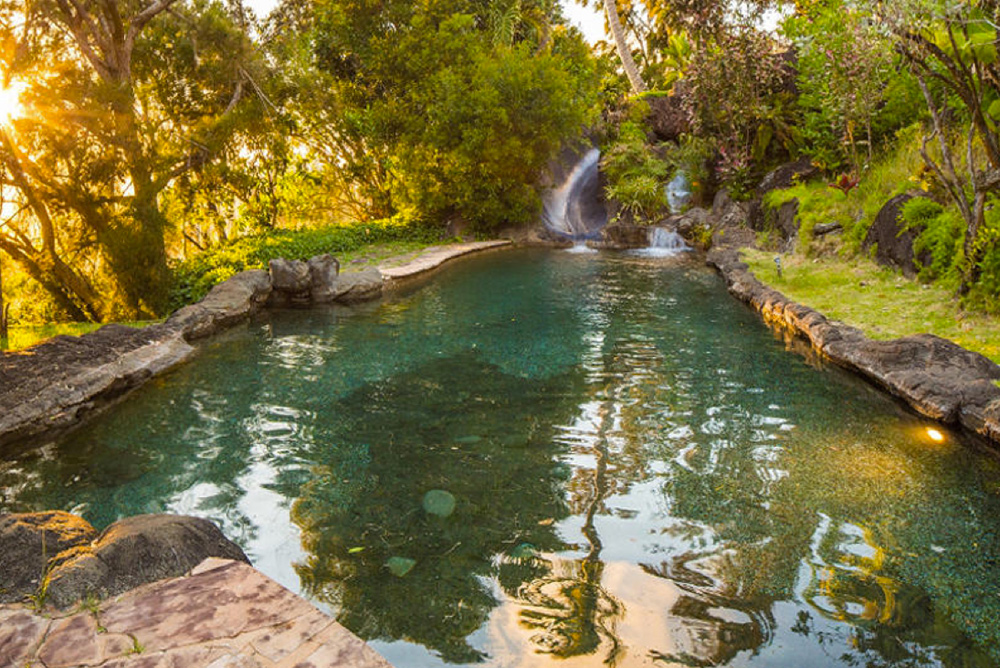 4. $12.5 million in Honolulu, HI (click here for more photos)
Perched in the hills above Kahala, this seven-bedroom mountaintop home offers 360-degree views of Honolulu, the ocean, and the Wiliwilinui Ridge.
The home's water slide makes a quick turn and is tucked away in the natural stones surrounding the pool. While the natural design is appealing to the eyes, the camouflaged slide is also perfect for sneak splash attacks on fellow swimmers.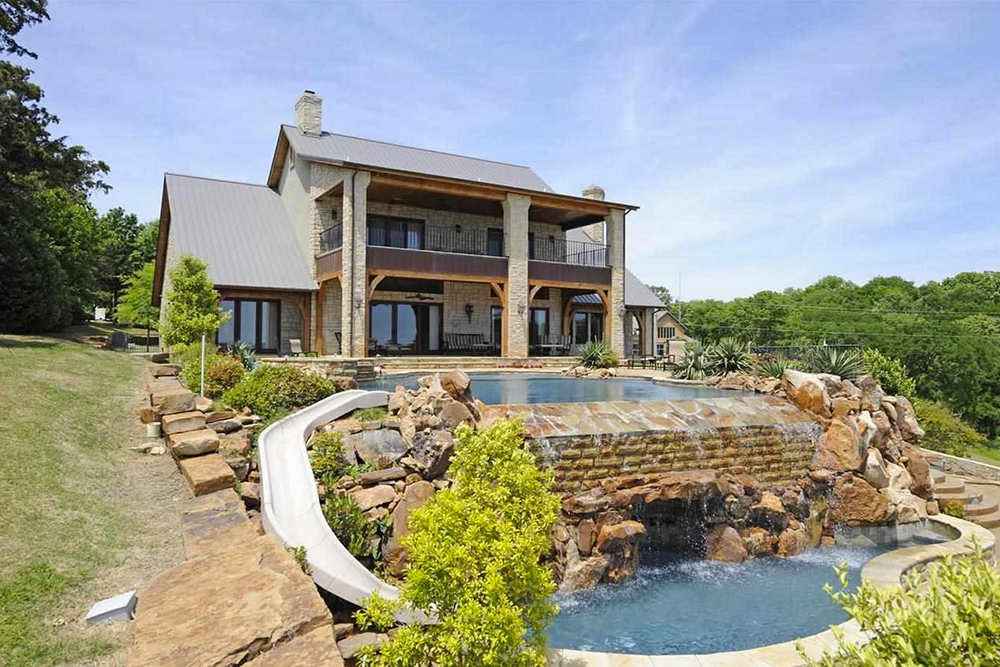 5. $2.2 million in Kingston, OK (click here for more photos)
Look out below! When you prepare to ride this four-bedroom Kingston home's water slide overlooking Lake Texoma, you'll have the illusion that the edge of the infinity pool drops straight into the lake.
Once you've landed in the splash pool, the cave under the infinity edge waterfall is perfect for hiding out and surprising the next slider as they land in the pool (but you didn't hear that from us).
When you're not sliding, spend time grilling up fresh fish you've caught off your dock on the built-in stone grill and outdoor kitchen. Not one for fishing? Lounge in the hot tub until the feast is ready.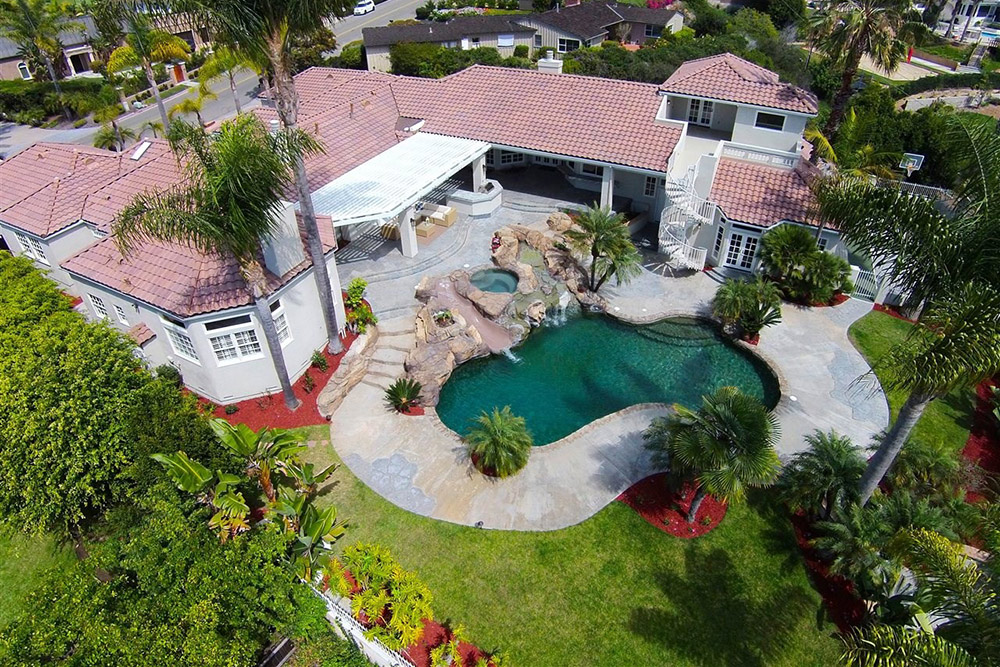 6. $5.8 million in La Jolla, CA (click here for more photos)
Across the street from the La Jolla Country Club golf course's 17th fairway, this home's pool is perfect for cooling off after a round of golf or some pickup basketball on the house's private basketball court. This water slide ranks as "moderate" on the water slide thrill scale, but the eight-bed, seven-bath house offers thrills of its own, including a spiral staircase that leads to a second-story lookout tower with ocean views.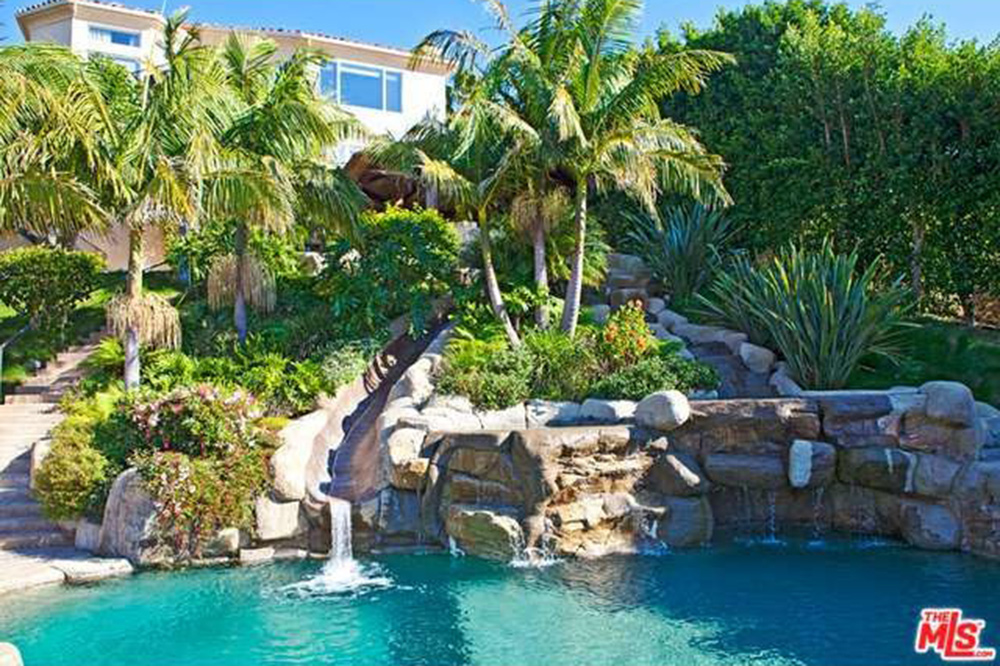 7. $4.2 million in Malibu, CA (click here for more photos)
This property is home to not only a slide with twists and turns through palm trees, but also an 800-vine vineyard that produces chardonnay and malbec grapes.
Here's a recipe for a perfect summer day: play bocce ball at the home's private court, lounge in the pool (with a few turns on that water slide), and sip your house wine on one of the balconies that overlook the property's vineyards — and the Santa Monica Mountains.
If the 200 cases of wine the vineyard produces each year aren't enough to satisfy the garden parties you're planning at this five-bedroom, six-bathroom home, raid the property's 4,000-bottle wine cellar to keep the party going.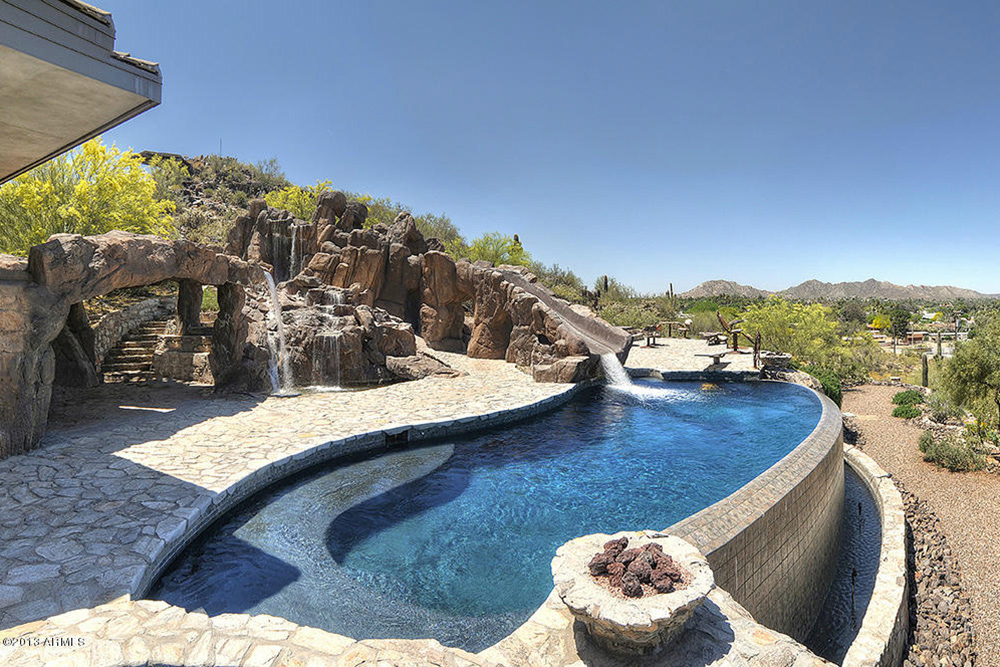 8. $1.6 million in Phoenix, AZ (click here for more photos)
With a rock slide that rises from the boulders and empties into the pool, this nine-bedroom, 13,220-square-foot home will entertain kids (and adults) of any age.
In addition to the infinity edge pool, the home includes a sports court, trampoline house, and a three-level art studio. With Class A equestrian facilities, two guesthouses, floor-to-ceiling windows featuring mountain, desert, and Phoenix skyline views, and a chandelier-lit dining room, the home effortlessly transitions from fun house to sophisticated estate.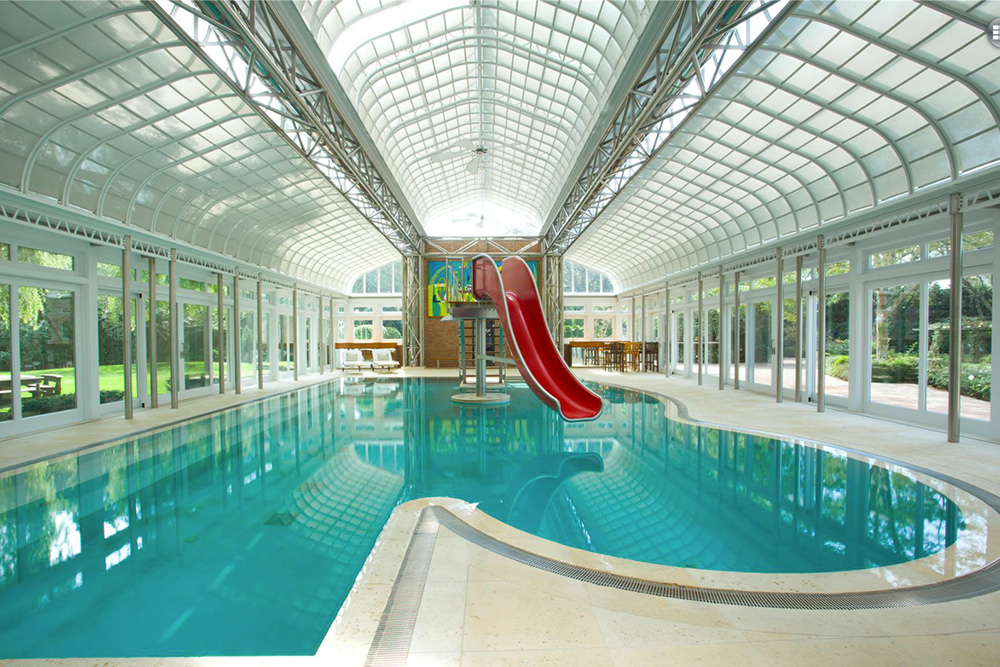 9. $45 million in Southampton, NY (click here for more photos)
Chilly Southampton winters won't stop you from enjoying water play year-round at this home's stunning indoor pool, which features a water slide and floor-to-ceiling windows overlooking the expansive backyard.
But the indoor pool is hardly the most impressive amenity on this 12-bedroom, 18,000-square-foot property. The recently renovated home, built in 1918, embodies a unique combination of tranquillity and majesty. Take a dive into the second, heated outdoor pool, play tennis on the grass court, or take a walk around the 10-acre estate and enjoy the views of the impressive water fountain, charming rose gardens, and old trees.