It's a Trulia love story for the ages: Industrial loft meets sunny greenhouse, sparks fly, and the ensuing romance leaves a lasting imprint in the form of this four-bedroom, five-bathroom contemporary home in Santa Monica, CA — proof that some wholes really are greater than the sum of their parts.
Because when modern design couples up with organic elements (foliage, light-filled spaces, wood), something magical happens: Cold becomes warm, rigid becomes soft, and wide-open spaces become — dare we say it! — cozy.
The price to be a part of this beautiful union? $26,500 a month for rent. But if you're ready to fall in love forever, listing agent Frank Langen may be able to make a match; this piece of Santa Monica real estate is also available for sale at $6.995 million. As Langen describes the home: "Here is an example of transformative, awe-inspiring design and quality of construction while offering a very livable space."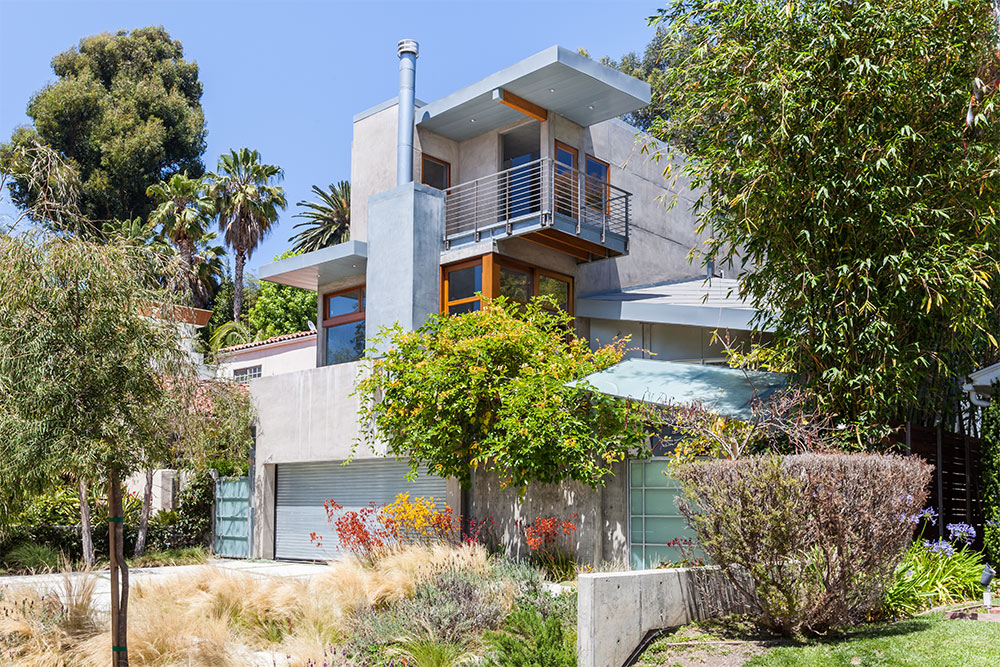 Built in 2010, the home was a collaboration between architect Melinda Gray, founder of GRAYmatter Architecture, and California real estate developer Rob Hussey. Located in Santa Monica Canyon, an affluent, artsy neighborhood just north of Santa Monica and better known as "The Canyon" to its residents, the home is well-matched to a community of architects, writers, celebrities, surfers, musicians, and others with a penchant for the boho-beach lifestyle. (The Pacific Ocean serves as Santa Monica Canyon's western border.)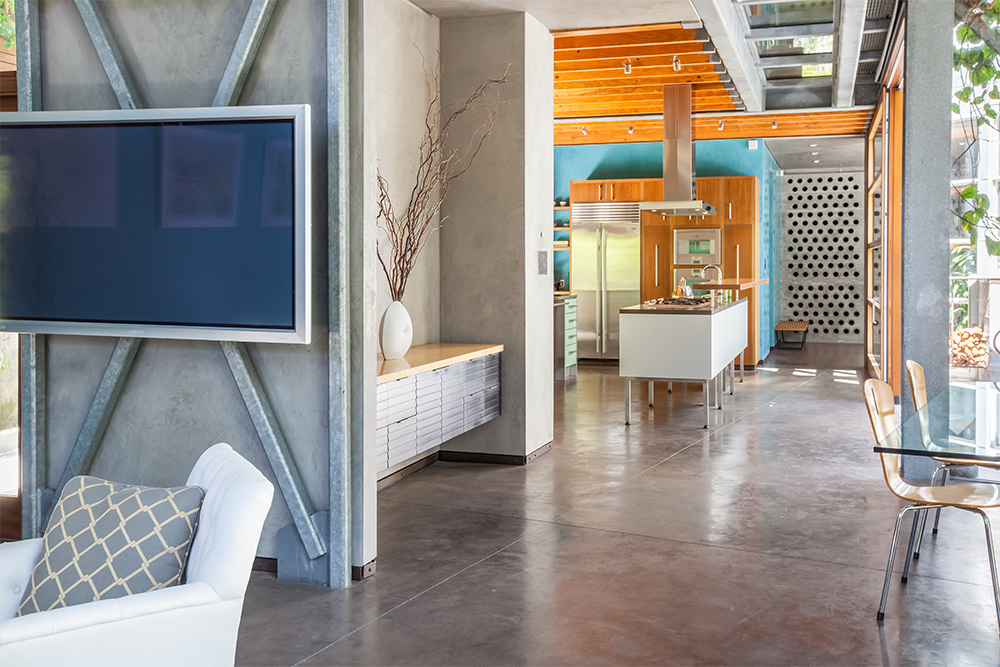 Replete with glass, steel, plaster, and polished concrete, the loft-style open floor plan helps highlight the 4,248-square-foot home's best feature: Its location in sunny, temperate California, just 1 mile from the beach.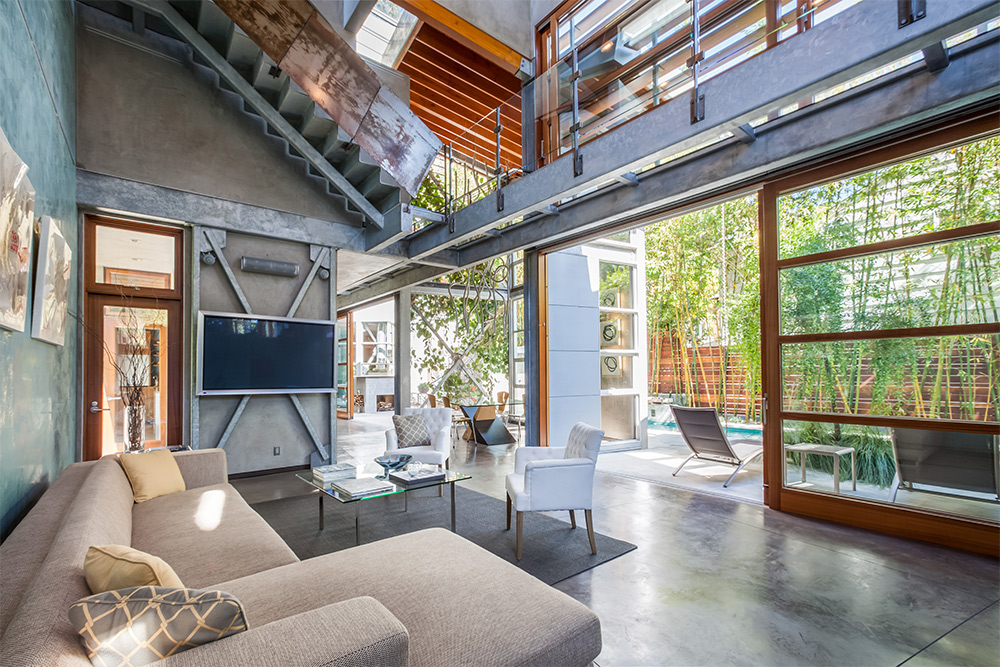 Here in the soaring living room, 10-foot-tall, mahogany-framed glass doors slide effortlessly for easy access to the home's sparkling pool and patio; guests and ocean breezes alike are free to venture in and out as they please.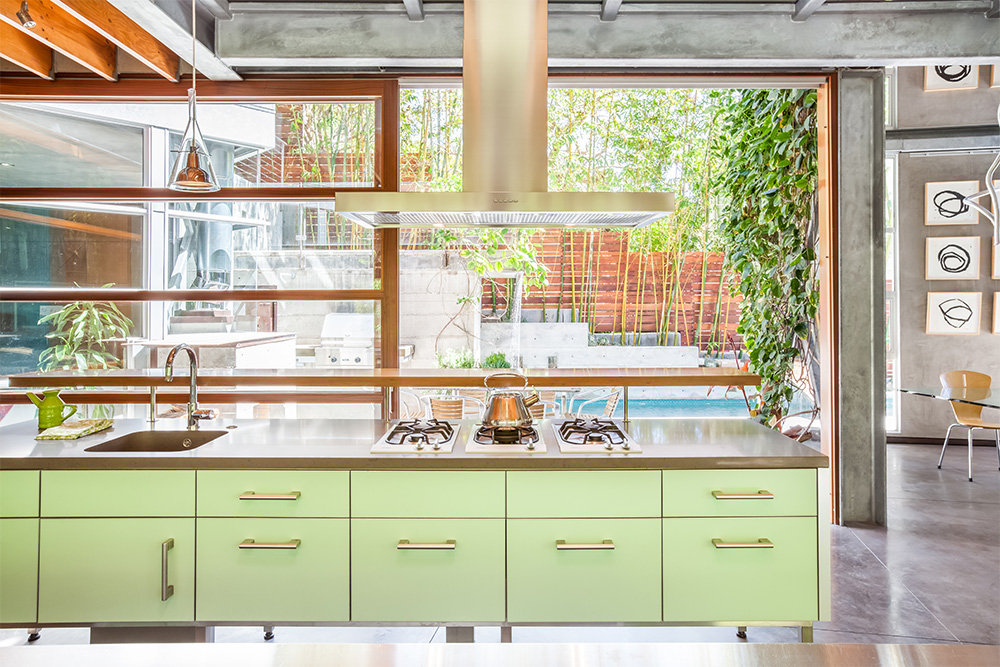 Another sliding glass door separates the state-of-the-art kitchen from the pool area, which is bordered by bamboo and peppered with crawling vines and tropical plants. Echoing the lush foliage outside, the minty-fresh color of the kitchen cabinetry reinforces the home's organic-meets-manufactured aesthetic.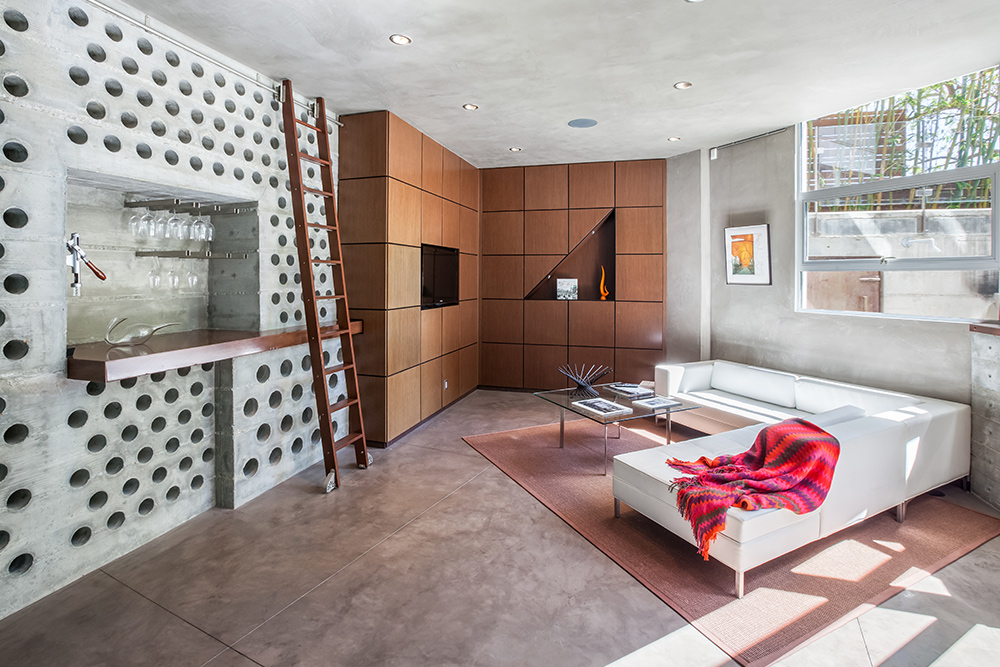 Adjacent to the kitchen is a sleek and sultry wet bar and lounge. The honeycombed wall plays host to prized vintage wines, which are accessed via the library-style rolling ladder.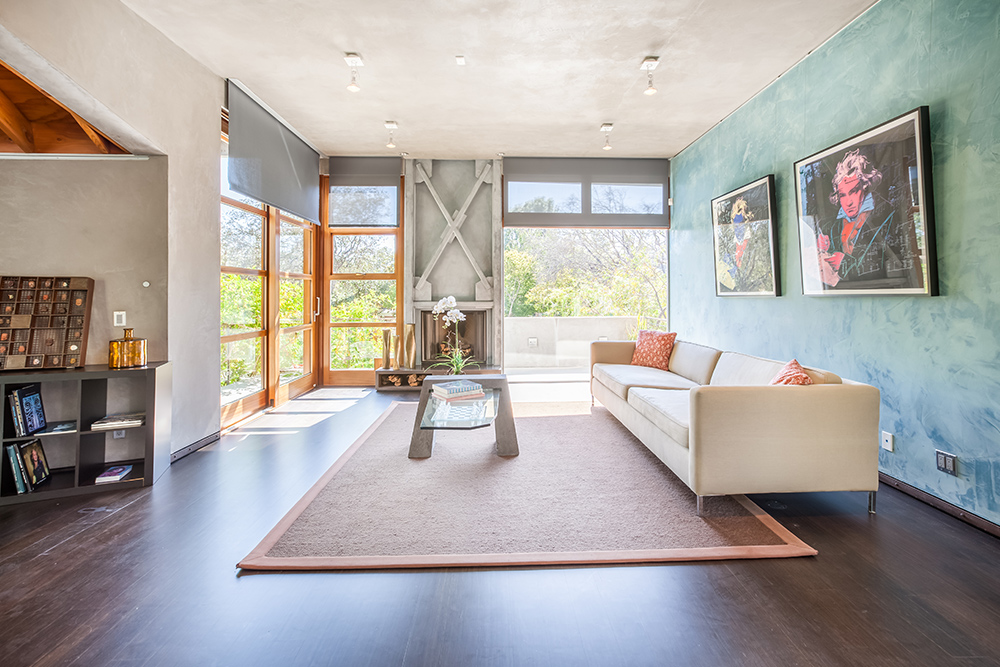 The flooring throughout the home alternates between walnut and polished concrete (a trademark of industrial decor), while the walls are finished in tinted Venetian plaster. Ample skylights and windows invite natural light to flood each and every space.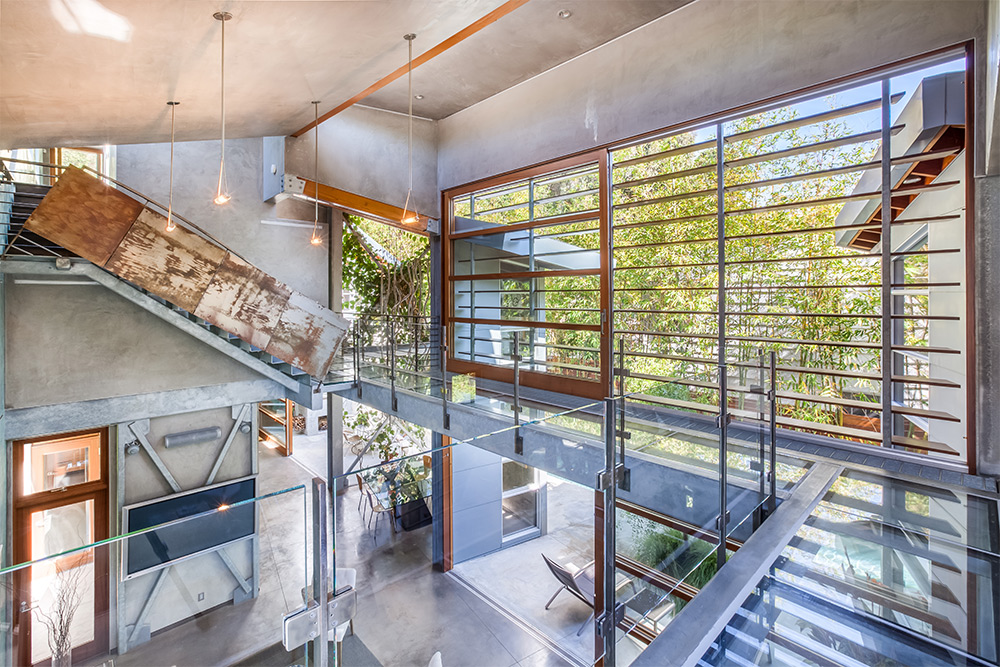 Check your fear of heights at the door: This home features a sexy glass catwalk that connects the front and rear of the home (similar to the glass catwalk in the home from the film The Fugitive). It's flanked by a glass-panel railing and offers a crystal-clear view of any and all action below.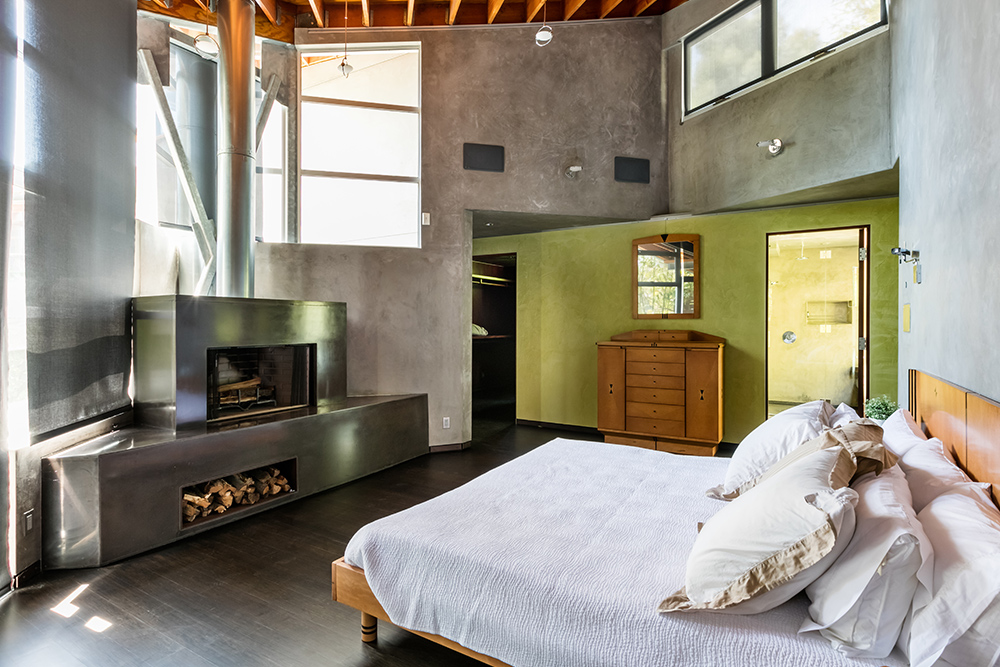 One end of the catwalk leads to the master bedroom, a well-appointed space brightened by floor-to-ceiling windows, an exposed wood ceiling, and the amber glow of a wood-burning fireplace.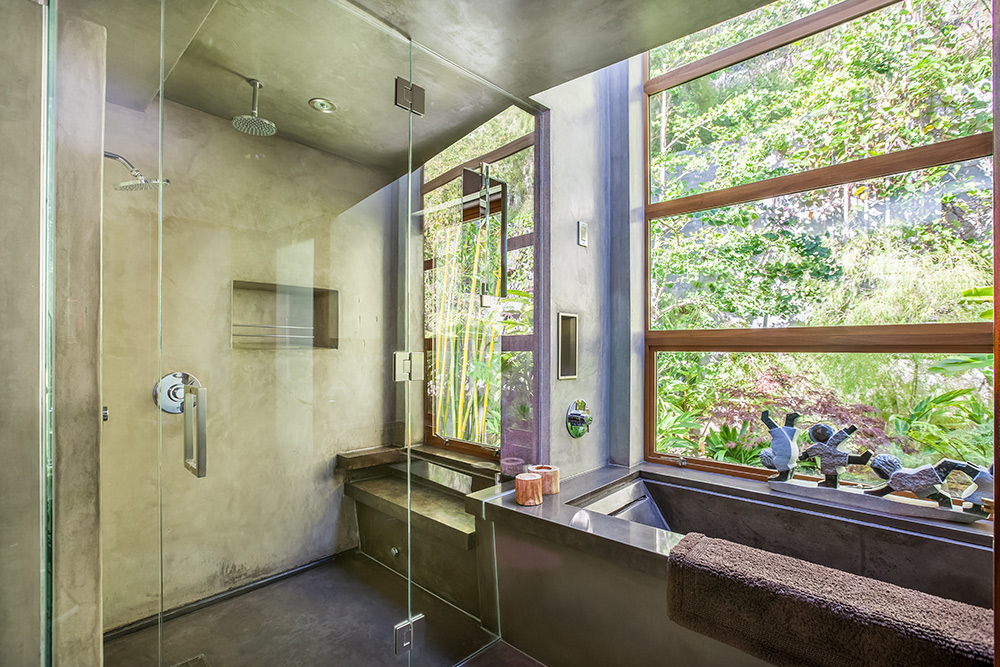 Just another day at the spa. In the master bath, polished concrete and clean lines feel more Zen than modern, thanks to a deep soaking tub, wood-trimmed picture windows, and a meditative view of the hillside blanketed in greenery.
Check out the image gallery (photos by David Archer) and real estate listing for this home: 700 Kingman Ave., Santa Monica, CA. (Find other homes for sale in Santa Monica, CA.)