Not many things evoke dread the way that moving does. For urban dwellers and suburbanites alike, the consensus is that packing up all of your belongings and hauling them to a new home is a genuinely miserable experience. But moving doesn't have to be a complete nightmare; in fact, it can actually be an experience that improves your life immensely.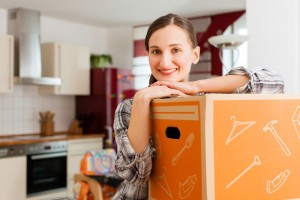 Here are a few tips that will help make packing up and moving to a new pad the best thing that's ever happened to you.
1. Make a moving resolution
Before you set out on your journey, whether it's a move around the corner or across the country, clarify what you want to achieve by creating a to-do list of changes you're hoping to make in your life with the impending move.
Want to get healthy? Purchase a membership at the yoga studio around the corner from your new place. Want to be handier? Sign up for a workshop near your current home so you're prepared to manage minor fixes in your future spot.
2. Ditch negative influences
You know that friend who calls only when she needs something from you, but when you need a shoulder to lean on, she's MIA? Eliminate those "energy vampires" who suck out your time and liveliness. Moving is the perfect time to clean house, both literally and figuratively.
3. Interview prospective roommates
Snagging a new roommate can be a tricky business. Nobody wants to end up with the nightmare health nut who charges you if you eat one of her yogurts. But diving into a roommate situation can also be a great way to make new friends. Before you settle on a place, spend time chatting on the phone with prospective roomies and see if you mesh. (She could just end up being your new BFF.)
4. Edit your closet for cash
If your apartment resembles a less-horrific version of a Hoarders episode, then packing is going to be a particularly heinous undertaking. Edit your closet and sell the pieces you don't want anymore on eBay, or through a consignment store. After you make a sale, you can take that cash and put it toward one item you'll have forever, like a pair of knee-high riding boots or a leather jacket.
5. Out with the old, in with the way better
Ditch the smattering of older kitchen appliances gathering dust in your cabinets and upgrade to a single higher-quality device. Say goodbye to the coffeepot, the Keurig, the French press, and aging Mr. Coffee 12-cup brewer, and treat yourself to a high-end espresso machine.
6. Get off the couch and join the fun
Immerse yourself in a new neighborhood by making friends with the locals. Always wanted to learn French? Find a class. Is knitting a sweater on your bucket list? Seek out a local yarn shop and sign up for a class. Research intramural sports leagues or volunteer opportunities in your prospective neighborhood that pique your interest, and dive right in upon arrival.
7. Explore, explore, explore
Solitude can be scary. But as a full-fledged adult, you should be able to enjoy those moments of peace and quiet rather than run from them. Head out for a long walk in your new neighborhood, or visit the area parks. Not only will you get to know your new territory, but the meditative benefits of the great outdoors also will have you feeling Zen in no time.