In theory, we all want to live above the fray. But only a lucky few get to literally live it up — by looking down on the city when they're sunbathing at their rooftop pool.
Want to get in on the laid-back action? Consider these apartments for rent in New York, NY, Atlanta, GA, and other cities across the U.S. that feature breathtaking rooftop pools, sun decks, and decked-out communal patios that will elevate any private weekend to an instant staycation.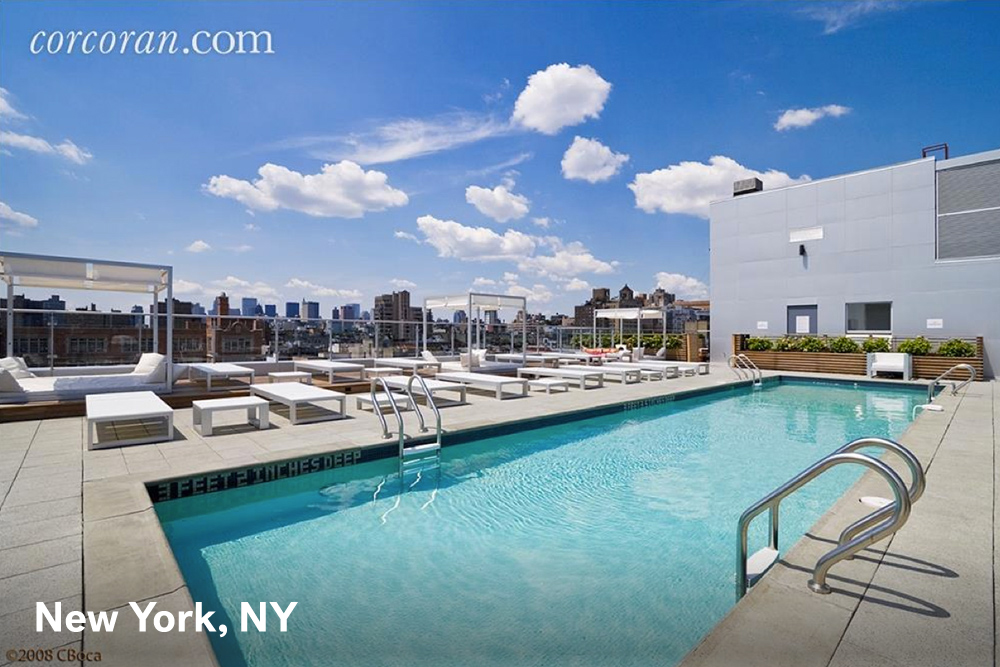 Swim in the city that never sleeps: $5,500, 425 East 13th Street
The East Village may be known for artsy ambiance, but this building's clean-lined, sunny roof deck proves there's room for modern luxuries too. Like everything else worth doing in New York City? You just have to know where to look.
The new condo building, where a two-bedroom rents for $5,500 a month, includes a 50-foot lap pool, deluxe wet bar, and barbecue gas grill — in short, plenty to round out a day spent soaking in fun and sunshine solo or with a group of friends, a few cocktails, and some gourmet takeout from top NYC eateries just a few steps down the block.
But if you're not quite ready to dive into this building, you're certain to find an equally stunning New York apartment for rent on Trulia.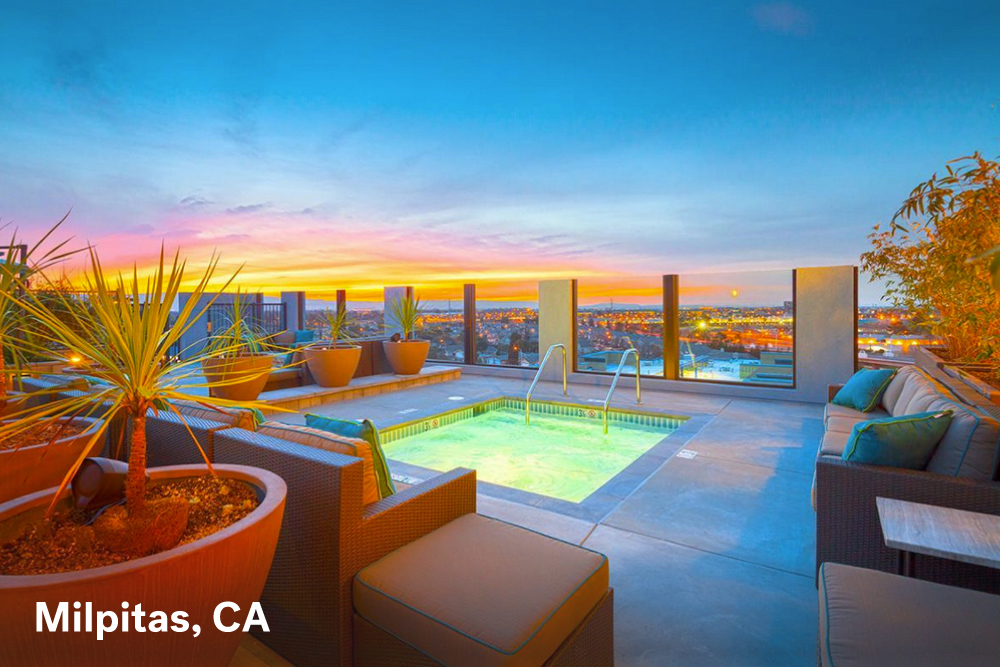 Get high tech in the deep end: $2,181 – $3,251, Apex Apartments

This urban rooftop in Milpitas, CA, has the look (and ahh factor!) of a spa getaway. The saltwater pool deck features all the comforts of a party-friendly outdoor living room, from swank cabanas and all-weather couches to sleek gas fire pits and an adjacent grilling station complete with skyline views of Silicon Valley.
The Apex Apartments' jaw-dropping rooftop pool is a perfect place to escape and power down after a long day at the office crisscrossing the city for meetings. Your only job here? To unplug, kick back, and have a good time. Oh, and pony up $2,097 to rent a studio apartment.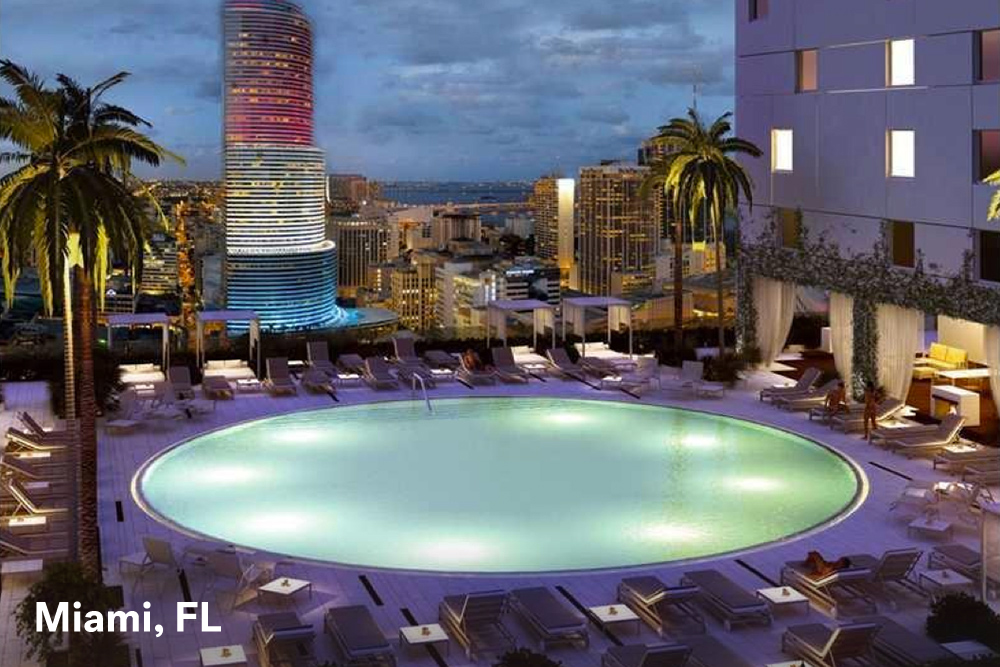 Enjoy a posh piscina in Miami: $2,000, 500 Brickell Avenue

Miami is the home of swim-and-sip pool scenes. But why wait in line down among the crowds when you can find a Miami apartment for rent? Get a private key to 500 Brickell Avenue and indulge whenever you wish.
As serene and ambient by day as it is slick and mood-lit by the lights of the city at night, this wood-topped deck is accented with a circular pool, sleek lounge chairs, and live palms. Take in a view of the city, the bay — and a cocktail — from the comfort of your sunny spot of choice.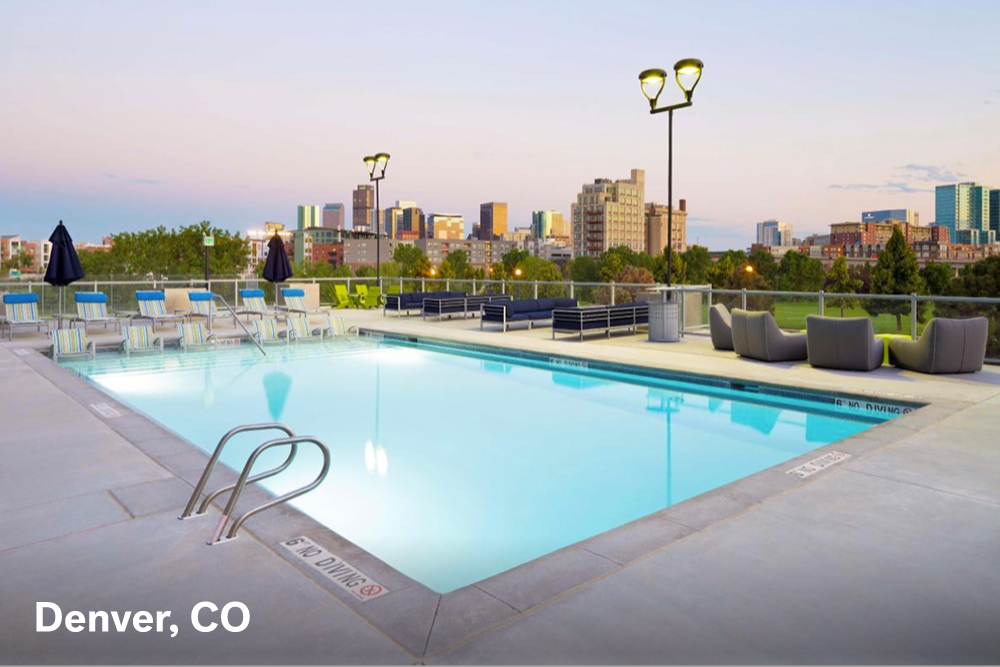 Take a dip with views from LoDo to LoHi: $1,625 – $2,200, West End Apartments

Mountains. City. Swimming. Sold yet? This rooftop pool happens to call one downtown Denver home. Not that you could forget if you called it home — you'd be privileged to views of the best of it at every (flip) turn.
Whether it's splashing in the water, a relaxation sesh among the comfy, modular couches and oversized lounge chairs, or whipping up an alfresco meal in the all-weather communal chef's kitchen, the options for chilling (and taking in a cool view just steps from your door) are as endless as they are appealing. The price tag for this cool Denver apartment for rent? Try $1,625 for a one-bedroom.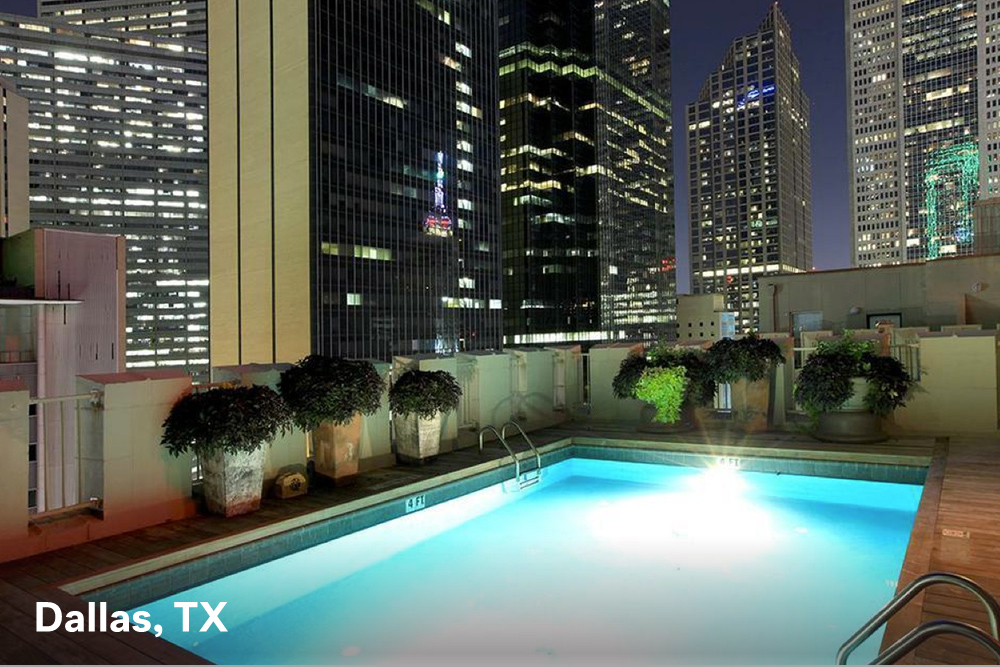 Laps around Lone Star history: $840 – $2,757, Kirby on Main

Kirby on Main's environs keep getting hotter and hotter: In other words, there's no better time to escape to this luxurious rooftop pool where you can look down — and around — at the twinkling lights of Dallas.
Glamorous, early 20th-century late-Gothic-style construction gives way to a modern downtown skyline and a 17-story view from this Dallas apartment for rent. Manicured greenery and 360-degree glass panels enable you to swim and sightsee at once. Units in this modern building in the city's Historic District start at $840.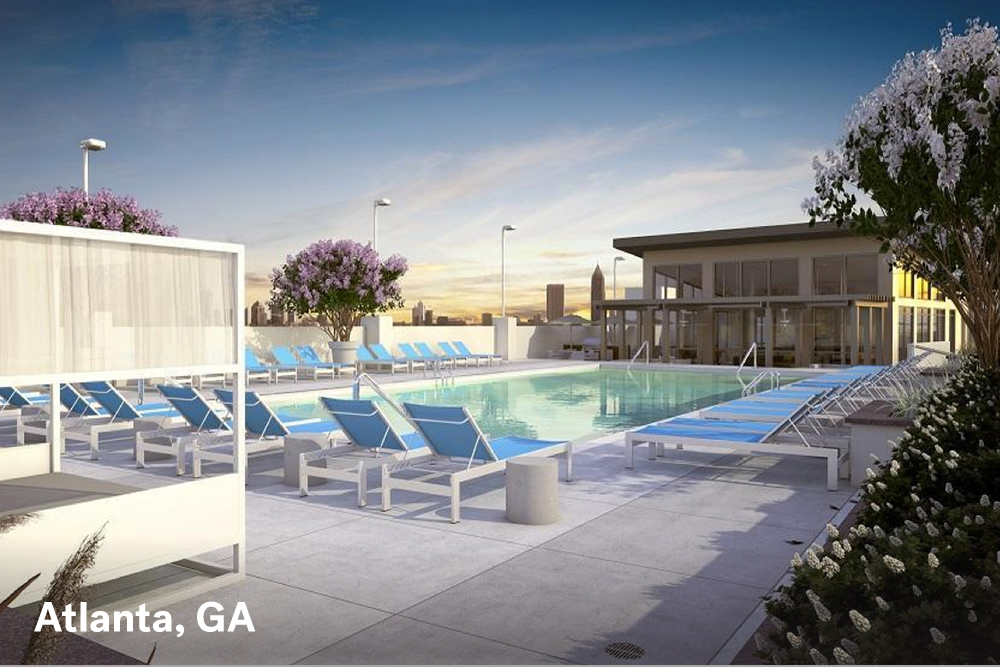 Splish-splash in the ATL: $1,159 – $2,965, The Brady Apartments

Want to call one of Atlanta's coolest rooftops — and hottest, heart-of-it-all neighborhoods — home? Dive into the West Midtown condo's oasis-hued pool, catch some shade in one of the screened seating areas, or rotate between laps in the pool and reps in the penthouse-level communal gym and spa.
With live-work amenities just a few steps away — from local shops to one of the city's most popular breweries — you'll never have to choose between living it up upstairs and having fun in your own backyard. (Unless, of course, you choose another Atlanta apartment for rent.)
Which rooftop pool is your favorite? Share your pick in the comments below!