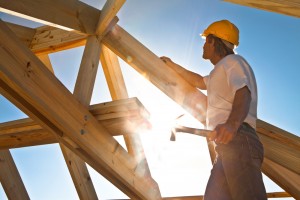 The housing market is recovering — but not in a clean, linear fashion. Rather than progressing from the depths of the recession into a bountiful new boom, the recovery looks like a zigzag line, with some indicators appearing rosy, some seeming downright glum, and some that are a conflicting mix between the two.
Let's take a look at five important statistics from Trulia's Housing Barometer that you should know in order to have a stronger understanding of the housing recovery.
#1: New Construction Starts Are Apartment-Centric
One solid indicator of the strength of the housing market is a metric called "new construction starts." This measures the number of new units (condos, townhomes, single-family houses) that developers are building.
During the bubble (pre-recession), developers overbuilt, resulting in a market glut. During the depths of the recession, new construction screeched to a halt, which caused massive job losses in the construction industry.
Now we're experiencing a shaky, zigzag return to normalcy. This time last year, new construction starts were 45 percent of the way back to normal. This year's starts have worsened slightly: new construction starts are only 44 percent of the way back to normal.
Single-family homes and condominiums are the biggest laggers. The bulk of new construction is apartment construction, which indicates that builders are preparing to shelter Millennials, who are moving out of their parent's homes to become renters.
#2: Unemployment for Young People Is Still High
Speaking of Millennials …
The employment picture for Americans age 25 to 34 has improved, although the overall picture is still lagging. Employment for this age group is 39 percent of the way back to normal (based on a pre-bubble definition of normalcy), which is a massive improvement from last year, when employment was only 32 percent of the way to regaining normal status. However, jobs need to grow substantially before young people can experience historically normal levels of employment.
Why are we focused on employment in an article about housing? Because people ages 25 to 34 are responsible for a large percentage of "new household formation" — a formal way of saying that this is the age at which many people move out of the dorms (or out of their parents' house), get married, and buy houses. As long as this age group experiences low employment, they'll have less money with which they can buy a home.
As of February 2014, 75.8 percent of people ages 25 to 34 were employed (three-month moving average), a 0.8 percent gain from the previous quarter. This is a definite improvement, although there's still plenty of space for future growth.
#3: Sales of Existing Homes Are Bumpy
One year ago, the sales rate for existing homes had recovered to 53 percent of normal rates. Earlier this year, that statistic improved all the way to 79 percent of normalcy, before falling to its current level, representing 61 percent of progress towards regaining normal levels.
In other words: the sales of existing homes are regaining their pre-bubble ground, but the rate at which this improvement is happening is volatile.
This measure, by the way, excludes distressed sales (such as foreclosures and short sales), which are often purchased by investors.
Why is there so much volatility? The rise in home prices, coupled with a slight rise in interest rates, reduces affordability. As home values continue to rise, it makes sense that sales might decline slightly, or at least become erratic as the market adjusts to the new pricing levels. Still, the overall trajectory points to improvement.
#4: Delinquencies and Foreclosures Are Returning to Normal
Here's more good news: the rates of delinquencies and foreclosures are also returning back to their pre-bubble levels. It's now 63 percent of the way back to normal, a large improvement over the 42 percent progress from the previous year.
The foreclosures that had previously sat on the market have been sold, and most of the remaining foreclosure inventory is concentrated in three states: Florida, New York, and New Jersey. Why? These are "judicial-foreclosure" states, which means the process of foreclosing a home involves a long court proceeding that can drag out for years.
#5: Homes Are Still Undervalued, But Improving
Despite a surge in home prices over the last year, Trulia's Bubble Watch reported homes are still undervalued in most major markets nationwide. (Trulia measures "normal" values based on neighborhood rents, affordability, and pre-bubble prices.) However, homes are closer than ever to regaining their "normal" value.
In the first quarter of 2014, homes nationwide were undervalued by about 5 percent, a steep improvement over the 15 percent undervaluation that homes experienced at the worst point of the housing burst.
In other words, homes are 67 percent on their way to regaining their normal values.
Price gains have slowed recently, partly due to higher interest rates (as well as severe winter weather), although home prices generally continue to improve.
The Bottom Line
What's the chief takeaway? Home prices are slowly-but-steadily rising. Sales of both existing homes as well as new-construction homes are improving. More young people are moving into apartments, and are likely to purchase houses, especially as the job market continues to gain ground. And fewer people are losing their homes to foreclosure.
The housing market, in other words, is showing overall improvement, although some metrics (home prices) look rosier than others (employment, new construction.) The overall recovery isn't a neat, straight line, but rather a scattered picture of the many variables that, together, weave the tapestry that values American homes.