Perhaps the smell of fresh baked cookies takes you back to the kitchen in your childhood home. Maybe that perfect sky blue paint color on the bedroom walls makes you instantly feel serene and safe. And it's probably the crunch of the pebble stone walkway that gives you a hint of anticipation as you approach the front door. Our senses – hearing, sight, touch, smell, and taste – are so strongly bound to our perceptions, emotions, and nostalgia, it's no wonder that you rely on all five when looking for your perfect home.
To get to the heart of the sensory triggers that appeal or detract from a home shopping experience, Trulia recently surveyed real estate agents on what stands out to the five senses of potential buyers during open houses or showings.
If you are preparing to stage your home, here are a few findings from the survey to consider, as well as some tips on where to focus your efforts to create the best sensory experience to turn shoppers into buyers.
Keep Your Eyes Peeled:
Put away the Legos. Clear the desk clutter. Vacuum up the dog hair. Nearly 74 percent of real estate agents said that the cleanliness of a home is the most important sight-based feature to home buyers. Someone looking for a new home doesn't want to have to use their imagination (or the "mind's eye") to determine if the house is a fit for their lifestyle.
The Smell of Home:
Vanilla and fresh scents (think mountain air or clean laundry smell) are the most popular and appealing fragrances when staging a home. In fact, vanilla is such a powerful scent, studies have shown it's linked to positive nostalgic memories, reducing stress and anxiety and producing a sense of calm*.
First Impressions Make a Lasting Impression:
While the majority of real estate agents said the most important rooms to focus on staging are the kitchen and living rooms, they emphasize not to forget about the entryway. The look and feel of the entryway is the first opportunity to make a full sensory impression on the home buyer. Additionally, homeowners should consider incorporating ambient music, fresh flowers, and a clear path to the rest of the home.
Color Correction:
Primary colors are great for preschool walls, but are definitely a no-no when it comes to selling your home. Bright or funky color palettes such as reds, oranges, and yellows are the least appealing (you don't need a fast food restaurant in your living room). Instead, neutral colors such as eggshell, white, and ivory are the most appealing because they represent a clean, blank canvas.
The dominant senses of selling a home are sight and smell, so focus your efforts on fresh, calming fragrances, a neutral color palette, and an inviting first impression as potential buyers walk in the door.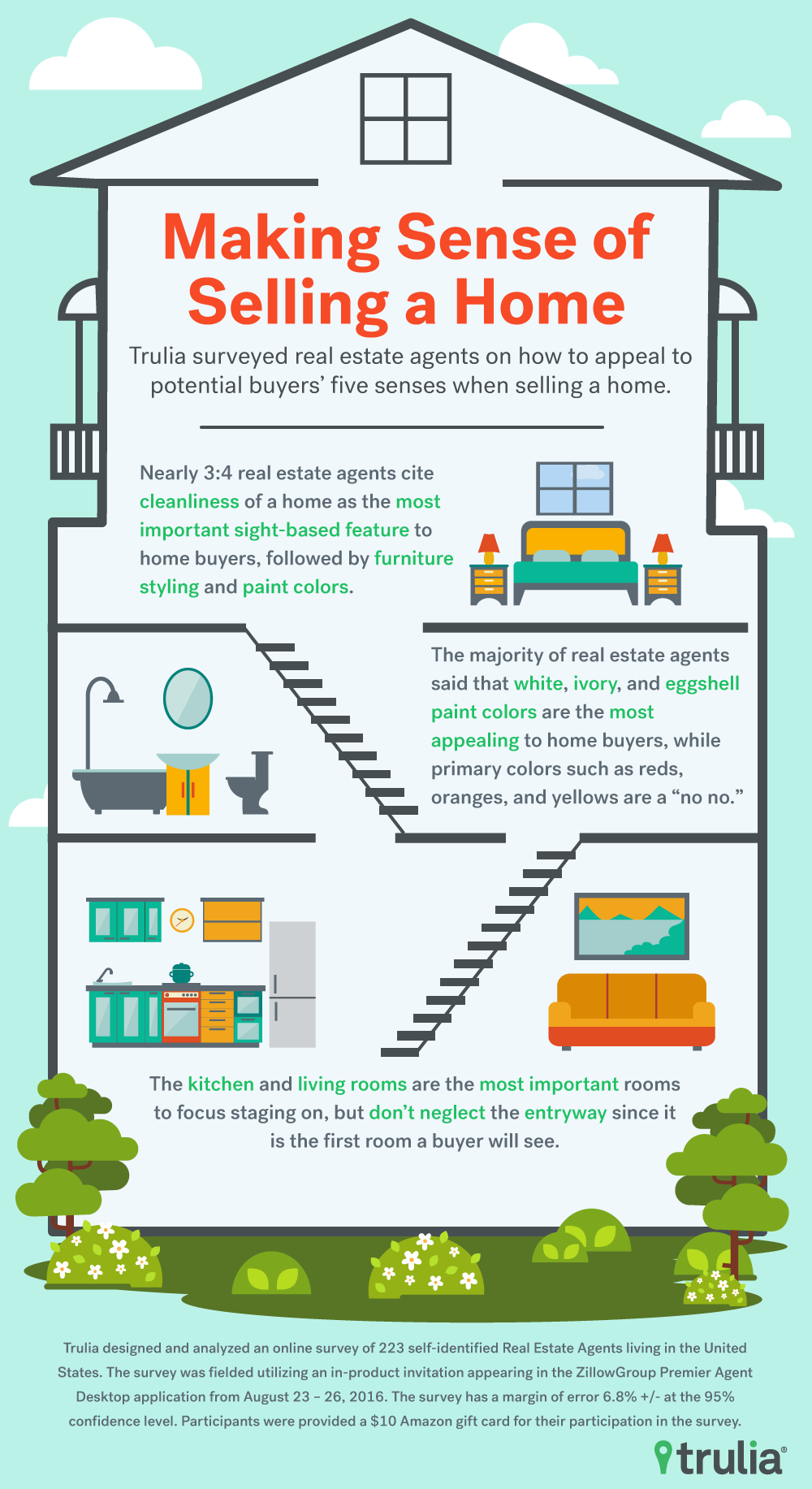 What have you done to entice home-shoppers senses? Share your experiences in the comments!
Methodology: Trulia designed and analyzed an online survey of 223 self-identified Real Estate Agents living in the United States. The survey was fielded utilizing an in-product invitation appearing in the ZillowGroup Premier Agent Desktop application from August 23 – 26, 2016. The survey has a margin of error 6.8% +/- at the 95% confidence level. Participants were provided a $10 Amazon gift card for their participation in the survey.
*Source: http://chemse.oxfordjournals.org/content/30/suppl_1/i248.full