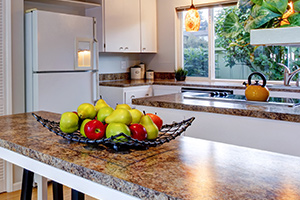 Mention the phrase "open house" to a seller, and more often than not, they'll start panicking at the thought of having strange people in their home — or the cost they'll incur to prepare for the event. In reality, open houses are a seller's best tool. Not only do they give a home much-needed visibility, but also they bring would-be customers directly to the doorstep.
In competitive markets, it's more imperative than ever for sellers to host an open house. If you're thinking of selling, check out these five ways an open house can get those offers flowing in (without the bank-breaking prep).
1. It's an opportunity to set your house apart from the rest
While a picture is worth a thousand words, nothing beats seeing a home in person. Open houses give you the opportunity to show your home at its best. If you opt for professional staging, your decor gets an instant upgrade. Do it hassle-free by hiring a staging company that brings in furnishings. The idea is to create a statement-making yet versatile space that helps prospective buyers envision living in your home.
2. Social situations ease tension
With multiple prospective buyers in your home at one time, lookers feel less self-conscious. Your agent can casually chat with visitors and their agents, offering informal tours in a low-key environment. This relaxed feeling is rarely found in timed home viewings where buyers have only a brief window to see a home.
3. Open houses reduce marketing costs
More eyes on your home in a short time often means a faster sale. An open house allows you to skip weeks of individual showings and enjoy the benefits of a one-day affair that optimizes the audience. Pay for the housekeeper once, the staging once, and prepare your home to change hands as quickly as possible.
4. The neighbors can swing by for a meet-and-greet
If you have great neighbors, introduce them to prospective buyers. Most people in the market for a home understand that they aren't buying just a house — they're buying the neighborhood and the community as well. And if you've fallen in love with your neighbors, an open house may make buyers fall in love with them too.
5. It's a chance to share your area's amenities
Buyers are usually interested in learning about neighborhood amenities as much as the house itself, and an open house gives you the opportunity to share a list of the "greatest neighborhood hits." You can include your favorite restaurant menus, grocery stores, day care centers, and info on schools in the area. A printed takeaway for open-house attendees that has all this information adds that extra touch.