Want your home to exude the spirit (pun intended) of Halloween? Sure, you could carve a jack-o'-lantern for the millionth time, but where's the originality in that? Check out these five DIY projects that can make your home feel ghoulishly glam this season.
1. Create a Mini-Pumpkin Wreath

Image via Pinterest; tip via HGTV
Who says wreaths are reserved for winter? Grab a foam wreath form, a hot-glue gun, and about 8 cups of "putka pods" (small, natural seedpods that look just like miniature pumpkins). Then throw yourself into a glue-gunning frenzy. Extra credit: Add some fall foliage (I recommend faux) for extra dimension and texture.
2. Get a New Set of Table "Legs"

Image via Pinterest; tip via StageTecture
Put an extra "kick" into your decor by converting your table legs into — ahem — legs. Adding a little wicked style to your table is easy. Grab a pair of Halloween-themed socks (preferably knee-highs), tie a ribbon around the top to secure them in place, and secure a pair of cutout felt shoes on the feet. Just don't expect them to start tap-dancing.
3. Create Spooky Candle Jars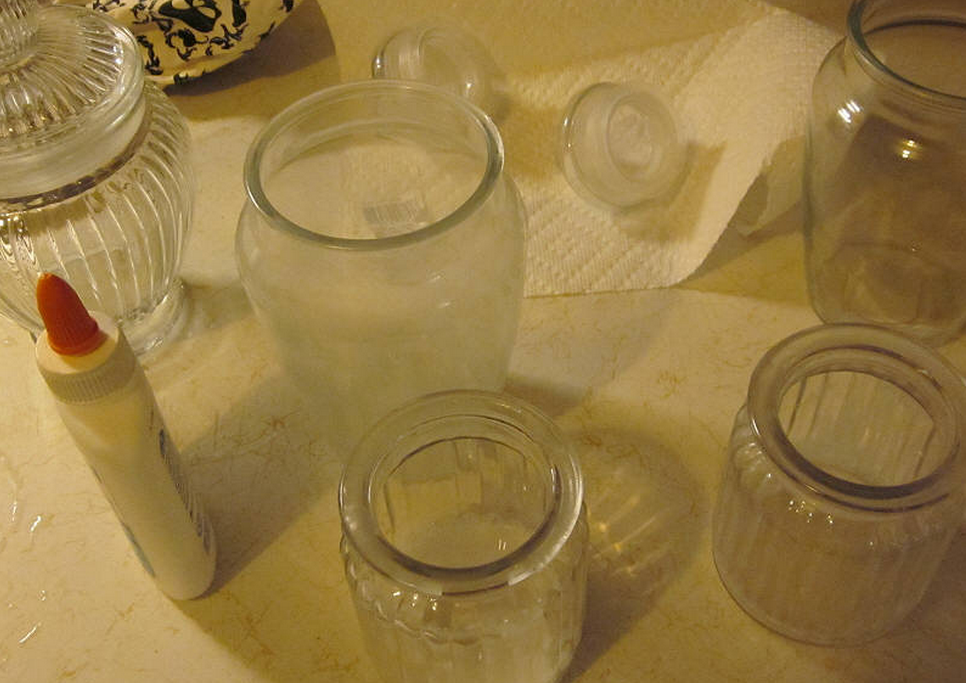 Image courtesy Flickr: Cat Winterfox
Step outdoors with a pile of old newspapers while wearing your rattiest T-shirt. No, it's not a reverse beauty contest; it's a simple way to create creepy candle jars. Start with any regular set of glass jars. Clean them with soap and water, then wipe them down with isopropyl alcohol — this helps the paint adhere to the surface. Move the jars outside and set them on that old newspaper, or use a cheap shower-curtain liner from the dollar store as a dropcloth. Lightly mist the tops of these jars with black, red, and/or orange spray paint.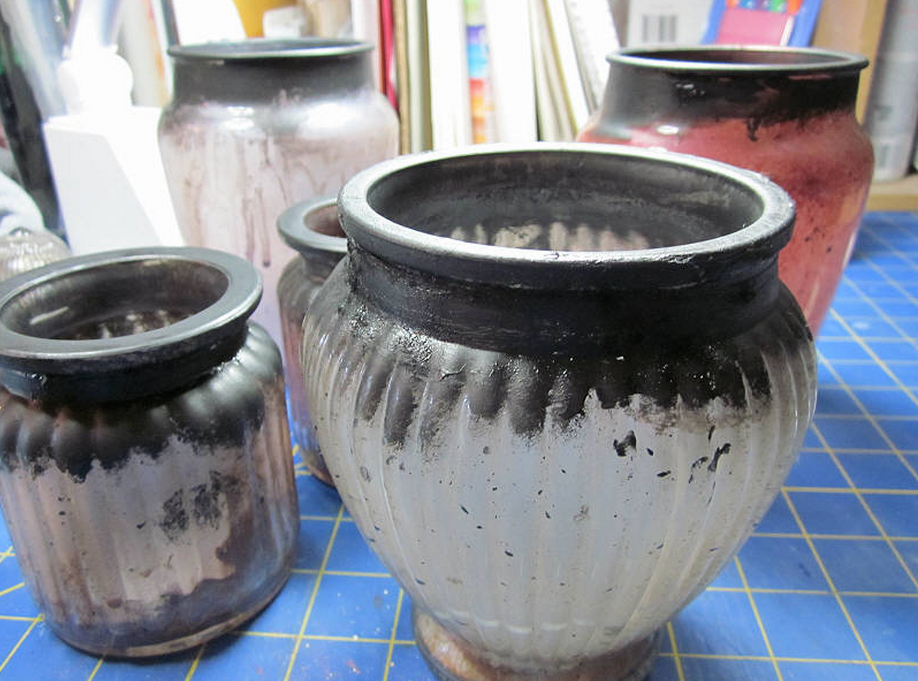 Image courtesy Flickr: Cat Winterfox
Insert tea candles into the jars and use them to light the pathway to your home when trick-or-treaters arrive. Or fill the jars with bite-sized candy bars for a spooky party display.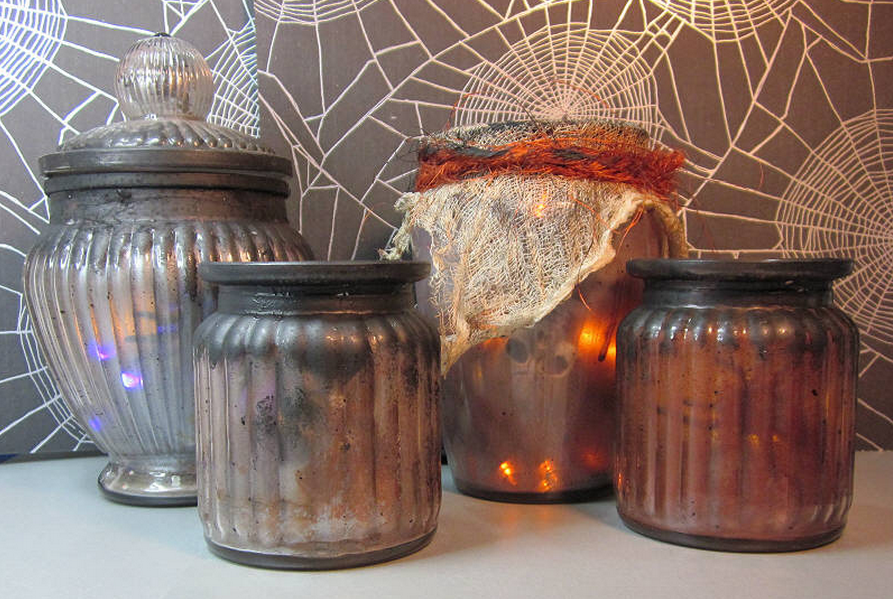 Image courtesy Flickr: Cat Winterfox
4. Bling Your Pumpkins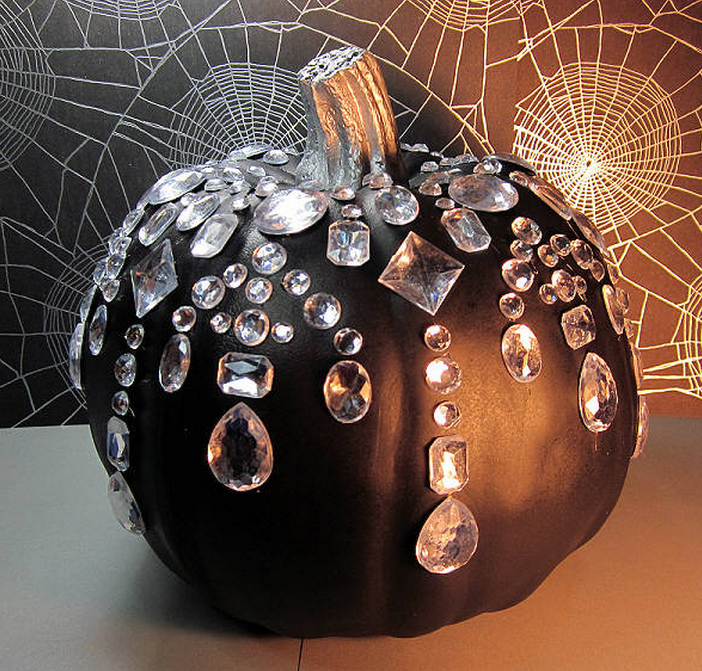 Image courtesy Flickr: Cat Winterfox
What was it Mom always said? Bedazzle your vegetables? Maybe not. But either way, who says you need to carve jack-o'-lanterns like everyone else? Add some bling to your Halloween decorations by painting your pumpkins (again, soap/water/alcohol does wonders for prepping the surface and helping the paint adhere) and then covering them with large rhinestones. Pro tip: Use Gorilla Glue for ultimate adhesion.
5. Cast a Silhouette on Your Garage Door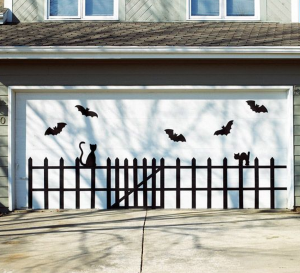 Image via Pinterest; tip from BHG
Terrible with colors, cutouts, and crafts? Consider yourself a "not-too-artsy" person? Don't worry, there's hope. Drive to the nearest hardware store, grab some removable black tape (often referred to as electrician's tape), and use it to create a "fence" along the front of your garage door. You're just adding straight lines — minimal artistic talent required. Next, download and print a pattern of black cats or bats from your computer. Cut out the patterns, trace them onto black craft foam sheets, and snip away. Guaranteed, your neighbors will be impressed with your crafty talents.
Are you planning to tackle any Halloween-themed DIY projects this weekend? We'd love to see what you're working on — share your plans in the comments!