If your goals for 2015 involve establishing an emergency fund, paying down your credit card debt, growing your business, or striking a better work-life balance, there's no reason to go it alone.
A slew of money-savvy pros have put their know-how in writing, making it easy for you to tap into their knowledge for some weekend motivational reading. These must-reads will help get you ready for your financially healthiest, wealthiest year yet.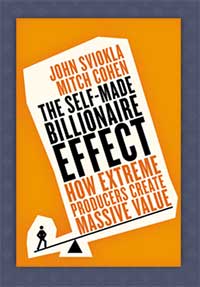 1. The Self-Made Billionaire Effect: How Extreme Producers Create Massive Value

By John Sviokla and Mitch Cohen
The Big Idea: What do billionaires have in common, besides good luck? John Sviokla and Mitch Cohen, two Pricewaterhouse Coopers strategists, interviewed 120 self-made billionaires to find out.
It turns out that many of these highly successful folks share a similar mind-set, which is why the authors call them "producers."
While plenty of people are excellent employees who thrive within the current culture of a corporation, producers know how to think bigger: These are the entrepreneurial leaders who dream up a new idea, pull together the right team to bring it to life — and, most important, sell the idea to other people.
The catch is that producers — including serial entrepreneur Mark Cuban and Spanx founder Sara Blakely — tend to strike out on their own. That's great for them, but a major loss for the companies they leave behind.
The Big Tip: Success isn't always the result of being the smartest, hardest-working or luckiest person in the room. If you want to be a billionaire, you need to identify brand-new opportunities for growth—and have the guts to act on your vision.
How It Can Work for You: If you're not currently a producer (and most of us aren't), learning to tap into that lucrative mind-set will bring a valuable spark to your next project—whether it's a board presentation or a start-up concept.
And if you're the boss, this book may help you spot the producer on your team before that direct report leaves for greener pastures.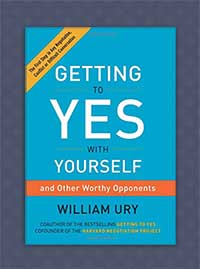 2. Getting to Yes With Yourself: (and Other Worthy Opponents)

By William Ury
The Big Idea: The toughest opponent you'll ever face is yourself, says William Ury, cofounder of the Harvard Negotiation Project.
In this prequel to "Getting to Yes," the legendary 1981 book that Ury cowrote with fellow HNP leader Roger Fisher, Ury illustrates how we often work against our own best interests.
For example, let's say that after months of job hunting you finally land a position. The salary is lower than you'd hoped for, but you decide not to negotiate because you believe you should just be thankful for the offer. That decision could cost you thousands in the short term — and even more over the course of your career.
The Big Tip: You must identify the things that will make you happier and more productive and get to "yes" with yourself — in other words, wholeheartedly believe that you deserve the things you desire — before you can confidently articulate them to others and reap the rewards.
How It Can Work for You: Think of your goals for 2015 as a set of dominoes, all lined up in a neat row. Consider this book to be the finger-flick that will push your plans into action. By learning how to get to yes with yourself, you'll be ready to negotiate confidently for that big raise, promotion or project.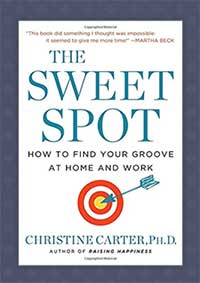 3. The Sweet Spot: How to Find Your Groove at Home and Work

By Christine Carter, Ph.D.
The Big Idea: If a happiness expert can't figure out how to achieve a satisfying work-life balance, what hope is there for the rest of us?
Plenty — if you follow the lead of Christine Carter, Ph.D., a sociologist and happiness expert at UC Berkeley's Greater Good Science Center.
Carter realized she was in desperate need of a happiness makeover and decided to take action. In this book she chronicles her personal experiments with research-based stress reduction and time-management tactics.
The effort was worth it: She eventually discovered her "sweet spot," a state of being in which her professional and home lives fell into that mythical balance we all seek.
The Big Tip: Finding your own sweet spot involves adopting some key "micro-habits," such as learning when to say no, avoiding multitasking, and taking some necessary time-outs. These small shifts are the ticket to having more energy, being more productive, and just feeling like a happier person.
How It Can Work for You: Carter's transformation from overwhelmed working mom to productive and relaxed human being will inspire you. Her book is chock-full of concrete tips on how to sharpen your focus, improve your efficiency, and use technology to your advantage.
A version of this post originally appeared on LearnVest. Click here to read in its entirety.