Ever love a sci-fi flick so much you wish it were real? Enter the world of sur-real estate: futuristic design that will make you feel like you're in the new Blade Runner 2049 film, alongside Ryan Gosling. We found 10 unique homes on the market today where you can live-out your sci-fi fantasies.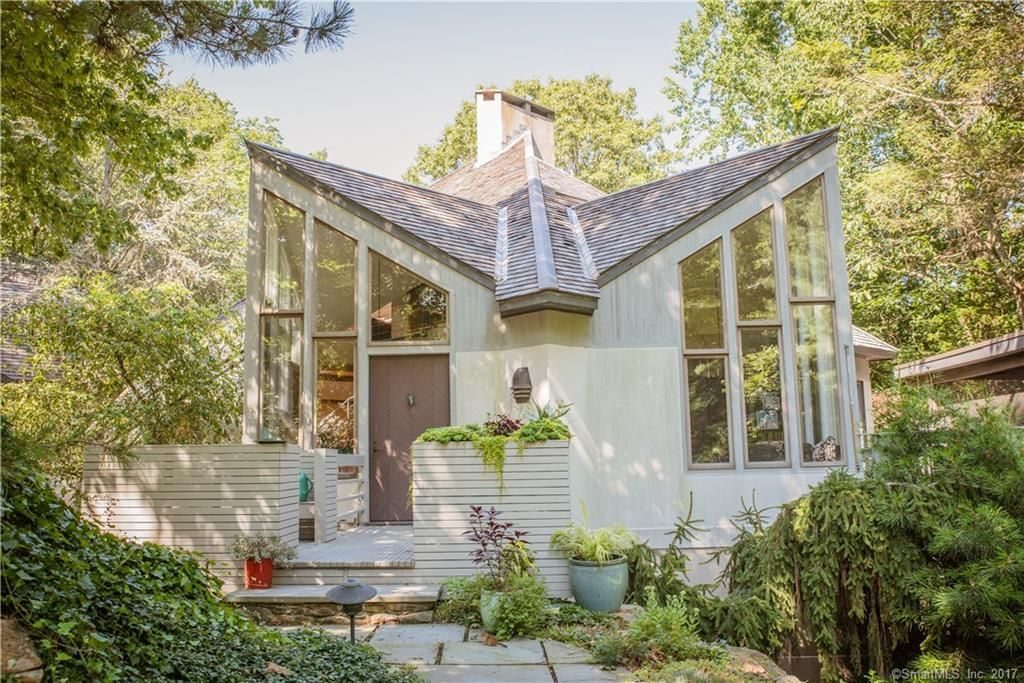 Guilford, Connecticut
An aerodynamic New England hideaway
$885,000
Packed with down-to-earth creature comforts, this three-bedroom, five-bath abode resembling a falcon taking flight is perfect for the sci-fi superhero. The sun-filled screened porch and floor-to-ceiling stone fireplace are both ideal places to tell tales of heroic conquests, while two private balconies let dwellers stay on the lookout for interplanetary enemies. Of course, the flying house's shrouded 1.4-acre setting amidst boulders and shrubs in the low-key 22,000-person town of Guilford make it easy to stay out of sight in your own private corner of the galaxy.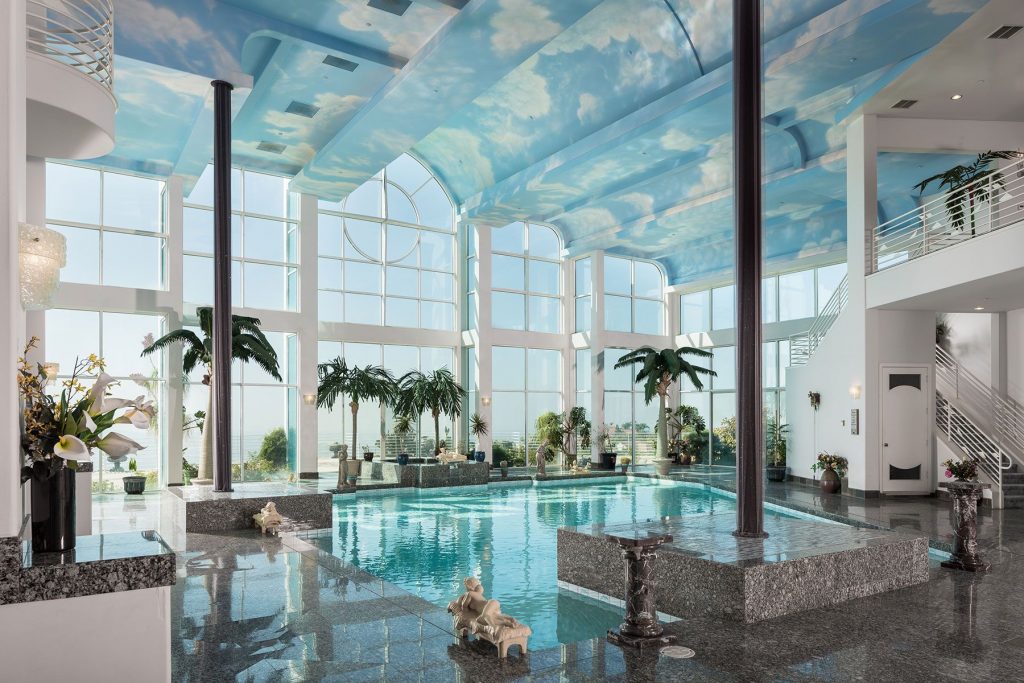 Yorba Linda, California
A doomsday-proof dwelling in SoCal
$16,999,000
If you want to survive an apocalyptic universe a la 10 Cloverfield Lane, this colossal nine-bedroom, 12-bath gated compound is your best bet. A resort-style pool and movie theater let you to wade out an alien invasion in the comfort and quiet of the 19,346-square-foot mansion. If, like the film's protagonist, you need to make a quick getaway for the outdoors, you're in for breathtaking views of Chino Hills and Orange County, dotted with classic Spanish architecture that is in stark contrast to this convention-defying, tube-shaped abode.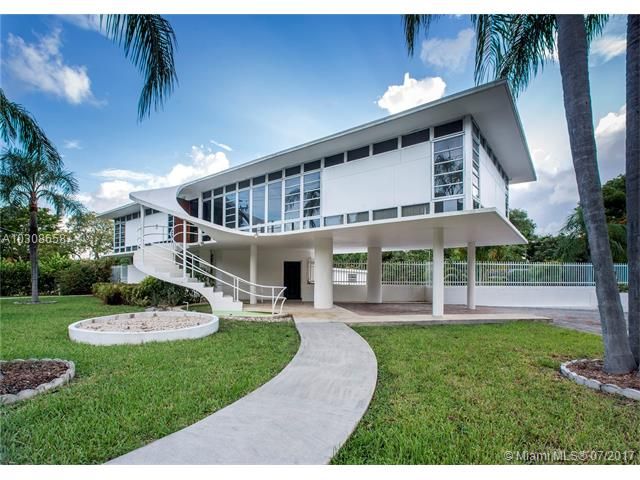 Miami, Florida
Jetsons style in Miami's Upper East Side
$1,875,000
Live like the Jetsons at this three-bedroom, three-bath estate, a real-world throwback to the fictional Skypad Apartments. Only you don't need a flying car to enter this new-wave home. Simply walk up the swirling entryway staircase and into the glass-paneled estate, which comes with a flat kitchen design that makes it easy for your personal robot to clean. The property is an architectural anomaly in Miami's Upper East Side neighborhood, which is rife with historic Mediterranean Revival and Art Deco–style homes dating from the 1920s to the 1940s.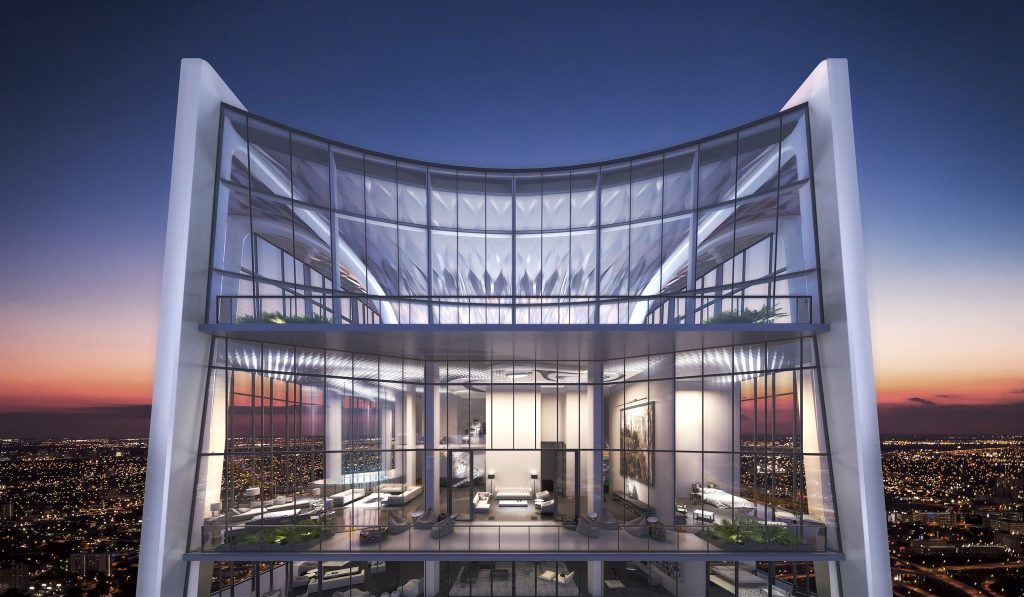 Miami, Florida
The sci-fi high life above Biscayne Bay
$11,360,000
No sci-fi film is complete without an imposing skyscraper where the chief villain hatches a plan for total world domination. This sky-high residential tower with a four-bedroom, five-and-a-half-bath condo up for sale perfectly fits the bill with its daunting dimensions, rare curved silhouette and—get this—a rooftop helipad for stealth escapes. Don't have a helicopter or flying saucer to your name? The helipad doubles as an observation deck.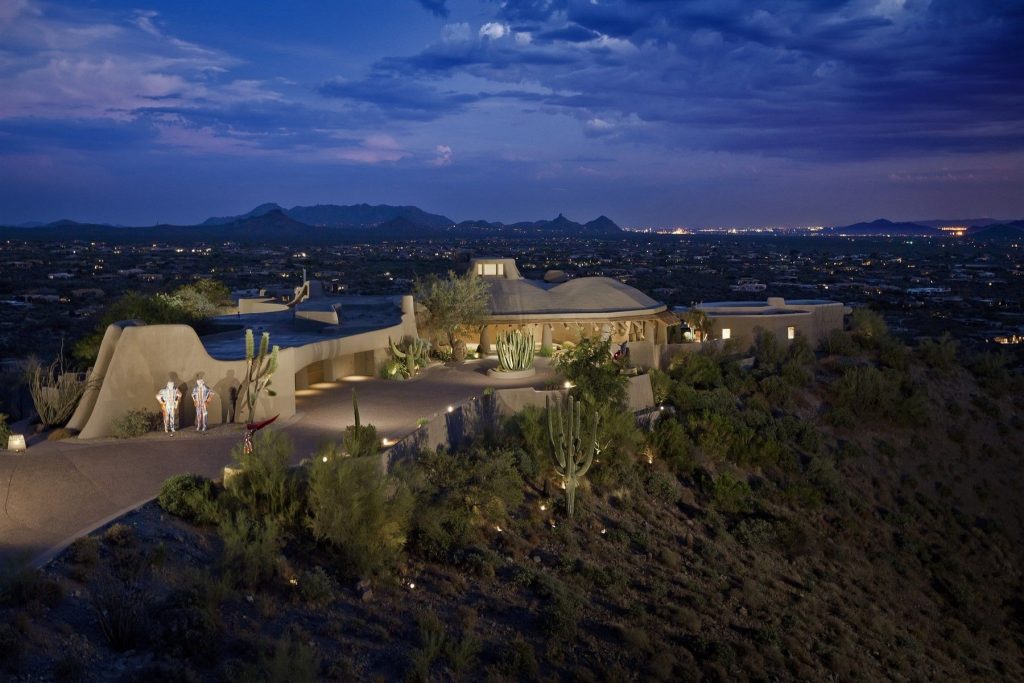 Scottsdale, Arizona
A time-bending property on a plateau
$4,595,000
Who says you can't time-travel? This four-bedroom, seven-bath home transports visitors through design elements from different eras. The pueblo-inspired facade blasts visitors to the past. Geometric lawn sculptures add a contemporary Southwestern twist, and flying-saucer-shaped dome roofs nod to the distant future, say, 2049. The seclusion and high altitude of the desert plateau on which the fantastical estate resides makes it look and feel even more out of this world.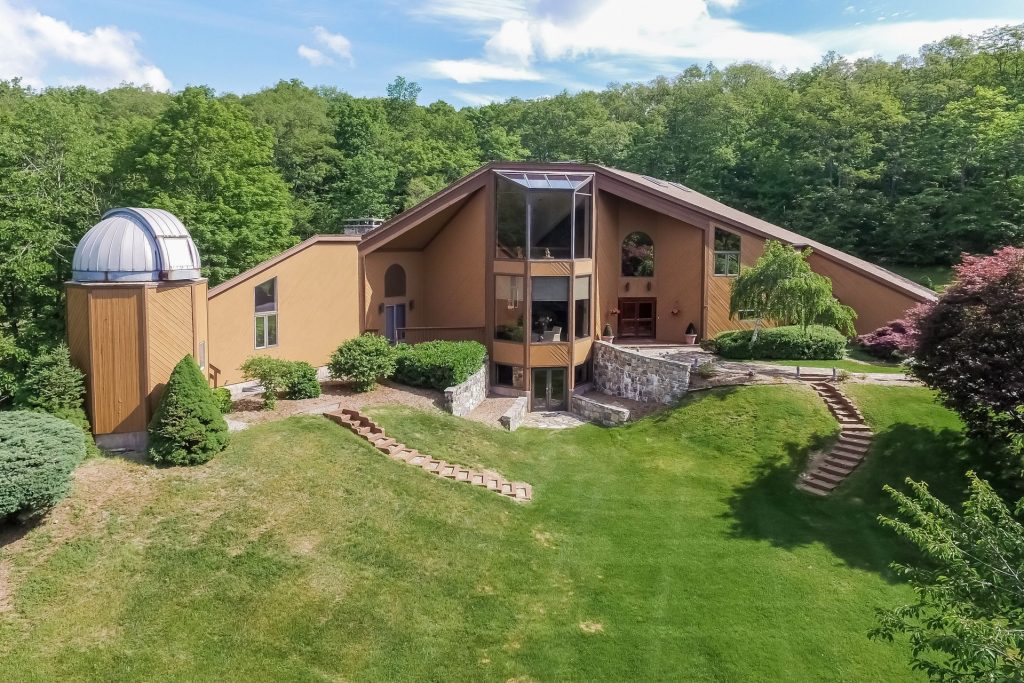 Guilford, Connecticut
Extraterrestrial estate on the eastern seaboard
$685,000
If, like Elliott from E.T. the Extra-Terrestrial, you're looking to make contact with an extraterrestrial, there's no better place to do it than from the central observatory of this four-bedroom, four-bath accommodation. Your alien or human friends won't be able to resist the rocket-fin-like passageways flanking the observatory, complete with an entertainment-packed game room. The imposing 4,310-square-foot abode is a surreal departure from its quaint country surroundings.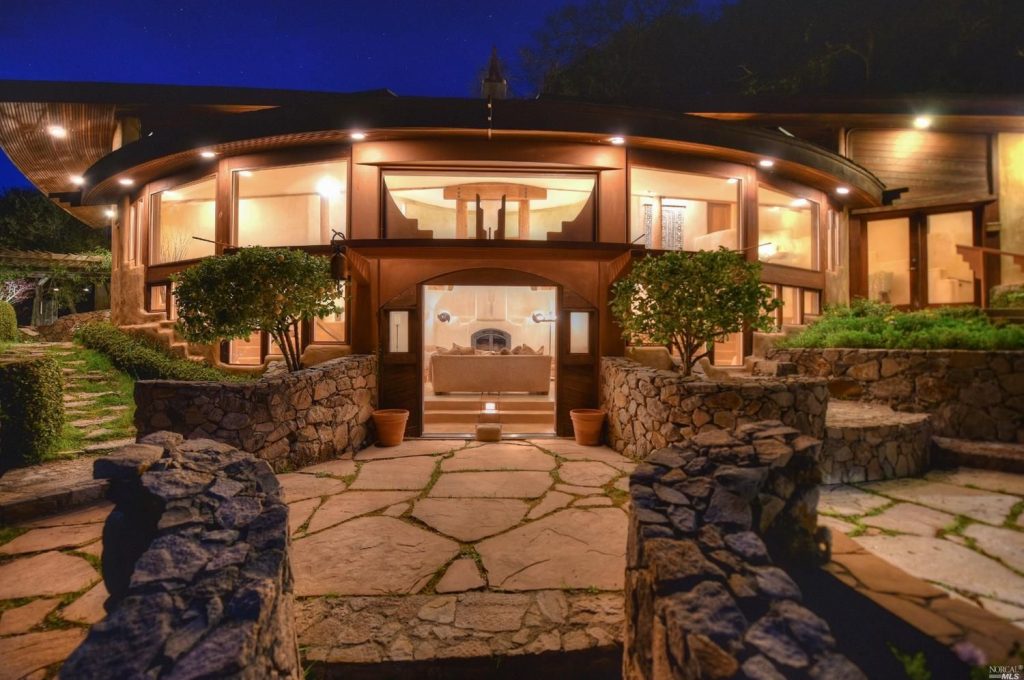 Napa, California
$1,850,000
Can't find a parking spot for your flying saucer? Try this three-bedroom, three-bath elliptical estate—a dead ringer for a UFO landing pad. Gnarled staircases and chandeliers add an extraterrestrial element to the interior, while an outdoor deck and dining area built into the round residence are prime vantage points from which to spy other flying objects in the neighborhood. Though just a ten minute-drive from downtown Napa, the otherworldly estate is alienated from town.
Sandy, Utah
A world-colliding retreat with mountain views
$2,500,000
Though the asymmetric angles and ambitious use of glass on its exterior look alien to some, the themed bedrooms inside this eight-bedroom, six-bath house will be instantly recognizable to sci-fi buffs. A Jurassic World-inspired dinosaur and the Star Wars galaxy are just a few of the professionally painted vignettes you will spy in the 7,023-square-foot interior. Fittingly, the herculean home sits at the foot of the Wasatch Mountains.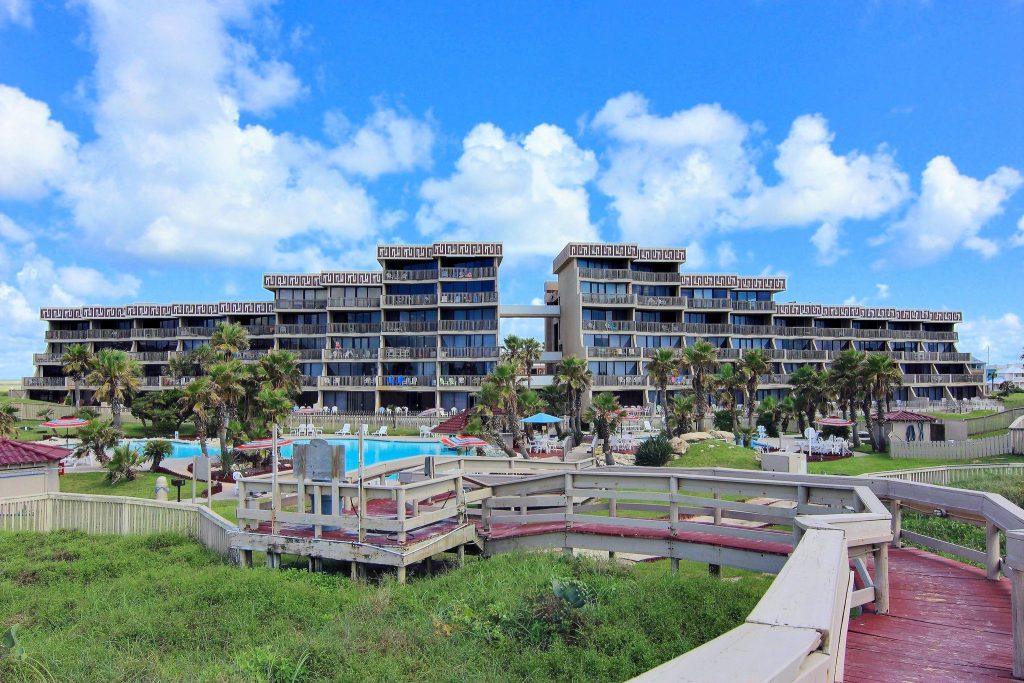 Port Aransas, Texas
A down-south Blade Runner replica
$225,000
Blade Runner fans may mistake this mod-art Mayan-themed dwelling for the textile-block apartment of Rick Deckard, the hero of the 1982 sci-fi hit. But far from the gritty dystopian Los Angeles setting of the film, this real-world two-bedroom, two-bath condo is found in the tranquil waterfront town of Port Aransas. The Gulf Coast haunt is an even more fantastical setting for an edge-of-your-seat sci-fi thriller since it played host to real pirates in the early nineteenth century and remains the only established town on Mustang Island.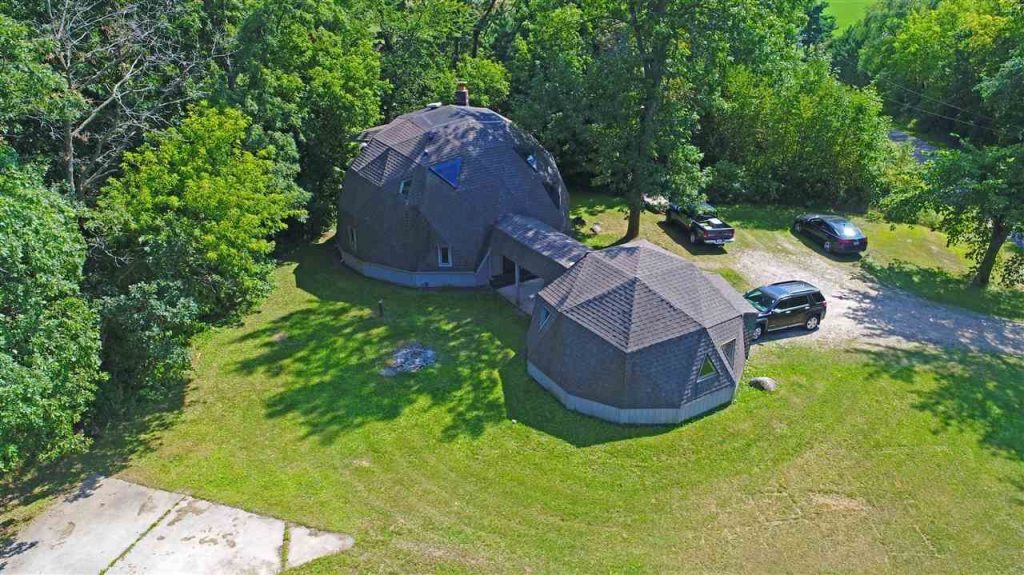 Amherst, Wisconsin
$125,000
No, this isn't Rey's all-terrain armored transport walker from Star Wars: The Force Awakens, but rather a three-bedroom, two-bath dome home complete with two sheltering round roofs and triangular skylights for observing stars in galaxies far, far away. This unique home is perfect for Jakku scavengers and human inhabitants alike. The light-years-ahead-of-its-time property is located on a secluded and tree-filled 2.5-acre lot in the equally forward-thinking Tomorrow Valley region in the 1,000-person town of Amherst.
What science fiction house would you want to live in? Share your thoughts in the comments below.