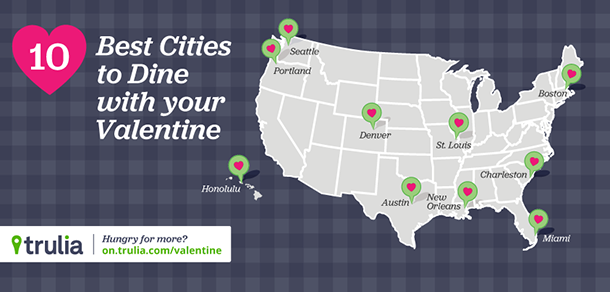 In case you haven't noticed the recent explosion of pink, red, and heart-shaped boxes of chocolates, we're here to remind you that Valentine's Day is just around the corner. To save you from a night of sleeping on the couch, we've created a list of the best cities to dine in with your Valentine. Last year, we took a look at the "Best Eating Towns and Drinking Towns" across America — metropolitan areas with the highest density of restaurants and bars. The usual suspects showed up (New York, San Francisco, Los Angeles), but we wondered about the rest of the country.
We took that data and reimagined it to include a romance factor that considers how exciting, romantic, delicious, or interesting the food and bar scenes are. The points have been tallied, and here are the best places from around the country (in no particular order) for you and your loved one to hit the town. If you're lucky enough to call one of these cities your home, don't miss out! If not, there's always time for a romantic jet-set weekend with your special someone. Take a look and let us know what you think!
Our 10 Best Cities For Dining With Your Valentine:
1. New Orleans
New Orleans is a perfect place to ignite (or reignite) your love for your special someone. Take a tour of south Louisiana with Cajun and Creole classics or step into the Caribbean by sampling fresh seafood. Duos can dine their way through Spain, Italy, Africa, South America, and France without stepping foot out of the States — it's all available in New Orleans.
From formal dining rooms to quaint courtyards, there's a taste and a place for every couple. Start your evening off with the sunset at Woldenberg Park and watch the sun dance across the Mighty Mississippi. Take a stroll along the Moonwalk on the river at Jackson Square. There are few things more quintessentially couple-y than a late-night ride around the Quarter in a horse-drawn carriage. Finally, it's always fun to end an evening with a little something sweet, so before heading back to your hotel, swing by Café du Monde for a cup of café au lait and an order of world-famous beignets.
2. Boston
Boston is nicknamed "Beantown" for its famous Boston baked beans, but we suggest skipping these on V-Day and splurging instead on more romantic fare. Eminently walkable and packed with adorable cobblestone streets, Boston is known for its classic architecture and cozy restaurants. For less touristy fare than at Faneuil Hall, head to Newbury Street. Summer or winter, this street will delight shoppers and foodies alike with its hip bars and wide variety of restaurants. Newbury Street starts right at the Public Garden and proceeds for the length of the historic, beautiful, and romantic Back Bay neighborhood.
For many, Cambridge, MA, is synonymous with Harvard University and MIT, but that's only a small corner of this expansive city across the Charles River from Boston. Some of the funkier restaurants and bars cluster around the various "squares" in Cambridge. The squares are really overgrown intersections, but they're handy reference points and typically have a Red Line subway stop, making them easy to reach from Boston if you want to sample one of the many Brazilian restaurants or authentic Boston Irish pubs.
3. Charleston
Historic Charleston is bursting with Southern charm and hospitality. The city feels a bit suspended in time, thanks to its antebellum architecture and surrounding plantation landscapes, but a lot has changed in the 300 years since it was founded. Take your date for a walk or carriage ride and enjoy the incredible views of the Battery, French Quarter, and Waterfront Park, then become inspired by the cultivated beauty of the gardens at Middleton Place.
Locally sourced ingredients are the name of the game at FIG, whose chef, Mike Lata, picked up the James Beard award for best chef of the Southeast in 2009. That prize's 2010 winner, Sean Brock, is behind McCrady's, in a beautiful and romantic national landmark building, and Husk, which has a sprawling porch and hipster-friendly adjacent bar.
4. Portland
Portland is surrounded by incredible scenery and has an expansive food scene that reflects its eclectic residents: bike lovers, urban gardeners, emerging artists, and food truck purveyors. There are few traditional fine-dining options, but the fresh, locally farmed fare you'll find around every corner speaks for itself.
We recommend starting at the city's legendary Saturday Market in the historic Chinatown area to soak in the ambiance and get a feel for the city. Then try a local liquor on Distillery Road or one of the many local brews. Later, try some of the hipster restaurants and food trucks that make Portland a foodie favorite: Le Pigeon, Pok Pok, Laurelhearst Market, Bunk Sandwiches. Finish your day off right with a crazy doughnut concoction at Voodoo Doughnuts and wash it down with some coffee made with care by a local roaster.
5. Miami
In Miami, you can enjoy the sun and surf on South Beach, stroll amid the 1920s architecture of the Art Deco district, or take a drive down the Florida Keys to really get away from it all. Nicknamed the "Capital of Latin America," Miami is the largest U.S. city with a Spanish-speaking majority population.
Given its diverse residents, the cuisine in Miami has a lot of Caribbean and Cuban influences, and options range from fine dining with hot celebrity chefs to food trucks. The place to go for Cuban food? Versailles. Other highlights include NeMesis Urban Bistro and Latin Burger and Taco.
6. Denver
Nicknamed the "Mile High City," Denver is nestled in the Rocky Mountains and gets 300 days of annual sunshine, making it a great year-round destination. Its urban setting in close proximity to the hiking, skiing, and natural beauty of the Colorado Rockies means there's something for everyone.
On the food-and-drink front, it's best known for its breweries — Coors, anyone? — and the city welcomes visitors from around the world when it hosts the annual Great American Beer Festival each fall. Denver is also famous for its dedication to New Mexican cuisine, especially green and red chile sauces and the Denver omelet. A pioneer town in more ways than one, Denver was also the birthplace of fast-food chains Chipotle Mexican Grill, Quizno's, and Smashburger. For Valentine's Day, though, we humbly suggest that you try some fancier fare at one of the innovative chef-owned restaurants that are popping up all over the city.
7. Austin
Austin is the "Live Music Capital of the World" and home to hundreds of live-music venues where you can stumble into a joint and catch an amazing local act any night of the week. Located in the heart of Texas — but viewed by many traditional Texans as another world — the city boasts "Keep Austin Weird" as a long-running local motto and uses it to promote Austin's eccentricity and diversity.
Barbecue is the Texas standard, and you can find the famously delicious Salt Lick, Iron Works, and Stubb's barbecue joints within Austin city limits. But if you're interested in something a little more "weird," try SoCo, a shopping district stretching down South Congress Avenue from Downtown. The area is home to coffee shops, eccentric stores, restaurants, food trucks, trailers, and festivals. Make sure to check out Austin's most famous piece of graffiti on South Congress Avenue and tell your special someone that you love them.
8. Seattle
Seattle is known for being the birthplace of the rock music style "grunge," which was made famous by locals such as Nirvana, Pearl Jam, Soundgarden, and others. When people aren't wearing flannel or rocking out to grunge, they may be hitting up the world-famous Pike Place Market overlooking the Elliott Bay waterfront.
For a Seattle-style romantic experience you won't get anywhere else, make reservations at the Space Needle restaurant, SkyCity. The restaurant slowly rotates 360 degrees throughout your dinner, allowing you views of the entire city. If heights aren't your thing, stop by Canlis in Queen Anne, one of Seattle's finest and most romantic spots. Canlis has long held the throne of "Best Seattle Restaurant" and your meal is sure to be unforgettable.
9. Honolulu
Aloha! Honolulu is the state capital and the most populous city in Hawaii. Located on the island of Oahu, Honolulu is a must-visit destination for sun worshipers from all over the world. Aside from being a vacation paradise, the city is also famous for being host to a diverse variety of East-West and Pacific culture, cuisine, and traditions.
In the midst of a culinary revolution, Honolulu is America's latest gourmet destination, with a plethora of new food trucks, farmers markets, pop-ups, and restaurants. In fact, Conde Nast Traveler just declared it "the next foodie frontier," and we quite agree. People are no longer coming just for the surf, sand, and sun. For an incredible romantic experience, go to Chef Mavro's and choose either a four- or a six-course meal with wine pairings. It'll be a date your date will remember forever.
10. St Louis
In St. Louis, they take their food seriously. You and your sweetie may be surprised to learn that some of the country's most yummy foods come from Gateway City. The city's claim to fame includes toasted ravioli, gooey butter cake, Provel cheese, the slinger, the Gerber sandwich, the St. Paul sandwich, and St. Louis–style pizza, featuring a thin crust and Provel cheese.
Right now, a new generation of sophisticated chefs are emphasizing the use of local produce, meats, and fish, based on the bounty of the region, and neighborhood farmers markets have become increasingly popular. Artisanal bakeries, salumeria, and chocolatiers have been founded and are thriving in the city.  The world-famous Gateway Arch marks the very walkable and charming area of downtown St. Louis and a historic center that will serve as the perfect romantic backdrop to your evening.