One of the best things about moving into a new apartment is starting with a blank slate. But home interior design ideas are everywhere — including that model apartment you toured before you signed your lease in your new building.
From apartments for rent in Raleigh, NC, to Fishers, IN, here are 10 apartments with smart and stylish decor that's on-trend for 2016. Whether you're moving into a new place or just looking to refresh your current spot, take a hint from these trendy apartments.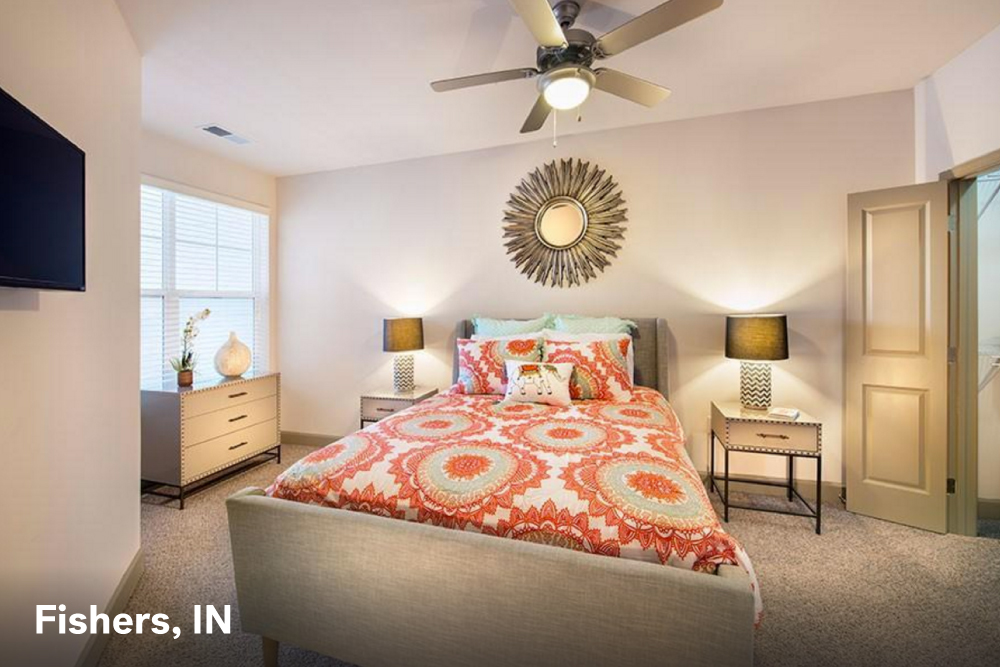 Soothing symmetry: $950 to $2,650, The Depot at Nickel Plate
While mismatched nightstands are having a moment, there's nothing more visually calming than a pair of symmetrical nightstands and lamps, as in this downtown Fishers, IN, apartment. Put them on each side of a cool platform bed, and the result is truly Zen.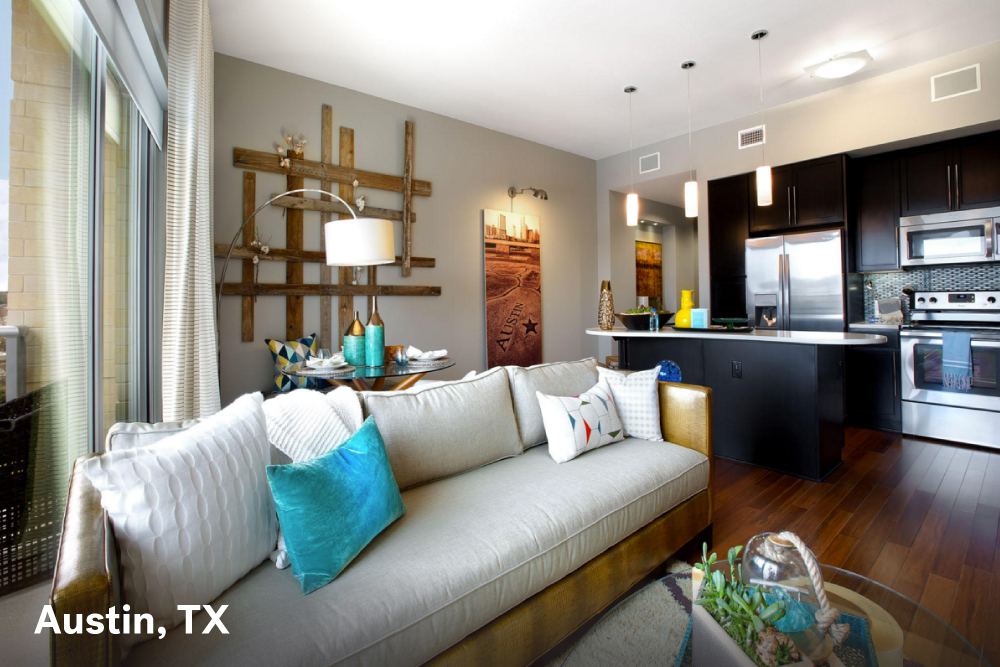 A new spin on planking: $1,840 to $7,060, Gables Park Tower Apartments
Entire walls paneled with recycled planks are nothing new to our Pinterest feed, but plank wall art pieces are. We're inspired by the simple crosshatch pattern adorning the wall in this boutique Austin, TX, apartment. The best part? This is probably a pretty simple DIY project if you have access to weathered wood planks and a saw.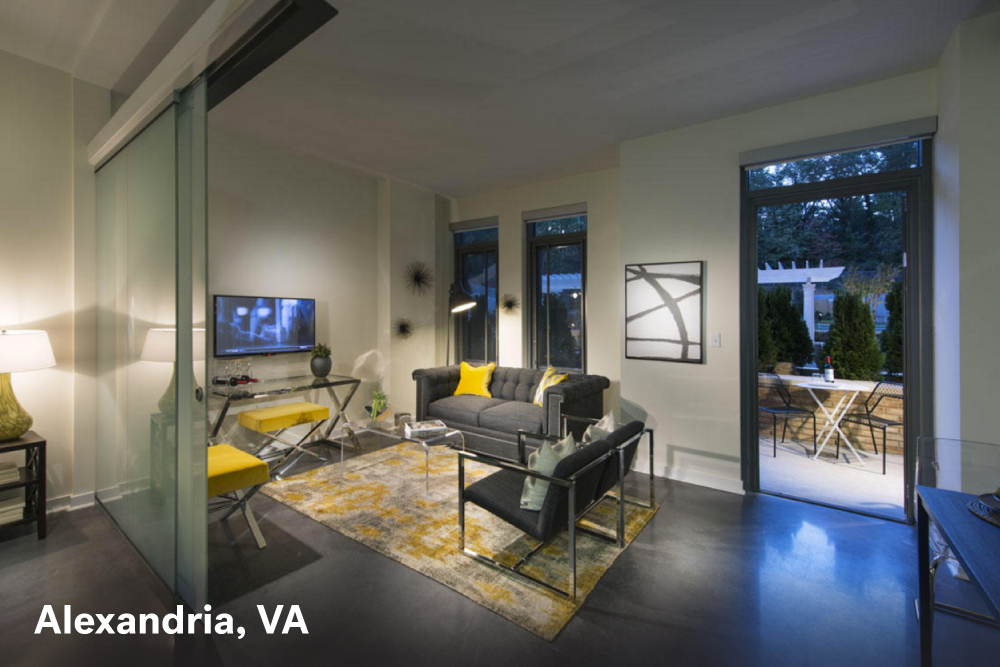 Now you see it, now you don't: $1,930 to $6,091, DelRay Tower Apartments
Goodbye, barn doors, hello, sliding glass dividers. Nestled between historic Alexandria, VA, and Washington, DC, DelRay Tower apartments have an open-concept feel with the option for separation with sliding glass walls (frosted for privacy). Select units also feature on-trend stained concrete floors and exposed beams.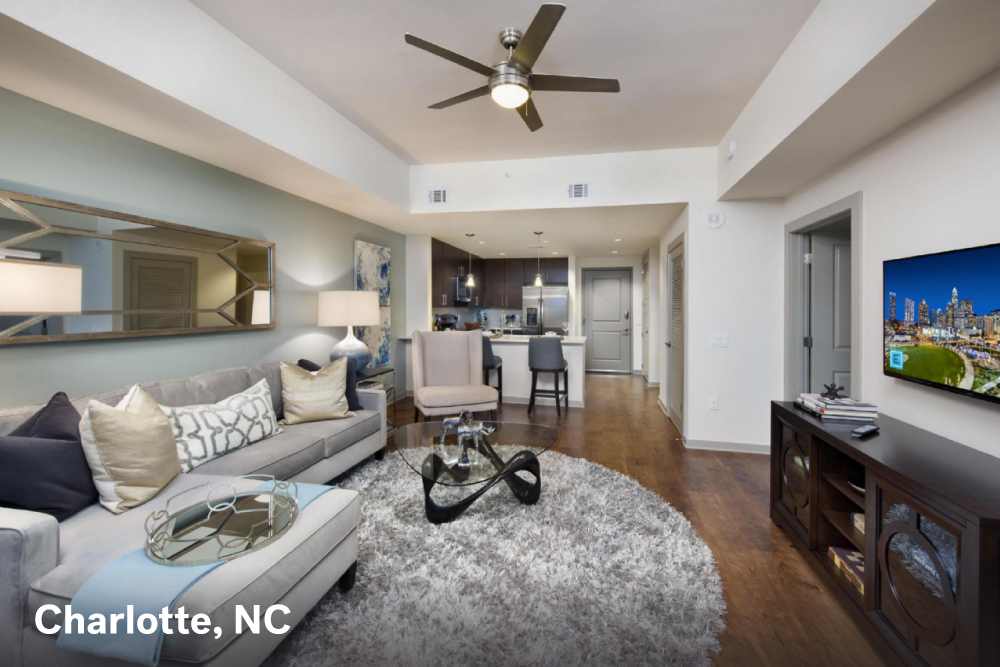 Think outside the rectangle: $1,405 to $2,945, Element Uptown Apartments
Round rugs are the oddball of the rug family: They're hard to find and not always easy to fit in a space. Which is why the round shag rug in this Charlotte, NC, apartment is so unexpected — and great! Couple it with an elongated mirror like the one above the sofa, and you'll be the envy of the apartment building.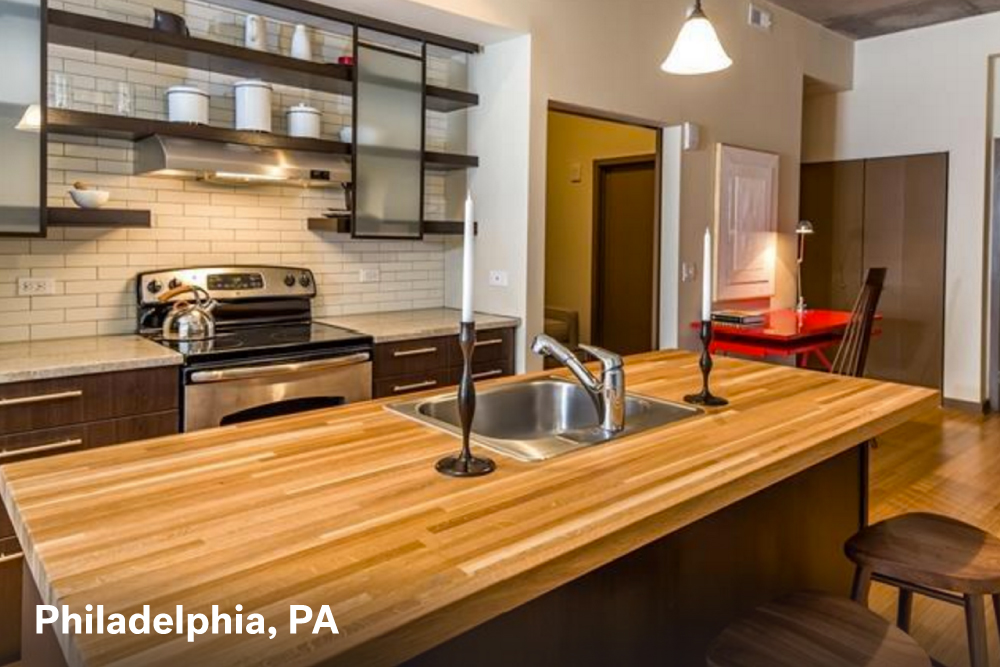 It's all out in the open: $1,925 to $5,995, The Granary Apartments
Huzzah! Apartments are adopting those open shelving systems that are all over design mags. This Philadelphia unit is a prime example of open cupboards done right: The shelves stretch the entire length of the wall, they're set against an expanse of subway tile, and they have optional doors to hide that mug collection you can't seem to let go of. Bravo, Granary, bravo.
More panels, more drama: $986 to $1,968, Solis Crabtree Apartments
While triptychs date back to the Middle Ages, this Raleigh, NC, apartment modernizes the concept with multipanel art as a focal point in the living room. Paired with 9-foot ceilings, the panels' black-and-white focus on a bicycle design becomes quite dramatic, elevating your regular Schwinn to a masterpiece.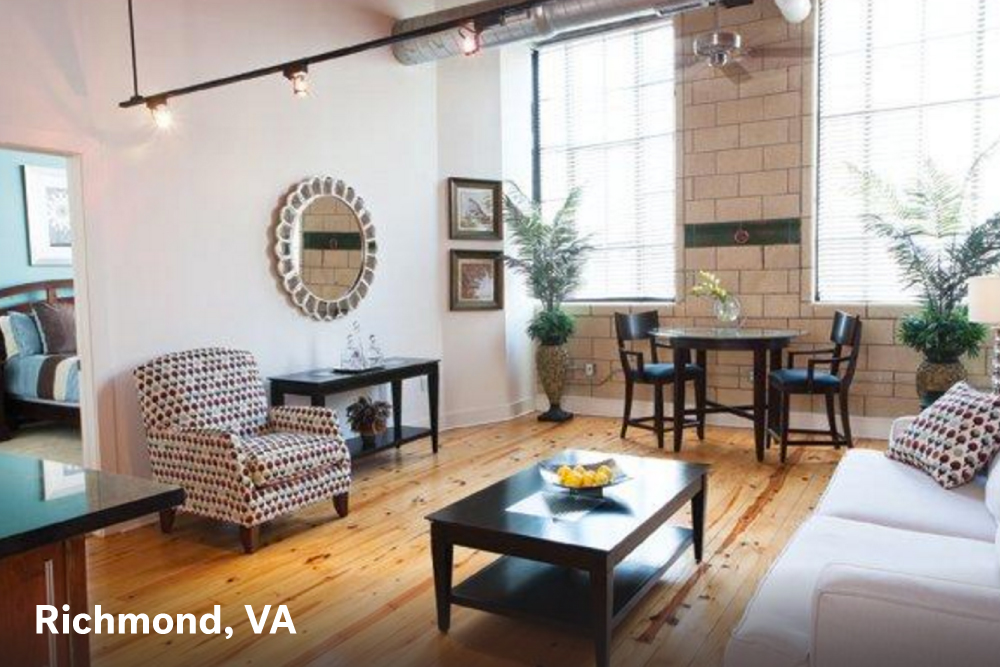 Ingenious industrial: $1,130 to $2,040, Lucky Strike Apartments
Could exposed cinder block walls be the new exposed brick walls? Maybe, judging by the cool vibe they bring to this Richmond, VA, apartment. Add in low-hanging track lighting and exposed ductwork, and you've got an awesome industrial vibe.
Baby blues are back: $917 to $1,495, Mayflower Apartments
The aptly named Mayflower Apartments lead the way on the decor frontier in Virginia Beach, VA. Pastel-blue accents are interspersed throughout the apartment, from the kitchen walls to pillows and seat cushions.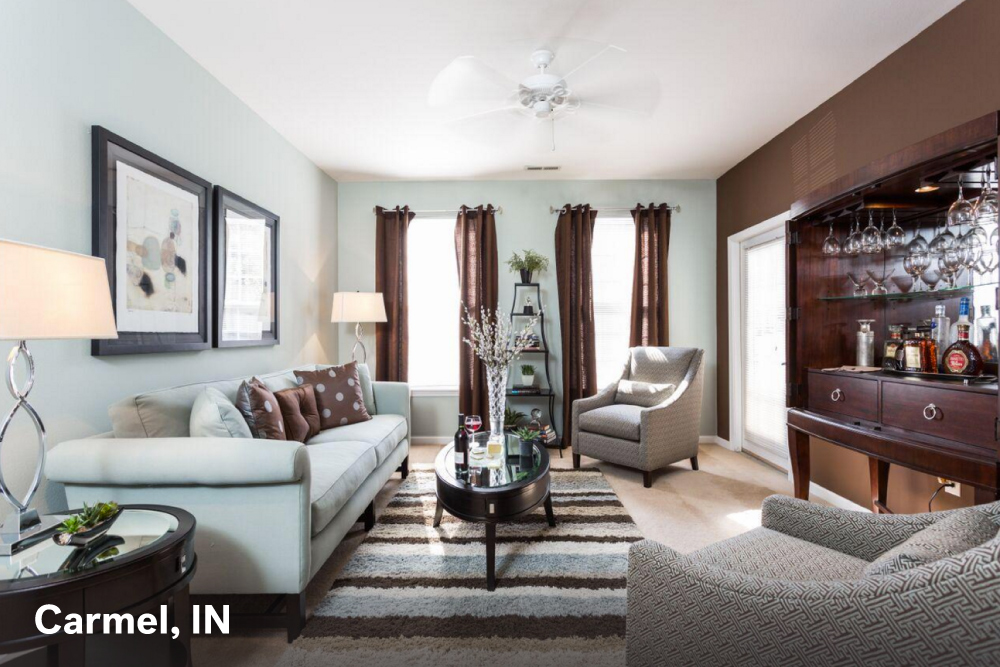 Let's hit the bar: $834 to $1,394, Alexandria of Carmel Apartments
An apartment where the living room focal point is a minibar and not a TV or fireplace? Now we're talking! This Carmel, IN, apartment has a large hutch that provides sophisticated storage for glasses, barware, and bottles. In a design world where bar carts and wet bars reign supreme, this is a liquor cabinet with a twist.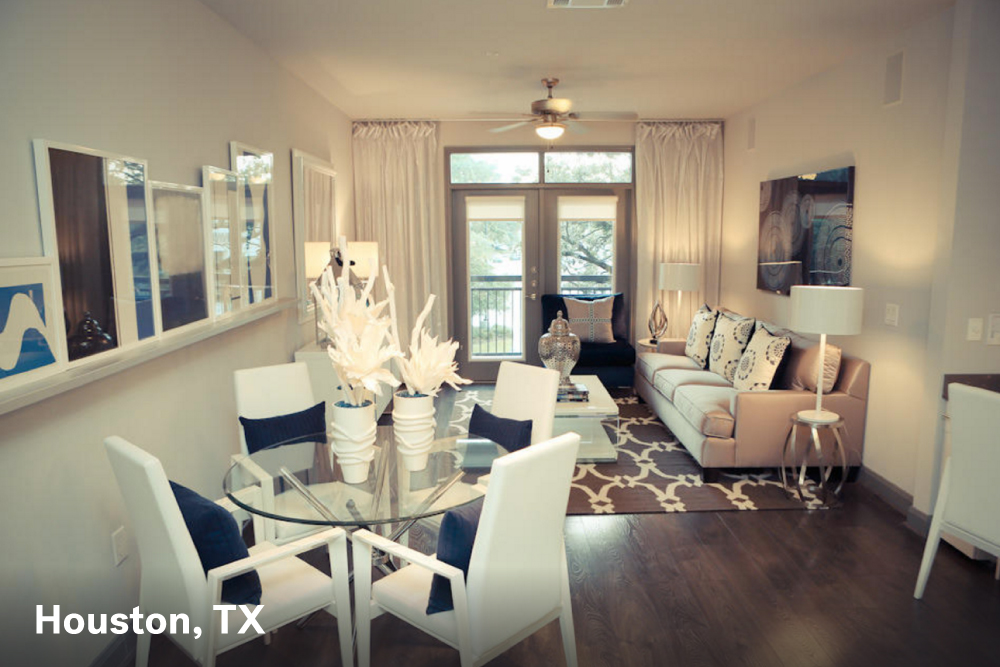 Picture this: $1,279 to $3,933, Pearl Greenway Apartments
When you're renting, it's generally not advisable to put a ton of holes in your wall to hang art. Problem solved with the floating picture ledge in this Houston, TX, apartment: Install the ledge (usually just two holes) and rest artwork and photos on it. Bonus: You can swap the art seasonally or any time you want to change up your style.