According to Trulia's Heat Map..Los Angeles has home prices ranging from 875K-367K While San Diego ranges from 541K-232K on average.
Something to consider however, is that Los Angeles County has a population of over ten million people. Los Angeles is one of three World Class Cities in the U.S. along with New York and Chicago making it a city of international influence.
Hi Esther:

I am not from either places. But knowing both places and real estate, I thnk it really depends on the criteira and locations you are looking for.

If you can post some more details on what you are looking for (neighborhood, location, community, school, commute, type of homes, shops, restaurnt, lot size, views, beachfront, hillside, etc,etc); I am sure both L.A. and Sand Diego Realtors will be able to give you much better answer and perspective for your question.

Sylvia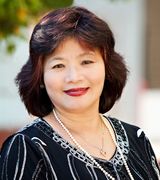 Contact
Esther,
This question depends a lot on your property preference. Dollar for dollar LA is across the board more expensive in more real estate situations than San Diego. San Diego has many very expensive areas, however they also have some pretty reasonable communities. Let us know if we can help.
The Schaffer Realty Group
http://www.marianschafferrealty.com
terry@marianschaffer.com
877-886-8388