If any of us had a crystal ball to predict the future, I don't think we would be selling real estate. ;-)

But seriously, nobody can answer that question. If I were to answer it for you, I would tell you the ones near me, only because I know nothing about the two not near me. But I would not answer the question because I don't know the answer.

Historical data can only tell you what happened in the past. It does not necessarily mean anything like that will happen in the future. Look at the broader areas. Where do you see growth potentially taking place, and why? Investigate property taxes for non-homesteaded homes. They can vary significantly even in the communities you mentioned.

Personally, as an owner of investment property myself, I like living close to my investments. I drive by a couple of times a week on my way home from work, just to make sure everything is OK. Nothing has ever been wrong, but it gives me piece of mind. Little things come up, like having to meet a contractor, and its not an inconvenience to do that when you are close. I know the community I live in well, and I know the rental market. I don't have the desire to own investment property that I can't keep a close eye on. But that's just me.

I think Oakland County is a great investment, but Taylor and Melvindale could be equally wonderful. I just know nothing about them.

Good luck and have fun with it! There are some spectacular deals out there.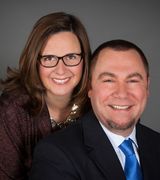 Contact
Zak, I definitely agree with what Derek said.

Here are some of my other thoughts. Maybe you could have your agent pull listings in the different areas that you are interested in and your business partner are interested in. After viewing the properties, if you think that the property is a good deal and could make you a profit you can have your agent do a market analysis for you of what it should approximately sell for when completely fixed up.

If you are looking to rent these properties, there are usually rental associations that can help you with approximately what the rents are going for in a specific area.

But we can not direct you specifically what is a better area. That is a decision you will have to duke out with your business partner!

I hope this information helps! Best Wishes!
Hello, Zak! Real Estate Agents and Brokers are not in the business of speculation ... not for their clients, anyway. That is a very slippery slope and we are not allowed to provide you direction as to one location over the other ... that is very illegal. We can, however, provide you with historical, factual data, from which you can draw your own conclusions on what decision is best for you and your purposes.