Tony Grech
, Mortgage Broker Or Lender, Southfield, MI
Yes you can apply for a mortgage in your name, however lenders will only be able to consider YOUR income towards qualifying for a new home, as opposed to the combined income of you and your husband. Speak with someone local who works with a reputable company.

I work for Countrywide and we are located right on Washtenaw Ave on the Ypsi/Ann Arbor border. Feel free to give me a shout if you need some help

Tony

734-528-5511
You may be able to. You need to speak with a trusted mortgage broker to see what your options are.
I am a mortgage broker. If I can be of service, please let me know!
Martin Smith
Precision Funding
877-238-6324 Ext 704
513-536-7184
877-238-6324 FAX
MSmith@PrecisionFundingUSA.com
http://www.PrecisionFundingUSA.com
If you qualify on your income alone to buy a home and you have decent credit you should be able to purchase.

I am sure this is very stressful for both of you and I am sorry you are going through this.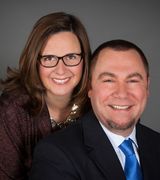 Contact