Sharon,

I agree with my fellow colleagues and would add that an important component is what kind of property do you have? If it is a unique property without much competition, that may affect your decision. If there are hundreds of the same home for sale, then I would say your decision is quite clear ... as long as the money from the house is not needed.

Happy to assist if you need further help...


Derek Bauer, Associate Broker / Realtor
Real Estate One
You are in a good situation with no mortgage on this home. There is A LOT of demand for good rentals right now. You should consider whether you will hire a management company to do the screening and manage the property for you (usually cost between 10-13% of monthly rent) or if you are commited to doing it yourself. Also keep in mind that if the home is currently homesteaded, it will be classified as non-homestead when reassessed in the spring causing your taxes to increase by 1/3 due to Michigan's tax law.

If you do decide to rent without a management company, hire a real estate professional experienced in leasing to put your lease together. It is a wise investment for the future that you will not regret.
Sharon,

Prices will stop falling in Metro Detroit when Metro Detroit starts creating jobs. If you think that will happen in one year, then you should hold on to the house.

I have no crystal ball to tell you when our market will turn. Nobody does. I think you might also take into consideration when you will want access to that money. Real estate is not very liquid. Even if a house is for sale, it does not necessarily mean you will get your cash out of it soon.

Best of luck with your decision. If we can help in anyway, please ask.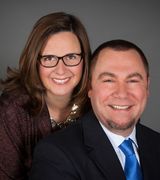 Contact