BEST ANSWER
Ann
I would assume that the USCG has a relocation department. Typically in a scenario like yours, where the employer is agreeing to relocate an employee, the employer has policies that covering moving expenses. Some companies have a "buy out plan", in which the company actually takes title to the home at an agreed upon price, then hires a Realtor to sell the property.

I personally experienced a similar situation to yours and ended up keeping the property as investment property for 18 years, which turned out to be very profitable and actually was one of the reasons I decided to enter the "retail" side of residential real estate. Talk with a CPA regarding the tax consequences and benefits over the long term. This could be a great opportunity for your family.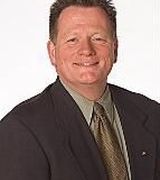 Contact
This is a straight math problem and it depends on what you can rent it for. If you are taking a monthly loss on your rental then you need to calculate what that loss means in terms of opportunity cost. If for example you're losing $300 per month then if that $300 was invested instead in your retirement plan what would it yield? You would be in a position to take depreciation on the property and that could be a benefit.

The current thinking by experts that I follow is that the local market could give up another 6-10% this year, flatten next year and then we slowly crawl out of this trough at a low single digit rate (locally anyway). If that is the case then apply this to your home.

If it's $350 now and loses 6% more then its $329 next winter, $338 the year after that, $349 the following year and so on.

So as much as this is a real estate question it is really a financial planning question, and it is a math problem. So find out what you could get for rent in the area first. Apply it against what you'll pay. Calculate your depreciation benefit which is 27.5 years straight line on the improvements (building assessed value percentage vs land). Figure on conservative rebound numbers like I've mentioned above. Now see if it makes sense.

Its true none of us has a crystal ball but there is no black magic in this equation. Call a competent accountant, fee only financial planner, or an broker who has an investment property background that can answer these questions - because that is what you're talking about turning this into, an investment.
The situation you describe is one that many other prospective sellers are facing, particularly those who purchased their homes within the last five years. It is discouraging, I'm sure.
If you rent, it would be advisable to hire a local property manager who will be able to respond to emergencies or problems that you will not be able to deal with, from 3000 miles away. So you should consider that expense, as you are making your decision.
If you then decide to sell after 2-4 years of renting, you will undoubtedly have issues of additional "wear and tear" that will necessitate additional expenses, such as those for new carpeting, repainting, upgrading appliances, etc. So that's something to consider, too.
None of us has a crystal ball that can foretell how long it will take for home prices in this area to rebound. You could find that even after renting for 2-4 years, you will be no farther ahead than you would be if you simply sold today. By doing so, you'll eliminate all expenses (taxes, insurance, maintenance) associated with your Milford home, and be able to move forward into your new life.
Maureen Harmonay
Your Country Property Specialist
RE/MAX Traditions
Bolton
http://www.YourCountry-Home.com