Every year, Memorial Day weekend kicks off the summer vacation season. As people across the country start planning their summertime escapes, we analyzed search traffic on Trulia to discover the most popular areas for vacation homes. (See note at end about methodology.) We found that median prices in the most popular vacation spots in America span a huge range, from just under $180,000 in Gatlinburg, TN, to ten times that much in Nantucket. We also found that people tend to look at vacation areas close to home rather than across the country.
America's Top Vacation-Home Spots
The two most-searched vacation ZIP codes in America are both in Cape May, NJ: Ocean City and North Wildwood. The top vacation areas also include Kissimmee, Marco Island, and Panama City Beach, all in Florida. In California, the most popular locations for a vacation home are Big Bear Lake and Lake Arrowhead near Los Angeles, and in the north, Truckee and South Lake Tahoe.
America's Top 20 Vacation-Home ZIP Codes
#
ZIP code
Neighborhood
County
Median price
1
08226
Ocean City
Cape May, NJ

$525,000

2
08260
North Wildwood
Cape May, NJ
$289,000
3
34747
Kissimmee
Osceola, FL
$298,800
4
21842
Ocean City
Worcester, MD
$275,000
5
34145
Marco Island
Collier, FL
$499,000
6
92315
Big Bear Lake
San Bernardino, CA
$335,000
7
92352
Lake Arrowhead
San Bernardino, CA
$399,000
8
32413
Panama City Beach
Bay, FL
$294,245
9
37738
Gatlinburg
Sevier, TN
$179,600
10
29582
Cherry Grove Beach
Horry, SC
$219,900
11
32459
Santa Rosa Beach
Walton, FL
$525,000
12
08008
Harvey Cedars
Ocean, NJ
$887,500
13
36542
Fort Morgan
Baldwin, AL
$255,000
14
96150
South Lake Tahoe
El Dorado, CA
$365,000
15
96161
Truckee
Nevada, CA
$499,000
16
11937
East Hampton
Suffolk, NY
$1,250,000
17
92264
Palm Springs
Riverside, CA
$309,000
18
78597
South Padre Island
Cameron, TX
$289,000
19
32541
Destin
Okaloosa, FL
$475,000
20
02554
Nantucket
Nantucket, MA
$1,799,999
Among the top 20 vacation ZIP codes, the most expensive are Nantucket and East Hampton, where the median asking price is well over a million. The least expensive are in the South: Gatlinburg, TN, at the Great Smoky Mountains National Park, and Cherry Grove Beach, near Myrtle Beach, SC.
Many vacation areas are bigger than a single ZIP code, so let's also look at the top counties for vacation searches for a clearer sense of the most popular areas. Almost 5% of U.S. vacation-home searches are in Cape May county, NJ, with another 4% in Barnstable county, MA (Cape Cod). Check out the full list below:  these top 10 counties account for more than one quarter (27%) of all U.S. vacation searches.
America's Top 10 Vacation-Home Counties
#
County
Main vacation areas in that county
Share of all U.S. vacation searches
1
Cape May, NJ
Cape May,Ocean City
4.7%
2
Barnstable, MA
Cape Cod
3.9%
3
San Bernardino, CA
Arrowhead,Big Bear
2.9%
4
Suffolk, NY
The Hamptons, Montauk
2.9%
5
Lee, FL
Fort Myers, Sanibel, Captiva
2.6%
6
Horry, SC
Myrtle Beach
2.4%
7
Collier, FL
Marco Island
2.3%
8
Riverside, CA
Palm Springs, Rancho Mirage
2.0%
9
Sussex, DE
Dewey Beach, Bethany Beach
1.5%
10
Ocean, NJ
Harvey Cedars, Seaside Heights
1.5%
Vacation Close to Home – Or Go Far, Far Away?
The top vacation areas nationally are on or near the East or West Coast. Does that mean Texans and Midwesterners travel far or skip vacations altogether? No! The most popular vacation areas nationally are near the country's biggest population centers, but every region has its own nearby favorites. This interactive map reveals which are the top counties and top ZIP codes for vacation searches for each of 25 large metro areas.
Let's take a tour of favorite vacation areas in different regions of the country.
New Yorkers, for instance, tend to look farther east for vacation. More than one quarter (26%) of vacation searches by New Yorkers are to Suffolk County, which includes the Hamptons and Montauk. The most popular vacation ZIP code for New Yorkers is East Hampton, where homes list for a median price of $1.25M, as do homes in several other popular New York vacation ZIP codes. What about New Yorkers who aren't going to drop a million on a second home? They look to Pennsylvania: two of the ten top vacation spots for New Yorkers, Pocono Lake and Bushkill, are in the Keystone State and have median home prices below $150,000.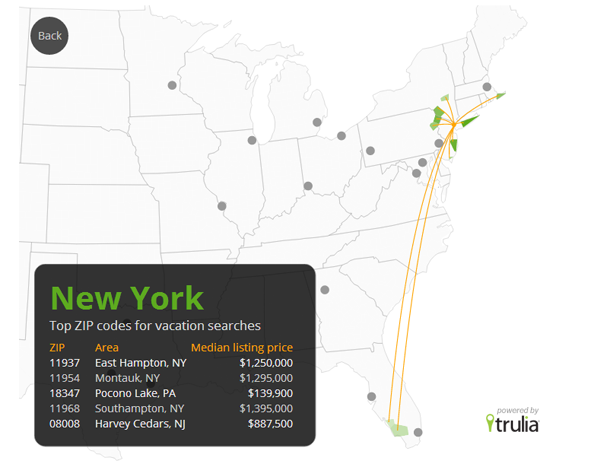 What about Bostonians? They don't like to leave their state – but if your state had Cape Cod, neither would you. Half of the vacation searches by people in the Boston metro area are for homes on Cape Cod.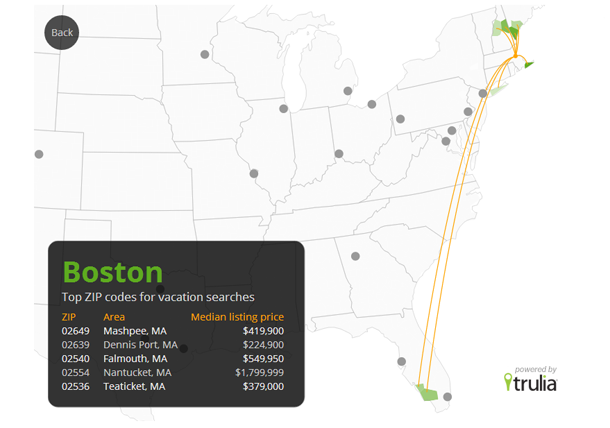 Outside of the Northeast, people search farther for vacation homes. For example, just one of the top ten ZIP codes for vacation searches by Chicago residents is in Illinois, while the rest are in Michigan (Grand Beach, Union Pier), Wisconsin (Lake Geneva, Fontana, Wisconsin Dells), and Florida (Marco Island, Fort Myers Beach).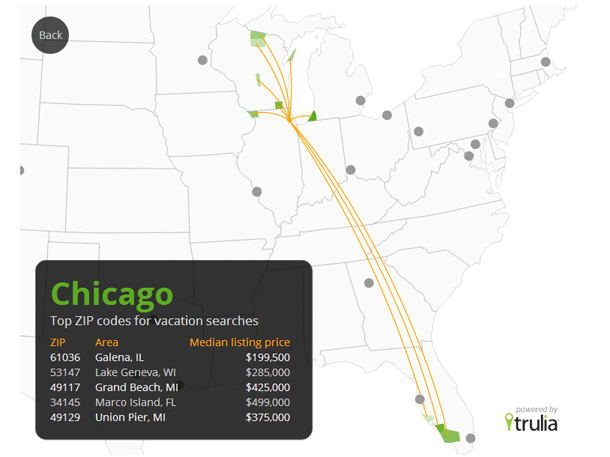 Atlantans look most in the Florida Panhandle, including Panama City Beach and Santa Rosa Beach.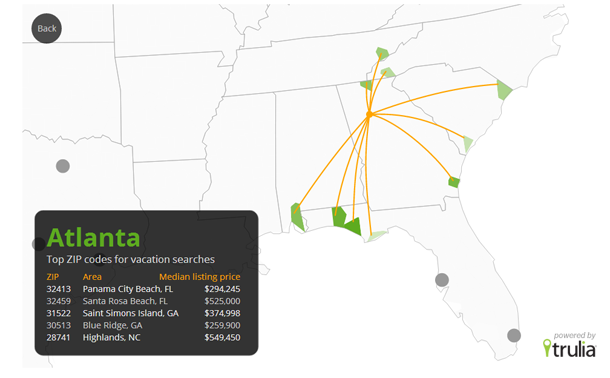 Finally, Seattleites often look far from home: their top vacation-search county is Riverside, in southern California, home of Palm Springs and the Palm Desert.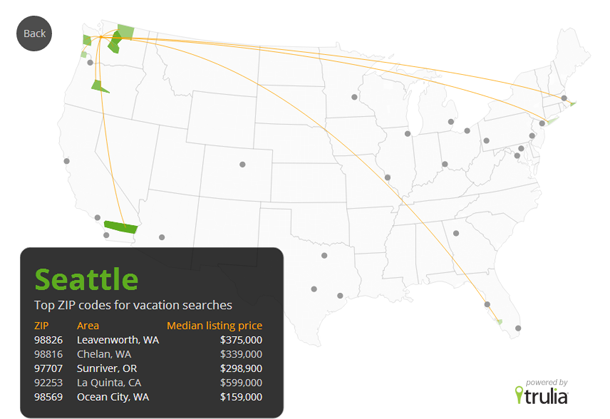 What does this all mean for your vacation plans? Wherever you live, there's probably a local-favorite vacation area nearby. Furthermore, even the most expensive metros have some affordable vacation options close to home. However, the strong regional patterns for vacation-home searches imply that you're likely to run into your neighbors from back home while on vacation. If you're hoping to be more anonymous, you might want to go to some other metro's top vacation spot – not your own.
Note: we estimated vacation-area searches based on Trulia site traffic from April 1, 2012, to March 31, 2013. Vacation areas are ZIP codes where at least 25% of housing units are for seasonal or occasional use, according to the Census, and we counted searches as vacation searches if they were for homes in vacation ZIP codes outside the searcher's own metro area. We assumed that the number of vacation-related searches to a ZIP code was proportional to the share of vacation homes in that area. For instance, we counted a ZIP code with (1) 10,000 searches on Trulia and (2) 40% seasonal/occasional-use housing according to the Census as having 4,000 vacation-related searches. County-level vacation search counts are the sum of vacation searches to all vacation-area ZIP codes in that county.