Existing home sales rose 3.0% year-over-year following two months of declines despite scarce inventory and new drags on demand.
While a lack of supply have been weighing on homebuyers for several years, rising mortgage rates and tax reform since the start of 2018 threatened demand. Even as prospective home buyers faced reduced affordability, we have seen little evidence that demand has taken a hit.
Even consumers facing stronger headwinds on the demand side, the share of inventory sold increased after two months of declines. With demand remaining above its pre-recession peak, prospective home buyers are in for another tough spring home buying season as ready home buyers descend on a scant number of homes.
Existing home sales rose in February, reaching a seasonally adjusted annual rate of 5.54 million units despite prospective home buyers confronting persistently low inventory and steadily rising mortgage rates. February's numbers are up after two months of declining existing home sales. However, this represents just 83.7% of the pre-recession average for existing home sales, accounting for population.
Buoyant jobs numbers and a strong economy throughout 2017 and into 2018 have fueled recent demand and warded off declines in existing home sales. The home-buying activity comes in the face of a more than 40 basis point increase in mortgage rates since the start of the year.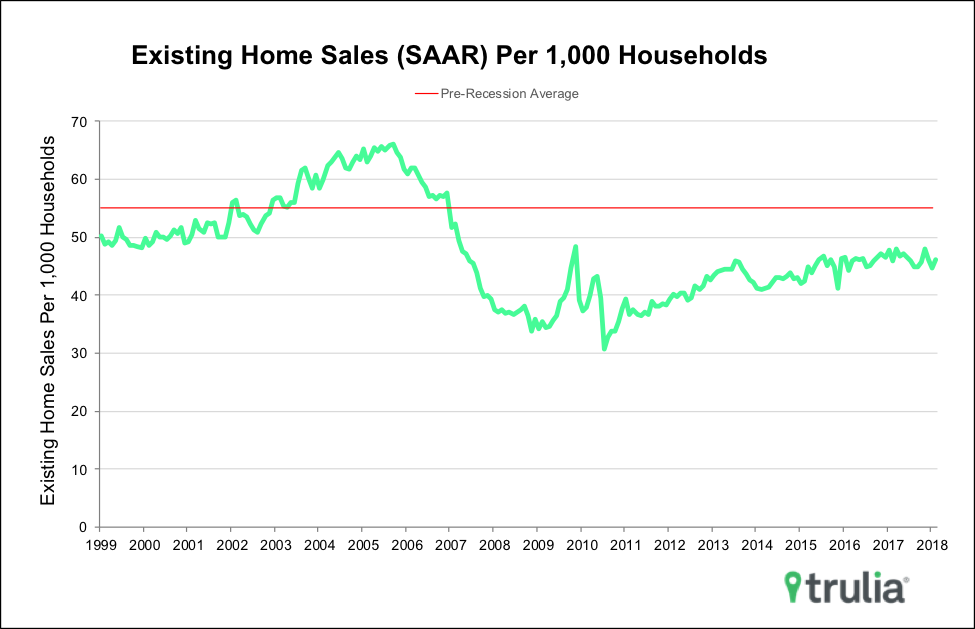 Demand deflected headwinds coming from higher mortgage rates and decreases in tax deductions and remained strong. Existing home sales accounted for 26.6% of inventory sold, which exceeds the pre-recession peak.