After months of chatter speculating where Amazon would choose to set up its HQ2, the spotlight finally landed on two neighborhoods: Crystal City in Arlington, Virginia and Long Island City in Queens, New York. How will these 25,000-employee campuses for one of the nation's largest tech companies impact local real estate? While it may be too soon to tell, Trulia dove into its home search and listing data on neighborhoods in Washington, D.C. to see how Amazon's announcement is already making waves.
Search activity jumped around Crystal City, driven by tech hubs
Search activity into neighborhoods around Crystal City spiked between November 3rd and 13th, when both speculation and official news broke naming this D.C.-area neighborhood as one of Amazon's new homes. The largest weekly gains in search activity came from the nation's tech hubs – Silicon Valley (San Francisco, San Jose, Calif.), Seattle, Boston, Denver, Austin, Texas, New York, and Raleigh, N.C.
Neighborhoods near Crystal City that got a boost from searchers curious about Amazon's future home include Aurora Highlands, Arlington Ridge, Potomac Yard-Potomac Greens, and Potomac West. Combined, these neighborhoods experienced 3.7 times more inbound search activity from tech hubs on November 3 when the Washington Post announced the probable location of Amazon HQ2, than the week prior. Week-over-week growth in search activity from tech hubs peaked at 743 percent on November 5, when The Wall Street Journal claimed Crystal City as Amazon's likely choice two days later. Searches remained elevated until the official announcement by Amazon on November 13.
Amazon HQ2 is Already a Selling Point for D.C.-Area Homeowners, Landlords
Amazon has not yet broken ground on HQ2, but landlords and home sellers across the D.C. metros have already taken steps to get in front of potential buyers and renters lured by the nearby campus, with many home listing descriptions already actively boasting of easy access to HQ2. As of December 8th, there were almost 100 properties for-rent or for-sale that mentioned Amazon's new headquarters, or National Landing, the new moniker for the surrounding area. A total of 44 neighborhoods across the metro area contained at least one listing that mentioned Amazon's new digs as a key selling point. While most of these listings are concentrated around nearby Potomac Yard-Potomac Greens, Potomac West and Braddock Road Metro, listings as far as Chevy Chase, Riggs Park and East Corner call out access to Amazon HQ2 to attract prospective buyers or renters.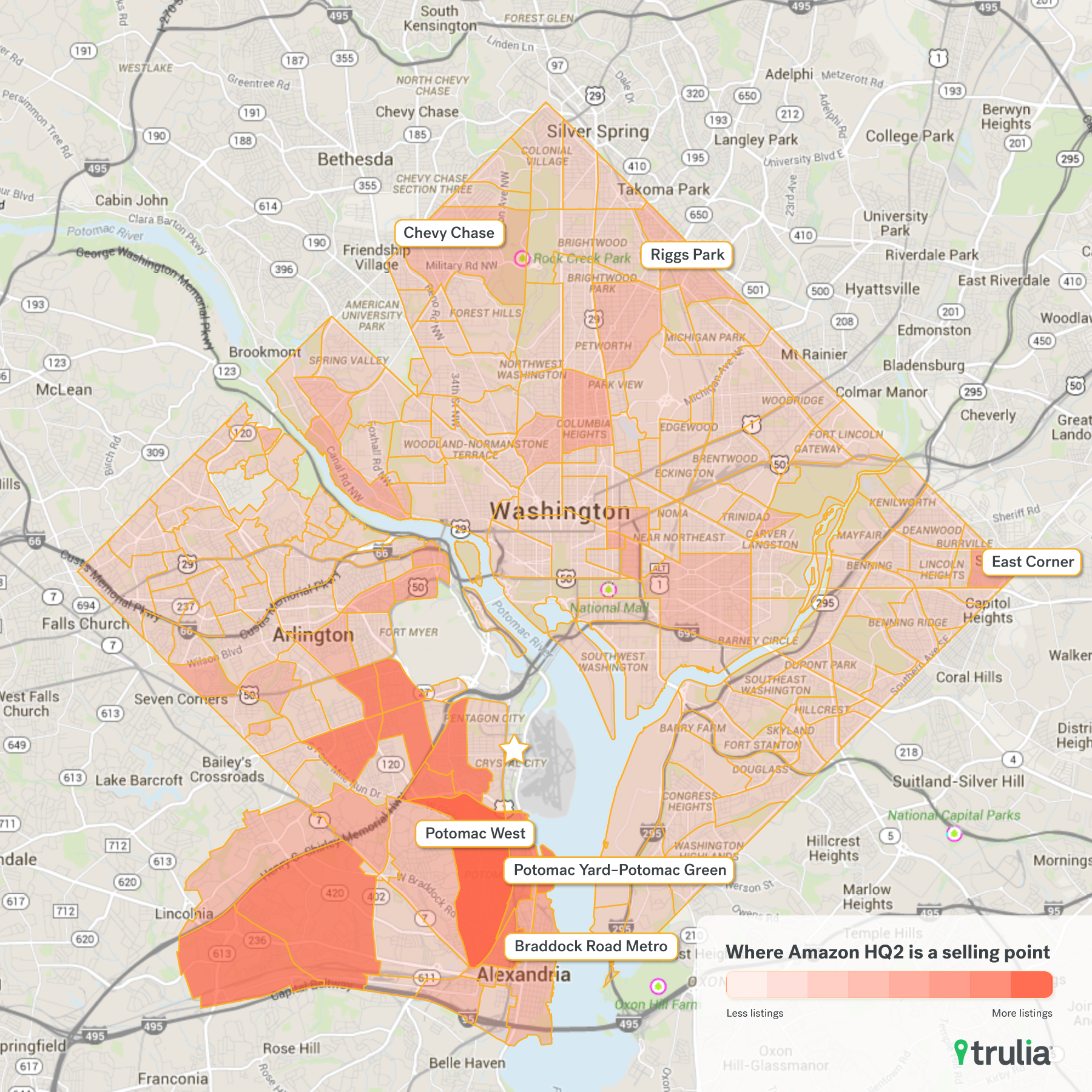 Yet despite increases in search activity and HQ2 becoming a real estate selling point, there were no noticeable price or rent changes for homes around Crystal City. For now, it remains to be seen if and when the cost of housing will rise, and by how much, once actual renters and home buyers arrive in town to start work. This will likely change in the coming months and years once HQ2 is built and Amazon employees start to move in and drive up demand. In the meantime, we'll be keeping an eye out for how Amazon's arrival will directly impact the metro area's prices and available supply.
Methodology
Search activity is based on for-sale searches from August 1st to November 27th, 2018.
Listing descriptions are from for-sale and for-rent listings active on December 8, 2018 that mention Amazon headquarters, HQ2 or National Landing.