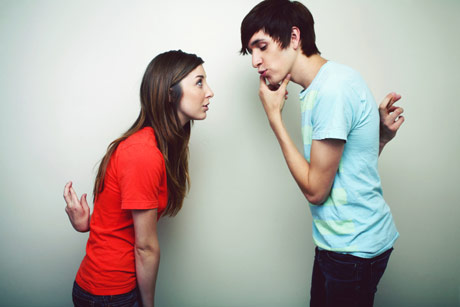 Living with other people doesn't always work out -- here are a few cautionary tales to consider before signing that lease.
The Phantom
Alex lived in a three-bedroom Boston-area apartment that featured a rotating cast of roommates, all of whom tended to get along - the grilling out, communal TV watching, sharing of food, and generally hanging out was part of the apartment's charm.
One year, when it came time to find a new roommate, Alex found himself talking to one of his co-workers, Max. Max was friendly, intelligent, neat, dedicated to his job, and seemed like the perfect fit. Max moved in shortly thereafter... and vanished.
Max installed a TV in his bedroom, and spent all of his time at home behind the door, TV on, door shut. He didn't share food or cook with the apartment. He didn't accompany his other two roommates on outings, hang out in the living room, or join them for cookouts. He was essentially a ghost -- a rent-paying, public-space respecting ghost, but a ghost regardless.
"It was an incredible let-down," says Alex. "He was totally within his rights to barricade himself in the room, but it took us completely by surprise, and really kind of put a damper on a place that was otherwise pretty fun. I don't blame him... but I wish I'd asked him about his socializing and roommate style before he moved in."
The Case of the Missing Textbooks
Six guys living in a house not far from campus at the party-friendly University of Wisconsin-Madison should be a recipe for keggers and camaraderie. But over the course of two years, the situation went bad -- very bad.
The first six months were fun, as predicted, but something started to go wrong -- expensive textbooks (with a high resale value) were disappearing from the rooms of two of the housemates. One cash-poor roommate, with a history of marijuana use, was initially blamed, and the fight that resulted drove him out of the house at the end of the first year.
But a bit of investigative work revealed that another roommate -- "Colin" -- was behind the thefts. There had been warning signs: Colin got belligerent when drunk, sometimes getting into fights with strangers. He stole from restaurants and bars. And although he was charming, he always dodged responsibility when it came to shared chores and responsibilities.
"It was a nightmare," said Ben, one of the housemates who stuck around for both years at the house. "We all just knew each other casually from the dorms before we moved in, so we assumed we'd get along and everything had been fine. But nobody put together the fact that stuff like getting into fights at bars would have consequences for us at home."
Things came to a head when another roommate, Sam, confronted Colin -- the resulting fist-fight shattered a coffee table and led to Colin disappearing from the house, skipping out on three months' rent in the process. Sometimes little warning signs can indicate big trouble ahead.
The Boyfriend
When Becky moved into a tiny apartment, she thought it would a tight fit, but a lot of fun.
"I moved in because I liked the roommate's girlfriend who was also living there - but I hadn't met him prior to signing the lease." As it turned out, meeting the other half of the couple would have been a prudent first move.
"Big mistake," she says, about not meeting the boyfriend. "They fought constantly and bickered at each other, so I hated coming home."
Other problems compounded a bad situation.
"The roommate also was a HUGE smoker (not of tobacco) and so every morning and evening the house smelled funny," she recalls. "Last straw was that we both had cats and they couldn't get along - they had huge territorial wars like using the other one's litterbox, hissing, and chasing each other around the apartment."