Landlords go bad for a whole variety of reasons, and in a whole variety of sometimes spine-tingly awful ways. Some are overworked, many are disorganized, and a few are essentially evil. (And before you assume "evil," remember, landlords are people, too - they get busy and distracted, and often shape up once you're finally able to connect and talk about your problem.)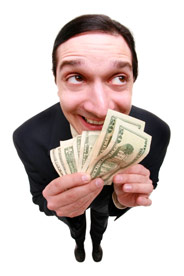 In every case of problem landlording outlined below, renters generally have three options. The first is to take care of it themselves. That can mean making expensive repairs, or retaining a lawyer and pursuing legal action. The second is to do nothing beyond contacting (and re-contacting) the landlord, in hopes of explaining the situation and clearing up the problem.
The third -- and generally the best -- way to handle the following kind of problems and figure out whether a landlord is truly abusive (and not just "tough" or "slow to respond") is to contact your local (or statewide) tenant rights center. This page is a good starting point.
Tenant rights centers act as clearinghouses for legal information for the states or cities that they serve; they can also sometimes help you work out a good next course of action, fill you in on the past history of a landlord, or offer mediation to patch up problems.
There are three key characteristics that mark an abusive landlord:
Total laziness

The number one frustrating aspect of a landlord that can eventually be described as "abusive" is laziness. An absentee landlord can be one of the most frustrating situations a renter has to deal with. Unreturned phone calls, unanswered written correspondence, and bouncing emails may indicate any number of things: a landlord on vacation, an overwhelmed landlord, or outright neglect. If you have tried multiple ways (a letter with the rent check, phone messages, emails) to notify a landlord of a serious problem and received no satisfactory response, it's time to seek outside help.

Blatant craziness

Crazy landlords manifest their behavior in a lot of different ways. Some drop by at odd hours of the evening, basically mounting a surprise inspection. Some have strong feelings about who should and shouldn't be living in the house -- maybe a roommate of the "wrong" religion or race should be encouraged to leave. Some obsess over aspects of the property -- normal wear-and-tear, aspects of the yard that the tenants are legally responsible for -- and take it out with nasty notes or arbitrary "charges" that tenants are expected to pay. Depending upon the severity of the craziness, a consultation with an outside mediator is a good place to start -- and an informational (non-emergency) call to the police might have to be made, particularly if an invasion of privacy or property is in question. Regardless, it can be helpful to journal the action as it takes place -- note days, times, and specific words/actions that take place within the context of an ongoing conflict or situation.

Old-fashioned greed

"One year," recalls Tom, from Cambridge, Mass., "my landlord decided to shut off the water because she thought it might freeze the pipes, which would be expensive. So it's below zero out, and we have no water in the house whatsoever. We can't shower. We can't wash dishes. Thankfully, we had friends living a few blocks away, but walking through that kind of cold before work every morning in order to shower was no picnic." Tom eventually wound up seeking help from a tenants' rights group, withheld rent, and moved into a hotel until the situation was dealt with.

Unexpected fees, unreturned deposits, rent increases beyond what is legally fair, and other financial tricks should be challenged immediately, and with knowledge of the state and local law.