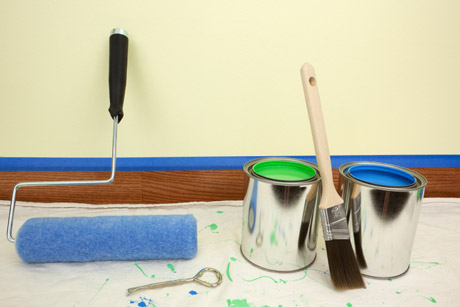 Spending just a little time prepping your walls can make your new coat of paint look sleek, sophisticated, and professionally applied. Setting up your space for success doesn't have to be a chore—just follow these five easy steps and you'll be painting in no time.
Cover Up Your Stuff

Cover up any valuable items that you want to protect from stray paint. The cover-up job doesn't have to be fancy. A drop cloth, old bed sheet, or even an old shower curtain will work. Then, simply remove any secured items from your walls, such as wall hangings or shelving units.

Tape the Edges of Your Space

Apply tape around your room's trim, windows, edges, outlets, and switches. Later, when you've completed Step 5, make sure you remove the tape before the paint dries to prevent a sticky situation. Pull the tape off carefully and at an angle to get a clean, finished paint line.

Get Rid of that Hole in the Wall

Fill up any holes and cracks with spackling material. Lightly sand the spots when you're done filling them. A dry sponge is a great tool to use for sanding the repaired area.

Give Your Walls a Good Wash

Wash the walls with a mild household cleaner and let them dry completely before priming or painting.

Prime Time

Priming is recommended when painting new, bare, or exposed surfaces. You will also want to prime if you are using a light color over a previously dark color. Priming will make your paint go on more easily and will have the best color accuracy.