The biggest names in Hollywood are readying themselves to walk the red carpet at the Academy Awards. And already the battle for that golden statue is at full throttle. Will Michael Keaton's lead role in Birdman bring him back to his Batman-era big screen domination? Will American Sniper director Clint Eastwood rush the stage to talk to inanimate objects?
No idea, but if there's one thing we know, it's that we'd love to watch the ceremony from the sick mansions these celebs call home. After all, the stars will all be crammed into a theater — we can hold down the fort in their palatial pads for a night or two.
In anticipation of Tinseltown's big night, we gathered a few of our favorite spreads that belong to this year's Oscar nominees.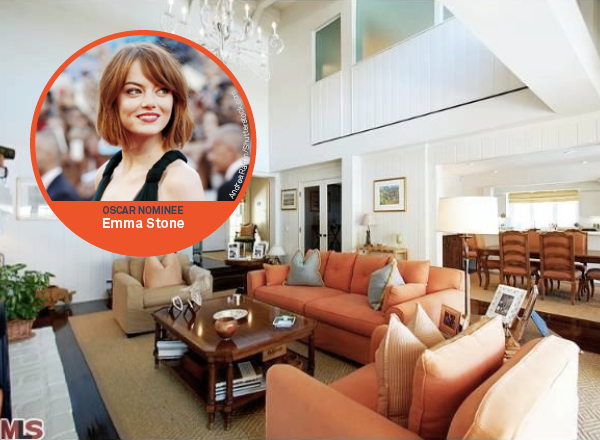 Emma Stone
Forget hanging out at their house. We want to be full-blown BFFs with Emma Stone and her live-in love, Andrew Garfield.
While Emma's working the red carpet for her Best Supporting Actress nomination this year (she plays Michael Keaton's daughter in Birdman), we'd like to cozy up at the couple's gated 3,862-square-foot, four-bedroom, three-and-a-half-bathroom home in Beverly Hills, CA.
The luxurious yet down-to-earth home, once owned by the late actor and comedian Dudley Moore, perfectly suits the couple's low-key persona. The Spider-Man stars enjoy a double-height living room with wood-beamed ceilings and a brick fireplace; perfect for snuggling up in front of the TV with some popcorn.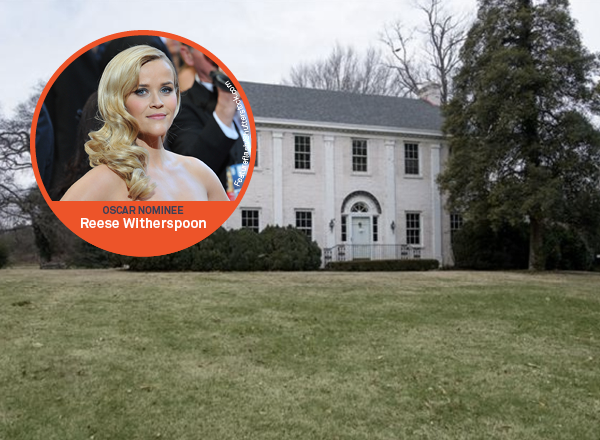 Reese Witherspoon
Who wouldn't want to settle in for a small-screen binge-a-thon at one of Reese Witherspoon's many homes? They're the kind of houses you imagine always have a crackling fire with a golden retriever lounging in front, while hot cocoa is served and organic popcorn pops on the stove.
That's why we'd like to stop by her new Nashville, TN, pad … next year.
You see, the stately fixer-upper isn't quite ready for party guests, seeing as it's a little more Grey Gardens than Great Gatsby at the moment. But when she puts that Witherspoon touch on it? Boom. We're there in a flash.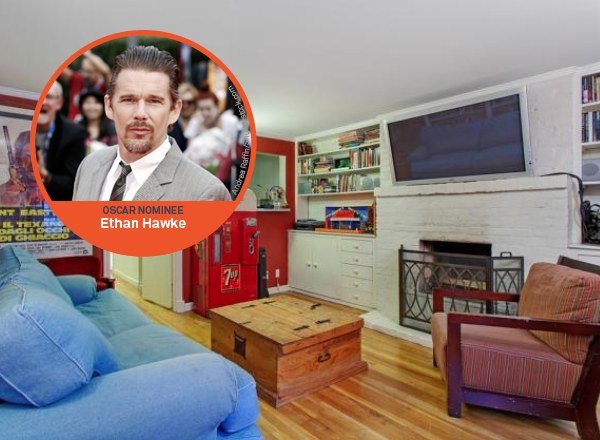 Ethan Hawke
The Boyhood star ditched this NYC pad a couple years ago, but we're more than willing to swing by the Chelsea townhouse.
The six-bedroom, four-and-a-half-bathroom pad, which measures about 3,500 square feet, is just the kind of urban oasis we'd love to cuddle up in to watch the Richard Linklater–directed movie sweep the event by winning all six Oscars for which it was nominated.
The custom kitchen with a dining banquette (check out those rad retro diner stools) is beautiful, but we'd settle into a plush blue couch in the TV room and enjoy some cold beverages from the vintage soda machine.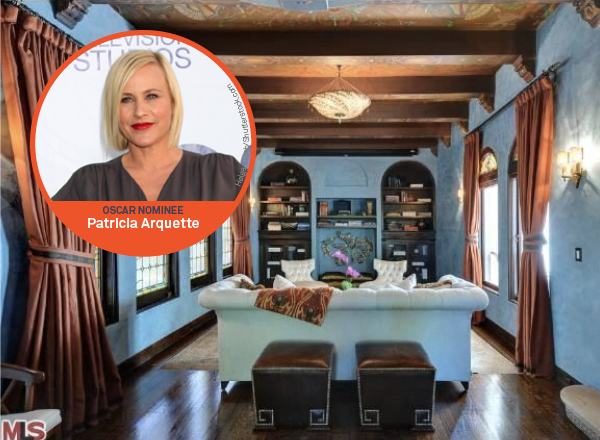 Patricia Arquette
Another Boyhood star, Arquette, and her former husband, Thomas Jane, may have said "sayonara" to married life a couple years ago, but we'd still be down to host an Oscar party in their former home, a dramatic Renaissance Revival estate.
Named "Villa Catalunya," the home features a dramatic entryway, stained-glass windows, a cook's kitchen, and updated features throughout. Looks like a good place to throw a bash, especially on Halloween.
But the thick drapes and velvety upholstered furniture would be a theatrical backdrop for watching Arquette win a gold statuette for Best Supporting Actress.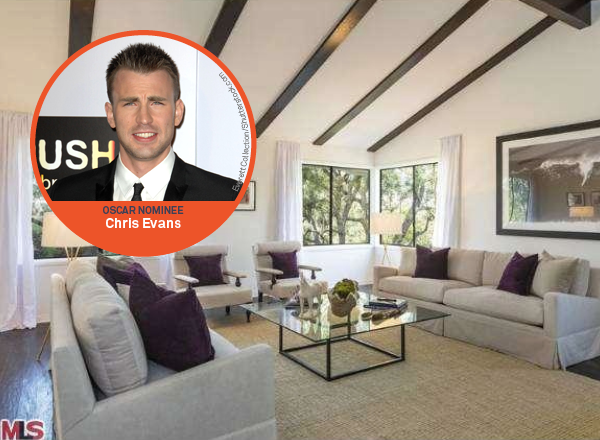 Chris Evans
OK, sothe star of Captain America: The Winter Soldier isn't up for an Oscar. But his movie is: The film is nominated for Best Visual Effects at this year's awards.
Evans has pretty sweet taste in real estate, though. That's why we chose his former pad, a Hollywood Hills spread, as one of our top hangout spots. The home features a spacious, open living room with vaulted beamed ceilings, and treetop views.
And it'd be hard to turn down that back patio, with its hot tub and lush landscaping. The living room, with a clean white palette and wide windows, would be ideal for a small Oscar bash with friends.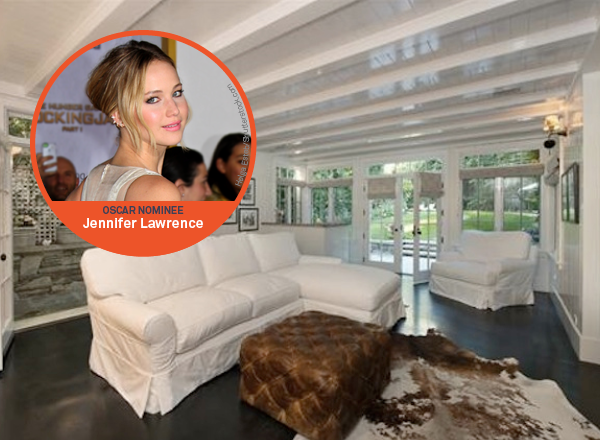 Jennifer Lawrence
With an Oscar and two Golden Globe wins under her belt, JLaw herself isn't up for any awards this year. But her film X-Men: Days of Future Past is flying high as a nominee in the Visual Effects category.
And seriously, homegirl has enough trophies for a while, right?
But Jennifer's new Beverly Hills pad certainly deserves an award, seeing as everyone from Ellen DeGeneres to Jessica Simpson has lived there.
We picked this celeb favorite for an Oscar viewing party because it has a family-friendly, restaurant-style gourmet kitchen that leads to the breakfast room, then out to the stone courtyard.
The media/family room opens out to the serene, parklike grounds and swimming pool, which is perfect for taking a dip during the commercial breaks. (Or at least during the montage of dead people.)