Of course, traditionalists will look for turn-of-the-century craftsman homes, but that doesn't mean newly built craftsman-style homes aren't constructed with an eye for detail. New-construction homes take the craftsman style and add modern flair, all the while respecting the hand-built look these homes carry so well.
With a welcoming front porch, white trim, and stone details, the new-construction Auburn home challenges the idea that craftsman-style homes have to be old to be beautiful. Meanwhile, in Illinois, a 1920s-built Riverside home features green stucco, a brick fireplace, and a red front door. Add in the flower boxes, and the Riverside home could charm practically anyone.
When it comes to front porches, Auburn keeps it airy with ample space for rocking chairs or a hanging garden. Riverside's front porch is enclosed and a little less traditional, acting as a sunroom. In the winter, close the windows and enjoy some sunshine without braving the elements, and on beautiful summer, spring, and fall days, open all of the windows to welcome the breeze.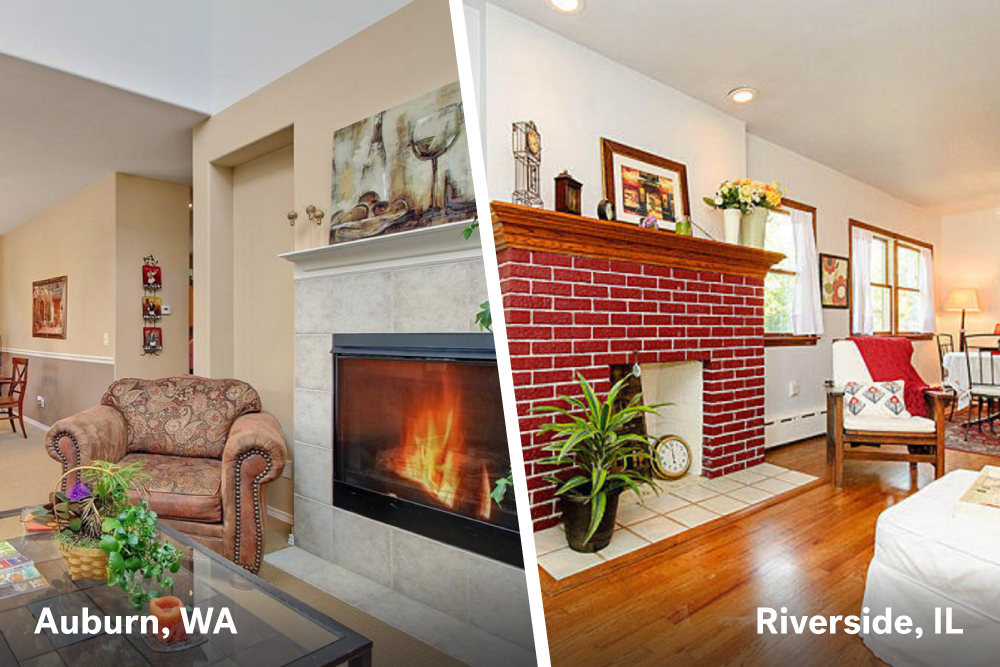 Both homes feature living rooms with an open flow and one craftsman essential: a cozy fireplace. While Auburn's fireplace is gas powered and surrounded by natural stone, the Riverside bungalow has a brick wood-burning fireplace to cozy up a chilly fall day.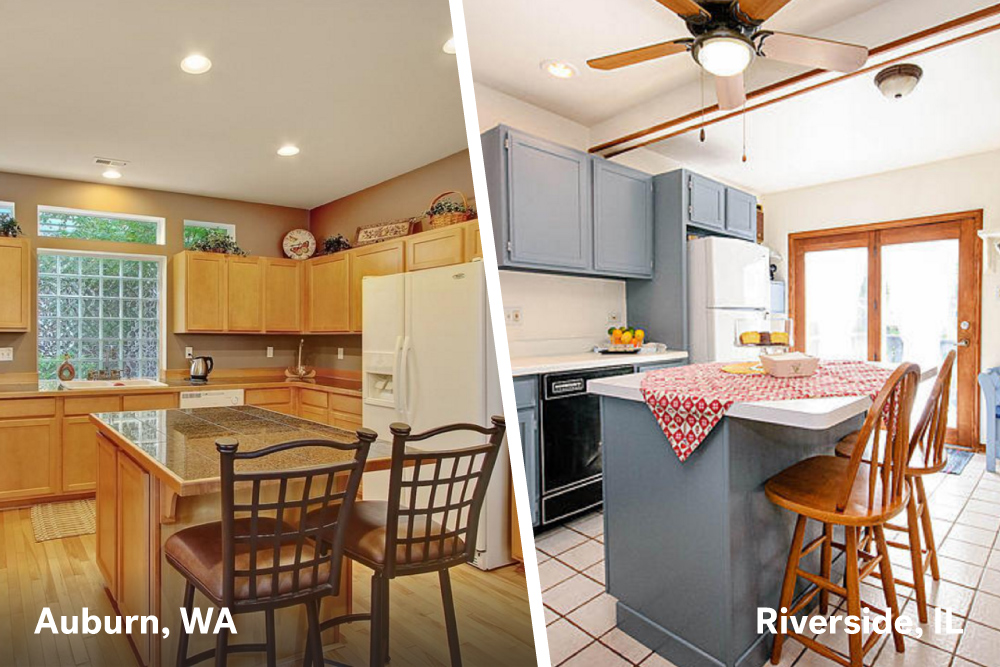 Another similarity: The homes both feature tall kitchen islands with bars, perfect for scarfing down some home-cooked breakfast. The Auburn home's kitchen features a modern look, with natural wood cabinets, hardwood floors, and a unique craftsman touch: frosted-glass windows over the sink. In Riverside, the home has a brighter, quirkier kitchen, with light-blue cabinets, hardwood trim, tile floor, and shelving.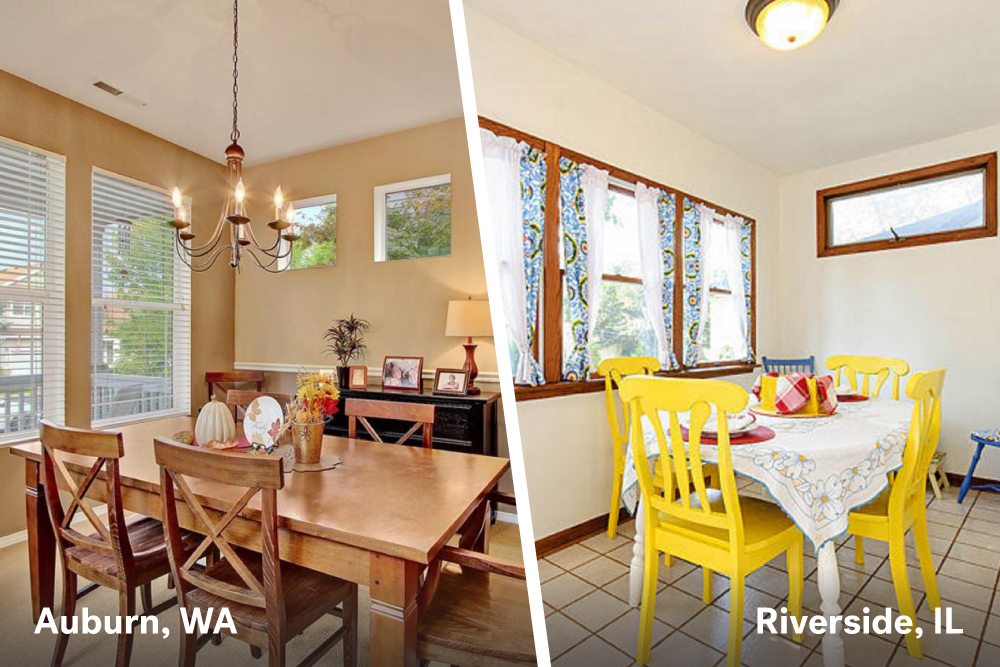 Located between the kitchen and living room, the Auburn dining room is filled with craftsman details, from the small peekaboo windows to a delicate chandelier and white trim. The Riverside dining area is adjacent to the kitchen, giving the homeowners an opportunity to pump in some personality (who wouldn't love the current owners' bright yellow chairs?).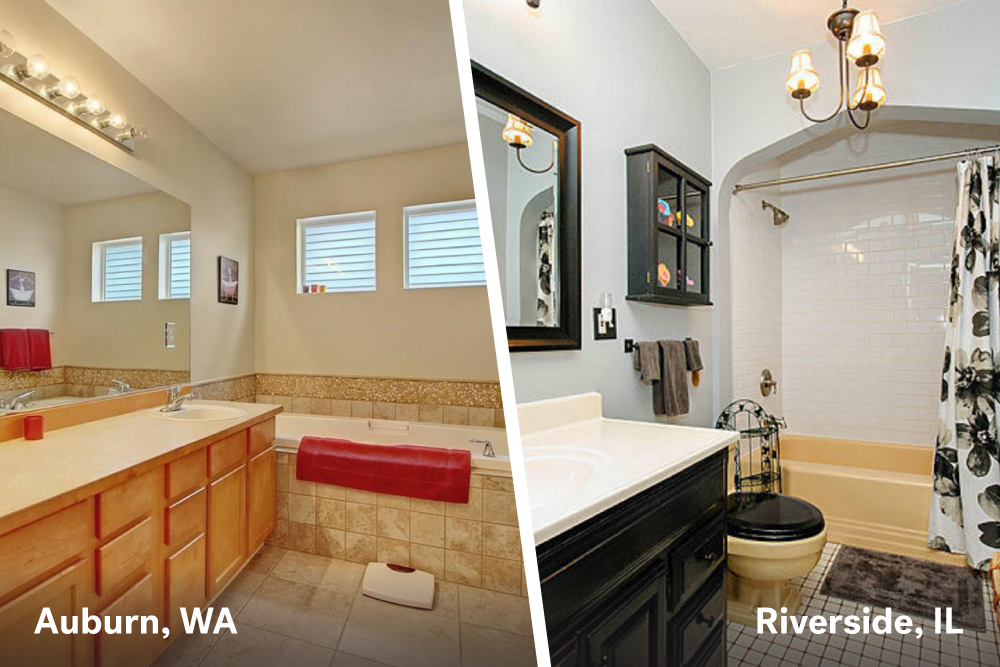 Stone tiles on the floor and an oversized bathtub are the focal points of the Auburn bathroom, along with a spacious double vanity. In Riverside, the bathroom boasts a built-in shower tub, a delicate chandelier, and beautifully tiled floor.
See the listings for these homes for sale: 6626 Francis Ave. SE, Auburn, WA 98092, and 299 Herrick Rd., Riverside, IL 60546.