You hear it all the time — curb appeal is critical when selling your home, but it can be challenging to make your house stand out when it's covered in white fluffy stuff. Still, you need to capture those buyers — and as I always say — selling your house is like dating: A pretty face will get them in the door!
Here are seven tips to make your home look appealing, even in the dead of winter.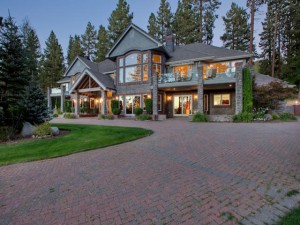 No snow photos — Many homebuyers will first experience your curb appeal via the warm glow of their computer screen or mobile device. Whenever possible, have the photos of your house taken on a clear, snow-free day. These are the photos that will live online for the entire time your home is on the market, and you want to be able to show buyers what your house looks like the nine other months of the year as well.
Lights in the snow — Make the house look fantastic at night! Once a buyer is interested, he or she will usually drive by multiple times reviewing the house himself or showing friends and family. Accent lighting will really dress up the house at night. Use low-voltage up-lighting at the base of your landscaping and along your walkway to create wonderful light-and-shadow patterns. It's very dramatic and creates an instant designer look as the lights reflect and glisten against the snow.
Keep shoveling — If your house is on the market — pick up that snow shovel and start plowing. You never know when a potential homebuyer will be dropping by with an agent for a showing, or even just driving by — never leave for the office for the day with snow piled up on the walkways and driveway.
Send Santa packing — Christmas is way over, folks! It's time to lose the reindeer and those twinkle lights around every window. Let's not distract your buyers with the Christmas spirit. If Santa and the sleigh are still on the roof or visible elsewhere, send him packing to the North Pole. The only holiday holdover you should consider is a lovely winter wreath on the front door.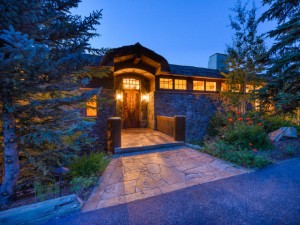 Flowers do bloom — Take advantage of winter-blooming flowers to add a pop of color. Place two flowering potted plants on each side of the front door for instant impact. They should be visible from the street and help frame your front door. Wander around your local home improvement store's garden center, and, depending on your climate, you'll find flowers that will bloom for you. Some winter wonders include camellias, pansies, cyclamens, and Iceland poppies. If you live in a snow-free area, adding in some flower beds with these little winter miracles will do wonders for your house's appeal.
The front door color splash — Juxtaposed against all that white snow, a freshly painted front door will really stand out. Reds, blues, and rich greens are all welcoming additions to an all-white outdoor setting.
They all add up — Dressing up the front porch is essential. Replace old door handles and locks with new shiny ones. It's often much easier to replace the door handles and any brasswork than to polish them up! Install a new brass kickplate at the bottom of the door, add classic large house numbers, and even a lovely (and dry!) welcome mat to match the style of the house. These individual items may seem obvious, but together these small, inexpensive changes and often-overlooked details deliver a captivating welcome.