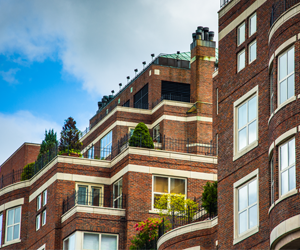 In some markets, renting trumps buying by a tiny margin. Maybe you're not ready to buy, or maybe you don't think you can. But did you know that there are markets in the U.S. where rent can cost as much as 60% of your paycheck?
Wowsers!
According to FHA guidelines, your monthly housing costs shouldn't take up any more than 31% of your gross monthly income. According to Trulia's recent Rent Monitor report, however, there are at least 14 markets where rent exceeds those FHA guidelines.
Most of the least affordable areas are in major metropolitan areas. Miami, New York City, Los Angeles, San Francisco, and Oakland lead the top five in least affordable rental markets, with the top two least affordable coming in with median rents at a whopping 62% of the average monthly wage for the area. However, if you head on down to St. Louis, Las Vegas, Sacramento, CA, Phoenix, and Atlanta (listed in order of affordability), you could be paying as little as 25% of your monthly income toward rent.
Rent Trends and Affordability in the 25 Largest Rental Markets
↵ Return to site.
Rent Trends and Affordability in the 25 Largest Rental Markets

#
U.S. Metro

Y-o-Y % change in rents, Apr 2014

Median rent, 2-bedroom unit, Apr 2014

Median rent for 2-bedroom, as share of average local wage

1
Miami, FL

6.6%

$2,350

62%

2
New York, NY-NJ

5.4%

$3,450

62%

3
Los Angeles, CA

5.1%

$2,350

54%

4
San Francisco, CA

17.0%

$3,450

51%

5
Oakland, CA

10.1%

$2,350

46%

6
Riverside–San Bernardino, CA

4.7%

$1,500

46%

7
Orange County, CA

3.3%

$2,000

45%

8
Boston, MA

2.5%

$2,300

43%

9
San Diego, CA

9.7%

$1,900

43%

10
Washington, DC-VA-MD-WV

0.4%

$2,100

37%

11
Chicago, IL

4.7%

$1,600

37%

12
Baltimore, MD

6.2%

$1,550

36%

13
Philadelphia, PA

2.9%

$1,500

33%

14
Denver, CO

10.6%

$1,450

32%

15
Tampa–St. Petersburg, FL

3.5%

$1,100

31%

16
Seattle, WA

9.2%

$1,750

31%

17
Dallas, TX

3.8%

$1,400

30%

18
Minneapolis–St. Paul, MN-WI

3.5%

$1,300

29%

19
Portland, OR-WA

6.7%

$1,200

29%

20
Houston, TX

3.3%

$1,400

29%

21
Atlanta, GA

7.8%

$1,150

27%

22
Phoenix, AZ

7.5%

$1,050

27%

23
Sacramento, CA

6.8%

$1,150

27%

24
Las Vegas, NV

2.5%

$950

27%

25
St. Louis, MO-IL

6.1%

$950

25%

To download the list of rent changes for the largest metros: Excel or PDF. Wage data are from the U.S. Bureau of Labor Statistics for 2013 Q3, which reports only average wages, not medians.
While these recent Rent Monitor figures cover the 25 top rental markets in the U.S., we have some tips to help you manage rents no matter where you live.
Consider a smaller apartment: A smaller apartment plus a storage unit would likely cost considerably less than paying for an additional bedroom or den space. Look into the availability of smaller units in your current development and check out the classifieds around town to see what a smaller unit might save you each month. This could be your number one cost-savings strategy, especially if you find yourself paying for space you're not using.
Try a nearby rental market: If public transportation is favorable or you don't mind a drive, a nearby rental market could save you hundreds each month. You might also find that a nearby rental market gives you way more in the square footage and amenities departments for your rental dollar.
Consider a roommate: Even if only for a short time, a roommate paying half your rent can provide you some financial breathing room. This can give you time to boost savings and plan for a move back to a place of your own once you lighten the financial burden of carrying the entire rent yourself. Be sure to vet your roommates thoroughly and get a deposit. Better yet, make sure they're added to your lease for full legal protection.
A higher-priced market doesn't have to mean a lower standard of living. With some creativity, you might find affordability where you thought it had headed for the hills. For additional rent-saving tips, be sure to have a look at this list of six handy tips if you find yourself in a financially unfriendly rental market.