Who hasn't dreamed of ditching city life and moving to the country? Maybe you've spent weekend getaways flipping through the local real estate listings, baffled by how far a dollar can stretch: A farmhouse (with acreage!) for what a walkup studio would cost in the city?
I did that for years. Then, in 2012, I made the jump, moving from Seattle to a small summer town in Maine. It felt like a drastic change, so I was surprised when I kept meeting others who had done the same—everyone from burned-out lawyers done with their commute to families who wanted their kids to roam freely. I started photographing these people and interviewing them about their triumphs and challenges in transitioning to country living. I compiled these profiles on my website, Urban Exodus, and eventually in my first book, Ditch the City and Go Country. The project took flight immediately—clearly I wasn't the only one thinking about escaping the city. Below are just three of nearly a hundred folks I've met who have left behind friends, museums and takeout dinners in favor of fresh air, vegetable gardens and tight-knit communities. It's not all rosy, but again and again people tell me that they've become calmer and more fulfilled living in the country.
Don't take it from me, though. Hear it from these three families who left the city behind for a fresh start.
Photography by Alissa Hessler. You can read more profiles like these on Urban Exodus and in her book, Ditch the City and Go Country. 
Kenzie and Shawn Fields
When a family of New Yorkers found a quirky house in the Berkshires at a third the cost of their city coop, they figured it was fate.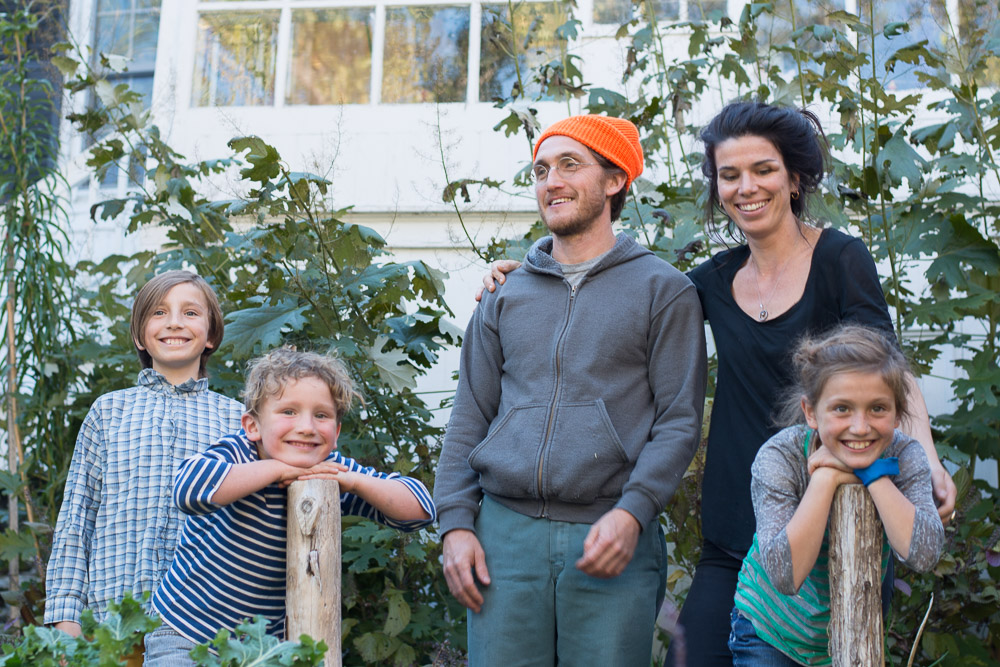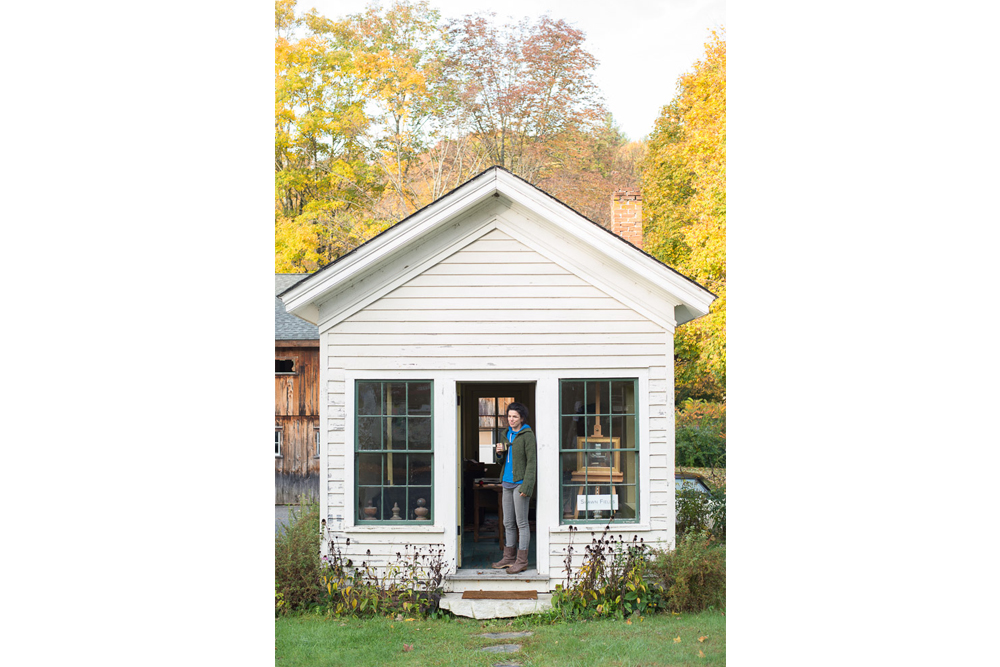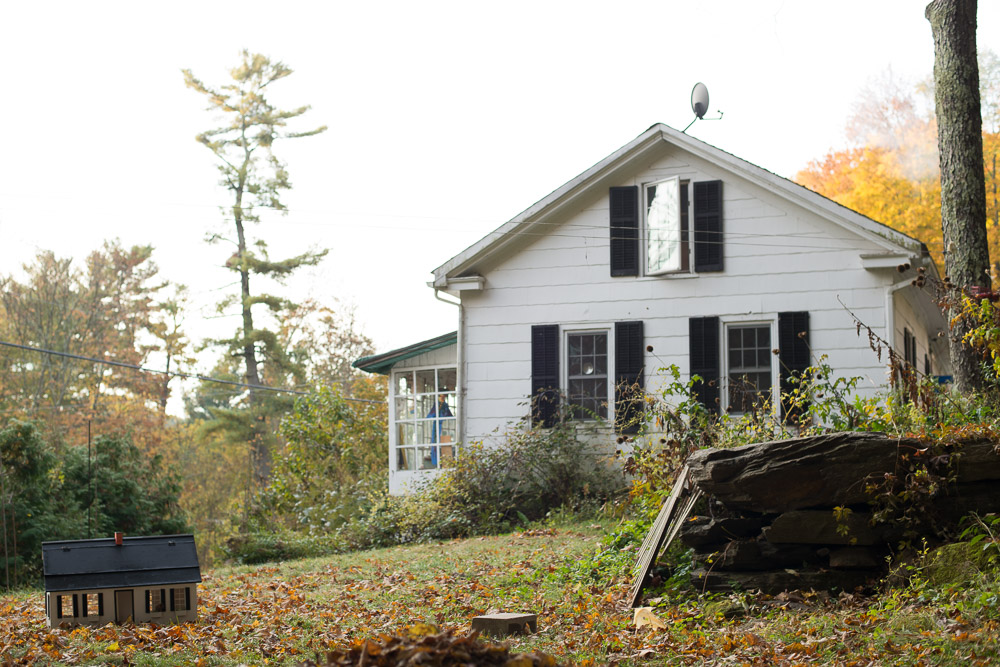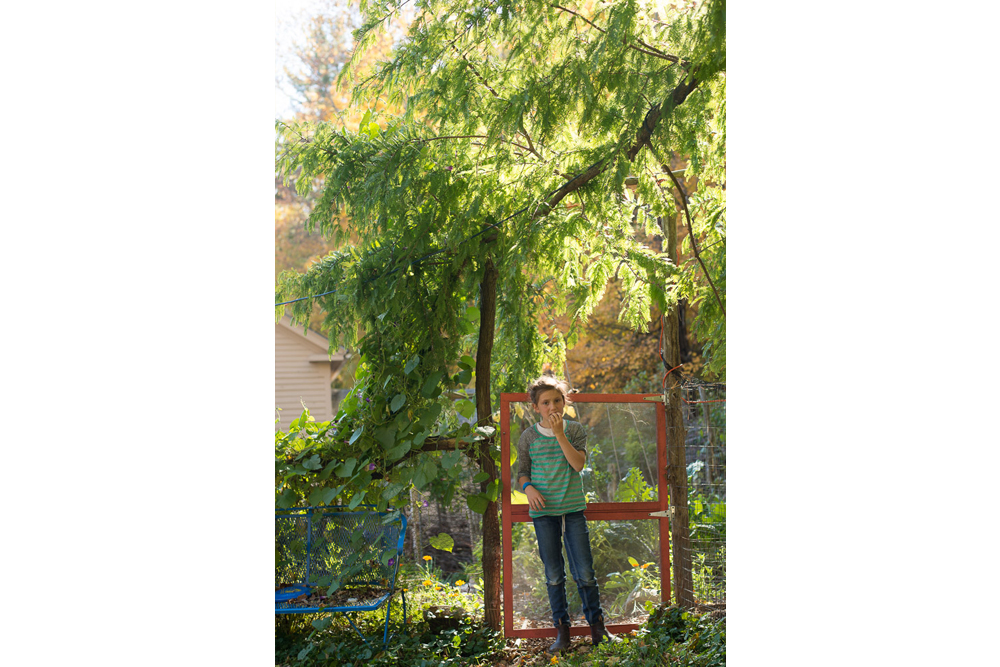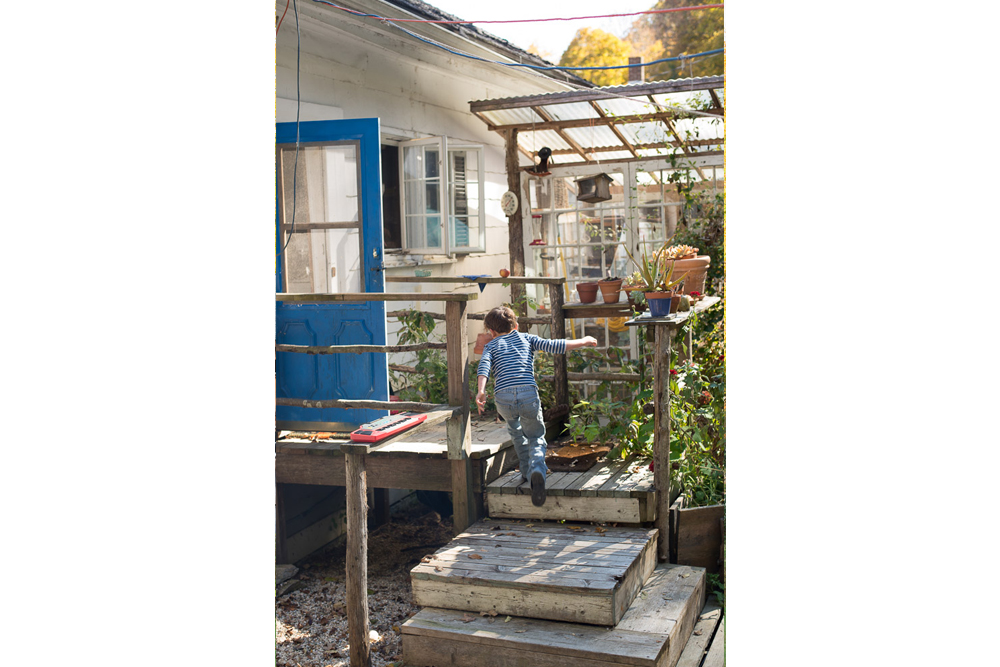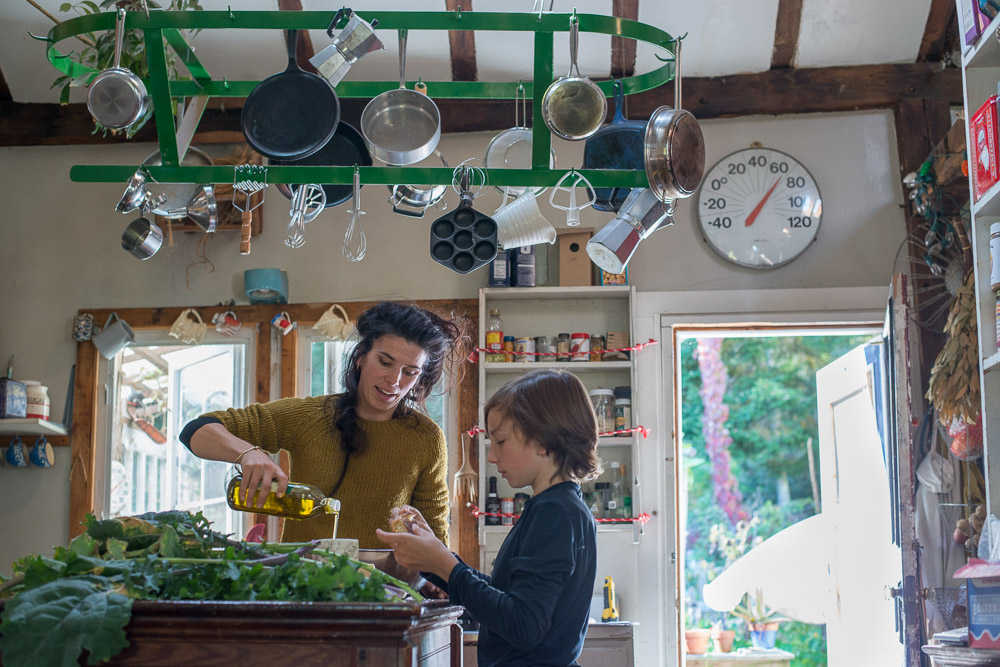 Moved from: New York City, pop. 8.5 million
Kenzie and Shawn Fields were living in what most New York families would consider a dream situation—a three-bedroom coop apartment in a desirable Brooklyn neighborhood. It was enough space for their family of five, with no worry of a rent hike. To afford living in the city, though, both Kenzie and Shawn had to work long hours. Shawn, a painter and illustrator, worked as a studio assistant for an established artist and was only able to create his own work in his off hours.
When Kenzie's parents moved to the Berkshires, a creative hub in the mountains of Massachusetts, the Fields family came for a visit and began dreaming of leaving the city behind. The couple wanted to give their kids a childhood immersed in nature and access to good public schools. "It felt like an inspired idea," remembers Shawn. "But when I thought about all the unknowns and fears, logically it was a bad idea since what we had in the city was really great." When they stumbled across their storybook 1756 cottage while casually looking at real estate listings, though, they felt that fate was pushing their hand. "On what I thought was a lark, we looked at a house in a town with a great little school," says Shawn. "The mortgage on the house was about a third of our apartment's mortgage. That visit sealed the deal."
Shawn and Kenzie took a leap of faith and moved their family to New Marlborough. "Living in a village in the country was a good answer for us," says Kenzie. "We're steps from a post office, library, car mechanic and a general store. We live across from a rushing creek, which is comforting. There's no deafening rural silence. Rural does not have to mean vast and empty."
Instead of continuing to work hard to further the careers of other artists, the couple decided to focus their efforts on building Shawn's fine-art business. Giving up their steady city incomes while taking on the costs of winter heating and caring for an old house hasn't been a cakewalk, but they can't imagine going back to the cramped confines of city living.
Entering their home is like walking into one of Shawn's narrative paintings. On a typical day, their daughter, Honey, might greet you in the yard with a pet rabbit, their son Peter may follow you around with his brass trumpet, and their other son Odie might offer to perform a magic trick. They have gotten crafty—repurposing wood, windows and thrifted treasures to transform their cottage into a cozy, quirky wonderland.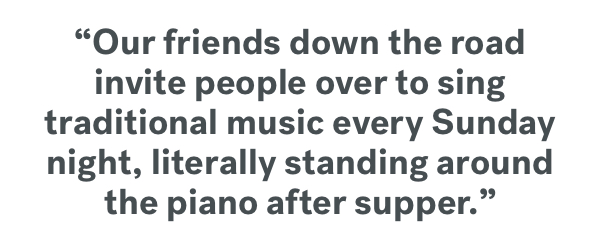 The kids have much more freedom to explore now—they spend hours playing in the creek by their house and volunteering at the library down the street. And they've all noticed, says Kenzie, that "the opportunity to care is more present when you're out of the overwhelming scale of a city. When my mother passed away, people we didn't know well left whole meals on our porch."
They love the natural setting of their new life, says Kenzie. But that's just the start. "Playing charades with our neighbors, heating with wood, the animals, library pie sales, town hall meetings. Our friends down the road invite people over to sing traditional music every Sunday night, literally standing around the piano after supper."
View houses and land for sale in New Marlborough on Trulia.com.
Richard Blanco
A Cuban-American poet found the quiet he needs to write—plus a sense of belonging—in a tiny Maine town.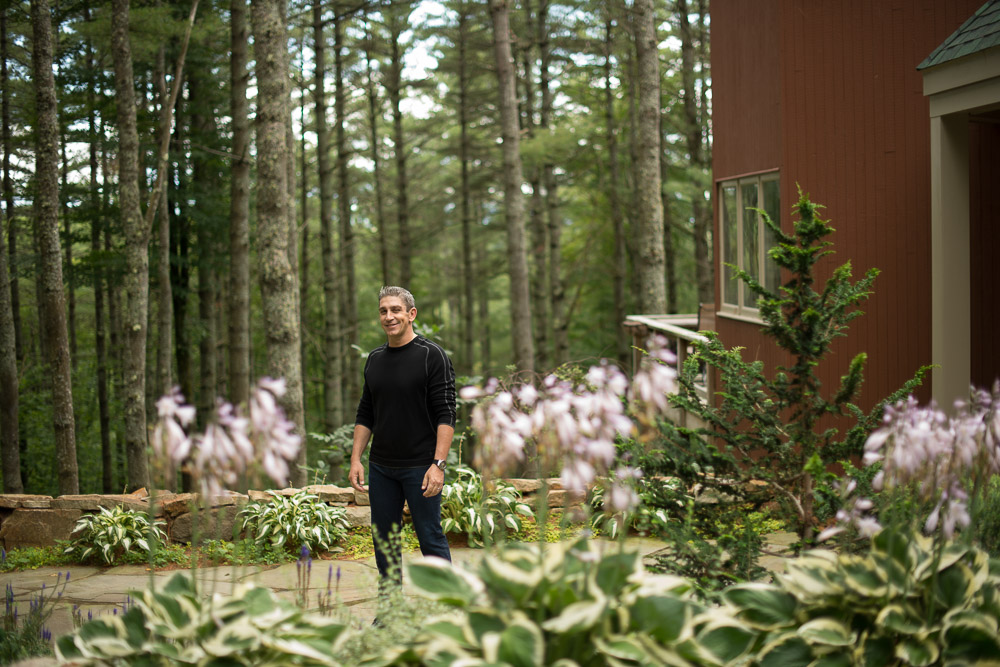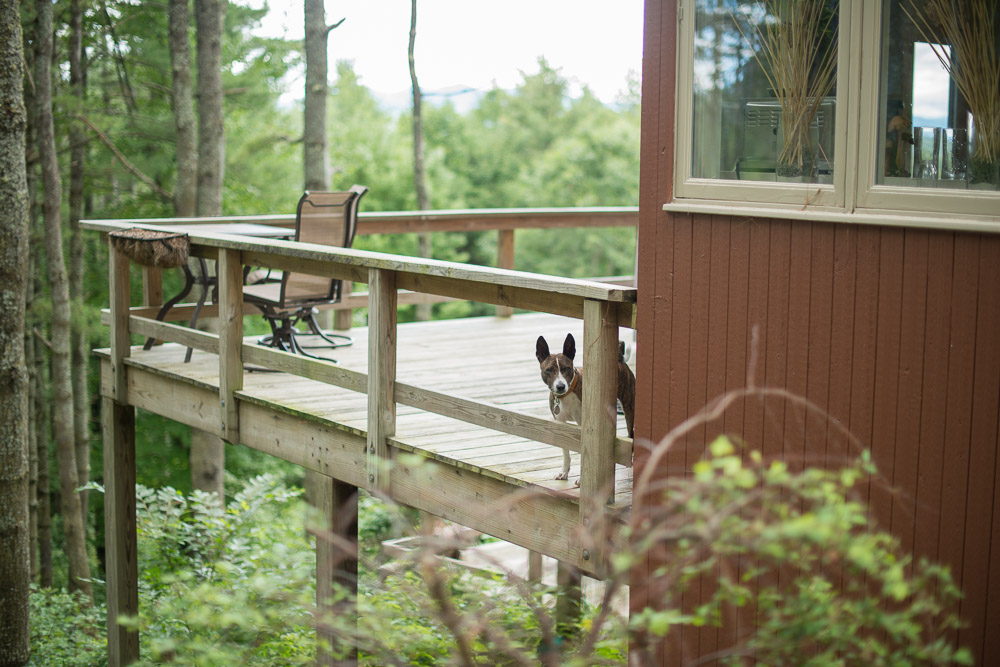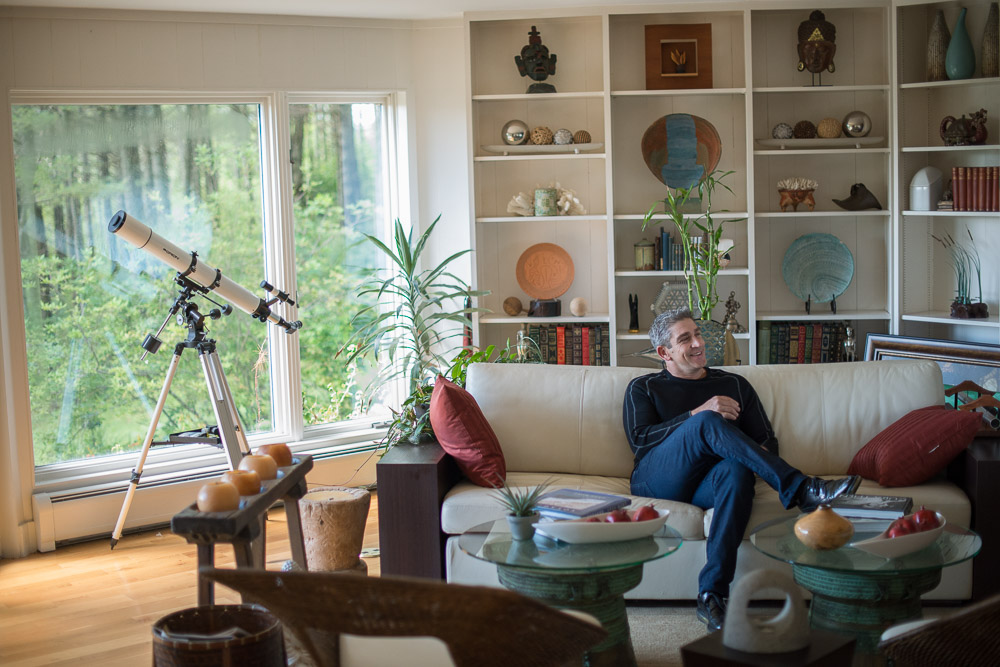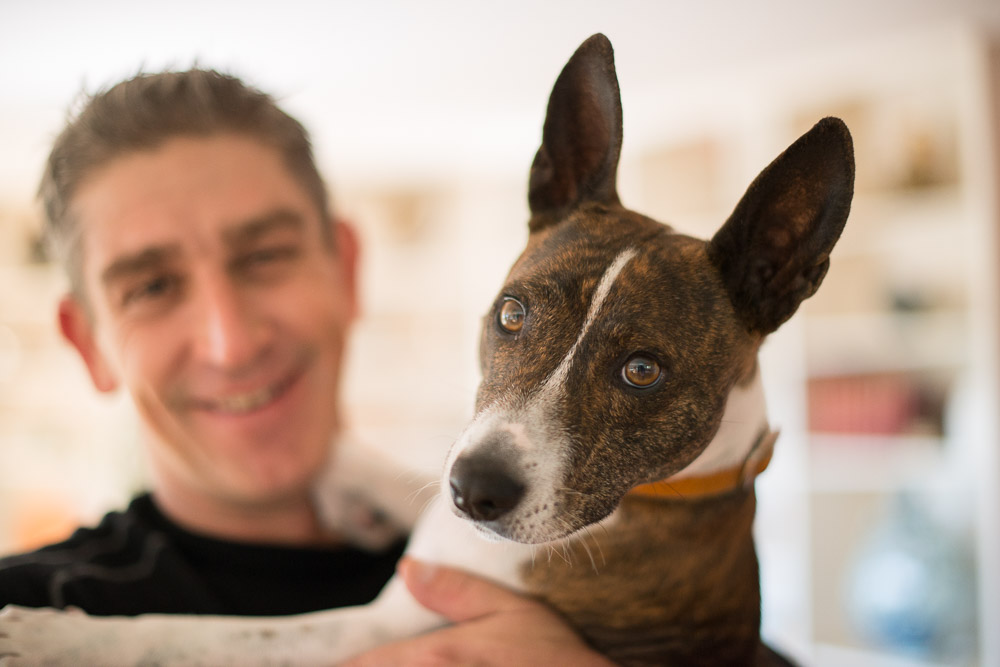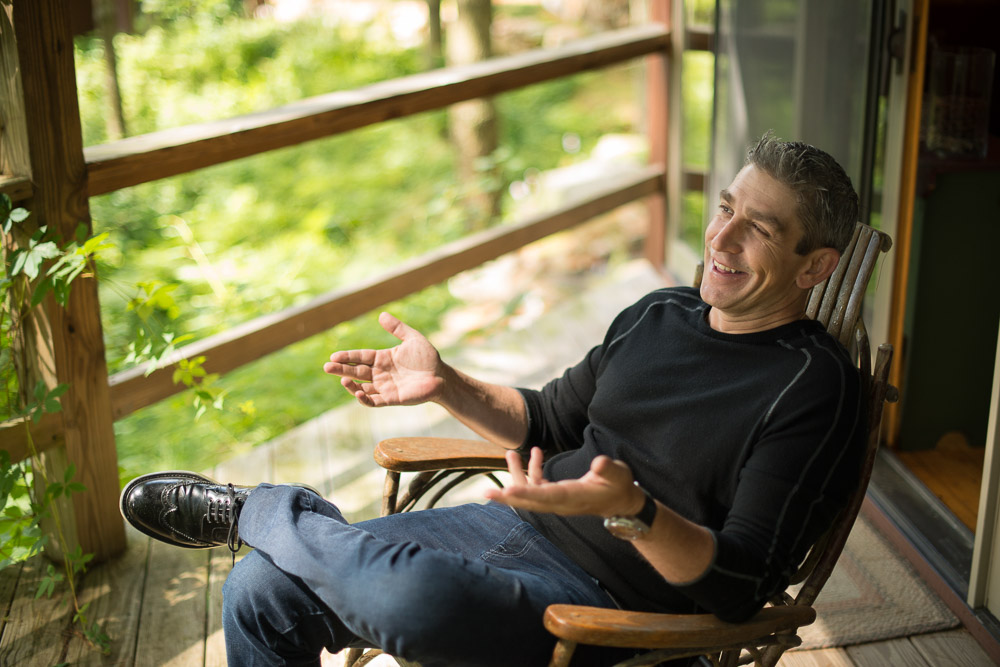 At President Obama's second inauguration in 2013, Richard Blanco's reading of his poem One Today inspired the nation. What most people don't know is that, looking back, he's unsure he would have been able to write the poem if he hadn't been confined to his writing desk, surrounded by pine forests piled high with snow, up on a mountainside in his new home in Bethel, Maine.
Before moving to Maine, Richard lived most of his life in Miami. In 2012, he was working as a civil engineer and writing in his spare time when his partner, Mark, got a job that required the couple to relocate to the tiny ski town of Bethel, Maine. Although Richard was a little apprehensive at first, he was excited at the prospect of leaving the traffic and noise of city life and having the opportunity to write more. 
Being the child of Cuban exiles and an immigrant himself, who had come to Miami as an infant, Richard has always longed to find a place where he belongs. A predominant theme in his writing is what it takes to make a place feel like home. And he now realizes that living in the country was a natural for him. "I think I've always wanted to move to the country," he says. "I always had an attraction to it, especially since I went back to Cuba to visit in my teens. Most of my family is from rural areas in Cuba, and I felt very at home there."
Richard and Mark didn't know how this small town would receive them, but they have been pleasantly surprised. Bethel has welcomed "the gay couple from Miami," as they were referred to for a while, with open arms. Richard is a respected member of the community and—since the inauguration—a town celebrity.
But it's been an adjustment. "After that honeymoon phase, the first thing that started to nag on me was having to drive everywhere," says Richard. And shopping is tricky: "I live in a resort town, so I can get sushi, but I can't get inkjet cartridges or underwear." To his surprise, he also missed going out: "Sometimes you just want to dress up and feel fabulous—and there is nowhere to do that. I've outgrown all my suits living here." He also misses the anonymity of city life: "There is no such thing as just a waiter in Bethel. You know their entire life, and you know their children, where they grew up…and they know everything about you. It's beautiful, but occasionally Mark and I will want to go out to discuss something over dinner and…the walls have ears."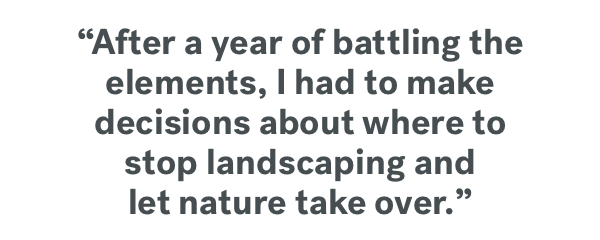 At home, he and Mark have built a private sanctuary, complete with bridges, ponds and streams, with their own hands. But there was a learning curve. "After a year of battling the elements, I had to make decisions about where to stop landscaping and let nature take over," says Richard. "I got a little carried away and made these mounds of work for myself and ended up not enjoying what I originally came here for. I had to take a step back and be okay with letting things just grow in."
After moving to the country, Richard initially continued to work remotely on contract engineering jobs, but the cheaper cost of living in Maine allowed him to shift focus and prioritize his poetry. And since 2013, he's been able to work almost entirely as a writer, leaving his engineering career behind. He has written two award-winning memoirs and numerous poems. He has taught writing workshops all over the world and just finished his first fine-press book, Boundaries. Several weeks before he made the journey to DC for the 2013 inauguration, he famously practiced his poem to an audience of snowmen in his front yard.
He gives the place where he lives a lot of credit for all this. Life in the country has given him space and time to focus on his writing. And maybe more importantly, it has finally given him a place that feels like home.
View houses and land for sale in Bethel on Trulia.com.
Brian and Mary Heffernan
A surprise business challenge turned these Silicon Valley entrepreneurs into a family of rural ranchers.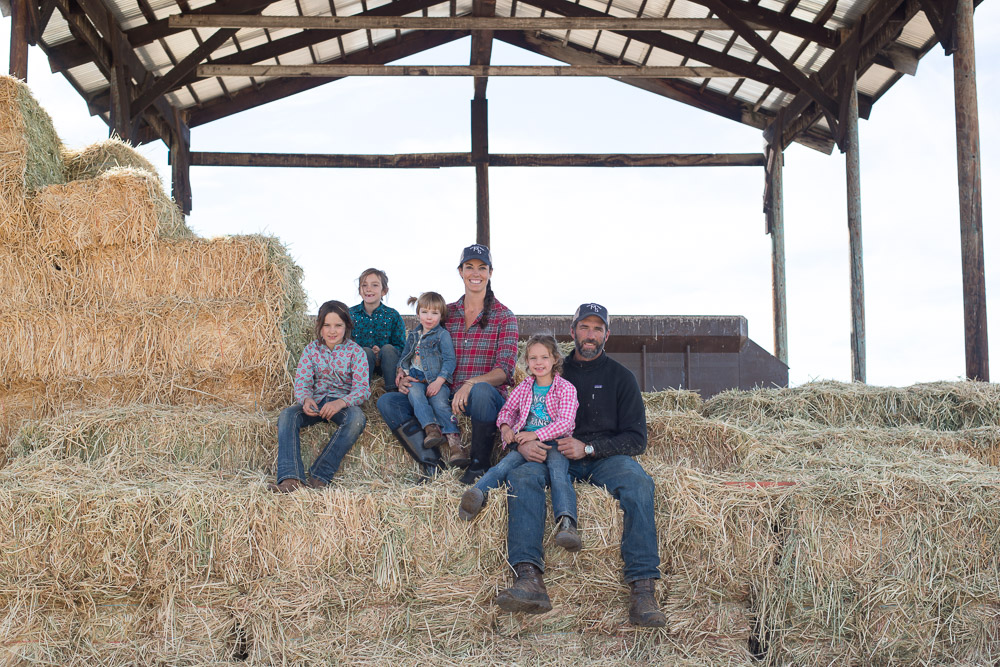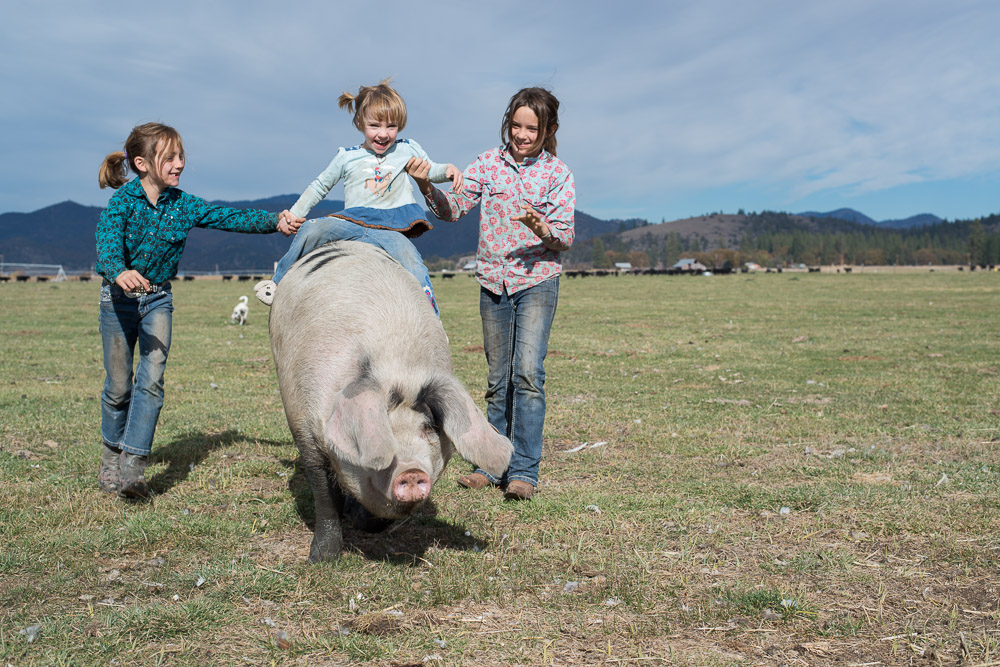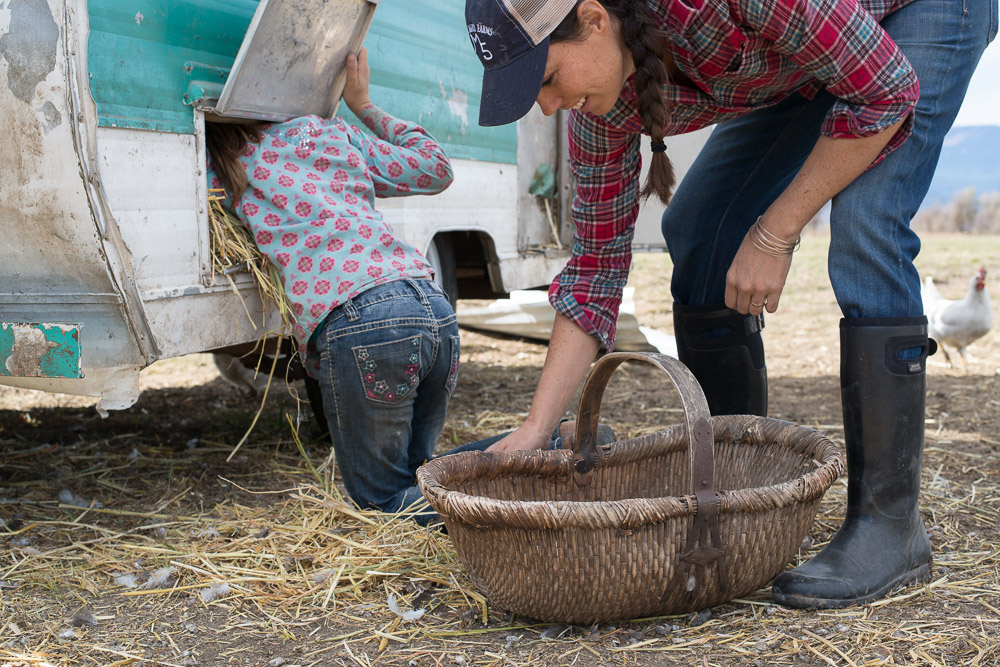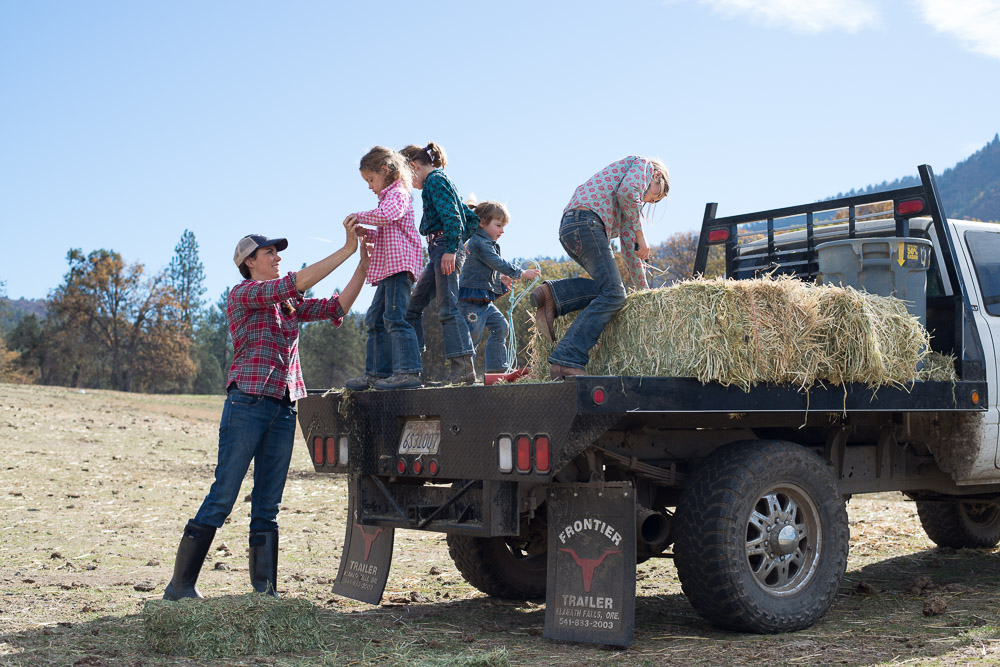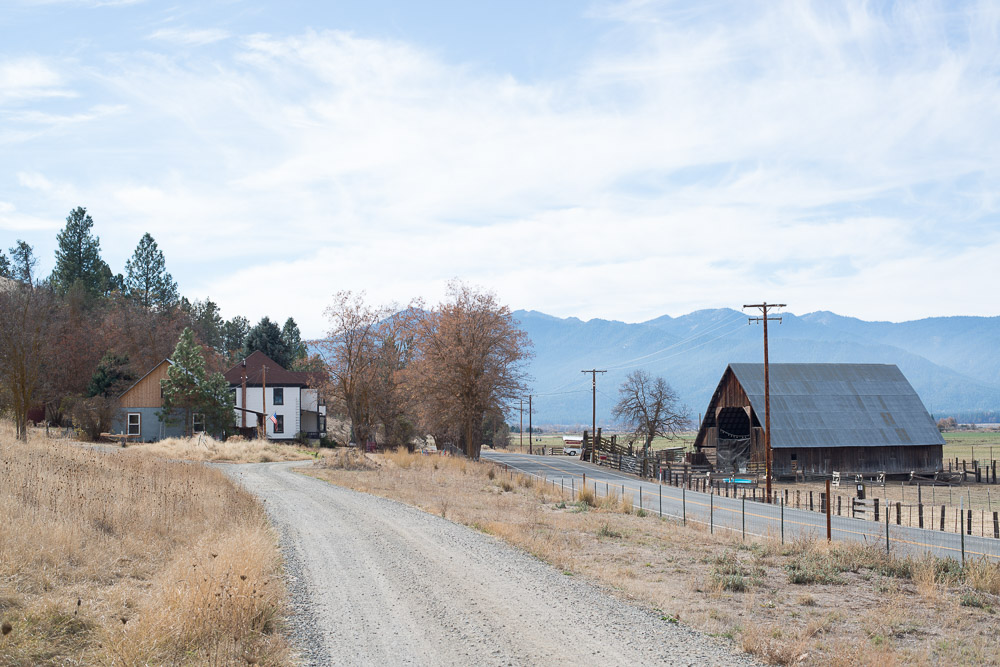 A few years ago, Brian and Mary Heffernan owned and operated 11 businesses in the Silicon Valley city of Menlo Park: a learning center, a maker space, a florist shop and a play space for toddlers, just to name a few. All this in addition to raising four girls under the age of six. They appreciated their busy, full lives but worried that the affluence of Silicon Valley would give their daughters a skewed perspective on the world.
In 2010, they opened a farm-to-table restaurant called Bumble but struggled to source ethically raised meat. This led them to a new potential venture—running a livestock ranch that could supply meat to their restaurant. They toured the Sharps Gulch Ranch in the prairie river valley of Fort Jones, California, a short drive from the Oregon border. From here, it was a six-hour drive down I-5 to Silicon Valley, but without the insane sticker price of land closer to the Bay Area. The property had two houses, one a historic Victorian in desperate need of repair and one a cozy two-bedroom cabin. They jumped in and purchased the property in 2013, hoping to one day find a way to move to the ranch full time.
The Heffernans' original plan was to hire ranchers to run the business. Brian and Mary would drive up on weekends so the girls could spend time running free in the great outdoors. "We always had a desire to raise our kids in wide open spaces in a more rural community," says Mary. "Brian grew up on a farm and hoped we'd get back to the land someday. After coming up every weekend for a couple of months and finding a gem of a community here, we quickly decided this was where we wanted to raise our children. We sold our businesses and moved up the day our oldest daughter finished kindergarten and have been all-in ever since."
After four years of hard work, the Heffernans have built a successful pasture-raised meat business. They sell their products online, in their historic brick-and-mortar storefront in Fort Jones and at pop-up markets in Menlo Park when they go back to visit. Looking for more ways to make a living off the land, this year they launched Five Marys Retreats, where they host women at their hillside ranch camp for a weekend of farm chores and cooking classes. This January, they're opening a restaurant in Fort Jones.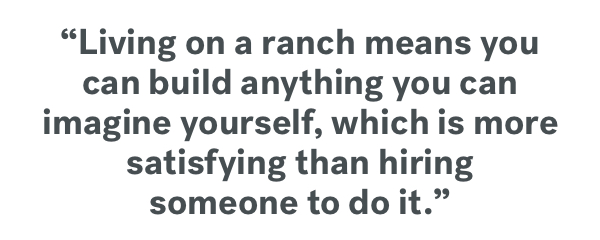 There are no holidays or weekends off, but they spend much more time together as a family now, working alongside one another. The Heffernans don't have the conveniences, clean clothes or free time they had in their previous life, and have had to become more self-sufficient: "In the city, I could get anything done at the drop of a hat," says Mary. "But in the country, I've had to adjust my expectations. Everything moves a little more slowly, but living on a ranch means you can build anything you can imagine yourself, which is more satisfying than hiring someone to do it."
Another payoff is seeing their girls grow into fearless, independent and hardworking free-range women. "My girls' favorite motto is 'where there is a will, there's a way,' and we all have to push hard to make it all happen!" says Mary. At the end of a long day, when the animals are fed, Mary and Brian love to mix a cocktail, put a Five Marys roast in the oven and sit on their front porch to watch their daughters run free in the yard.
View houses and land for sale in Fort Jones on Trulia.com.
Have you ever moved to make a fresh start? What did you love? What did you miss? Share your experience with us in the comments!