For a century-old home, sometimes the decades are a little more colorful — or heated — than for newer homes. Proof: These homes for sale in Laguna Beach, CA, and Plymouth, MA, which definitely have fiery pasts, playing the role of brothel and fire station respectively, and most likely hosting everything from raucous parties to quiet nights playing cards at the station.
Retired from their once-hectic working lives, these homes are both currently for sale — renovated and ready for their next chapters. Learn about their quirks, then let us know which one you'd choose!
The exteriors of these two properties couldn't be more different. The Laguna Beach ex-brothel radiates a rustic country style, complete with a red Dutch front door, matching red doors leading onto a balcony, and weathered brown shingle siding. The Plymouth home upholds a traditional fire station brick facade, with two large garage doors and a charming front entryway below a side balcony.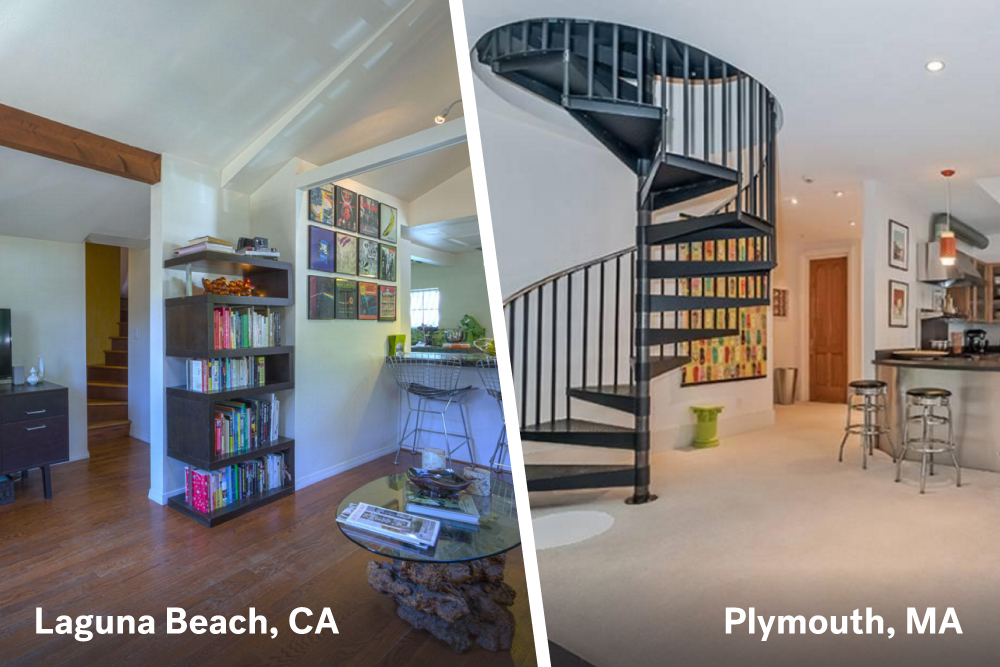 Inside, the former brothel and the fire station are similar, with open, airy living spaces, high ceilings, and staircases leading to the second level. In Laguna Beach, hardwood floors and exposed beams lend ambiance, while in Plymouth, a spiral staircase seems like a fitting design choice for a building that once housed firemen who slid down a pole to respond to an alarm.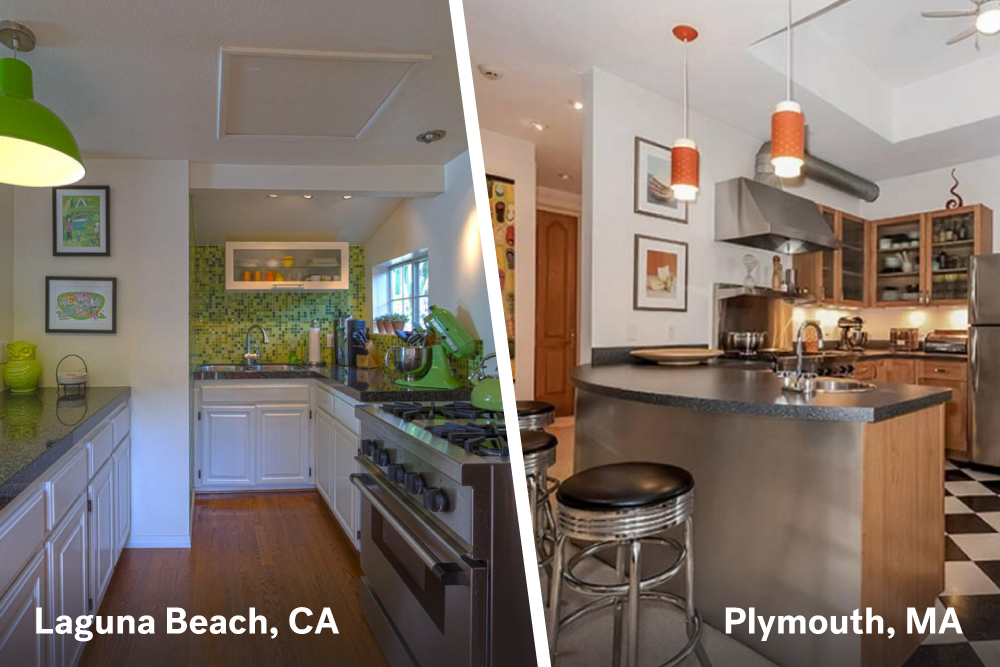 Lime-colored tiles and light fixtures command attention in the former brothel's kitchen. At the fire station, the kitchen resembles a 1950s diner, with a checkered floor, a swinging kitchen door, and classic barstools.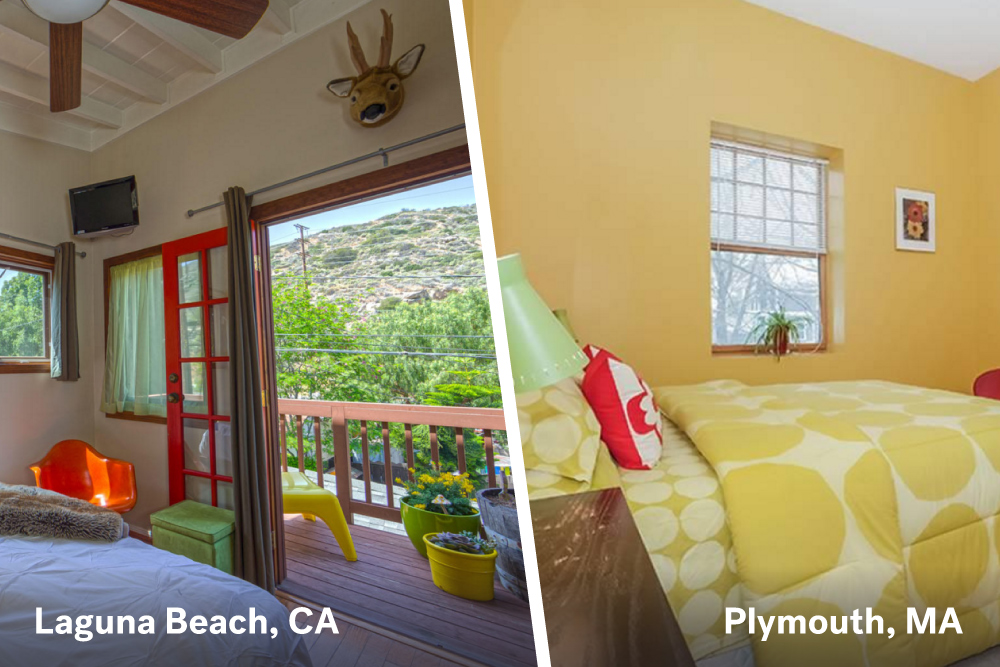 Wake up in Laguna Beach with the sun streaming into your room and views of the surrounding San Joaquin Hills from the bedroom's balcony. With natural wood window trim and white walls, the red balcony doors add a pop of color to the soothing palette that defines the sleeping space. Meanwhile, this Plymouth bedroom boasts bold yellow walls and deep windowsills.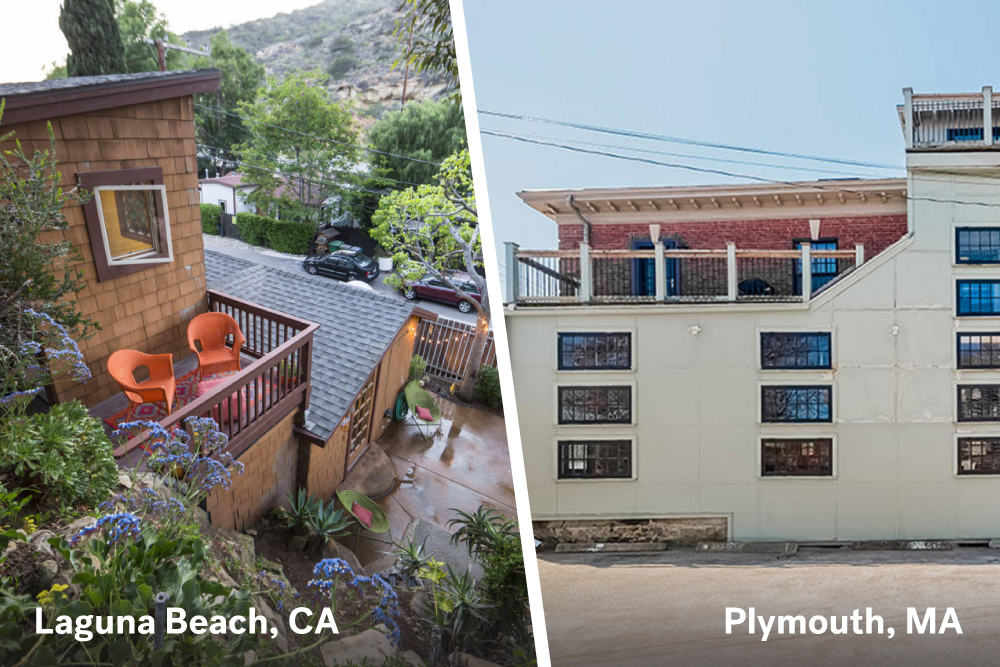 The Laguna Beach property encourages an outdoors lifestyle, with a trail leading above the house up to a private campsite offering peekaboo views of the Pacific Ocean and the potential for sprawling gardens. Lookout points and balconies are scattered about the roof and sides of the Plymouth fire station, providing vantage points on New England's original city.
See the listings for these unique homes for sale: The former brothel in Laguna Beach, CA, and the former fire station in Plymouth, MA.