What's red, black, and Zen all over? The answer to this most perplexing of riddles can be found behind the foo dog–flanked front gate of this one-bedroom home for sale in Sunland, CA, a residential neighborhood in the ancient, distant land of … Los Angeles.
OK, so it's not exactly of the same caliber as, say, the Great Wall of China, but this cinder-block ode to Far East design is a marvel in and of itself. (Kudos to this marvel's intrepid creator, who not only embraces a theme, but commits.) We're betting it adheres to every feng shui rule in the book.
So enter and drink in the seamless convergence of industrial-contemporary and Asian kitsch — just be sure to trade your shoes for a slinky kimono by the front door and open your wallet wide: This eighth wonder of Los Angeles will set you back $999,000.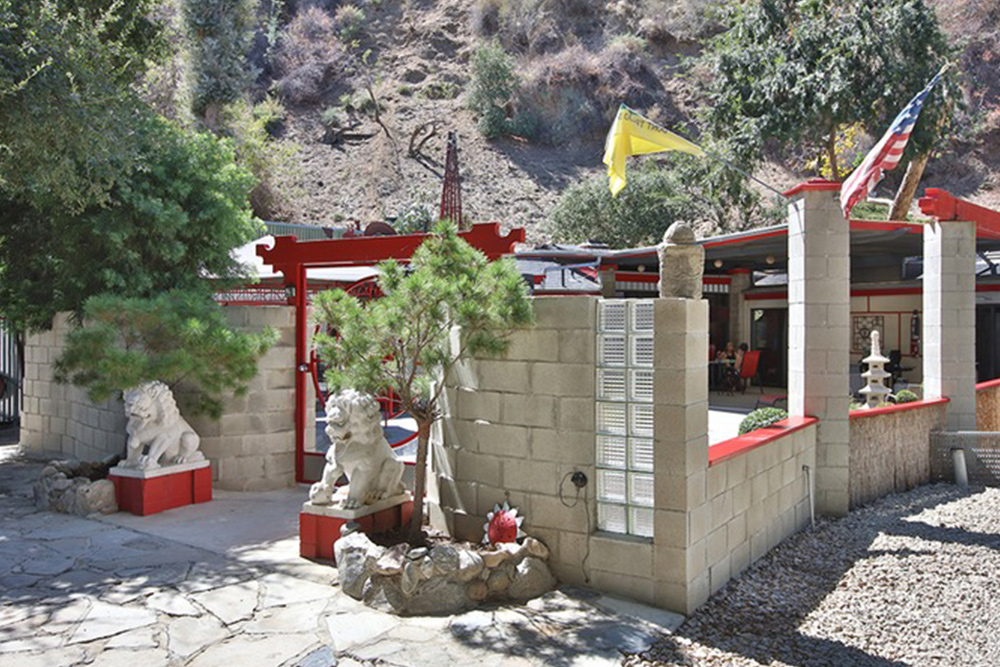 Billed as an "Asian oasis," the one-bedroom, one-bathroom home sits upon a private, foothills lot in Sunland, CA. The neighborhood in Los Angeles is perhaps best known for its proximity to the San Gabriel Mountains (and for being home to Mount Lukens, whose summit represents the highest point within LA city limits).
The 1,400-square-foot hideaway boasts easy access to the not-very-Zen, multilane Foothill Freeway (Route 210), which, much like the babbling stream that traverses the 1.18-acre property, snakes its way across the rocky Greater Los Angeles landscape.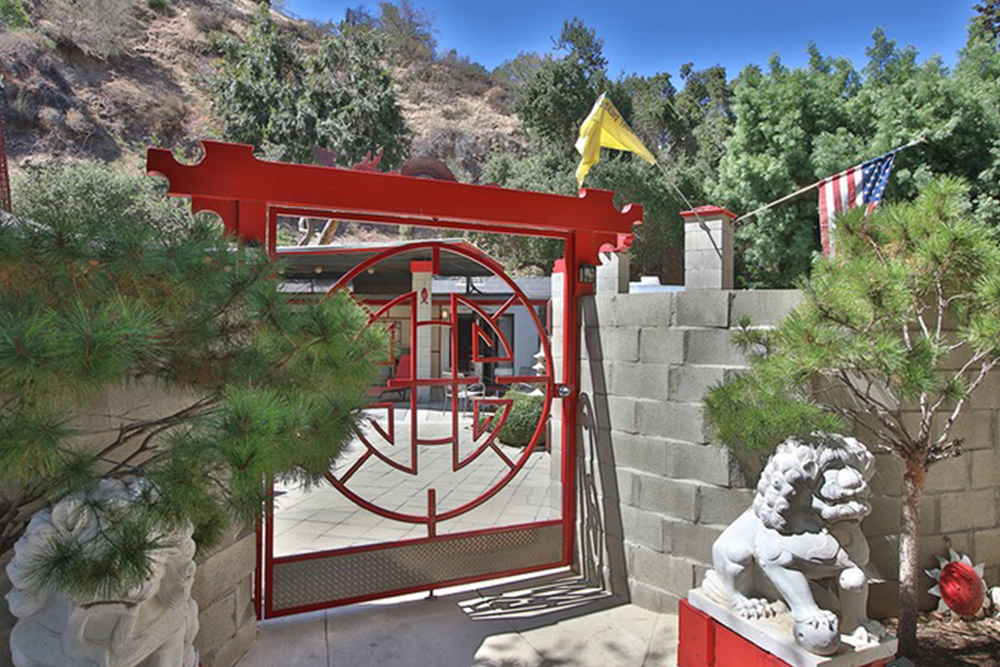 A brief entry bridge cuts a path through a tangle of tropical palms and bamboo and leads to a gravel-paved cul-de-sac at the home's main entrance. There, guests are greeted by a taste of what's to come: a cherry-red Japanese torii gate, traditionally used as an entry point into a sacred space, a boundary between the physical and spiritual worlds. This particular model is guarded by a pair of foo dogs and pivots at the center to reveal an expansive paved courtyard framed by cinder blocks.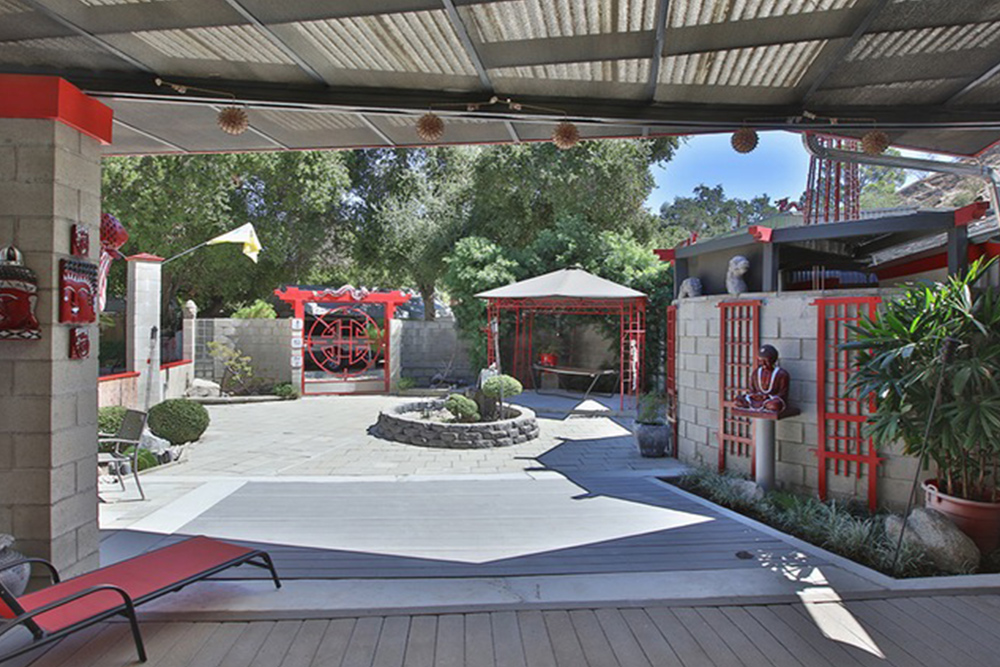 Sporting the home's signature accent color, red (considered good luck in Chinese culture), a sitting Buddha presides over the action in the courtyard. A partially covered patio area offers quick shelter when Mother Nature puts an early end to meditation sessions, yoga sequences, or sips of green tea by the bamboo fountain.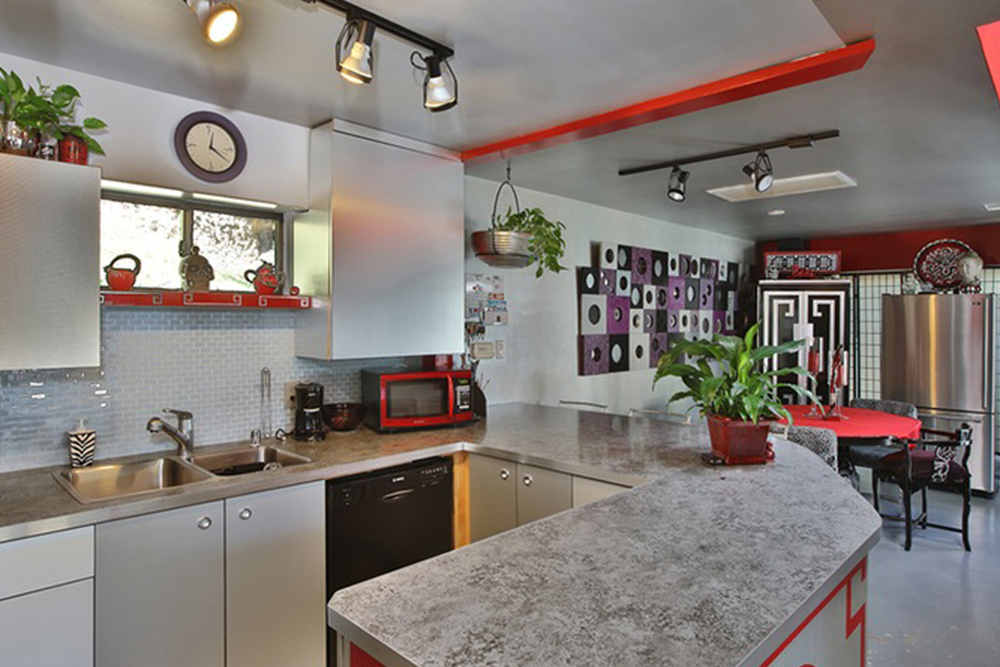 Sliding glass doors separate the patio area from the eat-in kitchen, which sports polished concrete floors and custom textured countertops. Keeping with the home's industrial-meets-Asian theme, the space is heavy on metal finishes, from the track lighting and cabinetry to the dueling stainless steel refrigerators on the far sides of the room. Pattern enters the space through geometric wall art and coordinating dining room chairs upholstered in purple and cheetah-print fabric.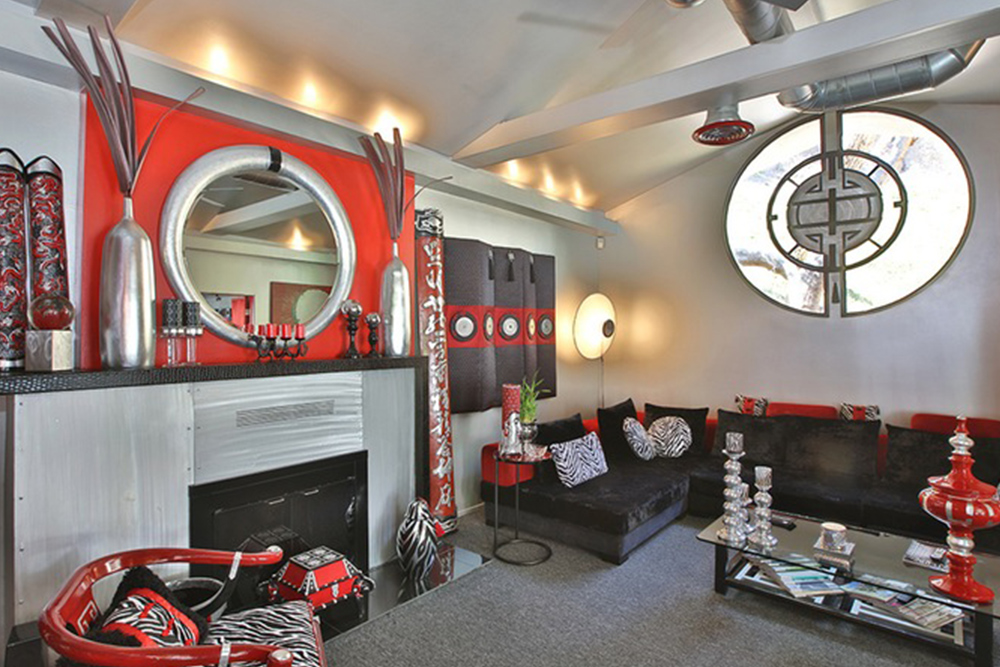 To get from the kitchen to the living room, you'll need to pass through a door — but not just any old door. In this instance, the door is an asymmetrical custom creation cloaked in studded red suede and punctuated by a zebra-print handle.
The bold black-and-white print is echoed by a few of the living room's furnishings: a red-trimmed settee, an oversized urn beside the modern fireplace, and, on the black velvet sectional, a grouping of throw pillows. Above the fireplace, a circular silver mirror mimics the look of a porthole-inspired window, while overhead, exposed ductwork continues the industrial-chic theme.
Overlooking the courtyard, the master suite and adjoining bath measure in at 600 square feet — that's more than 40% of the home's total square footage. R&R is paramount here, and it's easy to find under the covers of the California king-sized bed, which is shrouded by red silk panels and hugged by upholstered walls. A picture window provides a little scenery when you're curled up with a good book on the matching red couches.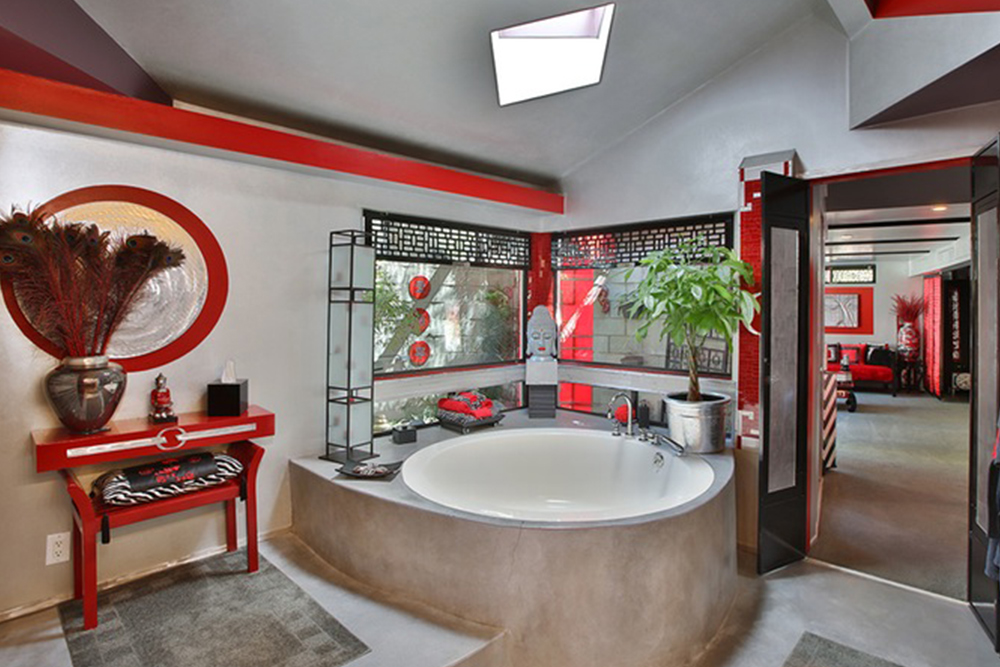 The bathroom, which abuts the master suite and is separated from the living room by a sliding barn door, offers additional custom touches. Namely, a massive soaking tub illuminated by skylight, a brushed copper sink, a steam shower, futuristic silhouettes that adorn the ceiling alcoves, and an accent wall covered in — no surprises here — zebra-print wallpaper.
Check out the image gallery and real estate listing for this home: Address Not Disclosed, Sunland, CA 91040. (Find other homes for sale in Sunland, CA.)