Finding the perfect place to call home is so much more than what's within the four walls you will live in. It's also about finding the ideal neighbors, streets and lifestyle that suit you best – like feeling safe walking your dog, or sending the kids to a great school, or walking to restaurants and entertainment. These are all dimensions that play a huge role in deciding on the right home.
In a recent survey that Trulia conducted in partnership with Harris Interactive, we examined Americans' sentiments on the importance of the ideal home, and found home shoppers aren't just looking for a house, they're looking for a neighborhood.
The results showed the neighborhood is given significantly more weight than expected, with consumers willing to sacrifice many home features to live in their ideal spot. Nearly 5 in 6 Americans (84 percent) said the neighborhood would be equally important or more important than the house, if they were searching for a new home. When asked what they would be willing to give up in order to live in their ideal neighborhood, 1 in 3 Americans (33 percent) would give up square footage. But people are split 50-50 when it comes to paying above listing price to live in their ideal neighborhood. However, the majority (57 percent) of parents of children under 18 would pay above listing price to live in the neighborhood with the ideal schools.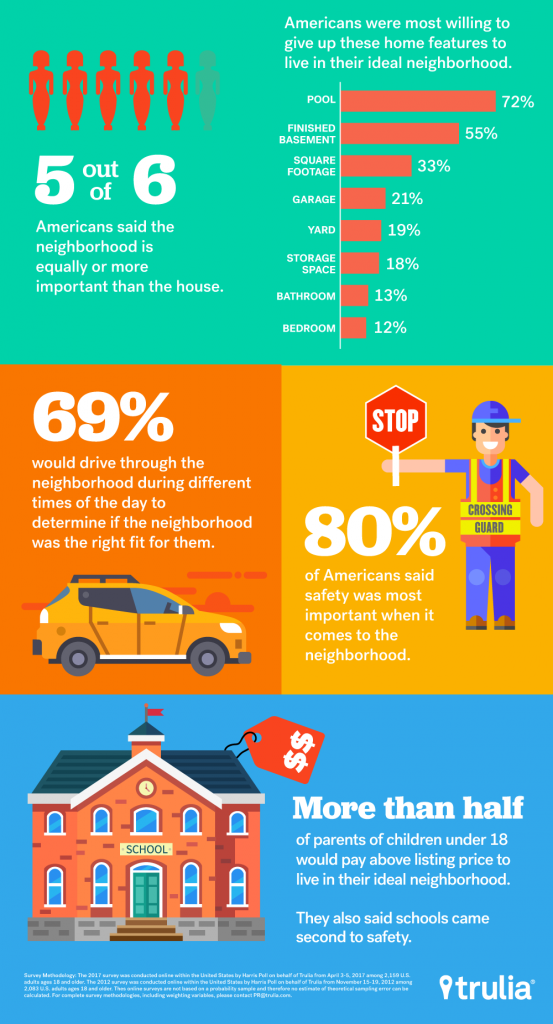 Trulia helps navigate these often difficult compromises by giving home shoppers the information they need to make informed decisions about neighborhoods across the country. 30+ immersive and interactive maps provide insight into a neighborhood's safety, schools, commutes, and even local dog parks and nightlife.
The House Is Only Half Of It
Today, we're rolling out a new national TV and digital campaign we call, "The House is Only Half of It." The campaign underscores the important balance between community and neighborhood, and the house itself.
One spot features a family, the Coburns, and another features a single woman, Beth, who discover some big issues with potential neighborhoods while shopping for their dream homes. Beyond researching home features like square footage and photos, the Coburns and Beth use Trulia map overlays to successfully locate the exact neighborhoods – and homes – for them.
By having a little fun showcasing extreme examples of "nightmare neighborhoods," we hoped to highlight the sense of elation and relief people experience when they find the right house and the right neighborhood.
Check out our new spots!
https://www.youtube.com/watch?v=SfzOKR6iOfE?feature=oembed&rel=0&enablejsapi=1&origin=https%3A%2F%2Fwww.trulia.com%2Fblog
https://www.youtube.com/watch?v=f-aEsOhIdlM?feature=oembed&rel=0&enablejsapi=1&origin=https%3A%2F%2Fwww.trulia.com%2Fblog