Hundreds of miles apart, and with varying degrees of the definition of a white Christmas — from sandy beaches to the actual cold white fluffy stuff — the one thing you can bet on from all of these neighborhoods in major U.S. metros during the holiday season is a promise of Christmas light displays around town.
All it takes is one person to start a holiday lights tradition. That one person puts up a few strands, inspires a neighbor, and soon enough, the entire neighborhood is lit up with its own quirks and traditions. From high-wattage real estate in Seattle, WA, to the tea light luminarias that line homes in downtown Santa Fe, NM, these brightly lit neighborhoods are sure to light a little spark in every visitor this holiday season.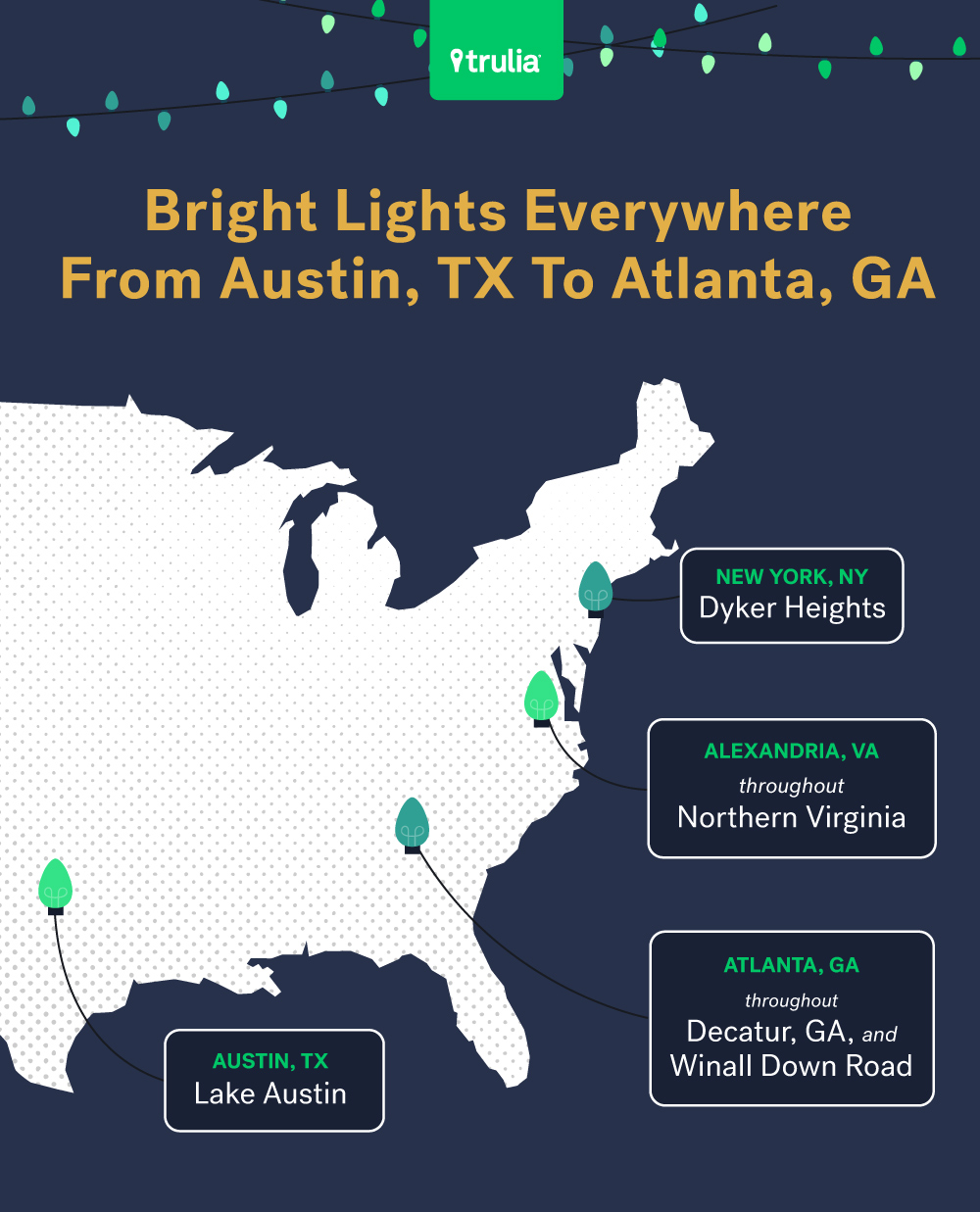 Austin, TX
Austin might be the live-music capital of the world, but the city goes big when it comes to just about everything — including holiday lights. First up: Take to the water to see Christmas lights reflecting off the surface from residents' brightly decorated boats as they glide along Lake Austin during Lake Austin's Boat Trail of Lights. Don't have a boat? Don't worry. You can buy tickets to ride on the Austin Party Barge and join the boat parade.
Meanwhile, the largest lights display in Texas is an easy drive from all the beautiful homes for sale in Austin, TX, in the Hill Country town of Johnson City, TX. From November 27 to January 1, the center of Johnson City comes alive with lights displays, live Nativity scenes, carriage and hayrides, and the opportunity to see President Lyndon Johnson's boyhood home decorated with a festive display.
Atlanta, GA
Every year, neighbors in the Atlanta suburb of Decatur, GA, put out their most festive lights — ranging from inflatables to classic gingerbread-trim lighting — and compete in Decorate Decatur, an annual holiday lights contest. Bonus: The home at 1428 Oak Grove Drive has more than 115,000 lights and has been featured on ABC's The Great Christmas Light Fight.
Residents and those browsing homes for sale in Atlanta will find even more Christmas cheer at the corner of Winall Down Road and Peachtree Dunwoody Road, where Dr. Gary Gropper decorates with up to 150 inflatables.
Alexandria, VA
From the largest animated residential holiday display in Virginia to a sprinkling of holiday cheer throughout Northern Virginia, there are plenty of lights to discover here. One annual don't-miss event: the Alexandria Holiday Boat Parade of Lights, with 50 decorated powerboats and sailboats cruising by Alexandria, VA real estate, down the Potomac River.
New York, NY
If you're looking for a break from the massive commercial holiday displays at Rockefeller Center and Fifth Avenue, head to over to check out some Brooklyn, NY real estate in the borough's Dyker Heights neighborhood. Since the 1980s, holiday lights displays have become more elaborate each year, and you'll be able to see everything from professional displays costing thousands to smaller-scale, DIY lights displays.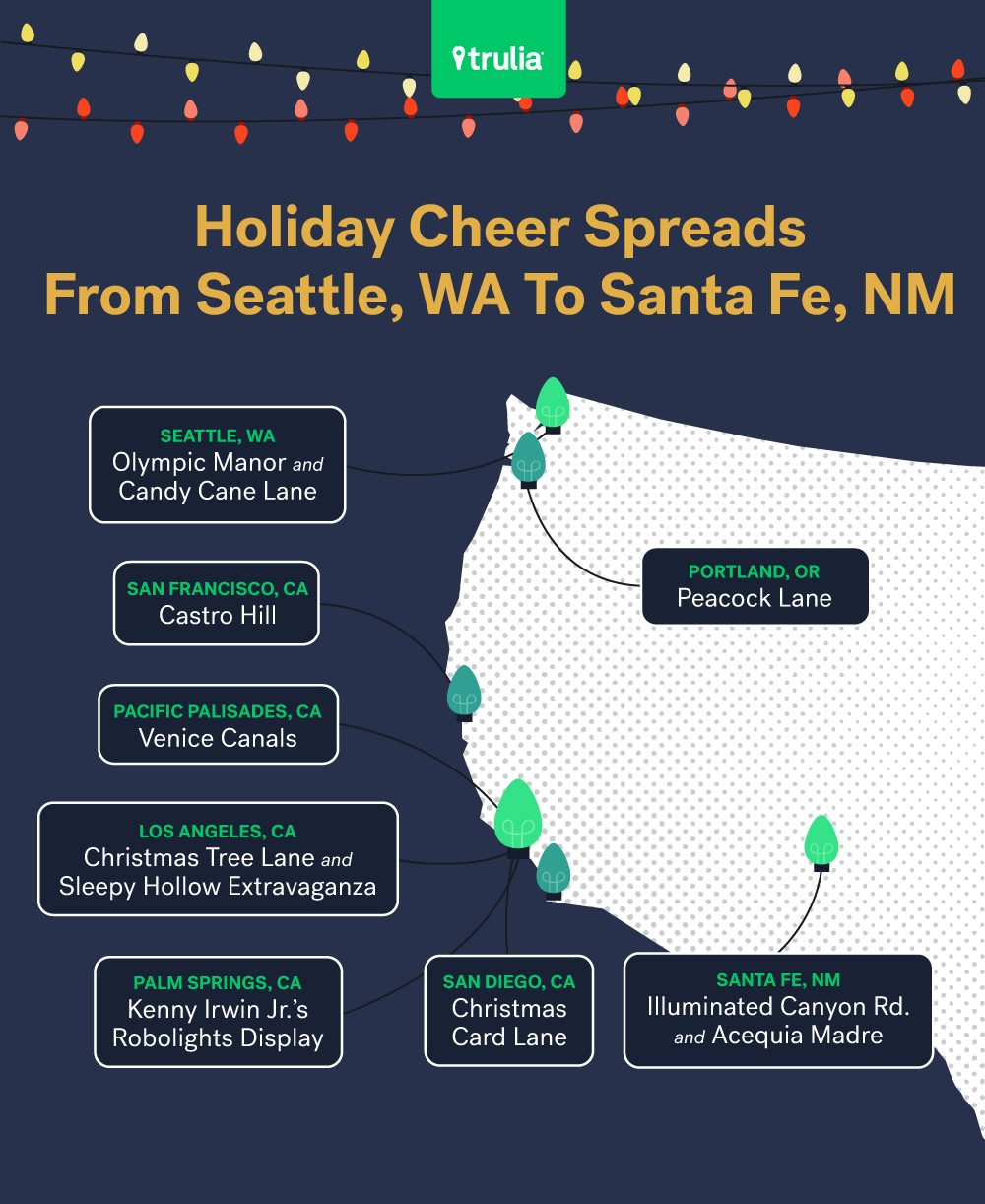 Seattle, WA
One way to know if that neighborhood you're browsing homes for sale in Seattle, WA in is free of bah-humbugs? The homeowners' association encourages the use of Christmas lights in its bylaws. At Olympic Manor, a neighborhood just north of Northwest 85th Street at 23rd Avenue Northwest, homeowners take this to heart, with candy canes, Christmas trees, Santa Claus inflatables, and even some Hawaiian-themed displays lighting up the streets.
And that's not the only neighborhood that shows off its holiday spirit. Just north of Ravena Boulevard at 21st Avenue Northeast sits Candy Cane Lane, which has been inspiring awe in visitors since 1941.
Portland, OR
Row after row of brightly lit Tudor homes have been illuminating Peacock Lane in Portland, OR, since the 1920s. And holiday lights are hardly the center of attention at the lights spectacular. Stroll down the street, and you'll pass Nativity scenes, houses dressed up as Christmas trees, and lifelike replicas of Santa Claus and Frosty the Snowman. Just remember to wear your walking shoes while browsing this Portland, OR real estate — walkers are preferred to drivers on the street; the Portland police shut down the lane to motor vehicle traffic the weekend before Christmas and on especially busy nights.
San Francisco, CA
Some of the best Bay Area lights are located on Castro Hill, specifically on and around Tom and Jerry's Christmas Tree on 21st Street. Outside their beautiful Victorian, owners Tom and Jerome (Jerry) decorate a massive Norfolk Island pine tree with ornaments and hang oversized stockings above the garage. Not enough to get you in the holiday spirit? The City of San Francisco also decorates its classic cable cars with holiday decor and offers special holiday-themed rides that cruise by all the decorated homes for sale in San Francisco, complete with Santa hats.
Pacific Palisades, CA
Down in the Pacific Palisades, enjoy the elaborate holiday lights displays reflected in the Venice Canals, where residents intricately decorate their homes — and their boats — with an array of twinkly lights. If you're considering a trip to check out Pacific Palisades real estate, the first weekend in December is a great time to visit, with the annual Venice Christmas Boat Parade, a tradition that started in 1989.
Los Angeles, CA
The City of Angels doesn't disappoint when it comes to heavenly lights displays. The most elaborate display is located just on the outskirts of the city, at the famed Christmas Tree Lane in Altadena, CA. According to the Christmas Tree Lane Association, a nonprofit group that keeps the display lit year after year, the street is the "oldest large-scale Christmas lighting spectacle in the United States." It's even listed in the National Register of Historic Places.
Just down the road, locals have been dressing up their Torrence, CA real estate at the Sleepy Hollow Christmas Lights Extravaganza for more than 40 years. If the lights and decor aren't enough to make you feel festive, the stands set up by residents to sell baked goods and hot chocolate will help.
Palm Springs, CA
Perhaps the most distinctive lights display in the U.S. is Kenny Irwin Jr.'s Robolights display in Palm Springs. Irwin started the display in his parents' yard when he was 13 and has decorated the yard annually ever since. His displays have grown to include handmade robots and sculptures, making for a truly one-of-a-kind show, with about 20,000 visitors walking through and checking out the unique piece of Palm Springs, CA real estate in 2014.
San Diego, CA
San Diego has a multitude of lights displays every year. Proof: just look at this massive list of local lights displays from San Diego Family magazine. One of the most fun places to catch a twinkle is "Christmas Card Lane," known as Oviedo Street every other month of the year, where more than 200 families decorate their San Diego, CA real estate and participate in the lights spectacle.
Santa Fe, NM
While the rest of the world is plugging in, Santa Fe encourages residents to light up the night the natural way. Farolitos (Spanish for "little lanterns") line many of the downtown streets, and cast light on some of the Pueblo-style homes for sale in Santa Fe, NM. Walk down illuminated Canyon Road, Acequia Madre, and many of the adjacent East Side streets, and you'll be welcomed with hot cocoa, biscochitos (sweet, cinnamon butter cookies), street musicians, and piñon logs burning in small bonfires.
Bonus: Malibu, CA
Beautiful holiday displays decorate much of the multimillion-dollar Malibu real estate. But surprisingly enough, the home with one of the more talked-about displays is that of singer-songwriter Bob Dylan. According to Vice, Dylan tells stories through his one string light strung across his front bushes. So if you see a home with a peculiarly strung light strand, you'll know it's Dylan's, and it's time to decode the meaning this year.