It's that time again: Time for a new year, new resolutions and – for many – a new budget.
Thinking about taking steps toward buying a home in 2018? You're not alone. Three out of four millennials say homeownership is part of their personal American dream, according to research conducted by Trulia and Harris Poll. Unsure of the financing process and where to begin? You're not alone there either. Our research also finds that Americans say that saving for a down payment (59%) and qualifying for a mortgage (36%) are among the biggest obstacles to homeownership. Trulia can help.
Trulia's Mortgage Guide is a resource for all your home finance needs. It's designed for first-time buyers, long-time investors and everyone in between who want to better understand that daunting, sometimes scary, word: mortgage.
While many first-time buyers may not know how much they can afford, or if it even makes sense for them to buy, Trulia has created a one-stop shop to learn about the mortgage process and access tools to help with decision-making. This guide aggregates all of Trulia's unique finance calculators in a central location so you can figure out what makes sense for you:
The Rent vs. Buy Calculator lets you compare the net costs of renting vs buying so you can really understand what makes sense for you
If you're ready to buy, the Affordability Calculator helps you identify how much you can afford, understand your debt-to-income ratio and more.
Finally, the Mortgage Calculator can help you estimate your monthly mortgage payments with the latest mortgage rates.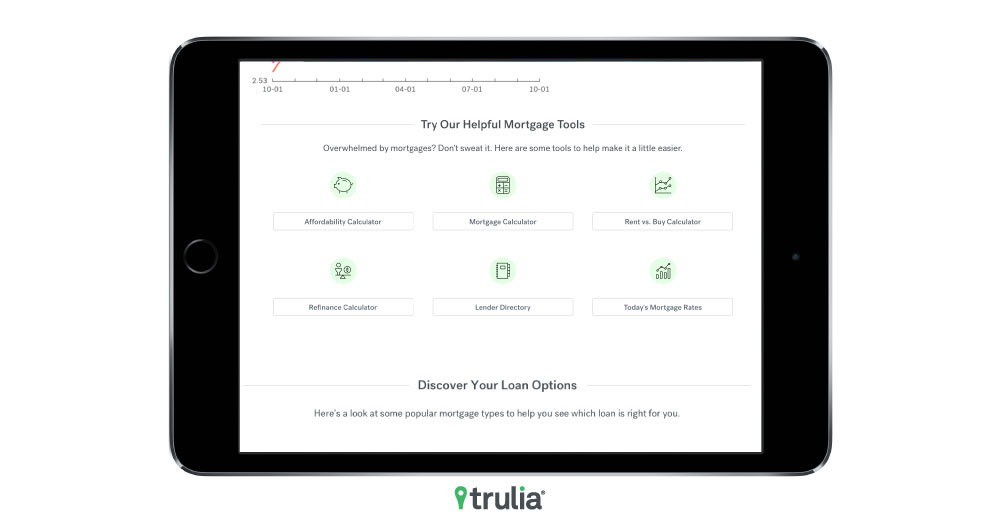 Through the Trulia Mortgage Guide, you can review the latest interest rates, which are updated in real time, and calculate a customized interest rate based on your zip code, purchase price, down payment and credit score.
For those who are new to the complexities of mortgage types, there is an easy-to-read table that provides a clear overview of various loan types – from 30-year fixed to 5/1 ARM – with definitions of what they mean.
FAQs and personal finance tips are also provided to guide you through the home financing process. When you're finally ready to take action and get pre-qualified, you can easily find a  lender.
Go check out the Trulia Mortgage Guide today and let us know what you think!