At Trulia, we are focused on simplifying the home buying and renting process. We understand that housing and rental markets are hot and inventory moves fast. So, it's important for us to give consumers instant access to listings, which is why we're excited to introduce Trulia for Edge Panel. Built specifically to take advantage of the unique edge display of the popular Samsung edge phones, this new app gives consumers a glimpse at the newest houses on the market and sets them up to to take action, so they can stay up-to-speed on their home search.
How it Works
After downloading and enabling Trulia for Edge Panel, consumers can easily search for homes based on their current location, or preferred city and state, or zip code. They can also filter for homes available for sale or rent, and even look at recently sold homes. If a consumer already has the main Trulia Android app installed on their phone, they don't have to do any set up – when they launch Trulia for Edge Panel, we automatically show them homes that match the search criteria they have set up in the main Trulia Android app.
Once they've set their preferences, Trulia for Edge Panel shows consumers a list of 10 homes based on their search criteria, which includes a photo of the homes and preliminary – but important –  information, such as address and price. When they see a home they like, they can tap on its photo to open the main Trulia Android app, or launch the Samsung Galaxy app store to download the app, and see the complete details about that house and immediately contact the agent or landlord.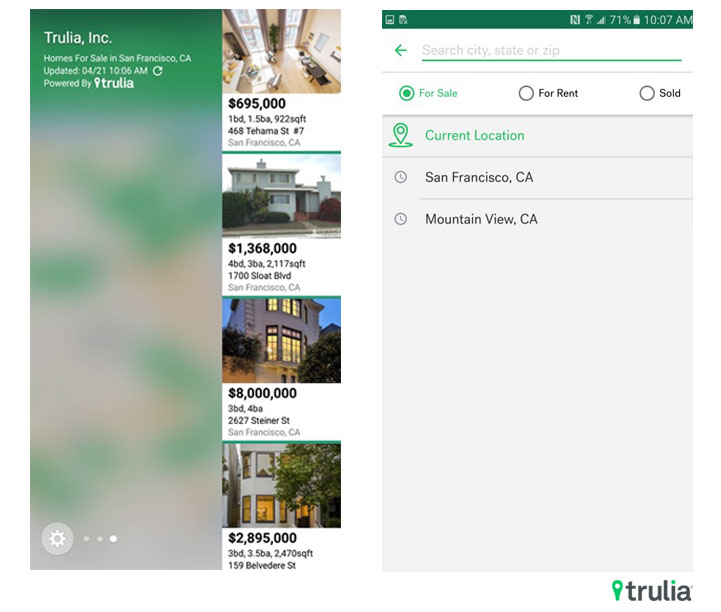 Trulia for Edge Panel is a quick and easy way to get a glimpse at what's new, setting consumers up to take action so they don't miss out on their dream homes. In addition to Trulia for Edge Panel, we've also released a Trulia app for the Samsung Galaxy app store. Both apps are available for download today. Go check them out and let us know what you think!