With the Trulia bot, discover rental listings, see nearby information, and get daily updates on new rentals
The chat bot revolution that took Asia by storm with platforms like WeChat has finally hit the U.S. Thanks to Messenger, consumers can chat online, text, call, video call, and even pay for transactions and services, all in one platform. Messenger is a new source for news and a plethora of other content, too, which enables consumers to engage directly with brands via bots, and they love it. In fact, Facebook reports there are 1 billion Messenger users worldwide each month! And, since our goal at Trulia is to make it easy and enjoyable for anyone to find their next home, we're excited to announce today a Trulia bot for Messenger.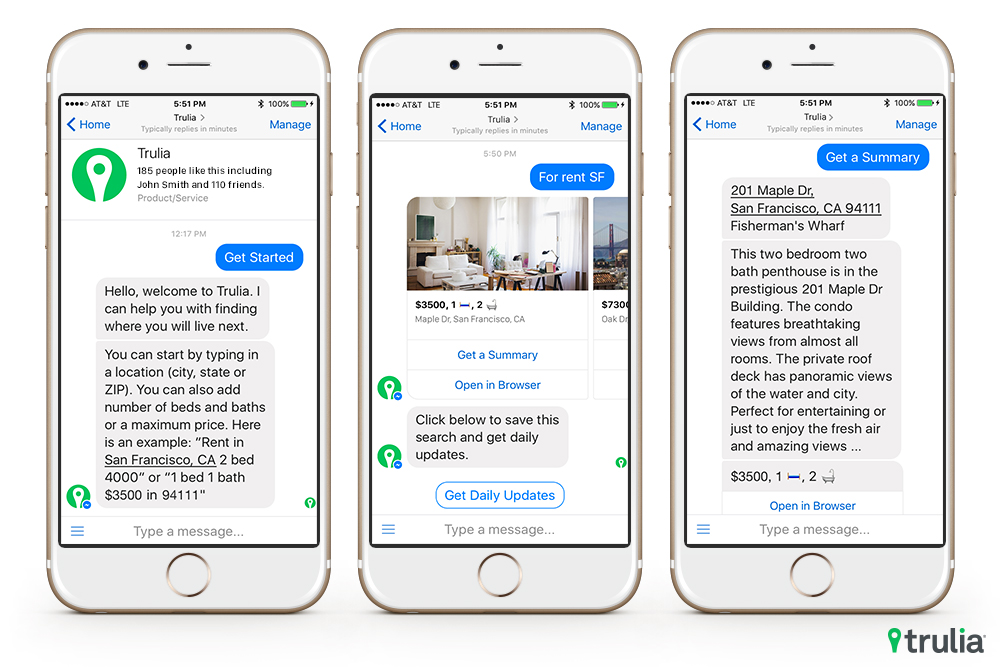 How the Trulia bot Works
Because the rentals market is a competitive one, and consumers need to move fast to land a rental, we designed the Trulia bot to give consumers daily updates on rental listings that match their criteria.
As consumers launch the Trulia bot for Messenger, they are able to search for properties in any location with basic commands, such as "For Rent in San Francisco." They can even search for specifics and use shorthands, like "two bed, two bath for rent in SF."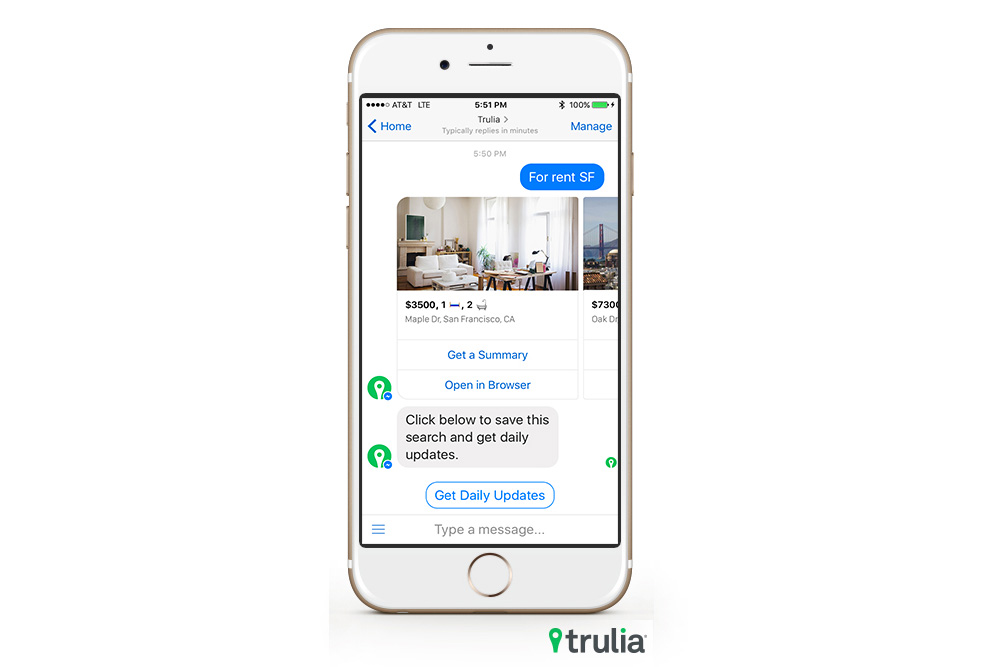 Immediately, the Trulia bot returns a list of 10 properties that just hit the market, and gives consumers the option to subscribe to daily updates on listings that match their search criteria. Subscribing to daily updates means consumers get 10 new listings each day. The updates will be sent at the same time every day, and because we don't want disturb anyone's R&R, the updates are sent at 9 a.m. local time (we figure most people are up by then!). Messenger offers multiple controls for consumers who use it, and consumers can always opt out of the updates, or change their criteria by typing another location and other feature requirements to the bot.
With each property listing, consumers have the option to view the property on Trulia's mobile website, or get a quick summary within Messenger itself. If a consumer opts for the summary, they are shown high-level details of the property, including the address, neighborhood summary, price, number of beds and baths, and a photo gallery.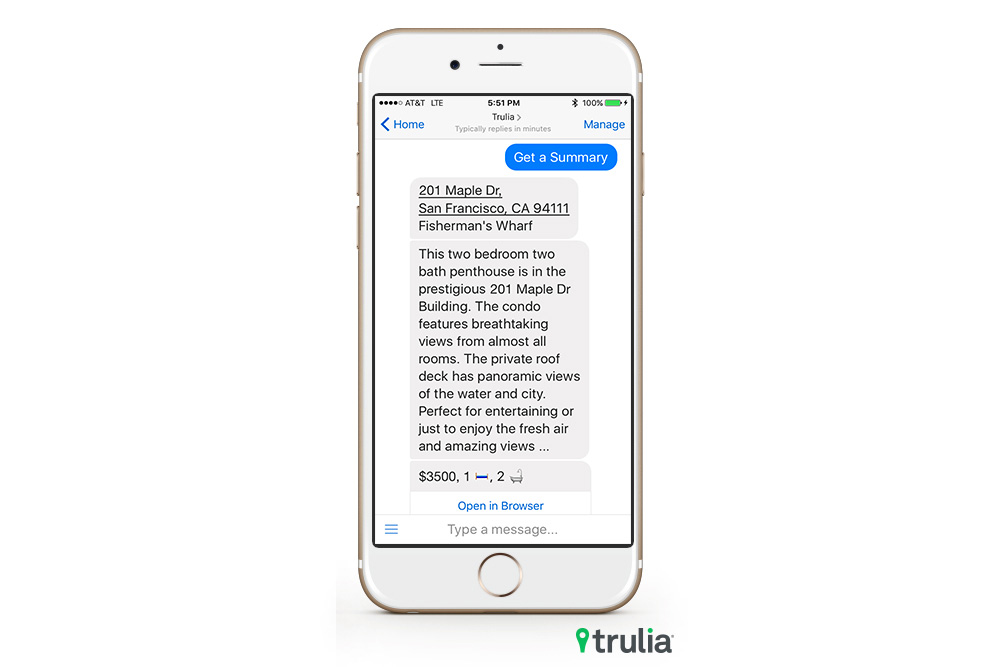 Consumers can also ask the Trulia bot for a property's local information, which will show them crime stats and interesting demographic details, like median age, number of people who are single and married in the area, and how many homes in the neighborhood are renter-occupied or owner-occupied.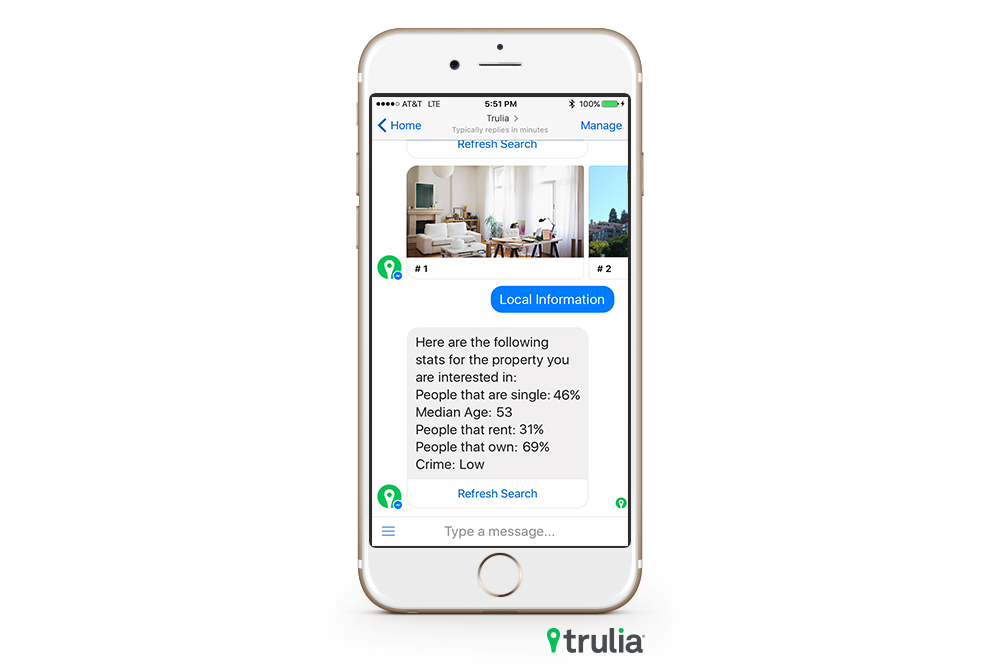 At any point in the experience, consumers can venture out of their current search by typing another location to the bot, or simply typing, "Stop."
Coming Up Next
At launch, the Trulia bot will support rentals searches, but this is just the beginning. We are very excited about the potential, and for the opportunity to bring real estate search to consumers' fingertips, no matter what platform they're on.
Go try out the Trulia bot today, and let us know what you think!