In today's real estate market, it is becoming increasingly difficult to find affordable rentals, especially in bigger cities. As a result, more and more renters are gravitating toward shared spaces in an effort to save money and cut costs – bet you didn't realize, you can save more than $1,000 per month if you split a two-bedroom apartment in San Francisco versus renting a one bedroom apartment (read more about Trulia's research on this here). Building on the existing product already used by millions of renters and landlords each month, Trulia has revamped its Room For Rent feature to make it easy to find a place to call home – regardless if you are listing a room to rent or searching for a new room to rent yourself.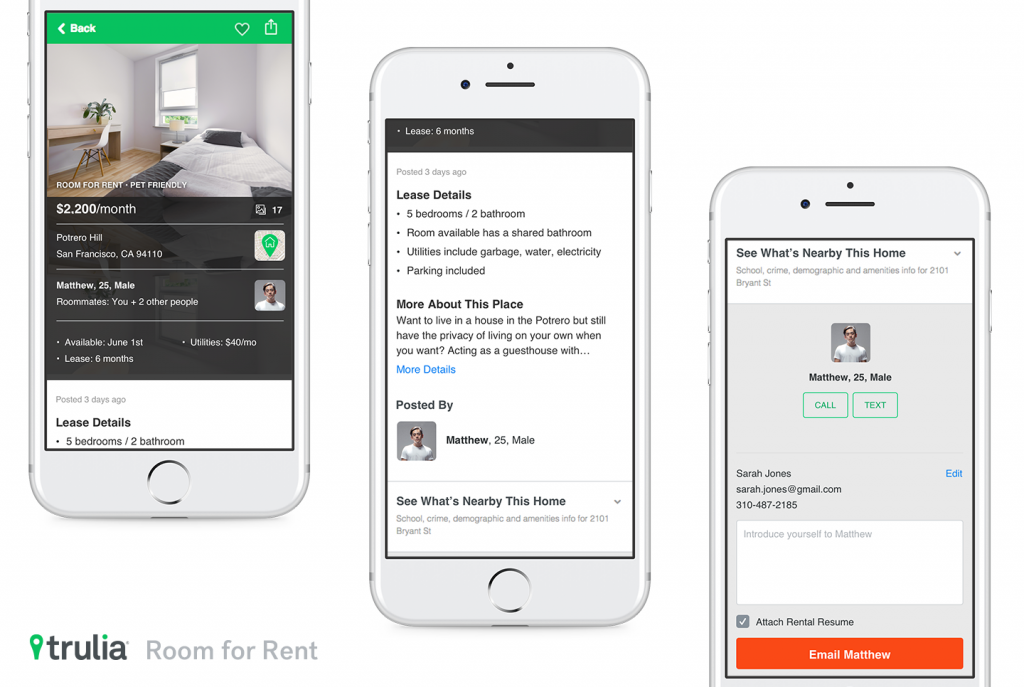 Simple and Easy-to-Use Posting Process
Trulia has made it easier than ever to post a room for rent with minimal effort. Simply input the primary attributes of your listing, like rent price and lease duration, and quickly upload photos from your desktop, smartphone or tablet. We ask you to enter the info we know renters care most about, such as whether or not the room has a private bathroom, if utilities are included in the rent, and how many roommates live there, saving you time in creating your listing and surfacing it to Trulia's audience of renters. You can also preview your listing before publishing it. But don't worry, once your post is live, you can go back and make changes at any time with just a few clicks.
Get More Qualified Renters
If you have listed a room for rent it can be a pain to go through a barrage of email inquiries, manually sifting through the responses or scheduling in-person meetings to get even the most basic information you need to find the right roommate or tenant. So, Trulia gathers much of this information for you, up front, with its Rental Resume tool. Prospective renters fill out a quick profile so you can see details like their income range, credit score, whether or not they have pets, if they smoke and more, helping you find qualified renters fast, and helping hopeful renters standout amongst the competition.
Protection Against Potential Fraud
If you're looking to rent a room yourself, you can trust that the listings on Trulia will be real. The proprietary fraud filters we use to weed out suspicious listings for full units on Trulia are applied to our individual room postings as well, helping to protect you and bring you a step closer to finding the perfect room to rent.
Map Layers and Local Information
Trulia's Room For Rent listings feature all the great local information Trulia has offered for years, including crime maps, local price and affordability trends, and nearby bars and restaurants. Coupling this local information with Room For Rent listings means you will not only find the perfect home for you but the perfect neighborhood, too.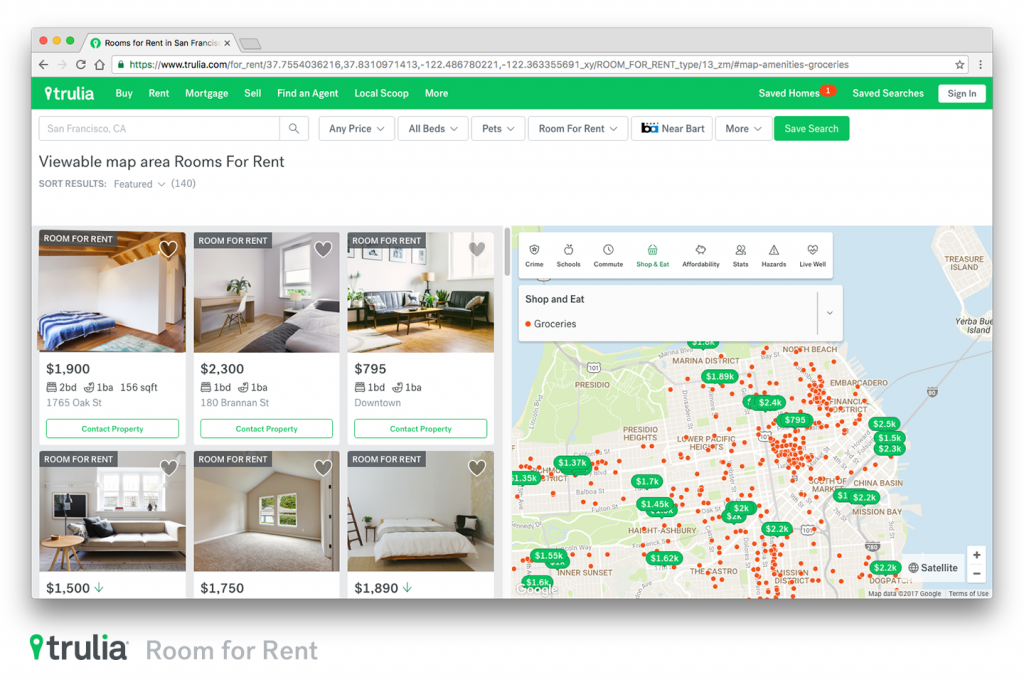 Looking to fill a room in your house? Check out our posting page, and let us know what you think of Trulia Room For Rent in the comments below.