Deciding to rent or buy a home is a big decision. Everyone has different needs at different times, and they vary greatly person to person. Our research shows that, on a national level, it's still relatively cheaper to buy than rent, but in some markets renting with a roommate is cheaper. Sorting through the variables is where Trulia can help.
Trulia works to help you make the best decision by providing the tools and information you need to weigh your options. We are on a mission to help you find the right home for you, and as a part of that mission, today we're introducing a newly revamped tool for desktop and mobile: our Rent vs. Buy Calculator.
Whether you're just entering the market and trying to decide between renting and buying, or you're a seasoned renter trying to decide where and when to buy a home, use Trulia's Rent vs Buy Calculator to compare the net costs of renting vs buying and understand what really makes sense for you.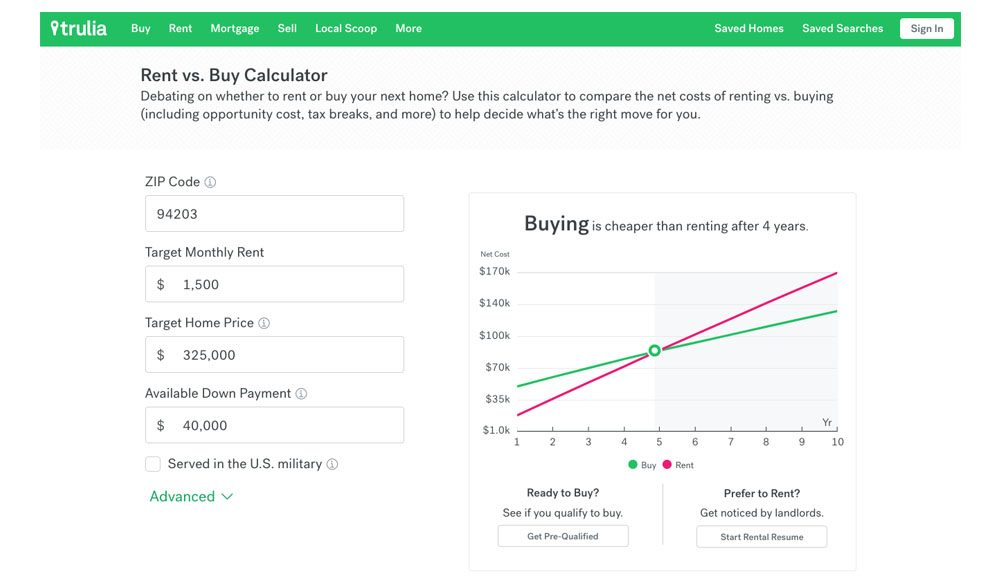 The calculator is easy to use with a fresh new design and an interactive graph. Enter the zip code of where you're looking to rent or buy, your target monthly rent, target home price and available down payment and watch the calculator tell you the breakeven point between buying and renting. The calculator will also show you the net costs for buying and renting over a 10-year span.
Once you know what makes sense for you, you can take the next step directly from the same page the Rent vs. Buy Calculator lives. You can choose to contact a lender to get pre-qualified for a home loan or start a Rental Resume, which is a feature that will help you stand out from the sea of rental applicants and land your dream home.
Trying to decide if your next move should be to buy or rent? Use the Trulia Rent vs. Buy Calculator to help guide you, and let us know what you think!