Our goal here at Trulia is to give consumers an easy and enjoyable way to find their next home by providing data and insights to help them make the right decision. The question we're faced with, is how do you provide this amazing experience, especially when the majority of consumers are anonymous and relevancy is instrumental in driving engagement?
In this post, I'm going to outline our relevancy challenges in four buckets:
Intent
Content
Match
Optimization
Subsequently, in the weeks ahead, my team and I will shed more light on how we're tackling our challenges to ensure the Trulia consumer experience is always enjoyable.
Intent:
Millions of consumers engage with Trulia every day by searching listings through their desktop Web browsers, mobile Web, native apps, and emails. They're looking for information, which is what we call their "Intent." In order to serve consumers the right content, we need to capture and understand their Intent. We look at whether they're a homebuyer, renter, or seller; what city, neighborhood, or zip code they're interested in, and what matters to them: price range, attached garage, hardwood floors, nearby parks, etc.
Our data reflects that a single consumer visit can generate approximately 18-20 events or signals, meaning we get hundreds of millions of signals every day. Which is great, because we can use that data to serve up custom content and drive engagement, but you can imagine the technical challenges of collecting this amount of data, persisting it and scaling it.
Content:
Rather than having to spend days scouring listings in a newspaper like I did when I bought my first home, we collect data for the consumer and store it in one place, making it easy to find and digest. This data is our Content and it includes:
Listings and Associated Data:
Listings: For sale, for rent, foreclosures, pending, sold, for sale by owner
Associated Data: Price, number of beds/baths, year built, backyard, appliances, etc.
Public Records: Deeds, taxes, and assessments data
Location Aware Data: Parks, transit systems, amenities, schools, neighborhood crimes, etc.
We also receive hundreds of millions of pieces of this Content everyday, and our challenge is how to process it – and keep it fresh – to provide accurate real-time information to consumers.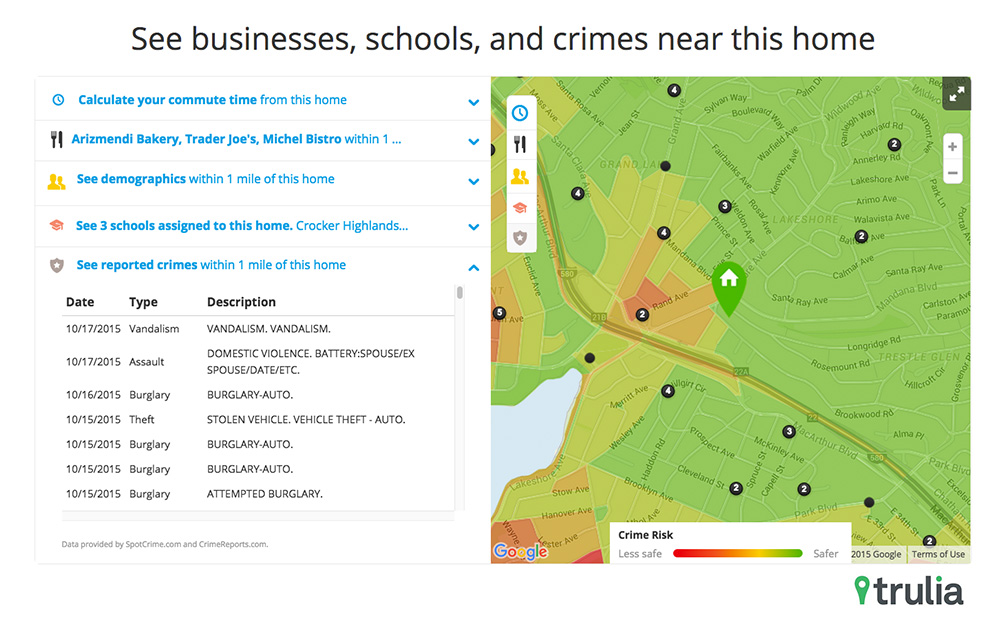 Match:
This is the magic in the middle, where our search technology takes consumers' Intent and matches it with Content. The challenge here is figuring out how to achieve relevancy that aligns with consumer needs. This is where Trulia's Data Science, data mining, and search stacks come together to solve the problem.
Optimization:
This is the exciting part! This is where we keep learning about consumer Intent, keep aligning with Content and figuring out how to make feedback loop where relevancy and personalization work in tandem to keep our consumers engaged, happy, and coming back. Data Science models play an important role here.
Stay tuned to learn how Trulia's Data Engineering team is tackling the challenge of relevancy. And, feel free to share your comments about anything you want to read about in future posts.